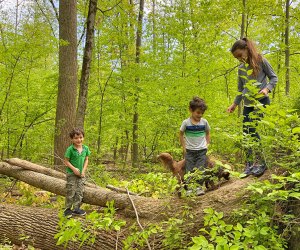 25 Things To Do With Westchester Kids During Spring Break
Many families are still sticking close to home these days—but that doesn't mean you have to be stuck at home. There are many fun activities in Westchester and the Hudson Valley to keep kids busy over the upcoming spring break—both virtually and in person. Many of our picks, which cover the school break period from Monday, March 29-Monday, April 3, are even FREE!
Our picks include everything from Easter celebrations to crafting activities, camp options, cultural excursions, places to play, and more.
Many other options can be found in our Event Calendar and our Spring Activity Guide for Westchester Kids.
Editor's note: While we are trying to promote safer activities that occur outdoors or with social distancing guidelines in place, please keep your family and others safe by always wearing a mask and practicing social distancing. If you arrive at a venue that appears too crowded, try using the "nearby" search feature on our Event Calendar to find something else to do.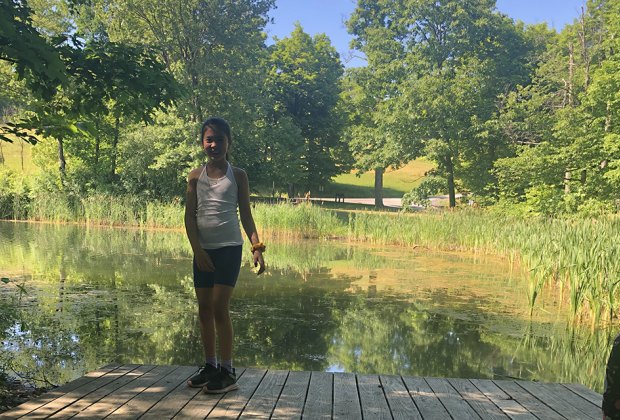 Explore the beautiful landscape at Olana. Photo by Diana Kim
Events to Enjoy During Spring Break in Westchester
1. Head to the Olana State Historic Site for an outdoor guided tour of the property as part of its First Weekend Wanderings on Saturday, April 3.
2. Kick off spring break with a Saturday clay session at the Clay Arts Center on Saturday, March 27
3. Enjoy some Easter fun at the Easter Craft Fair and Flea Market, where kids can take a picture with the Easter Bunny on Sunday, March 28. FREE
4. Sign up for one of these Spring Break mini-camps.
5. Go on an Easter Egg hunt at Harvest Moon in North Salem on Friday, April 2 or Saturday, April 3.
6. Or have a rendezvous with the Easter Bunny (multiple dates).
7. Pick up some fresh veggies at the winter farmers market at the Jefferson Valley Mall on Wednesday, March 31.
8. Have brunch and go for an egg hunt—and then check out the museum—at the Bethel Woods Center for the Arts on Saturday, April 3 and Sunday, April 4.
RELATED: 20 Spring Activities for Westchester Kids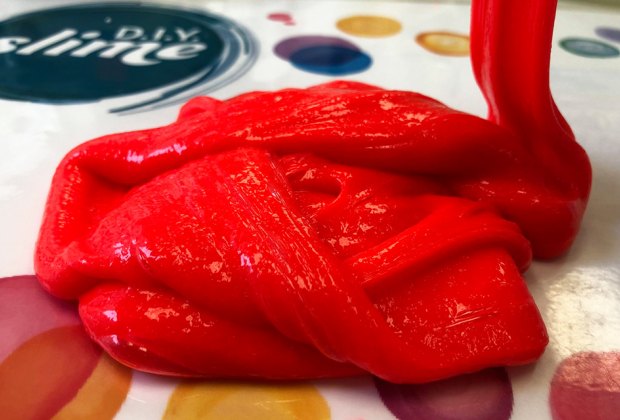 D.I.Y. Slime lets you whip up a batch of your own unique goo. Photo courtesy of the venue
Fun Outings for Westchester Kids During Spring Break
9. Reserve your spot to do some art or make some slime!
10. Visit one of these Westchester and Hudson Valley museums offering kid-friendly fun. Be sure to call ahead to confirm hours and reservation policies.
11. Head over to Legoland at Ridge Hill in Yonkers, which reopens Friday, March 26.
12. Burn off some steam at one of these indoor play spaces open now.
13. Head to a nearby indoor water park, some of which offer day passes.
14. Head outside for a kid-friendly hike.
15. Or, hop on a bike and explore the Empire State Trail at one of these local sections.
RELATED: Guide to Playgrounds and Parks in Westchester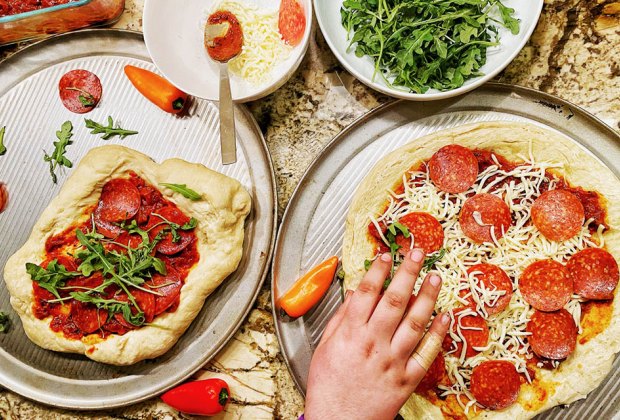 Sometimes a DIY-pizza night is more fun than ordering in. Photo by Alley Noel
Virtual & At-Home Events to Enjoy During Westchester's Spring Break
16. Try a new recipe, like these homemade pop tarts, or host a homemade pizza night.
17. Celebrate children's literature with a reading of Rosie Revere, Engineer, and a virtual subway journey Tuesday, March 30. FREE
18. Take part in Michael's Spring MAKE Camps for lots of spring-themed arts and crafts. FREE
19. Go on a virtual Paleo Playdate with your dino-obsessed preschooler on Wednesday, March 31. FREE
20. Check out the "School's Out, Stars Are In" week-long virtual programming—planetarium shows, readings, and more—at the Hudson River Museum from Monday, March 29-Friday, April 2. FREE
21. Take part in a virtual Lego building contest. FREE
22. Introduce little ones to nursery rhymes and singing virtually with the Scarsdale Library on Tuesday, March 30. FREE
23. Sing your heart out with a virtual Sea Chantey Sing-Along on Sunday, April 4. FREE
24. Take part in a tween-friendly online Easter egg hunt on select dates from Saturday, March 27-Sunday, April 4.
25. Celebrate Easter with the First Lady when the White House Egg Roll goes virtual, on Monday, April 5
This post, originally published in April 2017, has since been updated.