Empire State Trail With Kids: Family-Friendly Local Sections to Explore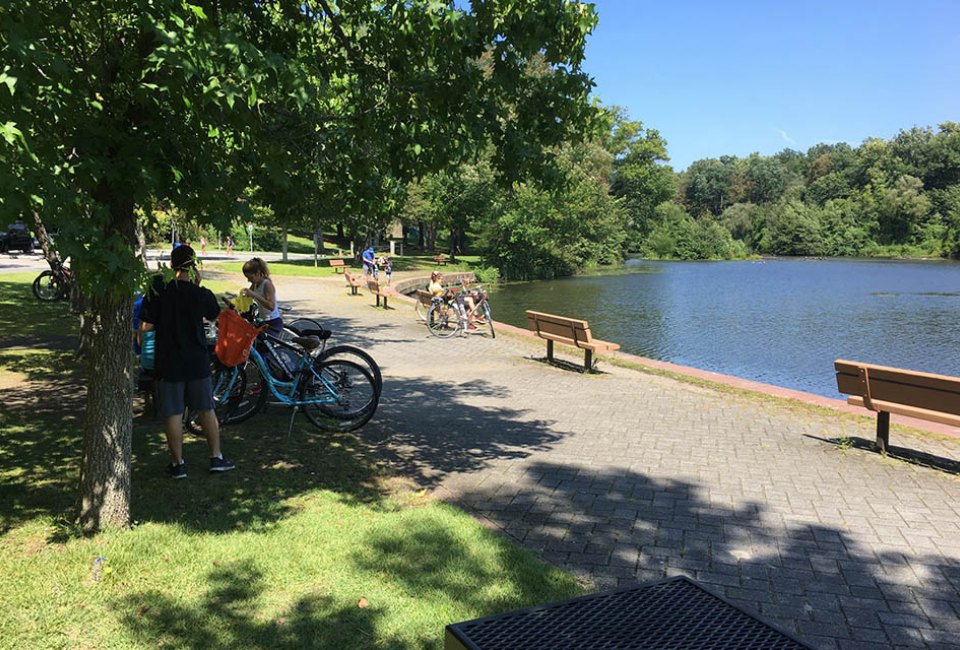 3/16/21
- By
Marisa Iallonardo
While we love a good winter hike, there's nothing better than getting outside on a fresh spring day. After being cooped up all winter, we're excited for all of the open-air adventures to be had nearby, and the newly completed, 750-mile-long Empire State Trail has us feeling especially inspired to get out and explore.
Read on for more details about the trail and our favorite local sections with family-friendly pit stops nearby, whether you pick it up in Lower Manhattan or the Lower Hudson Valley.
Editor's note: While we are trying to promote safer activities that occur outdoors or with social distancing guidelines in place, please keep your family and others safe by always wearing a mask and maintaining an appropriate distance.
All About the Empire State Trail
The nation's longest multi-use state trail—which is 75 percent off-road—the Empire State Trail was first proposed back in 2017. The plan was to finish the existing Hudson River Valley Greenway and the Erie Canalway Trail and then connect the two to create a huge, 750-mile path that spans almost the entire state.
In total, the project added more than 180 miles of new trail and connected about 400 miles of existing trails. An additional 170 miles of on-road trails were improved and made safer for hikers and bikers to share the road with cars. The Empire State Trail was completed last year and officially inaugurated on December 31, 2020. The multi-use trail system is unique, running from Manhattan up to the Canadian border and from Buffalo to Albany, providing a wonderful way to experience both the natural beauty of New York and its rich history.
The Empire State trail website offers lots of know-before-you-go details, including how long each trail section runs, the terrain type you can expect to encounter, and most importantly, bathrooms nearby. There's even an app to help thirsty parents find craft breweries en route.
So, whether you decide to walk it, run it, or cycle along it, read on for our guide to four local Empire State Trail sections to explore with kids.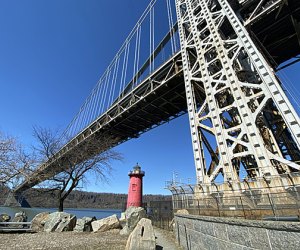 The Little Red Lighthouse makes for a fun stopping point during your Empire State Trail journey. Photo by Jody Mercier
Manhattan Greenway Trail
City dwellers can pick up the Empire Trail from Battery Park and cruise all the way along Manhattan's west side to Inwood, enjoying riverside views and an entirely paved, car-free path. Once you hit Inwood, curve inland to the on-road portion of the trail that leads up to Van Cortlandt Park to connect with the Bronx and Westchester South County Trail.
Some stops to make along the way:
RELATED: Van Cortlandt Park With Kids: 14 Fun All-Season Activities in the Bronx Oasis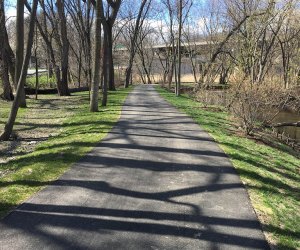 The Empire State Trail north of Elmsford, N.Y., takes visitors through beautiful scenery.
Bronx and Westchester South County Trail
Southern Westchester and Rivertowns families will want to break out the bikes to explore the Bronx and Westchester South County Trail. Spanning 13 miles, this part of the trail traverses Riverdale's Van Cortlandt Park and then heads up to Yonkers, parallels the Saw Mill Parkway, and takes you through Tibbets Brook Park. From there, the trail continues north to Ardsley and eventually through Elmsford's V.E. Macy Park. The paved, off-road trail is great for hikers and bikers.
Some stops to make along the way:
RELATED: Best Bike Rides in and Near Westchester for Family Cycling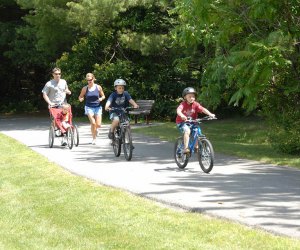 Bike along the Westchester North County Trail from Elmsford to New Castle or any part of the way.
Westchester North County Trail
Perfect for bikes and strollers, the Westchester North County Trail is 10 miles long and runs from Elmsford through Pocantico Hills and Briarcliff Manor. The paved trail takes anywhere from 3-5 hours if you were to walk the whole way, or about an hour if you opt to bike.
Some stops to make along the way:
RELATED: 35 Things To Do With Kids in the Hudson Valley

The Walkway Over the Hudson provides breathtaking views. Photo by Matt Nighswander
Hudson Valley Rail Trail
Exploring the Hudson Valley Rail Trail calls for a bit of a drive—it's about an hour from central Westchester—but it's worth the extra time. While this entire section of trail spans about 9 miles and takes you from Lloyd to New Paltz in Ulster County, we recommend exploring the start of the trail: The 1.5-mile Walkway Over the Hudson. This elevated pedestrian bridge is the longest in the world and a great adventure for kids. Thankfully, it's also manageable for parents dealing with strollers, bikes, scooters, or simply walking with little ones. There are bathrooms and a few picnic tables if you want to stop for a snack.
Some stops to make along the way:
Unless noted, photos courtesy of New York State Parks