Why You Must Add the New Whitney Museum to Your Family Bucket List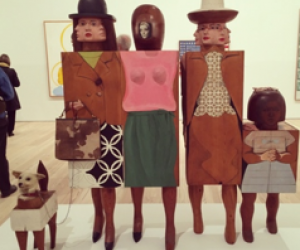 Art world happenings don't usually count as breaking news for families, but the reopening of the Whitney Museum of American Art is an all-out, stop-the-presses moment. This world-class institution has always been a leader in contemporary American art; now its brand-new building right on the High Line in the Meatpacking District, with its stupendous opening exhibit and a slew of family programs, make the new Whitney a not-to-be-missed destination for families.
I attended a press preview of the museum, which is set to open on May 1, 2015, to see what the new Whitney would offer for families. I was blown away by the thoughtfully designed building and brilliantly curated first exhibition.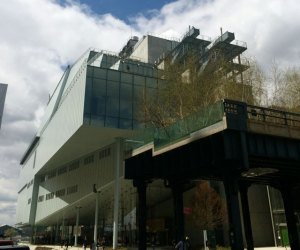 Let's start with the building, perched between the Hudson River and the High Line at the Gansevoort Terminus, which is designed to connect with the city. Many artworks are positioned to literally play with the outside world, like a neon sign that can only be seen from outside the museum and a skyscraper sculpture that melds into the view outside the window.
Seating areas with comfy chairs on some floors offer quiet places to sit and contemplate the river view. I imagine these will be well used by parents with children who want a break from any precious art or, perhaps, even a breastfeed. There are also outdoor sculpture terraces that are great for antsy little ones who need to let off a little steam.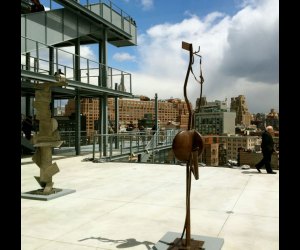 Another thing I appreciated is that the galleries display a wide variety of artworks made in different media. Paintings are next to prints, and sculptures abound in many rooms. This keeps things visually interesting for children. Rather than walking into a room of painting after painting, there's lots to look at in every gallery, no matter what you like.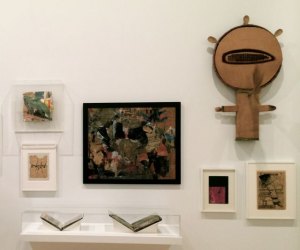 The age of your kids will determine what they get out of the opening exhibit, America Is Hard to See, which is on view through September 27, 2015. Starting on the eighth floor in 1900 and working its way to the present over four vast floors, the exhibit follows American art through the decades, and also doubles as a social history of our country. I think this is what makes it such a great exhibit for children, because the subjects are somewhat familiar, but give them an opportunity to expand their understanding.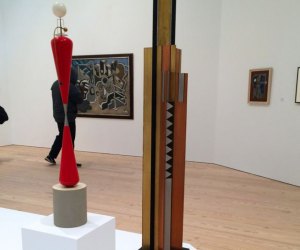 For instance, even little children can enjoy the first gallery, which is filled with cityscapes and industrial imagery. At the turn of the last century, America was reveling in the glory of the Industrial Revolution, and this art celebrates that. As NYC kids pick out the Brooklyn Bridge and ponder an abstract Man Ray skyscraper, they'll recognize the city they live in, especially right outside the windows of the museum, where so much of that industrial landscape still exists.
And so it goes as you move through our last century and into the current one. Find pieces of our shared history to expound on with your children, see what resonates, tell your kids what it means to you, and ask what it means to them.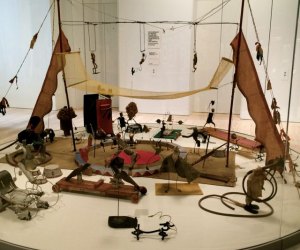 Of course, there's lots to enjoy without getting so cerebral. A highlight of the exhibit for children will be Calder's Circus, which is displayed centrally on the seventh floor. Although the famous kinetic sculpture is protected behind a circular glass case, it is wonderful to examine, with its playful characters and set. A video of artist Alexander Calder "performing" the circus plays nearby so kids can see it come to life.
America Is Hard to See is a brilliant exhibition of American art and culture that I think families will enjoy exploring on their own. However, the Whitney is also increasing its family programs significantly to provide more fun and interactive ways to engage with its collection and art-making.
Upcoming Family Programs:
Grand Opening Block Party
It all kicks off this Saturday, May 2, with a block outside the museum on Gansevoort Street. There will be hands-on artist-led activities, plus performances, puppetry, dance, music and poetry. Technically, the museum will also be free that day, but only a limited number of tickets will be offered and they're going to go fast (advance tickets are no longer available).
Whitney Kids Open Studio
Thanks to the new space, there's twice as much family programming. Starting on Sunday, May 3, family events will take place on three weekends every month, on both Saturdays and Sundays. Drop in from 10:30am to 3pm for hands-on art-making workshops; a different project will be offered each week. Open Studio days are free with museum admission.
Whitney Kids Opening Day
There's also a special Family Kids Opening Day on Saturday, May 16. Expect family tours of the galleries, an art-making workshop and more. All activities are included with admissions.
Kids Activity Guide
Families visiting the museum should pick up a free Kids Activity Guide, which teaches children about some of the interesting pieces in the museum, shows them how to think like artists and encourages them to make their own work.
Access Programs
Special programs for children on the autism spectrum and visitors with visual impairments will be offered.
Teen Programs
The Whitney offers Second Saturday and Youth Insights programs for teens.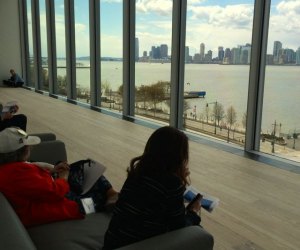 Tips for Visiting the Whitney With Kids:
Admission is a steep $22, but children up to age 17 are always free.
All family programming is included with museum admission.
If you order timed entry tickets in advance online you can skip the line at the museum.
Strollers are permitted in the galleries.
Parents should keep an eye on children on the gallery terraces as there may be gaps in the railings that small kids can fit through.
There are plenty of places to eat one block east of the museum, including Bubby's and a relatively new food hall called the Gansevoort Market. There are also two restaurants in the museum.
If the museum doesn't wipe you out, take a stroll on the High Line after your visit.
The Whitney Museum of American Art is located on 99 Gansevoort Street between Tenth Avenue and Washington Street. It's open Monday, Wednesday and Sunday 10:30am-6pm; Thursday-Saturday 10:30am-10pm. Admission is $22 for adults, $18 for students and free for children under age 18.
For other great art experiences for kids, check out our Museum Guide.