Best Christmas Lights on Houses in Connecticut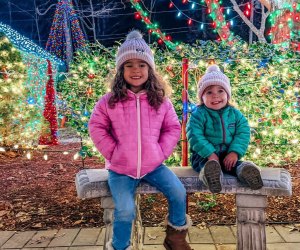 If you are a fan of the glittering, sometimes music-synched light shows, there is nothing like a display of Christmas lights on houses in Connecticut. They are an annual reminder of the joy and festivity of the season, and while there are plenty of impressive public light shows you can take in around the state, it's our neighbors that most often put their hearts into creating glittering masterpieces. So check websites for unplanned weather cancellations, then pile in the car with a thermos of cocoa and go for a free fix of twinkly lights by driving to these amazing Christmas house light displays. Many of these festive families are also raising money for charity, too.
For more family activities, see our list of the Best Things To Do in Connecticut in December and explore our Connecticut Holiday Fun Guide for more ways to make merry memories.
Best Christmas Lights on Houses Near Fairfield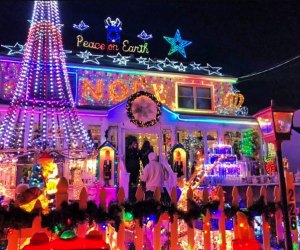 The magic of Wonderland at Roseville is a must-see! Photo courtesy of Mommy Poppins
A destination for many, Roseville Terrace is a light show destination. Donations will be collected for Shriner's Hospital. Hours run from Sunday to Thursday, 5pm to 9pm, and Fridays and Saturdays from 5pm to 10pm. Last minute cancellations due to weather will be posted on the Facebook page.

You'll know it when you get to That House in Milford. Photo by John Krusinski/See The Lights/Facebook
Everyone knows the neighborhood house where everyone gathers year after year to spread glad tidings and holiday cheer. This is THE one in Milford. Stop by to enjoy more than 30,000 lights. Lights switched on November 26 and run 5pm to 10pm on weekends, and 5pm to 9pm on weekdays. If you drop off a letter and include your address, Santa will mail you back! For 2021, they are raffling off a gorgeous Donner Telecaster guitar.
Affectionately called "Santa's Runway," Sterling Road will be decked out with almost 12,000 lights. It encompasses all of Sterling Road, as well as two other cross streets. It's easy to imagine Santa landing on the lit runway!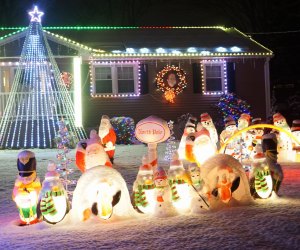 Music and lit figurines make Lincoln Road's lights display extra magical for the littles. Photo courtesy of Lincoln Lights/Facebook
Come and see Lincoln Road's "animated" Christmas light display. The synchronized display features 15 songs and tons of lit up figurines. Tune in to 98.1 FM for musical accompaniment. The home is again collecting donations for the Juvenile Diabetes Fund. The show is on every night starting at 4:30pm.
Best Christmas Lights on Houses in Hartford County

Rich reds are the color scheme for Bristol's best lights on houses. Photo courtesy of Lights On Rosewood/Facebook
The lights are already on at Rosewood for 2021! The beautiful charity fundraiser's nightly display of light will feature a 12-foo- tall Santa skeleton named Skelly. Thursdays through Sundays there is a synchronized song list including 6 songs available on channel 98.3 FM. The household behind this special light show is donating 100% of proceeds to a local family. Non-perishables donated will go to Brian's Angels.
Joshua's Christmas light display is in honor of his mother who passed away and will be opening December 4 at 5pm. Bring a non-perishable food item for the Plainville Food Pantry, and a letter from the kids to Santa. Santa's mailbox will be placed at the end of the driveway this year for children who want to send Santa a letter.
Tom Delnicki (formerly South Windsor mayor) and his wife Audrey, put on a major display annually. This is a drive-by-only show. Opening mid-December.

Many pieces are made by hand at this fantastic holiday light display in Glastonbury. Photo courtesy of Lights on Fisher Hill, Facebook
Lights on Fisher Hill opened on Thanksgiving for the 12th year and will shut down on New Year's Eve. The show begins at 4:45pm and ends at 10:30pm nightly. The 65,000 lights and 5,000 feet of extension cords in the surrounding trees make for a magical "Whoville" themed display for 2021.
A special destination for your well-behaved pets, this light display will be inviting Santa to come and take pictures with your favorite pets. Santa is collecting pet food on December 13 from 5-8pm. Limited parking available.
Best Christmas Lights on Houses in Eastern Connecticut
A dazzling light display set to music has been running for 10 years, and changes every year. Come and see 9,000 lights twinkling along with a 3D Santa Claus, snowmen, tall arches, and more. There is a special unwrapped toy drive on December 11. The light show is open every night from 5-10pm.

Head to Dayville, then get out of the car for a magical walkthrough of some of the best holiday lights on houses in Connecticut. Photo courtesy of Amarante's Winter Wonderland
Closed on Monday nights, but open every other night of the week at 5pm, Amarante's is an amazing walkthrough of glittering lights. Closed in 2020 due to COVID-19, they are back open and ready to welcome visitors.
Opened on December 3, Lights on Mark Drive is adding an app for music this year. Music is synched to an awesome light show. For a sneak preview, check out their rendition of Little Drummer Boy from last year.
Tiffany Drive in East Hampton is the home of the Scrivano's light display. The Scrivano's collect food for the East Hampton Food Pantry, so please bring some non-perishables.
Updated 12/1/2021