Spectacular Neighborhood Holiday Lights and Christmas Lights in Connecticut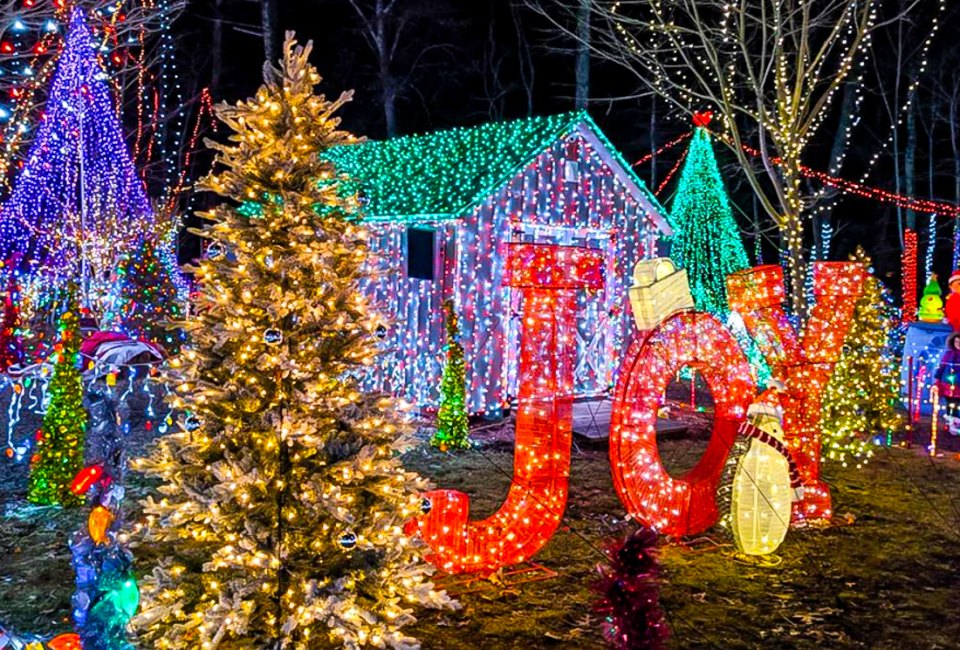 12/9/22
- By
Jennifer Coe
Spectacular Neighborhood Holiday Lights on Houses Near Fairfield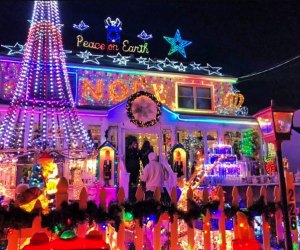 The magic of Wonderland at Roseville is a must-see! Photo courtesy by Ally Noel
A destination for many, Roseville Terrace is a massive light show destination. See lit up trains, dogs, reindeer, snow men, as as a Menorah and nativity. Donations will be collected for Shriner's Hospital. Hours run from Sunday to Thursday, 5pm to 10pm, and Fridays and Saturdays from 5pm to 10pm. Last minute cancelations due to weather will be posted on the Facebook page.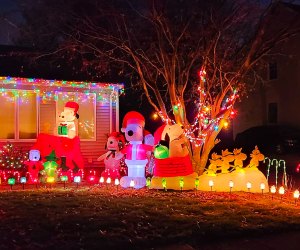 Look for your favorite characters at holiday light displays around Connecticut. Christmas in Milford photo courtesy of Jennifer Gilbert
If you live in, or near, Milford, you will want to follow the Facebook group Christmas in Milford to see all the different houses (and there are quite a few) that decorate for the season. There is even a yearly contest for best decorations.
The Runway is open! Affectionately called "Santa's Runway," Sterling Road will be decked out with almost 12,000 lights. It encompasses all of Sterling Road, as well as two other cross streets. It's easy to imagine Santa landing on the lit runway! Follow their Facebook page to find out when Santa and the Grinch will be making visits.
Come and see Lincoln Road's "animated" Christmas light display. The synchronized display features 20,000 lights lit up figurines. Tune in to 98.1 FM for musical accompaniment. The home is again collecting donations for the Juvenile Diabetes Fund. The show is on every night starting at 4:30pm until 9:00pm on weeknights and 11:00pm on weekends.
Spectacular Neighborhood Holiday Lights on Houses in Hartford County

Lights on Rosewood puts on an amazing Christmas display. Photo courtesy of Lights On Rosewood/Facebook
The lights are already on at Rosewood for 2022! Thursdays through Sundays there is a synchronized song list including 6 songs available on channel 98.3 FM. The household behind this special light show is donating proceeds to Heroes Behind the Badge and other worthy causes. Non-perishables donated will go to Brian's Angels.
Joshua's Christmas light display is in honor of his mother who passed away. Bring a non-perishable food item for the Plainville Food Pantry, and a letter from the kids to Santa. Santa's mailbox will be placed at the end of the driveway this year for children who want to send Santa a letter. Tune into 92.9 FM for music.
Tom Delnicki (formerly South Windsor mayor) and his wife Audrey, put on a major display annually. This is a drive-by-only show. Opening mid-December.

Many pieces are made by hand at this fantastic holiday light display in Glastonbury. Photo courtesy of Lights on Fisher Hill, Facebook
The Danco family's annual light display is astounding and you might see Santa's elves or the Grinch! Lights are on from 4:45 to 10:30 until New Year's Day. The reflection in the water is one-of-a-kind amazing.
Through January 1, 2023, come and see the light display put on by the Kardos family. Every night there will be a light show from 6:00pm to 9:00pm. Tune into 92.1 on the radio to hear coordinated music. A QR code will be visible if you are interested in making a donation to the Women's Club of East Granby.

Lights, music, and figurines combine for stunning light displays. Photo courtesy of Joshua's Christmas Display, Facebook
This light display is erected annually in honor of Joshua's mother. Enjoy rainbow Christmas trees, synchronized lights and music (on radio 92.9). Please bring a non-perishable food item to be donated to the Plainville Food Pantry.
Best Christmas Lights on Houses in Eastern Connecticut
A dazzling light display set to music has been running for 10 years, and changes every year. Come and see 9,000 lights twinkling along with a 3D Santa Claus, snowmen, tall arches, and more. The light show is open every night from 5-10pm and on December 9, they will be collecting new, unwrapped toys for Waterford Youth Services.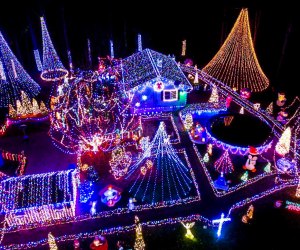 These Connecticut light displays are truly wonderful. Photo courtesy of Amarante's Winter Wonderland
Closed on Monday nights, but open every other night of the week at 5pm, Amarante's is an amazing walkthrough of eye-popping glittering lights.
Opened on December 3, Lights on Mark Drive is massive with 48,000 lights. Music from 92.9 is synched to an awesome light show. For a sneak preview, check out their rendition of Little Drummer Boy from last year.
Tiffany Drive in East Hampton is the home of the Scrivano's light display. The Scrivano's collect food for the East Hampton Food Pantry, so please bring some non-perishables.
Updated 12/4/2022
Sign up for the Mommy Poppins Newsletter today!
i