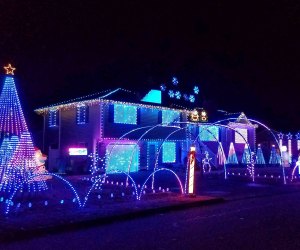 Best Christmas Lights on Connecticut Homes
Ah, the cheerful glow of holiday lights; few things make the season brighter. And while there are plenty of impressive public light shows you can take in around the state, let's not forget those neighborhoods where festive families go over the top with their home holiday lights. If you know where to look, you can find some truly dazzling displays. So pile in the car, fire up the GPS, and get your twinkly lights fix with these spectacular home holiday light displays around Connecticut. See our Connecticut Holiday Fun Guide for more ideas for making merry with kids this season.
Best Home Holiday Lights in Southwest Connecticut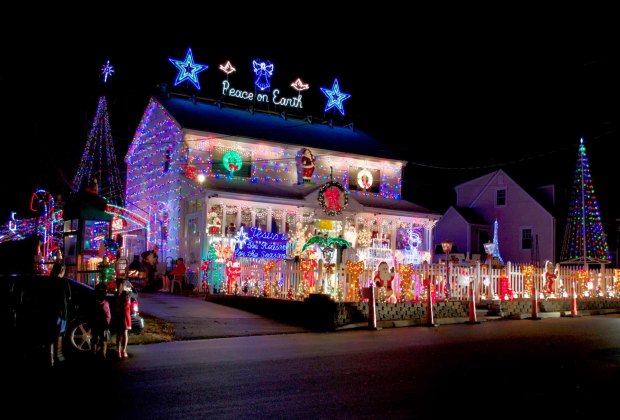 Wonderland at Roseville is Connecticut-famous for its long-running holiday lights display. Photo courtesy of Wonderland at Roseville/Facebook
Wonderland at Roseville - Fairfield
A destination-lights spot for many, Roseville Terrace is put together by a group of family and friends who "simply love the holidays!" Donations will be collected for Shriner's Hospital. Hours run from Sunday to Thursday, 5pm to 10pm, and Fridays and Saturdays from 5pm to 11pm.
That House in Milford—Milford
Everyone knows the neighborhood house where everyone gathers year after year to spread glad tidings and holiday cheer. This house on Meadows End Road in Milford is that house. Stop by to enjoy over 30,000 lights (and show your appreciation with a donation to the Connecticut Food Bank). Lights open on the day after Thanksgiving, and run 5pm to 10pm on weekends, and 5pm to 9pm on weekdays.
Sand Hill Road Holiday of Lights - Middletown
This massive display put on by neighbors is beautiful to see as well as meaningful. Many see this display for the first time driving down Route 9. They annually collect food donations for Amazing Grace Food Pantry, Cat Tails Cat Shelter, and the Middletown/Portland Dog Pound in Middletown, so bring a few things to share like peanut butter, tuna, personal hygiene items or dog food. The lights are on from 5pm to 10pm on weekdays and 5pm to 12am on weekends.
House of Lights - Stamford
Located on Lewelyn Road, this annual light show boasts over 600,000 lights. Tony's house is full of lights from front to back, and was featured on ABC's "Christmas Light Fight." Follow the lighted path around to the backyard and get a candy cane for the kids. It opens on Thanksgiving (Thursday, November 28, 2019) and shuts down for the season on January 7, 2020.
Primrose Drive - Trumbull
Couple, Jim and Marilyn Lang set up festive lights during all of the major holiday seasons. Thousands of colored lights, landscapes and synchronized music make this light show tons of fun. They also employ sculptures to make their display special, including pine trees, Santa, a nativity scene, a star, and more.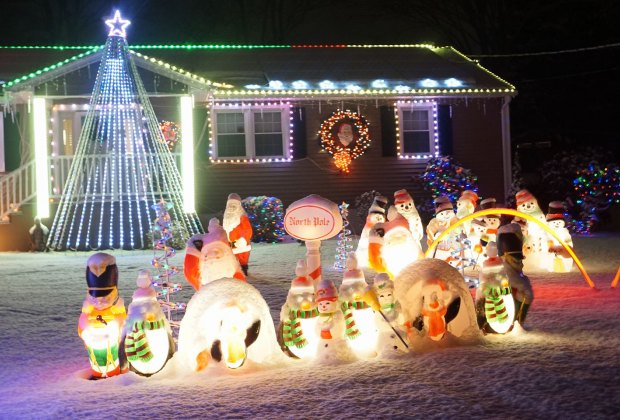 Music and lit figurines make Lincoln Road's lights display extra magical for littles. Photo courtesy of Lincoln Lights/Facebook
Lincoln Road - Orange
Come and see Lincoln Road's "animated" Christmas light display. The display features 15 synchronized songs and tons of lit up figurines. Yummy sugar cookies are handed out to visitors. Tune in FM 98.1 for musical accompaniment.
The Bakers' Christmas Display - Stratford
This family's larger-than-life display is a special sight. There is a 20-foot mega tree, a 16-foot pixel tree, snowflakes, lit up garland strings, and synchronized classic Christmas music. Tune in on FM 107.3. Opens Saturday, November 30 at 5pm.
Best Home Holiday Lights in Central Connecticut
Lights on Rosewood - Bristol
The lights go on Saturday, November 30, 2019. The beautiful charity fundraiser display of light will include 4 pixel fans, 5 pixel snowflakes, and Pix-cicles. The synchronized song list will include 4 songs on channel FM 98.3. This special light show raises money and collects non-perishable food for local families.
Lights on Hillscrest - Plainville​​​
Opening on December 7, 2019, Joshua's Christmas light display is in honor of his mother who passed away. On opening night they will be serving refreshments beginning at 5:30pm and Santa Claus will be arriving to switch on the 30,000 lights! Bring a non-perishable food item for the Plainville Food Pantry and a letter from the kids to Santa. He is bringing his mailbox with him.
130 Felt Road - South Windsor
State Representative Tom Delnicki (formerly South Windsor mayor) and his wife Audrey (a local town council member), put on a major display annually. This is a stay-in-your-car-and-drive-by show, but well worth a road trip.

Lights on Fisher Hill - Glastonbury
Lights on Fisher Hill opens the day before Thanksgiving and shuts down on New Year's Eve. The show begins at 5 pm. The lights in the surrounding trees make for a magical woodland scene.
Best Home Holiday Lights in East Connecticut
Glow on Gallup - Waterford
A dazzling light display set to music has been running for 10 years, and changes every year. Come and see 9,000 lights twinkling along with a 3-D Santa Claus, snowmen, tall arches, and more. Despite all this, owner James Gessner says his electricity bill doesn't skyrocket.
Quiet Corner Christmas - Brooklyn
This family loves their holidays! Christmas lights have gone up every year since 2006. This light display features music and coordinated light shows. Proceeds collected during their light season are donated to Corey's Crusaders, a charity focused on helping families with children who suffer from brain cancer. Quiet Corner Christmas opens on Friday, November 29, 2019 and ends January 1, 2020.