Best Petting Zoos in Connecticut: Animals Up Close at Farms and Petting Zoos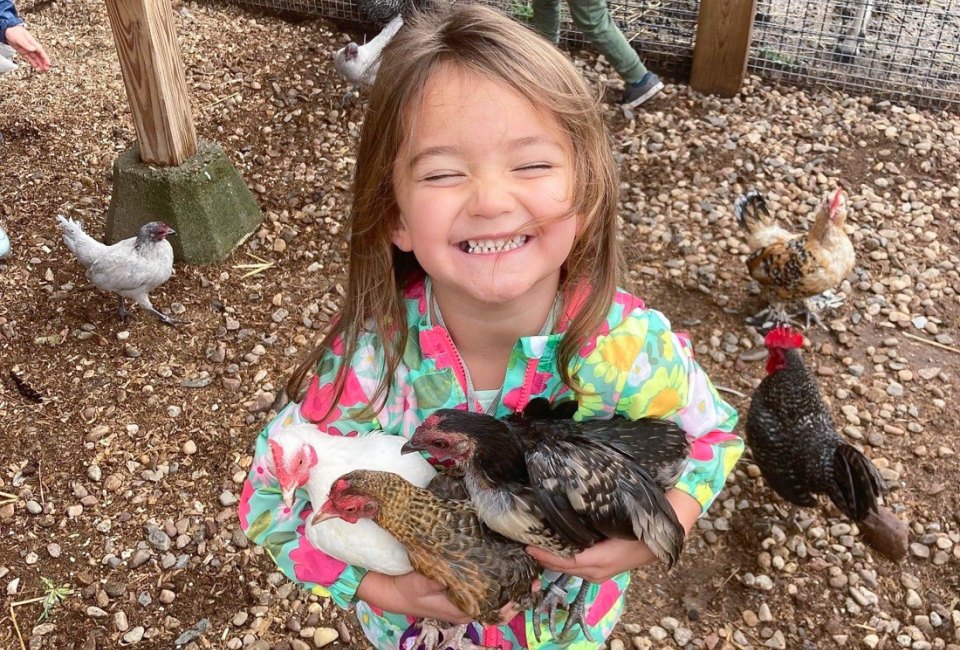 4/21/23
- By
Ally Noel
When you take a child to petting zoos in Connecticut and farms with animals, it's as if the pictures in their little books come popping off the page. A real-live donkey, even a zebra, and all the farm animals whose sounds we teach them so early on are right there! There are lots of nurturing, healthy petting zoos, farms and rescues in Connecticut where families can visit all the furry creatures, big small!
In addition to getting up close and personal with these animals, many of these Connecticut Farms also offer a wide variety of pick-your-own fruits and vegetables. There is plenty of family fun to be had. Read on for our favorite Connecticut petting zoos and farms to visit. And don't forget to visit your other four-legged friends at these Connecticut Zoos and Gardens.
Petting Zoos in Connecticut - Hartford Area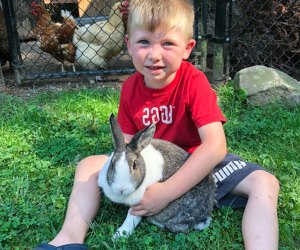 Hop on down to farms with animals and petting zoos in Connecticut. Photo courtesy of Flamig Farm
One of the best known Connecticut petting zoo, Flamig Farm is home to cats, dogs, chickens, geese, pigs, goats, donkeys, llamas, miniature horses and so much more! It's also famous for its "backward EGGS" sign on its big, red barn. For a fee, guests are welcome to walk around the petting zoo and meet all of these wonderful animals. Cups of grain are also available for purchase.
Roaring Acres raised two different breeds of alpaca, sheep, mini-horses, goats, pigs and more. They welcome families to come to the farm on a regular basis and provide many opportunities to see their animal family. Typically open during the weekend in the Spring. Wear outdoor shoes in case of mud.
Bradley Mountain Farm is goat heaven! This spot is home to 25 dairy goats, each with an adorable name (we have a soft spot for Abby.) From goat strolls to goat painting, and, of course, goat yoga, this arm offers a wide variety of year-round goat-themed activities. Make sure to check out their seasonal events, such as the popular reindeer goat stroll.
Guests can visit the animals at Westmoor Park just about every day of the week. Feeding and petting are not allowed, though children can still get first-hand experience with these furry friends. Horses, pigs, chickens, goats, llamas, sheep, bunnies, geese, donkeys, and cows are typically on view at the farmyard. Westmoor Park encompasses 162 acres filled with wildflower meadows, perennial gardens, woodland trails, and offers a variety of educational programming.
This small family-run farm is located in the woods of Manchester. The farm offers educational farm tours that provide guests with an opportunity to feed, pet, and interact with a wide variety of farm animals. Cuddle and play with newborn baby goats and piglets during the extremely popular baby farm animal socialization sessions. Aussakita Acres Farm is open from April to mid-November, by appointment only.
Petting Zoos in Connecticut - Fairfield Area
Silverman's Farm is the largest of Easton's active farmsteads. Located on Sport Hill Road, this farm offers all kinds of farm-filled fun. Silverman's animal farm has a little bit of everything from bunnies to buffalo. Feed a llama, pet a pig, get up close and personal with an emu, and so much more. The farm also has a steady rotation of pick-your-own fruits and berries and a fully stocked country market to grab a bite to eat.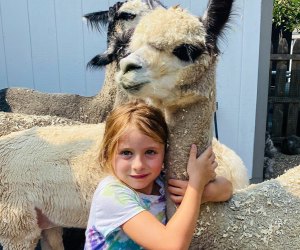 Animal encounters can be big fun at Connecticut's petting zoos. Photo courtesy of Goldilocks Farm Visits
Nestled into a private residence in the Southport section of Fairfield, Goldilocks Farm Visits offer private group outings on the farm. For a fee, guests can reserve their own personal time slot at the farm. Step into a barn filled with alpacas, chase after bunnies, and take a donkey for a walk around the stable. Each visit comes with a bag of feed to share with the animals. All visits are by appointment only.
Petting Zoos in Connecticut - Litchfield Area
Action Wildlife Foundation is a truly unique Connecticut experience! It opens for the season on May 15. Guests are able to drive through Action Wildlife's 18-acre safari to view and feed herds of Fallow Deer, Japanese Sika Deer, White Tail Deer, and emus. A new baby buffalo was just born on May 6, too. The animals are free to roam the safari as if they were in the wild. Action Wildlife Foundation also has a Museum & Exploration Center where guests can feel different types of fur and touch antlers dropped from the Foundation's animals. Feed is available to give the animals for a $5 fee, though no hand feeding is allowed. Feed must be placed on the ground.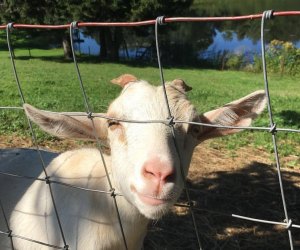 Connecticut's petting zoo animals are eager for you to visit! Photo courtesy of March Farm
In addition to its wide variety of pick-your-own fruits and berries, farm store, and hayloft play-scape, March Farm's pondside animal yard has a brand new rock & pole course for its friendly herd of goats. The animal yard is free for anyone who is visiting the farm. Make sure to check the calendar for its summer concert series and farm-to-table meals.
Where else can you visit a zebra, camel and a deer in the same place? Oh, and don't forget the fowl (and there is so much more). A low-key animal sanctuary that is open on the weekends for a visit. Follow their Facebook page for weekly updates on openings.
Petting Zoos in Connecticut - New Haven Area
Take a step back in time on a visit to the Dudley Farm Museum. This small working farm has livestock that would have lived on the farm in the late 19th century. Learn all about how the farm's original residents would have taken care of their sheep, chickens, cows, and oxen. Guests can watch farm chores like oxen plowing the field or fresh eggs being collected. Make sure to stop by the Dudley Farm House Museum to learn all about life on the farm.
Petting Zoos and Farms - Eastern CT

Some animal encounters make seriously awesome photo-ops! Photo courtesy of Creamery Brook Bison
There aren't a lot of places where kids can see bison for real and up close! Creamery Brook is a beautiful, open landscape that is home to a herd of huge bison roaming freely. The bison are turned out into the fields to roam freely and graze. They can be watched and viewed by the public. During the month of June, the farm holds a festival with vendors. Bison meat is sold on-site by appointment.
Sign up for the Mommy Poppins Newsletter today!
i