Best Breakfast Restaurants in Connecticut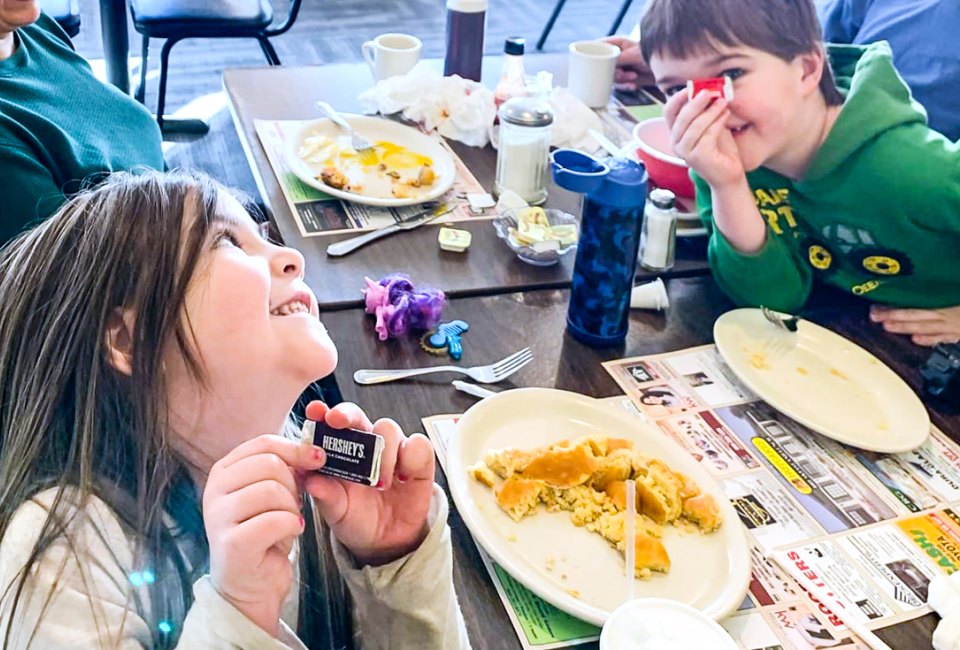 2/3/23
- By
Brandee Gilmore
From Hartford to New Haven, and from Mystic to Fairfield County, there are wonderful places for breakfast in Connecticut. These days, going out to dinner for a family of four can be budget-busting! Bacon and eggs or a syrup covered waffle or some fresh squeezed orange juice will really hit the spot on a Saturday morning instead. And of course, mom and dad can get their caffeine flow started. In all corners of the state, Connecticut has family-friendly sit-down breakfast joints. And the menu offerings—waffles, French toast, and stacked pancakes—are sure to please. From diners to restaurants, read on for the best places for breakfast in Connecticut!
Connecticut has so many great places to eat with kids. Explore all kinds of dining options in our Connecticut Restaurant Guide. And for fresh ideas for meals at home, browse our Easy Recipes Guide. It's packed with fun, delicious, and creative recipes.
Best Places for Breakfast with Kids Near Hartford
This breakfast menu includes an assortment of traditional egg dishes cooked in all different ways. Other items include hash browns, English muffins, and croissants. Kids may want to try the Luscious Lemon Crepes, pancakes, or French toast. Indoor seating with lots of light and a small-town feel make Harvest Bakery and Cafe one of the family favorite breakfast restaurants in Connecticut. Take some fresh baked good home with you too!
RELATED: 12 Connecticut Restaurants Where Kids Can Play While You Eat (And Relax)

Order up! Find delicious and creative dishes across Connecticut. Photo courtesy of the Cosmic Omelette, Facebook
Open every day of the week except Tuesday, The Cosmic Omelet serves breakfast all day long starting at 7am. This cafe has of cool vibes, arcade games, and a yellow brick road. The huge menu includes biscuits, pancakes, bacon, sausage, and (of course) lots of different omelets.
A town-wide favorite that's always hopping during breakfast hours, Dom's is a family-run business that serves meals diner-style. It opens every morning around 7am and has all the favorite breakfast dishes including eggs, pancakes, and even Chicken and Waffles. Habla espanol.
RELATED: Kids Eat Free in Connecticut: Family-Friendly Restaurants With Free Kids' Meals

The pancake parfait with caramel sauce is a sweet treat kids will love. Photo courtesy of Josie's Corner.
Find delicious muffins like butter-rum, banana nut, corn. There's also an option called Morning Glory available, as well as more interesting dishes like the Aloha omelet and French toast with peanut butter chips. Tables can seat two or four, and there are plenty of toddler seats. Josie's Corner is known for large portions.
Hot Cakes is an adorable, family-style restaurant with counter service. Sit at a table near the country-curtained windows and eat with a view. This is definitely a stop for locals and big Red Sox fans. Thankfully, there is plenty of room for families.
Saint's is famous for its hot dogs, but they serve a tasty breakfast too! Choose from platters like the Saint's Sampler, Eggs Irish, and even a platter called Keto Mountain (for Keto followers of course). Kids have their own menu to choose from, with pancakes, eggs, and more. It's a hopping, busy location with counter service as well as tables.
Best Breakfast Places for Kids in Fairfield County
RELATED: Igloos, Greenhouses and Heated Patios: Fun Outdoor Restaurants in Connecticut for Winter Family Dining

It's all about the pancakes, people! Photo courtesy of Chip's
It's all about the pancakes at Chip's Family Restaurant. Chocolate Chip Banana. Coconut Crunch. German Apple. You get the idea. It's no wonder these flapjacks have been voted best in the state by Connecticut Magazine three years running. Chip's has been a landmark in Orange for decades and has five locations across Fairfield, New Haven, and Hartford counties. Breakfast is served all day long and they have a kids menu as well.
Harborview Market has breakfast sandwiches and wraps, omelets, platters, and more. Collect your fresh croissants, imported coffee, and kids' drinks before moseying up to the front counter to order. They offer fresh-squeezed orange juice, steel cut oatmeal, and pancakes with Nutella. Oh yum!
This beloved cafe isn't so much a full breakfast as it is a nice, quick bite to eat with a great cup of coffee for mom or dad. Kids will love the Bavarian pretzels and sweet pastries. Parents can get a much-needed java boost. Don't forget to try the hot Nutella drink!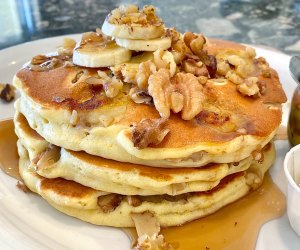 Clear the rest of your morning and treat yourself to a decadent breakfast! Photo courtesy of Sherwood Diner
Locals flock to this Post Road landmark for tasty dishes and super fast service. You shouldn't have to wait terribly long even if it's prime chow time. Prices are a little higher than average, but it's worth it for the pancakes piled high with chocolate chips, waffles and strawberries, and huge cinnamon rolls the size of your head!
Best Places for Breakfast with Kids in New Haven
A Best Restaurant Award Winner in 2022, Bella's is a step up in dining. Breakfast options include buttermilk pancakes, Italian French Toast, omelets, and more. It's located in the heart of Whalley Avenue's culture.
Feast on diner-style potatoes, bacon, and pancakes for the whole family. Pop's is a family restaurant that serves fun silver dollar pancakes or French toast sticks for the kids.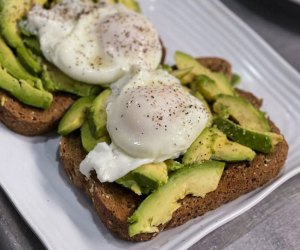 Who doesn't love avo toast for breakfast? Photo courtesy of Claire's Corner Copia
In the heart of downtown New Haven, Claire's is a well-established, healthy eatery. If you're inclined toward whole grain, organic eating, Claire's is a must. Organic eggs, vegan whole grain pancakes, organic oatmeal, and tofu scramble are all on the menu. Claire's opens at 9am.

The best breakfast places don't skimp on the whipped cream! Photo courtesy of Nick's Luncheonette
Breakfast is served all day at Nick's, an old-fashioned but stylish breakfast joint. There's a huge menu and plenty of indoor and outdoor seating. There's also counter service as well as tables or booths for families.
Best Breakfast Places for Kids in Eastern Connecticut
For breakfast, grab a Best Evah Egg Sandwich, pulled pork, or a Spicy Cowboy. To wash it all down select from their extensive smoothie list. This Connecticut breakfast restaurant opens daily at 8am.
You're going to want to go-go here! Located at Mohegan Sun, Hash House serves breakfast all day long. This is a step up from your local breakfast eatery, with tasty menu items like hickory bacon and farm-style dishes. Your hash browns are served in a cast iron pan with eggs and biscuits. Kids might like to try a bacon waffle or buttermilk flapjacks.

Waterford is home to one of the best places for breakfast in Connecticut. Photo courtesy of When Pigs Fly
If you have a family of early risers, you can head down to When Pigs Fly starting at 7am. Choose indoor seating or outdoor seating (when the weather is nice). The daily menu is posted on their Facebook page.
A diner feel with a huge menu. This restaurant is open with lots of room for families to spread out and a friendly staff with a young, energetic vibe. They decorate for all the seasons and have countertop service as well as tables and outdoor dining during the warmer months.
This article was last updated in 2023.
Sign up for the Mommy Poppins Newsletter today!
i