Connecticut Minor League Baseball Teams to Cheer on with Kids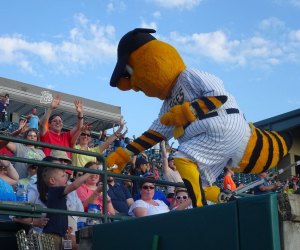 If baseball beckons you every summer, like popsicles and pools, Connecticut can be a tricky place to live. Is it Red Sox country? A Yankee stronghold? Mets loyal? Probably all of the above, but Mommy Poppins has no intentions of wading into THAT debate. Rather, we'll educate you on the alternatives right in your backyard -- minor league ballparks with major league fun. They're perfect for the family, kind to your wallet, and spread out across the state. Batter up!!
The Hartford Yard Goats are a Double-A minor Eastern League team that launched in 2016. The Yard Goats replaced the New Britain Rock Cats, a Colorado Rockies affiliate, relocated and rebranded. The Yard Goats play at the brand new Dunkin' Donuts Park just north of downtown Hartford. Sign up for the Red Robin Kids Club, a completely free program for kids ages 12 and under for invitations to special kids events and promotions. Check the schedule for ongoing activities like post-game run the bases, visits from Paw Patrol pups and plenty of Yard Goat swag giveaways.
Dunkin' Donuts Park 1214 Main Street Hartford 06103
The Norwich Sea Unicorns (formerly the Connecticut Tigers) are a Minor League Baseball Class A short season team, and part of the Detroit Tigers organization. According to Minor League Baseball's website, 'short season' means "rosters populated by younger players and recent draft picks making their professional debuts." In other words, boys of summer with nowhere to go but up! Since 2010, Connecticut fans have been treated to watching these dreamers in the dugout at Dodd Stadium in Norwich, CT. (FYI, their website states that Google, Mapquest and GPS devices will often direct you to Plain Hill Rd., which is CLOSED on game days, so re-route accordingly).
Dodd Stadium 14 Stott Ave. Norwich 06360
The New Britain Bees succeeded the New Britain Rock Cats who moved to Hartford (and became the Hartford Yard Goats) The New Britain Bees are part of the Atlantic League of Professional Baseball and are not affiliated with MLB. Still, when taking your littles, the New Britain Bees offer a top-notch experience with peanuts, cracker jacks, and a kid's fun zone with bounce houses and a carousel! Arrive early and players sign autographs before the game. Stay late and your kiddos get the chance to run the bases.
New Britain Stadium 230 John Karbonic Way New Britain 06051
Originally published