Legoland New York Brings Mega Theme Park Fun to the Hudson Valley
9/16/21
- By
Rose Gordon Sala
The much-awaited Legoland New York opening this summer delivered Orlando-sized theme park fun right outside of New York City. Its summer 2021 grand-opening felt like a special pandemic present for our kids who have been desperate to visit the Florida Legoland for years.
After our August visit to Legoland New York, we wanted to share our favorite highlights and top tips for navigating the park with young kids.
Subscribe to our newsletters to get stories like this delivered directly to your inbox.
Situated on more than 150-acres in the foothills of the Catskills, Legoland New York opened its mega theme park around Memorial Day 2021 after a year-long delay during the ongoing COVID pandemic. It's in Goshen, just north of Harriman State Park, just over the border from Northern New Jersey, and a bit over an hour's drive northwest of the city.

Legoland New York made its long-awaited debut in May 2021.
Highlights of Legoland New York
The campus is sprawling (and hilly) but also very pretty. It's surrounded by green, but as other reviewers have pointed out, it lacks shade. We visited on a cooler day, so it wasn't a problem for my family but definitely suggest packing sunblock and hats on summer days.
Seven distinct lands make up Legoland New York: Brick Street, Bricktopia, Ninjago World, Lego Castle, Lego City, Lego Pirates, and Miniland. Download the app before you arrive and pick out your favorite rides to cruise over to that area first, ensuring you don't miss out on the kids' top choices. The app also alerts you to any ride closures. You might have a Ninjago fan on your hands, or someone who wants to check out the amazing, interactive global city models in Miniland, or another kid who just wants to cool off with the various water rides in Pirate's Land.
RELATED: Guide to Theme Parks and Water Parks

Lego fans will love all the brick constructions and photo-ops.
Of course, all the rides here are Lego-themed, making it the perfect park for Lego fanatics, and honestly for any kids who like at least one of the Lego characters. There aren't many thrill rides here, but it's a great park for elementary-age kids, and there's plenty for younger siblings to do, especially toddlers. You can search rides by height, age, and whether or not a parent can ride, too. Legoland is designed for ages 2-12, but the sweet spot feels like 4 to 10.
We took the wheel at the Coast Guard Academy, navigating our ship to safety, earned our licenses at the Legoland Driving School, and even won some souvenir stuffies after playing the carnival games. My kids beelined for the Dragon roller coaster, well, the older two (ages 6 and 8), and my 3-year-old couldn't get enough of the awesome playgrounds scattered throughout the park, including the Pirate Ship (don't miss it!).
RELATED: Great Amusement Parks in New Jersey for Preschoolers and Toddlers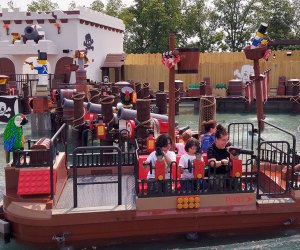 The Splash Battle is designed for the whole family to ride together. Photo courtesy of Legoland
Some more of our favorites were the rides all three kids could do together, such as the fantastic Brick Party carousel, or rides the whole family could do, such as the Splash Battle where all five of us hopped in a ship and blasted other families with water cannons! I also loved that the park has a little kid version of a number of its more popular big kid rides, such as driving school for tots and a mini roller coaster.
RELATED: Legoland Florida: Everything You Need to Know for a Great Visit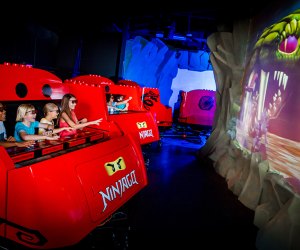 Ninjago The Ride lets visitors blast fireballs, lightning and more, at a variety of villains. Photo courtesy of Legoland
The much-hyped Lego Factory ride left us underwhelmed, and we ducked out of the line for another indoor option, Ninjago The Ride, which seemed to similar, but for the most part, the kids raved about all the rides they tried.
Honestly, we spent the whole day racing from one ride to the next, as well as stopping to check out all the impressive models throughout the park, from animals to buildings and favorite characters. Our feet hurt by the time the day was done (I mentioned that it's hilly, right? And spread out?), but of course, the kids just wanted to return as soon as it was done so we could make time for the rides we had missed, including the Fire Academy, a fire truck battle, and Anchors Away, a pirate ship ride.
The Lines
We went on a busy summer Saturday, and yes, some of the lines were brutal. We waited so long in one line that my kids took a lunch break while I held their place. But then we had a blast once we boarded the little boats of the Coast Guard Academy. Other lines looked long but we flew through them, such as at the roller coaster. It seemed to depend on how fast the ride went and how many people each car fit. Hopefully, as the park and staff get a little more seasoned, things will move a bit faster. The lines did seem to let up later in the day. As closing time neared, we boarded ride after ride, barely waiting in line.
RELATED: Best Amusement Parks for Preschoolers in and Near NYC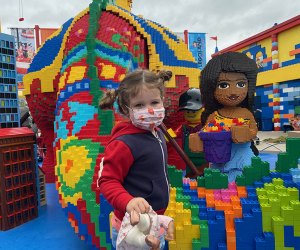 Masks are encouraged at Legoland New York but not required.
Masking?
We wore our masks for indoor rides and in crowded queues, and so did many others. However, as most of the park is outdoors, you will encounter many unmasked patrons, so a visit may depend on your comfort level and the vaccination status of your kids. Legoland New York does officially "recommend" masks for all indoor attractions. We found plenty of hand-sanitizing stations, too.
The Food at Legoland New York
The food is typical for a theme park with pizza, pasta, hot dogs, ice cream, and popcorn––but disappointing given its proximity to the foodie haven of the Hudson Valley. There did seem to be some more interesting Asian-inspired fare near Ninjago World, but we didn't get a chance to sample it. The lines were also quite long for food, and it was sometimes a long walk back to the land with a certain kid's preferred food item, so I highly recommend planning out your lunch break well ahead of time, or packing a picnic. We were pleased to find our favorite allergy-friendly, NYC-founded ice cream shop, A La Mode at Legoland New York. It's so rare that my food allergic kid can join the fun at the ice cream stand. We also stumbled upon one eatery with beer on tap near Pirate World, which was a nice adult treat, too.
...So, Is It Worth the Price?
My kids, ages 3 to 8, say a big, heck, yes! Is there room for improvement? Sure. But it just opened. Give it some time. I read several negative reviews before we visited and was a bit nervous, but I have to disagree, especially with those critics claiming half the rides were closed. This was not our experience. Several of the toddler rides were closed as well as a playground when we visited, but there was still plenty to do, and we struggled to see it all in one day.
RELATED: Best Amusement Parks Near NYC Reachable by Public Transportation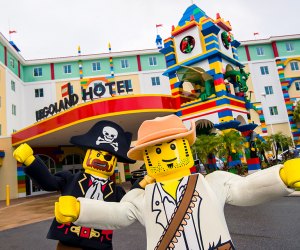 Make your day trip into a weekend getaway by booking a night at the Legoland Hotel. Photo courtesy of the resort
Legoland Hotel
Opened in August 2021, the new Legoland Hotel offers easy walking access to the front gate of Legoland New York. It has 250 rooms, all with amazing themes, such as Pirates, Lego Friends, Kingdom, or Ninjago, and many have bunk beds in a separate sleeping area to accommodate larger families, such as mine. A seasonal pool, on-site dining, and nightly entertainment make a stay here a special treat for kids.
We're plotting a birthday overnight for one of my kids, so look for our review of the hotel coming soon.
Know Before You Go to Legoland New York
Wear your sneakers. It's a big park with long and winding paths.
Bring the stroller for anyone ages 4 and under. At the very least, you can park your bags and stuff in it. The park does also offers stroller and wheelchair rentals.
Legoland New York tickets can be purchased online for small savings. Consider booking a hotel stay for a package deal. Reservations are currently required for all visits.
Plot out where you prefer to eat ahead of time as it can take a while to move from one section of the park to the next.
Download the app to check for special events, such as the upcoming Brick-or-Treat Halloween event, ride closures, and the park map.
You will get hit with a parking fee upon exiting the park. Save a few bucks by buying this online, too.
Legoland New York hours: It's a seasonal park; Legoland New York's rides are closed in the winter months, while the hotel is open year-round. The theme park rides remain open on weekends and some limited weekdays through the end of November, reopening in April.
Photos by author except where noted
Places featured in this article:
Click Here to Sign Up!
i