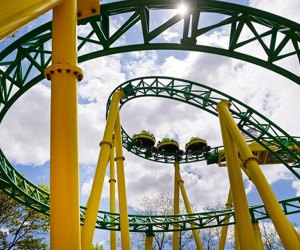 Best Amusement Parks Near NYC Reachable by Public Transportation
If you're feeling nostalgic for a summer adventure filled with cotton candy and Ferris wheel rides, it might be time for some family-friendly fun at a nearby theme park. There's no shortage of amusement parks and water parks for New York City-based thrill-seekers, but if you don't have a car, some parks can seem out of reach. Fear not, we've rounded up the best amusement parks that are easily accessible from NYC via public transportation. Remember the sunscreen—and forget the parking (and rental) headaches.
Find more summer fun in our Theme and Water Parks Guide.

Six Flags has thrill rides, kiddie rides, a safari, a water park — and a bus package from Port Authority! Photo courtesy of the park
New Jersey
Six Flags – Jackson, New Jersey
1 Six Flags Boulevard
How to Get There: New Jersey Transit is the most affordable and convenient option, thanks to a bus package that takes a little over an hour from door-to-door. Skip the tolls and parking by taking New Jersey Transit Bus 308 directly to the gate. The express bus service to the park runs from Port Authority and Newark Penn Station.
Top sights: This popular park isn't just about the high-intensity thrills; it also has an impressive selection of kiddie rides. Young children will love Six Flags Safari, where they can visit lion cubs, parrots, goats, and a multitude of exotic animals. Kid-friendly entertainment includes dance parties, animal presentations, and meet-and-greets with the Looney Tunes gang. There's also an entire water park on-site, Hurricane Harbor, with rides, slides, and the new water play area: Caribbean Cove.
RELATED: Best Amusement Parks for Preschoolers in and Around NYC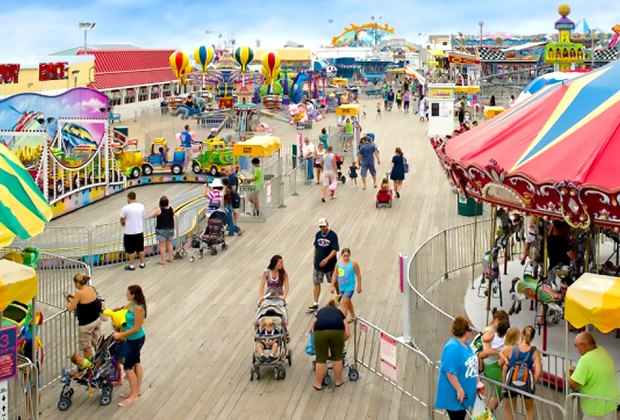 With rides food and the beach, Jenkinson's Boardwalk has a little something for everyone. Photo courtesy of the boardwalk
Jenkinson's Boardwalk – Point Pleasant Beach, New Jersey
300 Ocean Avenue
How to Get There: Jenkinson's Boardwalk is easily accessible via train or bus. Visitors can take New Jersey Transit from Penn Station right into Point Pleasant Beach. It's a four block, 10-minute walk from the station to the boardwalk.
Top sights: This classic boardwalk has it all: an aquarium, three mini-golf courses, a fun house, an arcade, midway games, and lots of rides geared toward the shorties. Firetrucks, boats, airplanes, helicopters, motorcycles, trucks, trains—kids have their pick of a huge variety of amusements made just for them. When you're done with the flashing lights and carnival music, head over to the beach for a relaxing afternoon on the sand.
New York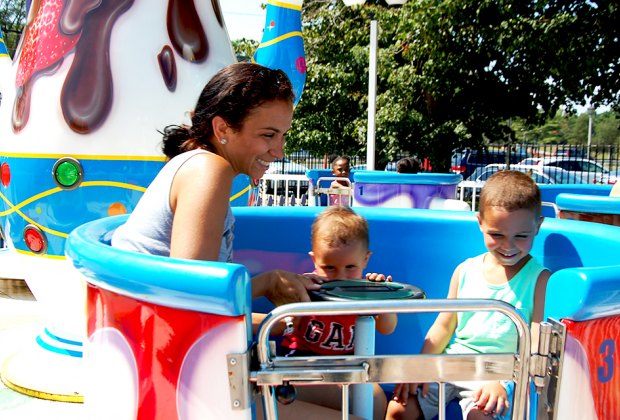 Spin in a classic teacup ride at Adventureland in Long Island.
Adventureland – Farmingdale, New York
2245 Broad Hollow Road
How to Get There: Take the Long Island Railroad to Hempstead or Farmingdale, then the N70 bus going toward Melville, which stops on Broad Hollow Road near Adventureland.
Top sights: This Long Island amusement park has been delighting New Yorkers since 1962. Adventureland includes plenty of classics—think bumper cars, an arcade, and a wave swing—in addition to more unique rides like the interactive Crocodile Run water ride and Turbulence, Long Island's only spinning coaster. Hit up the face painting and Dippin' Dots for a totally retro day out.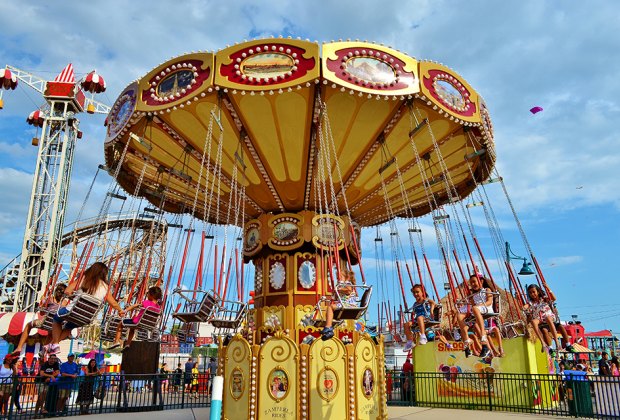 Swing high at Luna Park after a subway ride. Photo by Gigi NYC via Flickr
Luna Park – Coney Island, Brooklyn
1000 Surf Avenue
How to Get There: Plan to spend about one hour on the subway or bus, depending on where in the city you're coming from, but once you arrive at the station, it's about a five minute walk to the park.
Top sights: The city has several mini amusement parks, but Luna Park is the largest. You'll find the legendary Cyclone roller coaster, and more rides from mild to moderate, high, and extreme thrills for riders of all sizes and ages (do note, though, that the Cyclone is not part of Luna Park and requires a separate ticket). Located near the New York Aquarium, the famous Deno's Wonder Wheel, and the beach, consider making a day at Coney Island a Brooklyn staycation!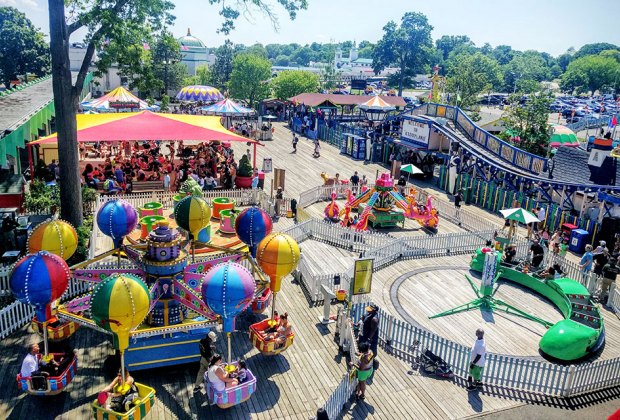 Rye's Playland Park is an easy day trip by Metro-North. Photo by Mommy Poppins
Playland Park – Rye, New York
1 Playland Parkway
How to Get There: The popular combination train-and-park admission package has been discontinued, but you can still get here easily by taking the Metro-North New Haven line to Rye, from either Grand Central or the Harlem-125th Street station. From the station, take the Bee-Line bus #75 or #76, for $2.25. Taxis wait outside the Rye station, a speedy alternative costing around $5. The entire trip should clock in at under an hour. Call before you go to get the park bus schedule: (914) 813-7010.
Top sights: Playland offers all the classics and a whole section of rides just for toddlers and preschoolers in its Kiddyland area. You'll find an original mini coaster, kiddie train ride, a great slide, mini boats, fire trucks, carousel, and a dozen more rides. Most of the minimum heights start at 36 inches. Costumed characters and a shaded area with entertainment for little ones make it even more of a win. Preschoolers will likely enjoy the fair-style games, as well as a stroll on the boardwalk with an ice cream in hand.
SplashDown Beach – Fishkill, New York
16 Old Route 9 West
How to Get There: The CoachUSA Shortline Bus Tour departs from Port Authority at 8:30am daily and departs from SplashDown Beach at 6pm. The tour includes round-trip transportation and park admission.
Top sights: SplashDown Beach, which bills itself as "America's Biggest Little Water Park," offers big fun for its littlest customers. You'll find the Splash Works kiddie area, plus plenty of places for the family to play together. There are slides big and small, including the new Megalodon, a family-friendly raft slide, plus water park staples like the Croc Creek Wavy Lazy River and the Monster Wave Pool. If you're in the mood for a more relaxing pool experience, take a dip in the Coconut Pool. Cabana rentals are available.
Splish Splash – Calverton, New York
2549 Splish Splash Drive
How to Get There: The Long Island Rail Road offers a Splish Splash special package deal that includes your ride, a shuttle bus, and water park admission. The ride takes a little under two hours. The train goes to the Riverhead station and then you can take a local taxi or a Suffolk County transit bus to the park.
Top sights: Options for the preschool set might be more limited at this Mommy Poppins favorite, but there are enough attractions to keep them entertained. Head to the Kiddie Cove, where kids can climb on an octopus in the pool or experience the tipping buckets and mild water slide at Monsoon Lagoon. Kids can enjoy some of the larger attractions, including a pair of wave pools, but those under 48 inches are required to have a life jacket, which can be borrowed for free at Murph the Surf's Rentals.
RELATED: Best Water Theme Parks for Families Near NYC

Hop up and down on the Hopper at Hersheypark after a ride on Amtrak. Photo by Sydney Ng
Pennsylvania
Hersheypark – Hershey, Pennsylvania
100 W. Hersheypark Drive
How to Get There: Amtrak has more than half a dozen daily trains departing from Penn Station that will get you to Harrisburg, Pennsylvania in just over three hours. The train station is a 15-minute cab ride from Hershey, but if you are staying overnight, both the Hotel Hershey and Hershey Lodge offer a shuttle service. The hotel concierge can reserve the shuttle for you.
Top sights: Hersheypark, a shady, jam-packed theme park in "the Sweetest Place on Earth" (the hometown of Hershey chocolate) is worth a trip for chocolate lovers and candy fans—so, basically every kid. Even the littlest riders (36 inches and under) have plenty of options, including trains, slides, and the mini pirate ship. The huge on-site water park adds to the fun with a kiddie wave pool and splash fountains.

Kalahari Resorts Indoor Water Park – Pocono Manor, Pennsylvania
250 Kalahari Boulevard
How to Get There: Use the Martz bus transportation system for an easy, efficient way to get to the resort and water park. It departs from NYC's Port Authority.
Top sights: The area's—no, nation's—largest indoor water park (with a retractable roof) calls the Kalahari Resort in the Poconos home. It recently doubled in size, and now offers more than 220,000-square-feet of wet-n-wild fun, including a brand-new wave pool. Day passes are available and include admission to the kid-friendly Tiko's Watering Hole and Coral Cove Play Areas, both designed for the youngest water-park goers. There are outdoor water features and a pool for the summer season, too. Tots will feel comfortable playing at the water tables (complete with baby seats), zipping down mild slides, and floating in a mini lazy river. Stay the night at the resort for a quick family getaway.