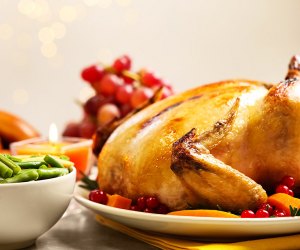 Where to Find Free Turkey Giveaways and Thanksgiving Dinner in NYC
Thanksgiving is nearly upon us, but while the holiday is usually filled with over-the-top spreads and indulgent dinners, we know many local families are struggling this season. The pandemic has forced thousands of parents to stare down job-loss, mounting debt, and worse, leaving many facing food insecurity. With that in mind, we've rounded up 12 local organizations who are stepping up to make sure all who need help filling their tables or getting a hot meal this Thanksgiving can. From FREE turkey giveaways to takeout options and low-cost holiday meals, here's where to get help this holiday season.
If you're fortunate enough to have a full pantry and pocketbook, consider donating to one of these exceptional organizations to help others across the city. Find more tips for your Thanksgiving celebrations in our Thanksgiving Guide.
While many of the organizations below focus on Thanksgiving and the holiday season, it's also worth noting help is available year-round. NYC has established a Food Delivery Assistance program if you meet certain qualifications. All New Yorkers are eligible for FREE meals daily from select NYC Department of Education sites. You can always locate your nearest food pantry and community kitchen by calling the Emergency Food Hotline at 866-888-8777 or dialing 311. The Get Food NYC map is also a handy site to bookmark.
Free Turkey Giveaways in NYC for Thanksgiving 2020
Christ Apostolic Church First in the Americas – Kensington, Brooklyn
622 Cortelyou Road
Saturday, November 21
In partnership with Goke Food Pantry, this local church hosts its annual turkey giveaway. Birds are given away on a first-come, first-served basis beginning at 11am.
Richard Beavers Gallery Turkey Giveaway – Bed-Stuy, Brooklyn
408 Marcus Garvey Boulevard
Saturday, November 21
Local art gallery Richard Beavers Gallery hosts its second annual Thanksgiving turkey giveaway and hands out 200 turkeys on a first-come, first-served basis. Turkeys are reserved for Brooklyn families, and IDs and masks are required. There is a one-turkey per family limit.
SEQ Cleanup and Thanksgiving Turkey Giveaway – Jamaica, Queens
Dr. Charles R. Drew Park, 116th Avenue and 140th Street
Saturday, November 21
Pay it forward at this turkey giveaway, where the first 40 volunteers to sign up for a shift to clean up this local park will walk away with a FREE turkey at the end of their shift. The event also seeks sponsors to help offset the cost of the turkeys.
Gardiner Foundation Turkey Giveaway – Fordham, the Bronx
St. James Park, East 193rd Street between Jerome Avenue and Creston Avenue
Saturday, November 21
Last year, this organization distributed 1,100 turkeys, plus trimmings, to the community through its annual Thanksgiving turkey giveaway.
RELATED: 13 Restaurants Offering Thanksgiving Dinner Takeout in NYC in 2020

West Side Campaign Against Hunger aims to distribute free turkeys and other holiday foods to more than 5,000 families. Photo courtesy of the organization
West Side Campaign Against Hunger – Upper West Side
Church of St. Paul & St. Andrew, 263 West 86th Street
Every year, West Side Campaign Against Hunger launches the Turkey Challenge to ensure everyone has access to Thanksgiving meals with their families. This year, it aims to distribute turkeys and other holiday foods to more than 5,000 families. Turkeys are distributed during its regular shopping hours. If you are in need of these services, you can register with the pantry by visiting the location, or by calling 212-362-3662 Ext. 126, or emailing socialservices@wscah.org.
Masbia Soup Kitchen – Multiple Brooklyn and Queens Locations
This well-known organization operates both a food pantry and a daily takeaway dinner service (more on that below). Families who need food staples can sign up for a once-per-week pantry shopping slot by downloading the Plentiful app or texting the word "FOOD" to 726879 to set up an appointment. As a 24-hour a day pantry, pay particular attention to the time (am or pm) when you book. All goods are first-come, first-served, and the pantry does expect to have a limited supply of whole kosher turkeys and more smoked turkey drummettes for clients.
Local Soup Kitchens – City Wide
While local org City Harvest doesn't distribute directly to the public, this food rescue program is planning to deliver 14,000 turkeys to 200 soup kitchens and food pantries all across the city. It also sponsors an annual Repack to Give Back event where staff packs up 200,000 pounds of holiday foods into individual family-sized bags, which are also distributed city-wide to soup kitchens to be handed out to those in need.
NYC Organizations Offering Hot Thanksgiving Meals
A Community Thanksgiving at LIFE Camp, Inc. – Jamaica, Queens
111-12 Sutphin Boulevard
Saturday, November 21
Celebrate a few days early with a hot meal at LIFE Camp. The fifth annual holiday meal is meant to give back to this violence-prevention org's home neighborhood, and all are welcome.
DOROT's Thanksgiving Meal Delivery – Upper West Side
Sunday, November 22 and Monday, November 23
DOROT delivers homemade Thanksgiving meals to homebound seniors city-wide during Thanksgiving week and seeks volunteers to pick up and deliver the meals to each senior's door, then call the senior to share holiday wishes in a no-contact way. Volunteers must be between the ages of 18 and 64 and commit to following DOROT's safety guidelines. If you know a senior who could benefit from DOROT's aid, call 212-769-2850.
Xavier Mission Thanksgiving Dinner – Chelsea
55 West 15th Street
Thursday, November 26
While this meal is traditionally geared toward the elderly and disabled, no one is turned away from the holiday celebration. A second Thanksgiving Welcome Table meal is served the Sunday following the holiday, too.
RELATED: Macy's Thanksgiving Day Parade Faces Big Changes in 2020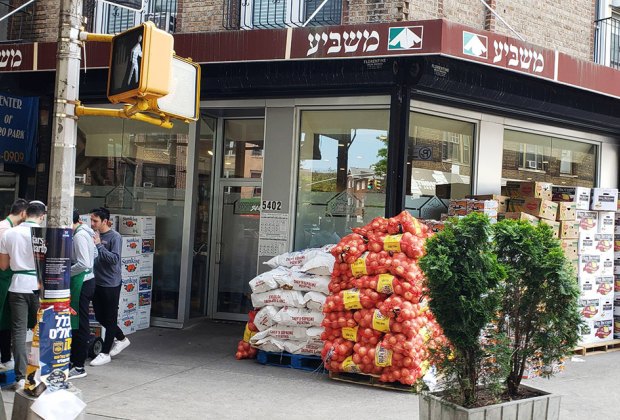 Masbia's kosher pantry has distributed 100,000 pantry packages since March, 2020. Photo courtesy of Masbia
Masbia – Multiple Locations
Masbia's emergency food program operates three facilities in Flatbush, Forest Hills, and Boro Park. Masbia serves dinner at each location daily and has served more than 100,000 takeaway meals since the start of the pandemic. All who are hungry are welcome to pick up dinner daily, and Thanksgiving favorites will be served during the holiday week.
The Bowery Mission – Multiple Locations
Meal dates and times TBD, visit the website as the holiday approaches
The Bowery Mission will host its 141st Thanksgiving dinner. This year, the communal meal looks quite different, but warm Thanksgiving plates will be given to all those in need. All hot Thanksgiving meals are served in a take-away container, and anyone who would like to enjoy their meal on-site can do so in the organization's limited outdoor seating. There will be partially open tents following mandated health and safety requirements.
Manhattan Church of Christ – Upper East Side
48 East 80th Street
Saturday, November 28
On the Saturday after Thanksgiving, the Manhattan Church of Christ opens its doors to serve a traditional Thanksgiving meal to the homeless. This year, there will be meals to-go. The Community of Hope also offers grab-and-go lunch every Saturday from 10am-noon. Call 212-737-4900 for more information.