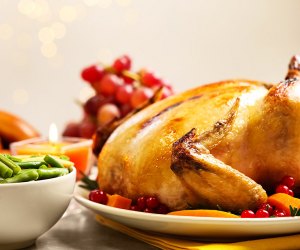 Where to Find Free Turkey Giveaways and Thanksgiving Dinner in NYC
Thanksgiving is nearly upon us, but while the holiday is usually filled with over-the-top spreads and indulgent dinners, we know many local families are continuing to struggle during this time. The pandemic has forced thousands of parents to stare down job loss, mounting debt, and worse, leaving many facing food insecurity. With that in mind, we've rounded up 12 local organizations that are stepping up to make sure all who need help filling their tables or getting a hot meal this Thanksgiving can. From FREE turkey giveaways to takeout options and low-cost holiday meals, here's where to get help this holiday season.
If you're fortunate enough to have a full pantry and pocketbook, consider donating to one of these exceptional organizations to help others across the city. Find more tips for your Thanksgiving celebrations in our Thanksgiving Guide.
Subscribe to our newsletters to get stories like this delivered directly to your inbox.
While many of the organizations below focus on Thanksgiving and the holiday season, it's also worth noting that help is available year-round. NYC has established a Food Delivery Assistance program if you meet certain qualifications. You can always locate your nearest food pantry and community kitchen by calling the Emergency Food Hotline at 866-888-8777 or dialing 311. The Get Food NYC map is also a handy site to bookmark.
OUR LATEST VIDEOS
Free Turkey Giveaways in NYC for Thanksgiving 2021
540 Lenox Avenue
This Salvation Army organizes a Thanksgiving and Christmas basket registration for families with children 12 and under who reside in specific Manhattan zip codes. The deadline for registration generally happens in late October. More information can be found by following its Facebook page.
Saturday, November 20
St. James Park, East 193rd Street between Jerome Avenue and Creston Avenue
In past years, this organization has distributed 1,100 turkeys, plus trimmings, to the community through its annual Thanksgiving turkey giveaway.
Monday, November 22
This Brooklyn-based community organization is once again providing free turkeys and Thanksgiving trimmings to families in need at the 2021 Operation Gobbler Give. If you are interested in one of its Thanksgiving Day meals, you must be registered with its food program. If you would like to sponsor this event, please call 917-509-9055. You can also donate directly on the website.
RELATED: Thanksgiving Volunteer Options in NYC for Kids and Families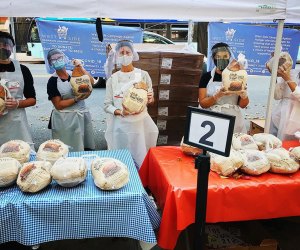 West Side Campaign Against Hunger aims to distribute free turkeys and other holiday foods to more than 7,000 families. Photo courtesy of the organization
Church of St. Paul & St. Andrew, 263 West 86th Street
Every year, West Side Campaign Against Hunger launches the Turkey Challenge to ensure everyone has access to Thanksgiving meals with their families. This year, it aims to distribute turkeys and other holiday foods to more than 7,000 families. Turkeys are distributed during its regular shopping hours. If you are in need of these services, you can register with the pantry by visiting the location, or by calling 212-362-3662 Ext. 126, or emailing socialservices@wscah.org.
Masbia Soup Kitchen – Multiple Brooklyn and Queens Locations
This well-known organization operates both a food pantry and a daily takeaway dinner service (more on that below). Families who need food staples can sign up for a once-per-week pantry take-home package. These are available by appointment Monday through Friday at designated times. As a rule of thumb, pay particular attention to the time (am or pm) when you book. All goods are first-come, first-served, and the pantry does expect to have a limited supply of whole kosher turkeys available.
Local Soup Kitchens – Citywide
While local org City Harvest doesn't distribute directly to the public, this food rescue program is planning to deliver 14,000 turkeys to 200 soup kitchens and food pantries all across the city. It also sponsors an annual Repack to Give Back event where staff packs up 200,000 pounds of holiday foods into individual family-sized bags, which are also distributed citywide to soup kitchens to be handed out to those in need.
NYC Organizations Offering Hot Thanksgiving Meals
Sunday, November 14
Arties for Arties gallery, 2403 Cambreleng Avenue
Community organizers from the Mott Haven Fridge and The Table BX team up for this NYCxDesign Festival event, which offers an Italian-inspired brunch to all comers to celebrate the holiday season. This event includes a round-table discussion on food insecurity in the local community. FREE tickets are available, but monetary donations are accepted if you are able.
Saturday, November 20
RISE, 58-03 Rockway Beach Boulevard
On the Saturday before Thanksgiving, RISE hosts a Rockaway Thanksgiving Feast that is FREE for all who attend. Registration is required. For 2021, there will not be a sit-down option for the meal; to-go containers will be provided. Servings are limited to four per family. Local Rockaway restaurants such as La Cevicheria and Rockaway Beach Bakery provide delicious Thanksgiving favorites for this community meal.
Sunday, November 21 and Monday, November 22
DOROT delivers homemade Thanksgiving meals to homebound seniors citywide during Thanksgiving week and seeks volunteers to pick up and deliver the meals to each senior's door, then call the senior to share holiday wishes in a no-contact way. Volunteers must be age 18+ or families with children ages 10-17 who commit to following DOROT's safety guidelines. If you know a senior who could benefit from DOROT's aid, call 212-769-2850.
Thursday, November 25 and Sunday, November 28
55 West 15th Street
While this meal is traditionally geared toward the elderly and disabled, no one is turned away from the holiday celebration. A second Thanksgiving Welcome Table meal is traditionally served the Sunday following the holiday, too.
RELATED: 25 Restaurants Open on Thanksgiving in NYC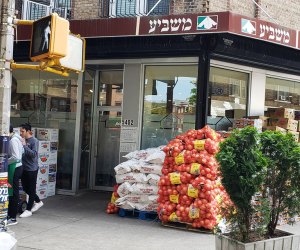 Masbia's kosher pantry has distributes tons of supplies to needy neighbors. Photo courtesy of Masbia
Masbia – Multiple Locations
Masbia's emergency food program operates three facilities in Flatbush, Forest Hills, and Boro Park. The organization serves more than 2 million meals each year. All who are hungry are welcome to pick up dinner Monday through Thursday, and Thanksgiving favorites will be served during the holiday week.
Thursday, November 25
The Bowery Mission hosts its 142nd Thanksgiving dinner in 2021. Warm Thanksgiving plates will be given to all those in need. All hot Thanksgiving meals are served in a take-away container, and anyone who would like to enjoy their meal on-site can do so in the organization's limited outdoor seating. There will be partially open tents following mandated health and safety requirements.
Originally published in November 2020