Best Indoor Playgrounds in Chicago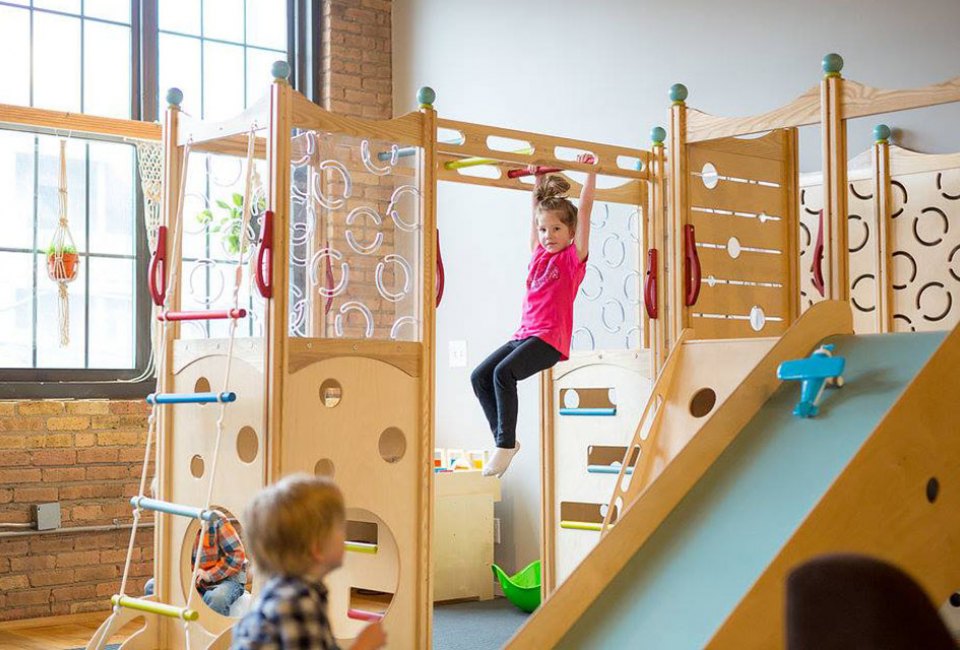 2/10/23
- By
Siobhan Adcock
Looking for indoor playgrounds in Chicago? Here are our favorite indoor play spaces near Chicago.
When the weather's too hot, too cold, or too rainy to play outdoors, you can head to one of our favorite indoor play spaces for kids in Chicago. There's a climate-controlled play zone for every age, every interest, and every kind of kid. Does your toddler love fire trucks? Head to the kid-sized indoor play town at Little Beans. Got a grade-schooler who won't stop doing gymnastics on your couch? She'll love the climbing structures at Present Place.
Many inside play spaces in Chicago even offer coffee and wi-fi for grateful parents, so you can catch up on email (and caffeine) while your little ones get their sillies out. Here are our favorite places to play indoors in and around Chicago when the weather won't cooperate.
For more inside fun, check out our Guide to Indoor Play Spaces for Chicago Kids.
Sign up for our FREE newsletters to get local events and picks delivered straight to your inbox.
Be sure to check the website or call to confirm hours and safety policies.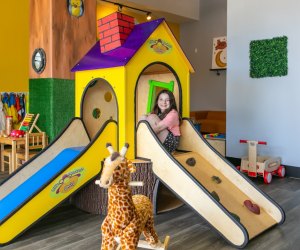 Your treehouse awaits at Purple Monkey Playroom.
Indoor Playgrounds on Chicago's North Side
Two words: Free. Coffee. At this adorable space where families can take classes or play, Purple Monkey is a local favorite for good reason. Ride-ons, climbing structures, and lots of toys for imaginative play keep kids up to age 5 happy and busy, while free wi-fi, comfy seating, and lots of light make it easy for parents to enjoy a break. Reserve a two-hour group playtime from 10 a.m. to 12 p.m. or 12:15 p.m. to 2:15 p.m. on weekdays.
Fit City Kids' Cityscape play zone features a 5,000 square foot multi-level playground where kids can climb, slide, run, and dive through a maze of fun. The soft play structure keeps kids from getting hurt. Toddlers have their own designated zone to keep them away from the wily bigger kids. Come for the open play, stay for sports and fitness classes or parties!
3. Present Place — Lakeview and River North
This play space in North Center and River North, launched by a local mom, has quickly become an award-winning favorite, thanks to its uncluttered-yet-action-packed layout, eye-pleasing art exhibits, engaging climbing structures, and play areas. Adults get free coffee and wi-fi, which makes it popular enough that weekend open play hours need to be reserved in advance—which is easy enough to do on their website.
Kids from crawling age through six years can burn off their energy at Edgewater Playhouse's Open Gym, where they can explore the gymnastics studio. There is no scheduled instruction during open play, so kids can run wild and use their imaginations. Local parents love the clean facility and reasonable pricing.
Hitting the Lincoln Park Zoo might not be your first thought during the colder months, but the Treetop Canopy Adventure climbing structure in the Pritzker Family Children's Zoo building is irresistible fun—plus, it's free! Once your kids have had their fill of the ropes, tunnels, and walkways, visit the North American animals and learn about their habitats.
Little kids who like to play pretend will enjoy this tiny city on the far Northwest side. With plenty of open play hours during the week and a mini lunch menu, parents with preschoolers can come play all day. Check out classes and birthday party options as well.
RELATED: 18 Chicago Restaurants Where Kids Eat Free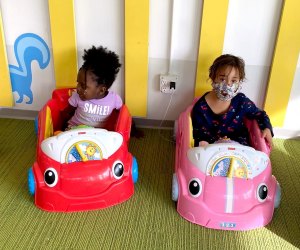 Kids don't mind the traffic at Hello Baby.
Indoor Playgrounds on the South Side and Downtown Chicago
A free play space in Woodlawn just for babies up to age 3 (with their caregivers), Hello Baby is a bright, welcoming spot packed with books, educational toys, and space for physical play. Regular storytimes and sing-alongs make this a sweet neighborhood hub for littles.
Chicago Women's Park and Garden has a variety of outdoor amenities, but also offers an indoor kids' playground and café featuring a climbing wall and a kids' science lab. Play houses and a multi-level play structure help kids get in some physical activity during the cold winter months. The building also has plenty of soft spaces for new walkers to safely enjoy.
Housed within the Garfield Park Conservatory, The Elizabeth Morse Genius Children's Garden provides a little patch of green on gray winter days in Chicago. Kids can learn about plants and gardening through large sculptural displays that show plant birth, growth, and reproduction, or they can climb a giant vine with roots, seeds, leaves, and flowers. Kids might get hungry from smelling the French Fry Plant, learn about evolution by touching the sensitive plant (which retracts when touched), or enjoy the beauty of nature with the Bird of Paradise.
A relative newcomer to Chicago's indoor play space landscape, Little Hoppers has a bright and clean play room and coffee, tea, and snacks for grown-ups in the Beverly neighborhood. Visit for a discouted $10 price on Tuesdays and enjoy story times on select weekdays. Kids can also book a birthday party with pizza and cake.
Great Indoor Play Spaces near Chicago
Featuring an entire kid-sized town designed for imaginative play, plus a jam-packed calendar of events, workshops, classes, and family parties, Little Beans might be one of the best indoor play space membership deals in town. Their café serves up Intelligentsia brew and a decently-priced menu of sandwiches and soups, and even boasts an obstacle course and karaoke for older kids.
The first room in this two-room play center features a giant two-story play structure and foam play pieces for little kids. The second room houses a 28-foot tall carousel with 18 hand-painted horse figurines—you can ride as many times as you want once youv'e paid the admission fee. Jumps 'n Jiggles frequently hosts events like outdoor movies or Santa letter writing sessions for preschoolers and early elementary school kids.
That's not a typo—this punnily named playroom in west suburban LaGrange is bright and clean and features a balloon bar where kids can get lots of different specialty balloons to make their day special. Outside food and beverages are allowed, or you can buy a snack, drink, or coffee at the playroom.
This indoor climbing structure and playroom will remind parents of their own childhood—and so will the price. For just $2 per child, kids can play from 5:30 a.m. to 8 p.m. on weekdays, 7 a.m. to 3 p.m. on Saturdays, or 7 a.m. to noon on Sundays. There's even a preschooler-sized restroom for when kid have to go.
Skokie Park District's Exploritorium offers a low entry fee ($5 for residents and $6 for non-residents) to enjoy the many amenities of its indoor play space. In addition to the tubes-and-tunnels indoor playground, kids can play with a giant "Lite Brite" wall, design something new at the engineering station, get wet in the water play area, climb the climbing wall, and play dress up or put on a play onstage. There's also a separate toddler zone for hte littlest kids.
A win for families with kids in multiple age groups, Gizmo's Fun Factory features a soft play maze with ball drop for little kids and an arcade, zip lines, bumper cars, and wall climbing for elementary and middle schoolers. Buy a package or pay as you go to enjoy a day full of games, rides and more.
Photo courtesy of the play spaces/cafes