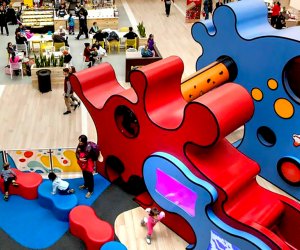 21 Free Indoor Play Spaces Around Chicago
Winter is coming, even if Chicago hasn't seen its first sub-zero wind chill day yet. And with winter comes the inevitable cabin fever or having small children cooped up inside a house or apartment. Whether your kids enjoy exploring nature, climbing, shopping or curling up with a good book, we've got 21 suggestions of FREE places to take them so that you can get them out of the house.
We recommend checking the website of each venue for hours and potential weather-related closings before taking a trip outdoors--nothing is worse than spending 20 minutes getting little hats and mittens on only to discover that the place you were hoping to go is closed. Also, brief yourself on parking availability or public transportation delays before you hit the road. Then, have fun!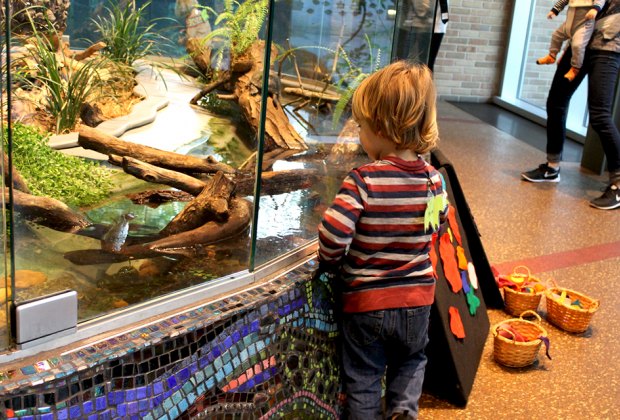 Lincoln Park Zoo Pritzker Family Play Zoo. Photo courtesy of the zoo
Free Play at Museums and Cultural Attractions
Garfield Park Conservatory - Garfield Park
300 N. Central Park Ave., Chicago
Housed within the Garfield Park Conservatory, The Elizabeth Morse Genius Children's Garden provides a little patch of green on gray winter days in Chicago. Kids can learn about plants and gardening through large sculptural displays that show plant birth, growth and reproduction, or they can climb a giant vine with roots, seeds, leaves and flowers. Kids might get hungry from smelling the French Fry Plant, learn about evolution by touching the sensitive plant (which retracts when touched), or enjoy the beauty of nature with the Bird of Paradise.
Lincoln Park Zoo Pritzker Family Play Zoo - Lincoln Park
2001 N. Clark St., Chicago
Lincoln Park Zoo offers several opportunities to experience animals indoors, but the Treetop Canopy Climbing Adventure offers kids the chance to use some energy in an active environment. Kids can pretend they are monkeys by climbing into treetop platforms. The exhibit is near the wolves, black bears, river otters, and beavers for kids who want to learn more about North American animals.
Crystal Gardens at Navy Pier - Downtown
600 E. Grand Avenue, Chicago
This one-acre botanical garden boasts more than 80 live palm trees in its six-story atrium. The gardens offer views of the Chicago skyline and Navy Pier Ferris Wheel as well ask hanging twinkle lights and dancing leapfrog fountains. After a trip through the Crystal Gardens, families can enjoy lunch at one of Navy Pier's many quick-service restaurants.
The Artist's Studio at the Art Institute of Chicago - Downtown
111 S. Michigan Avenue, Chicago
Tiny Picassos can enjoy different activities every day at the Art Institute's Family Room. Check the calendar to find out if there is a guest artist, a gallery activity station, or studio art making planned for the day. If it's a warm enough day families can enjoy Millennium Park and its fun winter amenities as well.
Chicago Women's Park and Gardens - South Side
1801 S. Indiana Avenue, Chicago
Chicago Women's Park and Garden has a variety of outdoor amenities, but also offers an indoor kids' playground and café featuring a climbing wall and a kids' science lab. Play houses and a multi-level play structure help kids get in some physical activity during the cold winter months. The building also has plenty of soft spaces for new walkers to safely enjoy.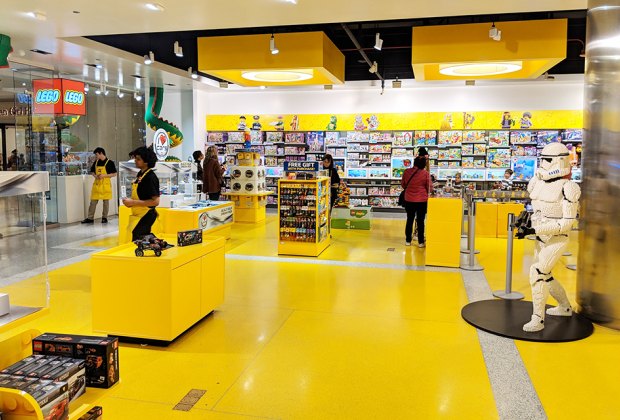 LEGO Store at Watertower Place. Photo courtesy of LEGO
Stores with Free Play
LEGO Store at Watertower Place - North Side
835 N. Michigan Avenue, Water Tower Place, Chicago
Parents who want to get away from the LEGOs strewn across the floor in their own houses may enjoy a trip to the LEGO Store at Watertower Place. The location offers millions of LEGOs for free play with new creative building scenarios every month. Little master builders can check the store's calendar of events to find a date to trade mini figs with other enthusiast or get free LEGOs with the purchase of certain sets. Kids can also check out the Build a Mini Tower to create their own mini figures or the Digital Box which allows them to scan a set and see it built in real life.
Which is across from…
American Girl Store - North Side
835 N. Michigan Avenue, Water Tower Place, Chicago
Kids who love American Girl, Wellie Wisher or Bitty Baby dolls may enjoy a visit to American Girl Place, across the hall from the LEGO store. Here, kids can read their favorite American Girl books, design their own doll or backpack, and explore artifacts from the era of their favorite American Girl dolls. For additional fees, dolls can get their hair styled, have their ears pierced, visit the doll doctor, and have lunch or tea.
Learning Express Stores - Western Suburbs
Countryside, Clarendon Hills, Glen Ellyn, and Geneva
Learning Express stores know that kids are spending more times on screens, so the neighborhood stores are encouraging more interactive play at their 11 Chicago locations. Stocked with everything from Airforts to Squishmallows to LOL dolls, Learning Express stores allow kids to explore their products. The stores offer frequent meet and greets with favorite children's characters and craft times for families who check out each location's calendar.
Anderson's Bookshops - Western Suburbs
Naperville, Downers Grove, and LaGrange
Little readers have frequent opportunities to meet their favorite children's' book authors at these local bookstores in Naperville, Downers Grove and LaGrange. Each location has a train table and toy area, along with the hundreds of books for kids to explore. Visitors to the Naperville location can also check out Anderson's Toy Store, two doors down.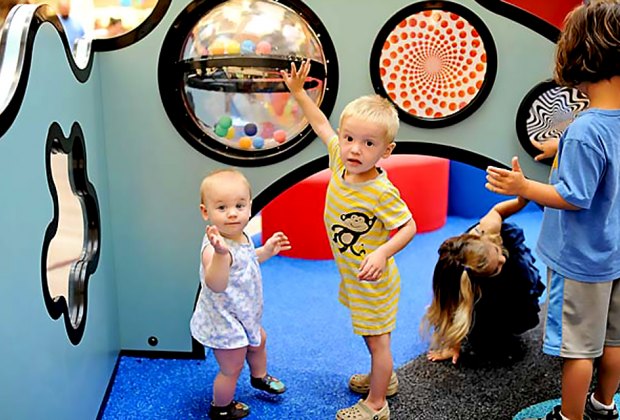 PLAY at Yorktown Center. Photo courtesy of the center
Free Mall Play Spaces
PLAY at Yorktown Center - DuPage County
203 Yorktown Center, Lombard
Kids of all ages can enjoy a break from shopping at PLAY at Yorktown Center. The 2,000 square foot play space has climbing structures as well as computer-based games, Duplos, and rides and games that run about $1 apiece. On the opposite side of the atrium, kids can go to Wendella Park, an area of turf around the fountain, which they can play giant Jenga or Connect Four. Kids who get hungry can eat at the Brookfield Zoo Children's Dining area on the south side of the food court. The tiny chairs and tables even have an adjacent kid-friendly bathroom with a TV, tiny potties, changing stations with complimentary wipes, and a nursing room.
PLAY at Northbrook Court
1515 Lake Cook Road, Northbrook
Ann & Robert H. Lurie Children's Hospital of Chicago sponsors this fun area full of sensory activities for kids. Little shoppers can dress up in costumes, take pictures at a family selfie station, and scale climbing structures. Pre-walkers can relax on soft seating while playing with safe toys with their caretakers.
Gurnee Mills Play Area - Northern Suburbs
6170 W. Grand Avenue, Gurnee
This Chicago landmark themed play area includes replicas of the Michigan Avenue Bridge, Willis Tower, and Navy Pier, along with a giant hot dog for kids to climb on. The outlet mall also boasts two food courts and phone charging outlets throughout the mall.
Woodfield Mall Play Area - Northwestern Suburbs
5 Woodfield Mall, Schaumburg
In the midst of one of Chicagoland's largest malls, kids can meet giant cartoon characters or climb through an 11-piece obstacle course. There's also an imaginary boat and covered wagon to play on before you visit the new Peppa Pig Play Land or grabbing some food at Stan's Donuts or Blaze Pizza.
Free Nature Center Play Spaces
Wildwood Nature Center - Northern Suburbs
529 Forestview Avenue, Park Ridge
Kids can check out more than 35 animals at the Animal Exhibit Room at Wildwood Nature Center. Snakes, guinea pigs, turtles, salamanders, frogs, toads and a ferret all provide opportunities for education and entertainment. In the Nature Nook, kids can enjoy books, puzzles, puppets, games and activities that explore a different nature topic each month.
River Trail Nature Center - Northern Suburbs
3120 Milwaukee Avenue, Northbrook
Kids can watch animals at feeding time, learn how to make maple syrup or climb and create at the indoor play area at River Trail Nature Center. Its indoor and outdoor area s host weekly activities for nature lovers of all ages. Families can also enjoy nature walks outdoors if it's not too frigid.
Knoch Knolls Nature Center - DuPage County
320 Knoch Knolls Road, Naperville
The East Branch and the West Branch of the DuPage River meet at Knoch Knolls Park in Naperville, where kids can celebrate water with a 900 gallon fish tank. The LEED building also includes a "living wall," many nature exhibits, and free and low-cost programming for both kids and adults.
Fullersburg Woods Nature Education Center - DuPage County
3609 Spring Road, Oak Brook
A 13,000-year-old woolly mammoth skeleton, DIY animal print making table, and larger than life birds nest are just a few of the features kids can experience at the Fullersburg Woods Nature Education Center. Live animals, crafts and coloring are also available, in addition to views of the scenic forest preserve.
Free Library Play Spaces
Harold Washington Library Thomas Hughes Children's Library - Downtown
400 S. State Street, Chicago
Even parents whose kids aren't school aged yet can have fun with reading at the Thomas Hughes Children's Library on the second floor of Harold Washington Library. The kids' library is organized by neighborhoods: Under 5s can learn through play with a puppet stage, baby garden and story nook in the Early Learner Neighborhood. Elementary-aged kids can explore STEAM topics through activities in the Elementary Learner Neighborhood. Tweens can check out a digital media space, blue screen, and virtual reality tools in the Tween Neighborhood. This gives parents the ultimate outlet for all ages of kids on snow days.
Arlington Heights Memorial Library - Northwest Suburbs
500 N. Dunton Avenue, Arlington Heights
The Arlington Heights Memorial Library doesn't just have a kids' section, it has a Kids' World. A puppet theater, toy area, and seating for parents compliment the library's programming and computer learning (complete with filter so your kids can't learn anything they shouldn't). The library also encourages DIY Kids' Book Discussions.
Oak Park Public Library, Main Library - Western Suburbs
834 Lake Street, Oak Park
Books are just the start at this near west suburban library. The kids' area at OPPL includes a TV with video games, a wooden toy boat climbing structure, toddler tree houses and an art alcove. Kids can even visit the library's resident gerbils.
Elmhurst Public Library - Western Suburbs
125 S. Prospect Avenue, Elmhurst
With a renovation completed just last year, the Elmhurst Public Library's first floor has tons of amenities for children. Its Learning Garden boasts a play kitchen, train table, puzzle table, and Duplo building table. Older kids can enjoy the Middle School Hangout, complete with TV and high-top seating. Kids of all ages can submit stories to Kids Ink magazine to be published and distributed in the library.