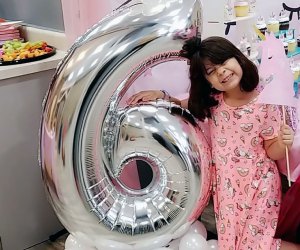 The Best Indoor Birthday Party Spots for Chicago Kids—Now Open
Chicago doesn't lack for indoor fun zones for kids, and when it comes to indoor birthday party places, there are so many awesome options you'll never have to celebrate in the same spot twice. As things open up in Chicago, many of our favorite indoor birthday party places are booking parties again—and some have found really innovative ways to keep the parties socially distant. From bounce houses to cooking classes to climbing walls and beyond, here are the best ways to celebrate a birthday indoors in Chicago.
While we are trying to promote safer activities that occur outdoors or with social distancing guidelines in place, please keep your family and others safe by always wearing a mask and maintaining appropriate distance. Remind your party guests to wear masks if they're over 2 years old, and keep your guest list within the state's guidelines at the time of your child's party.

Whether your little one is a superhero, ninja warrior, or martial artist, POW! Kids offers a birthday party they will never forget.
Best Indoor Birthday Party Places for Kids Downtown and South Side
Ages 4-11
Saturdays and Sundays
Packages for up to 15 kids
It's time to party again at Pow!—Affordable party packages at this martial arts gym are starting up again with all new safety guidelines. Parties come with 90 minutes of programmed, instructor-led activities like relay races and obstacle courses; super-fun optional add-on themes include Jedi training, martial arts, ninja warrior skills, and secret agent training. You can bring in whatever food and cake you want (a nice alternative to the force-fed cheese pizzas at most birthday party venues) but you have to bring your own tableware. They do setup and cleanup.
Ages 4-14
Weekdays and weekends
Party sizes are still being determined, call for more information
All new options are coming to Razzmatazz for birthday parties, starting on March 1. (So don't be discouraged if you go to their website and it hasn't been updated yet; they are taking reservations for parties starting the last week of February.) All the favorites at this giant family fun warehouse will be available including a wide menu of options for play, food, and activities. You get food (slightly-elevated versions of party fare like burgers, pizza, wings, and fries), drinks, and ice cream (you bring the cake), plus party staff, credits for games, and private time in a fun zone of your kiddo's choice: bowling, inflatables, soccer, or the sport court. During the COVID-19 pandemic, Razzmatazz is coming up with all new cleaning and safety procedures, and will be limiting party sizes.
RELATED: 30+ Free Ways to Celebrate Your Kid's Birthday at Home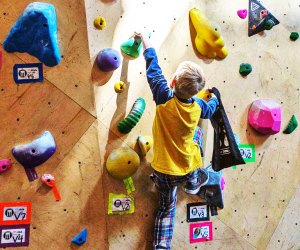 Climbing the walls at a Brooklyn Boulders birthday party is much better than climbing the walls at home!
Best Indoor Birthday Party Spots for Kids on the North Side
Ages 5 and up
Saturdays and Sundays
Smaller parties only allowed at this time
The cool climbing walls for all levels at this spot sure beat climbing the walls at home. Bring your own food and drinks; they provide party staff, climbing instruction, and an exhilarating challenge active kids will love. The gym uses electrostatic sprayers to clean its walls and other high-touch surfaces, and has disinfecting liquid chalk that cleans the rocks as kids climb. As we ease back into group birthday parties, Brooklyn Boulders is only hosting smaller parties on a limited basis, so contact the location before creating your guest list!

Purple Monkey Playroom is the perfect place for a first (or fifth) birthday party.
Ages 0-5
Saturdays and Sundays
Packages depend on date of celebration and current COVID guidelines, small parties are currently allowed
For the perfect first birthday party outside of your own house, this Bucktown playspace hits the mark. With climbing structures and toys best suited for preschoolers, Purple Monkey offers packages ranging from 2.5 hours of private play time with coffee, tea, and soft drinks all the way up to "The Whole Shebang," which gives families pizza, a sweet table, cake, custom handmade decorations, staff-led games, and goodie bags for guests.
Ages 3-14
Mostly on Saturdays and Sundays, but weekdays after school available by request
Workshops for small groups of kids
For kids who enjoyed (or still enjoy) play dough, these parties are a fun step up. Parents can select from a gallery of different clay projects for instructors to teach kids—little kids will build by hand while bigger kids can learn to throw clay onto a wheel. The instructors will fire and help glaze projects for kids to take home that day or pick up later. Currently Kids Clay Room is calling their parties "workshops," which are all the fun of a party, but without the cake. Parents are welcome to send cupcakes or treats home in goodie bags with guests!

Indoor obstacle courses, private party room, and personalized party package are all yours at Ultimate Ninjas.
Ultimate Ninjas—Ravenswood Manor, Naperville, Glenview, and Libertyville
Weekends
Ages 5 and up
Packages are now available with size limits and some restrictions
Ninja warriors in training can tackle this indoor obstacle course and play area with guidance from friendly and encouraging staff. Entrees must be ordered through the venue, but other outside food is okay. Parties come with decorations, tableware, setup and cleanup, and drinks … plus that feeling of accomplishment that only comes from knowing you are, in fact, a ninja. All parties are completely private, so only kids in your party will have access to those obstacles.
All ages
Packages for up to 25 kids
Weekdays and weekends
Let city kids run free at this 55,000 square foot indoor fun zone (honestly, this place is humongous), where party packages are completely full-service. You get a dedicated party planner who helps coordinate and set up the party and will run all the activities from scooter races and capture the flag to kickball and dodgeball. Or choose from optional party themes like Nerf wars, superheroes, sports academy, mad science, laser tag, or even a scavenger hunt. The scavenger hunt birthday party has also been adapted to a virtual format during the coronavirus pandemic for families that aren't yet ready to meet up in person.
RELATED: Best Virtual Party Performers and Kids Birthday Parties to Celebrate Online
Best Indoor Birthday Party Places for Kids in the Suburbs
Ages 2 and up
Call for availability
Packages for 10-20 people during Restore Illinois Phase 4
Kids can feel like royalty on their birthday at this arcade and fun center. Each guest receives a game card, along with rides on the bumper cars and catapult rides, chances to play laser tag and indoor black light mini golf, play time in the Quest II Playland, and, of course, pizza and soda. The guest of honor can spin the prize wheel to win up to 5,000 prize tickets. Online booking has been suspended during Restore Illinois Phase 4, so parents should call the venue to set up a time. For now, a maximum of 20 guests will be allowed in each party to allow for social distancing.
Funtopia—Glenview and Naperville
All ages
Parties available every day
Packages for 10 guests, with the opportunity to add individual guests
Climb on everything from a spider web to a dinosaur skeleton at each location. Kids under 8 can also enjoy a soft play area with a ball room, obstacle course, and maze. Party packages range from basic to ultimate, and include varying amounts of pizza and access to features within the center.
Ages 4 and up
Parties available on weekends
Smaller Circus Pod workshop parties are available
This circus and acrobatics school offers workshops that teach guests a variety of new skills from juggling to tightwire to trapeze. Kids under 7 can host an Imaginistics party focused on gymnastics and tumbling, while bigger kids can have instructors demonstrate two different circus skills. Currently, Actors Gymnasium is calling these their Circus Pod workshops, as it's the same fun hour of learning skills, but no cake or party food is currently allowed. Also, to keep numbers small and gatherings safe, only the kids participating in the workshop are allowed in the space; it is requested that parents wait off-site.
RELATED: Virtual and Social Distancing Birthday Party Ideas for Kids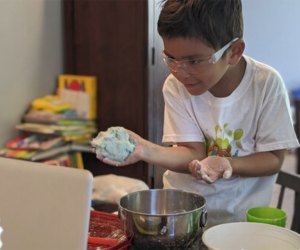 Play mad scientist at home, but with friends, for a Zoom birthday with Kids' Science Labs.
Virtual Birthday Parties for Chicagoland Kids
Ages 2 and up
Weekdays and weekends
Packages for up to 12, 15, or 18 kids
For budding chefs—or really any kid who just likes tasty food—The Kids' Table offers instructor-led kids' cooking parties where cooks as young as 2 work together to create mouthwatering dishes like pizza, tacos, pasta, or mac n' cheese. The party upgrades here are especially fun: premium themes include Kitchen Chemistry or Cupcake Wars, with optional add-ons like a photographer, musical guest, or goodie bags. The Kids' Table can accommodate most food allergies, too. During the COVID-19 pandemic, The Kids' Table is offering virtual classes with one recipe for a 75-minute party or two recipes for a 135-minute party.
Ages 4 and up
Sundays
Packages for up to 15 or 30 kids
During COVID-19, Kids' Science Labs adapted its birthday parties to a Zoom environment, so kids can still get together with their friends. The venues have reopened for in-person classes, so families can call for more information about when in-person birthday parties may resume. For in-person parties, you provide the food, they do the rest. 90-minute party packages come with an hour-long science activity (fun themes include a slime party, chemical reactions, and color and light exploration), plus entertainment, materials, tableware, and staff.
Ages 5-14
Packages for up to 25 kids
Friday nights and Saturdays
Wishcraft Workshop parties have moved online (for now) as Chicagoans wait out the last of the COVID-19 pandemic. Kids can pick up a hand-picked craft kit for an art, craft, or sewing activity to host themselves on Zoom. An expert crafter will host the party for an additional $65. Some in-person classes have resumed at Wishcraft Workshop, so look for parties to open again soon.
Ages 4 and up
Saturdays and Sundays
Packages for up to 8 kids
With coding parties for young kids on up to tweens and teens in digital app development, robotics, Minecraft, virtual reality, video game programming, and several special all-girl party themes, Digital Adventures is a cross between a party and a personal tutoring lesson—in a good way. When hosted at Digital Adventures, you bring the cake and ice cream, they provide the tech and instruction. During the COVID-19 pandemic, birthday parties have moved to a fully online format.
Photos courtesy of the venues
Originally published March 6, 2019