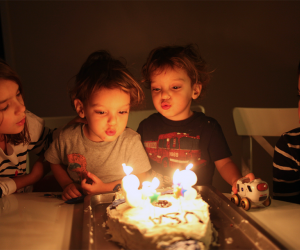 22 Free Ways to Celebrate Your Kid's Birthday in NYC
Do an internet search for "NYC Birthday Fun for Kids" and you'd think, based on the results, that what city parents really want more than anything is to find the most outrageously expensive ways possible to celebrate their child's special day. Clowns! Mermaids! Mermaid clowns!
Nothing against mermaids or clowns, of course, but we've got 22 fun ideas to make your kid's birthday as extraordinary as he or she is, without coughing up the equivalent of next month's rent. All it takes is a bit of imagination and ingenuity to create new traditions that make the birthday child feel special...without spending a dime.
Check out our Birthday Party Guide for more ideas for the big day, or our 100 Things to Do in NYC list for more memory-making inspiration.
1. Is your little one an early riser? Start the day with a salute to the sunrise—preferably from an unusual perch, like the roof of your building if you have access, or a river or shorefront. Or watch the sunset the night before the big day, and wave goodbye to being 4 (or 5, or 6...). Dream aloud about good things that might happen in the coming year, and the perks of being a year older.
2. Dish up a special birthday breakfast, complete with candles and a round of "Happy Birthday." Ice cream on cereal? Why not! If possible, get up early and make your kid's favorite breakfast or find the time to make it together.
3. Blow up a bunch of regular latex balloons early in the morning while your kid is sleeping; fill a room or the hall with them as a surprise.
4. Wear costumes all day. Take your cues from your child's imagination and put on outfits that reflect serious celebratory style. Feather boas, top hats—the sky's the limit.
5. Weather permitting, take a stroll across the Brooklyn Bridge (yes, in costume!) and visit the fab playgrounds in Brooklyn Bridge Park.
6. Check the MommyPoppins events calendar for a list of all the free events happening on your child's birthday. You might find some amazing options.
RELATED: Birthday Freebies for NYC Kids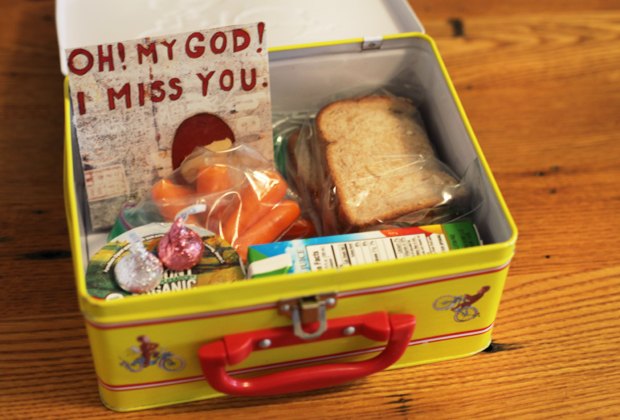 Sneak a love note into their lunch box. Photo by Mommy Poppins.
7. Put a surprise birthday note or card in your child's lunch bag, backpack, or coat pocket telling them how much you love them.
8. Take a trip to the local library. If your child doesn't have a library card of his or her own yet, a birthday is the perfect time to sign up—and there's no age limit! Spend a cozy hour or so picking out some books or movies or music to bring home, birthday kid's choice.
9. Your library card (you have one, too, right?) gives you access to the amazing Culture Pass, so plan ahead and score free entry to the Guggenheim, the Whitney, Wave Hill or one of the other awesome participating venues.
10. Set up a scavenger hunt in a local park. Write up age-appropriate clues (or create an audio file on your smartphone), and see how long it takes the birthday child to find all the items.
11. We may catch flak for this, but if possible, play hooky with your child (or pick them up early) and do something fun together. Visit a favorite museum, restaurant or destination playground. C'mon, it's one day a year.
12. Volunteer. Spend an hour or so of the special day contributing to the community. Look into local opportunities with community gardens, the ASPCA, hospitals and retirement homes. Doinggoodtogether.org is a great ideas resource.
RELATED: 16 Great Playgrounds for Birthday Parties Around NYC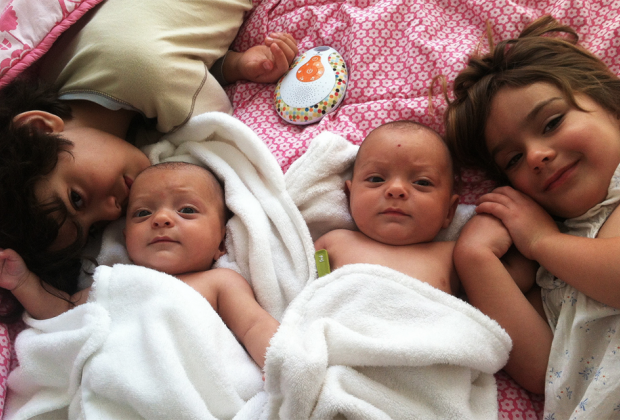 Look at old photos and reminisce about funny baby stories. Photo by Sara Marentette
13. Tell your child the story of the day he or she was born, or the day he or she joined your family. Look at baby photos, re-read any cards you have, watch videos, and share funny memories.
14. Ride the Staten Island Ferry and wave to the Statue of Liberty as you pass by—and visit one of our fave libraries, Mariner's Harbor.
15. Take an identically posed photo of your child every year on the big day. When you have enough pictures, turn them into a digital slide show or put them into an album. Review it each year on their birthday.
16. Take advantage of one or more of the birthday freebies offered at restaurants around town.
17. Celebrate the exact minute of your child's birth as if it were midnight on New Year's Eve. Bang pots and pans, throw confetti, and blow horns.
18. Ask your favorite neighborhood haunt (say, your friendly local bowling alley, skating rink, indoor play space, or carousel) if they have any special treats or discounts on offer for birthday kids. We've found that mom-and-pop shops and chains alike are usually happy to step up to make a child's day special, and it never hurts to ask!
19. Write your child a birthday letter every year. Wrap up the year; say how you've seen them grow and change and why they are so special. If your child isn't yet old enough to cherish the letters, save them. Read them together every year.
20. Give a gift to a kid in need by donating unwanted books and toys to charity. It's a great way to bond while helping others, and you're also making room for the inevitable presents.
21. Let the birthday child call the shots for the day. Let them choose dinner or the day's activities. Maybe let them break a couple of rules or stay up past bedtime.
22. Make a list of "kind things," matching the number of things to your child's age (5 kind things for a 5 year-old), and then do those kind things together. The list might include giving a hug to a friend, or writing a note to someone you love and haven't seen in a while, face-timing with a relative, reading to a younger sibling. Let your little one think about how to share and create gratitude.
This post was originally published in March 2012; it has been updated for 2020.