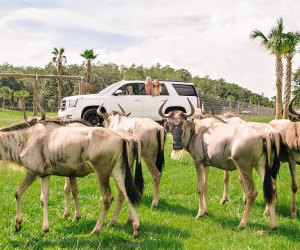 10 Drive-Thru Safaris and Wildlife Tours Near Orlando
Even with Florida attractions reopening, many families are understandably hesitant to step out and about around large groups of people. One safe way to get out of the house in summer 2020—while still maintaining social distancing—is by visiting one of the many local drive-thru safaris or wildlife drives nearby.
We've rounded up 10 places around Central Florida where you can see natural wildlife and even exotic animals from the comfort of your own vehicle. So, pack some snacks, load up the kids and stake out on one of these drive-thru safaris.
Be sure to also check out our Florida Family Travel Guide for more ideas for summer fun around the state.
Approximate drive time: 2 hours
Known as one of the top three birding areas in the state, this 11-mile drive-thru wildlife sanctuary is FREE, open to the public, and a favorite among locals. Be ready to marvel at an abundance of sunbathing alligators and even the occasional otter or bobcat. There are several stops along the drive to pull over and stretch your legs, as well as portable restrooms and picnic pavilions at the pump house. An audio tour, birding checklist, and butterfly checklist can all be found on the LAWD website. The drive is open from Friday-Sunday, 7am-5pm, and on federal holidays. Vehicles must exit by 5pm, so plan on arriving no later than 3pm.
RELATED: 50 Things To Do in Orlando with Kids Other Than Theme Parks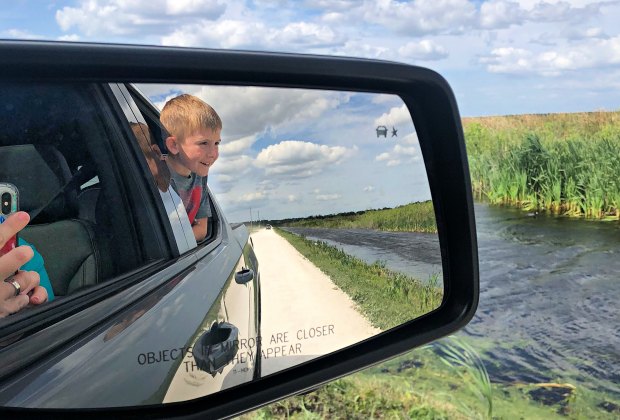 Even from a distance, the wildlife at the Lake Apopka Wildlife Drive delights young visitors. Photo by author
Approximate drive time: 2-3 hours
This 18-mile loop trail is a great place to spot Florida's natural wildlife year-round, including several species of wading birds, turkeys, white-tailed deer, and of course, lots of alligators. There are several areas where guests can park to explore by foot or stop for a picnic. Fishing is permitted throughout the area, so bring your pole, and drop a line. There are two fishing lakes that can be found on Long Bluff Road, as well as canals and creeks that lead to the St. Johns River.
Guests must purchase a daily-use permit upon entering at a cost of $3 per vehicle (cash or check only). Restrooms are available at certain stops throughout the drive.
Approximate drive time: 45 minutes
Part of the Merritt Island National Wildlife Refuge, visitors can sightsee and spot alligators, hundreds of species of birds, turtles, snakes, and maybe even an otter or two on this 7-mile one-way wildlife drive near the east coast. Wildlife is most active in the early morning or late afternoon, and peaks from October through March. The entrance fee is $10 per vehicle (cash or check only); guests can purchase a yearly pass for $25. A self-guided brochure is provided near the entrance. First-time visitors should stop by the visitor center to take in the wildlife displays, watch an educational film in the auditorium, explore the boardwalk area, and shop in the bookstore. Kids can earn a Junior Ranger badge and complete a scavenger hunt along the boardwalk.
The drive is open from sunrise to sunset year-round. Restrooms are available at the visitor center as well as Cruckshank Trail. Two hiking trails are accessible along the drive as well.
Approximate drive time: 2-3 hours
With more than 600 lakes and ponds and almost 100 miles of paved roads, the Ocala National Forest makes for a serene drive. The widely known Florida Black Bear Scenic Byway is centered in the Ocala National Forest and runs from Silver Springs to Ormond Beach. The Florida black bear population is highest in this area, so there is a good chance visitors will spot one or two along the drive. Troops of free-range monkeys also call the Forest home, so keep an eye out in the trees. There are many natural springs throughout the forest as well, such as Alexander Springs, Juniper Springs, and Salt Springs.
RELATED: Inflatable Water Parks Around Orlando to Cool Off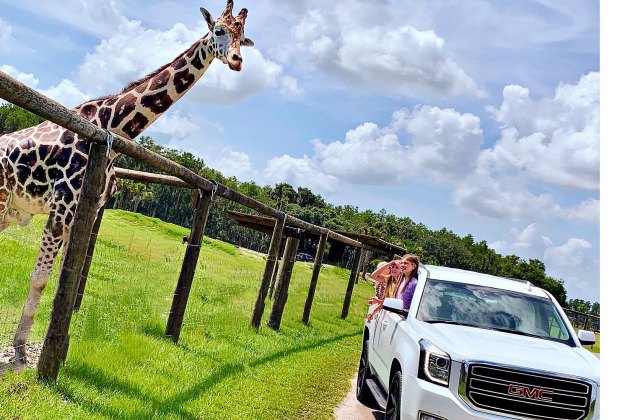 Guests can meet and feed the giraffes at the Wild Florida Drive-Thru Safari Park once their tour is over. Photo courtesy of Wild Florida/Facebook
Approximate drive time: 1 hour
Visitors at Wild Florida have the opportunity to see both native wildlife and exotic animals roaming freely through the 2-mile safari park, including bison, wildebeest, alligators, crocodiles, antelope, zebras, giraffe, and more. Guests can also meet and feed the giraffes on an elevated platform at the conclusion of the drive, or choose to walk through the adjacent Gator Park to see more animals and experience a variety of educational animal shows.
Florida residents can take advantage of a ticket deal: adults, $20; children ages 3-12, $15, which includes admission to the drive-thru safari as well as the gator park. Tickets can be booked in advance online for contactless admission. Advance purchase is recommended since the park books to capacity often, especially on the weekends. Restrooms are available outside the entrance to the safari drive. Guests are required to wear masks on the giraffe feeding platform and in the gator park as part of COVID-19 precautions.
Approximate drive time: 1 hour
Located between Orlando and Tampa, this exotic animal reserve is now offering drive-thru safari tours from the comfort of your own vehicle. This limited-time experience allows you to drive through the 260-acre ranch, which is home to more than 400 animal species including zebras, camels, water buffalo, lemur, and more.
Prices start at $100 per vehicle on weekdays and $125 per vehicle on weekends. Food buckets are sold for $10 each.
Approximate drive time: 1 hour
The sister ranch to Safari Wilderness, Giraffe Ranch is also offering guided drive-thru safaris for a limited time. At this 46-acre ranch, guests can observe rhinos, pygmy hippos, antelope, deer, zebra, primates, otters, camels, and of course, giraffe! There is also a new cheetah breeding compound.
Tours are available by reservation only at a price of $125 per vehicle on weekdays and $150 per vehicle on weekends. Lemur and otter feeding encounters are also available at an additional cost.
RELATED: Top 10 Natural Springs Near Orlando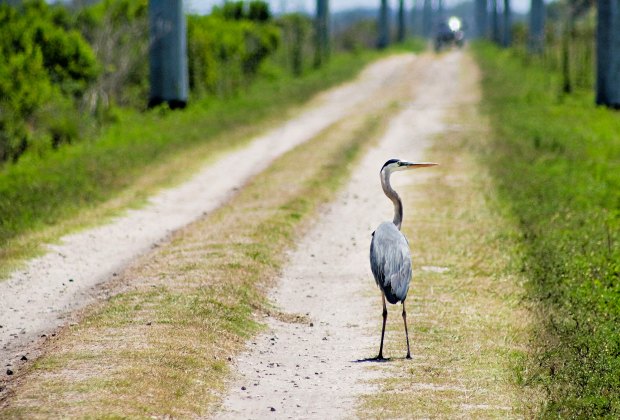 Florida's scenic drives make for some spectacular bird watching, spotting species like this heron at Tosohatchee Wildlife Management Area. Photo by Lauren Mitchell/CC BY 2.0
Approximate drive time: 2 hours
This scenic preserve sits on 200 acres complete with a lake and observation tower. The roads throughout the wetlands are usually open to vehicles, however during particularly wet conditions, it may be closed. Be sure to call ahead to check. The road is open to pedestrians as well, so be sure to keep an eye out for them during your drive. There is a covered gazebo surrounded by a butterfly garden overlooking the lake, perfect for a scenic picnic lunch. The preserve is open daily, with varying hours depending on the season.
Approximate drive time: 1 hour, 30 minutes
This 10-mile educational driving loop overlooks a former cattle ranch that is home to more than 180 species of birds including woodpeckers, wild turkeys, wood storks, and limpkins. Other wildlife includes white-tailed deer, gophers, fox squirrels, alligators, snakes, and tortoises. Feral hogs are also a common sight.
Guests must purchase a daily-use permit upon entering at a cost of $3 per person or $6 per vehicle (cash or check only).
Approximate drive time: 1 hour, 30 minutes
Located along the east side of Lake Griffin near the Ocklawaha River, the wetlands and water bodies along this seasonal drive contain one of the largest concentrations of alligators in Central Florida. Visitors can also view a large variety of birds such as sandhill cranes, bald eagles, white pelicans, and waterfowl, as well as ring-necked ducks, wood ducks, Florida mottled ducks and more. A wildlife observation platform is also onsite for guests to enjoy an expansive view of the marsh. Please note: This seasonal drive is currently closed, but keep it on the radar for next spring. It is open seasonally from the third weekend in February through the last weekend in May, Friday-Sundays, from 8am-sunset.