Inexpensive Birthday Party Room Rentals on Long Island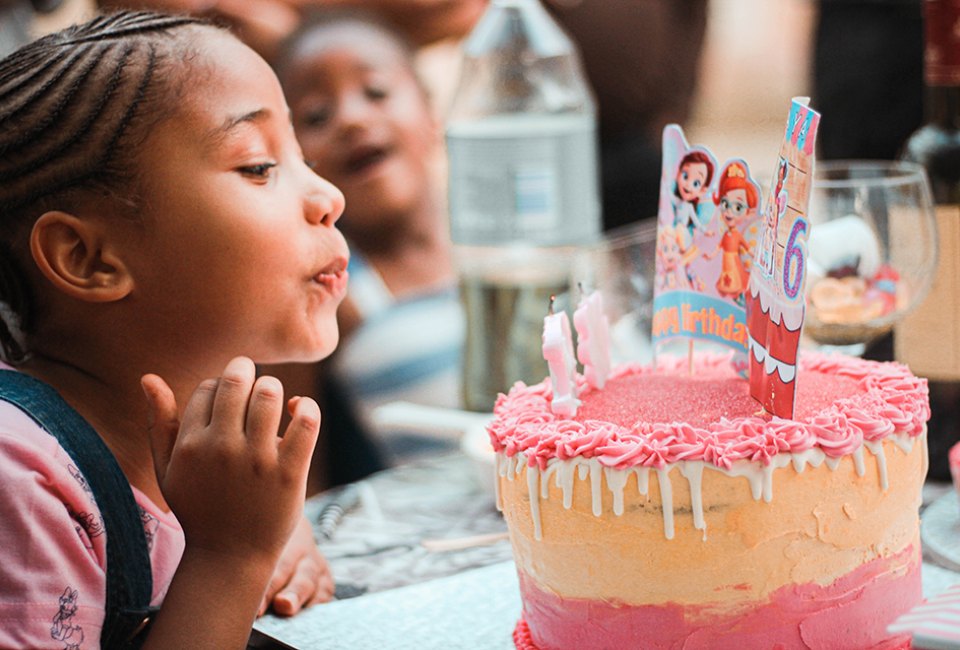 3/17/23
- By
Christine McGrath
There are tons of great birthday party rooms on Long Island that let you keep costs down without sacrificing fun.
Whether you're a DIY Diva, looking to fulfill your child's dream theme, or simply trying to keep your budget in check, we've rounded up several locations throughout Long Island where you can host your own bday event at a variety of rates. So go ahead and customize every last detail of the special day as you like!
Be sure to check out our Birthday Party Guide for Long Island Kids for even more tips on planning a party for your child. It has ideas for first birthdays, toddlers, active kids, and more!
Inexpensive Birthday Party Rooms or Halls on Long Island
This division of the AoH is perfect for intimate gatherings or parties. The cost is $450 for 4 hours and includes a bartender. There is an ice machine and a kitchen that has a microwave and oven. The price only covers the hall rental, so you need to DIY and provide all of the drinks and food for your guests. It can hold 70 people.
The Bethpage PAL offers a hall rental for $600 for a 5-hour party. There is a $300 refundable security deposit. The hall fits 70 people and features tables, chairs, and a kitchen with an ice machine, refrigerator, and microwave. It also features wireless Internet access and a built-in speaker system.
Anyone can rent this hall at the Knights of Columbus. The hall fits 40-100 people and is great for birthday parties, communions, and confirmations. The minimum rental is 2 hours. Prices start at $125 an hour for a weekday event and $175 an hour for a Saturday night event.
There are so many options at this village center, including four different rooms to choose from! The Skipjack Room and Harbor/Cove Room comfortably fit 50, while the Wayfarer and Sail Loft rooms fit 100. Some rooms have access to a kitchen or prep area. There are different price points, depending on how long parties are, the day of the week, and if you are a village resident. Rates start at $75 an hour. There is a minimum of 3 hours for all events.
RELATED: Where to Throw a Birthday Party on Long Island for Teens and Tweens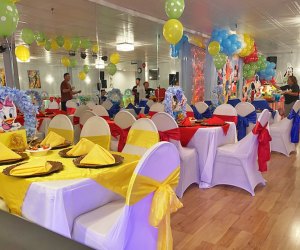 Rent the spacious Ballroom Factory Dance Studio for a special birthday celebration.
Moderately-Priced Birthday Party Rooms or Halls on Long Island
This renovated room is great for a smaller gathering and has hosted many first birthday parties. Its party package at $800 includes a 4-hour rental of the hall that includes access to a kitchen for heating up items. It also includes unlimited soda and a bartender, if you'd like. The hall fits 88 people comfortably, but no more than 99. There is no cotton candy allowed.
This dance studio doubles as a great party space for up to 150 people. The basic rental package for 4 hours includes the setup of tables and chairs and clean up. It also includes a 2-hour preparation time to decorate. You can use the studio's music system and DJ lighting. Chair covers and linen tablecloths are available for an extra fee. The price varies based on the day and time and starts at $1,050 for up to 100 people. The highest-priced ballroom rental is $1,650 for 121-150 people on a Saturday night.
This catering hall features a large banquet room and a fully equipped modern kitchen. It can accommodate up to 120 guests. There is a minimum 4-hour rental at $150-$175 an hour. There is onsite parking, and there's a separate dance floor space if you have a DJ.
This hall is available on weekend for every type of event – birthday parties, communions, confirmations – anything! A 4-hour party rental is available for $500 and includes the cleanup cost and an attendant. It also includes 2 hours to set up and an hour after to pack up extra food. A beverage package must be purchased from the center. The cultural center offers kitchen services to warm up food, coffee urns, sternos, and racks, as well as an Internet jukebox. There is a minimum of 40 people; the facility holds 96 people.
This Knights of Columbus hall fits 130 people and is perfect for birthday parties or any celebration. For a 4-hour rental with a 2-hour setup, the rental price is $800, and a bartender is included. It should be noted the facility does not allow cotton candy machines, chocolate fountains, popcorn makers, or confetti. All other decorations, backdrops, and food are permitted.
This hall can fit 115 people. The rate is $750 for 4 hours, and you can arrive early to decorate. The staff sets up the tables and chairs for you and will provide a bartender. Any drinks must be bought from the hall, but you can bring your own food.
The Loft is a unique party experience. For $700, you can throw a 4-hour party and bring your own food and decorations. Or you can use one of its many packages, which include food, servers, linens, and a bartender. The Loft also offers a private movie room, for an additional cost, to really enhance your party. The venue works with various vendors such as DJs and photographers. The space can hold up to 120 people.
The ballroom at the VFW in Albertson can accommodate up to 180 people. For $49.95 per adult plus tax and gratuity, you can rent the ballroom for a minimum of 4 hours and 50 people. The cost includes food, table and chair setup, as well as tablecloths and table skirts for buffet tables. This post offers other beverage packages at additional fees. You can add a bartender or waitstaff for additional fees. All catering is through Felicio's.
RELATED: The Best Parks and Playgrounds for a Birthday Party on Long Island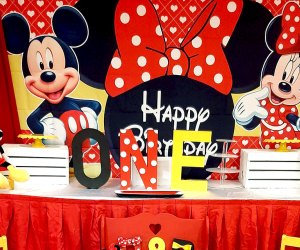 Choose a birthday theme and Whimsical Vine Party Hall will help plan it.
This South Shore party space is an open canvas for your event. Prices vary and the owners work with most budgets. Whimsical Vine can accommodate up to 140 people and offers full event planning assistance.
Unless noted, photos courtesy of the venues
Sign up for the Mommy Poppins Newsletter today!