Best Spots for a First Birthday Party on Long Island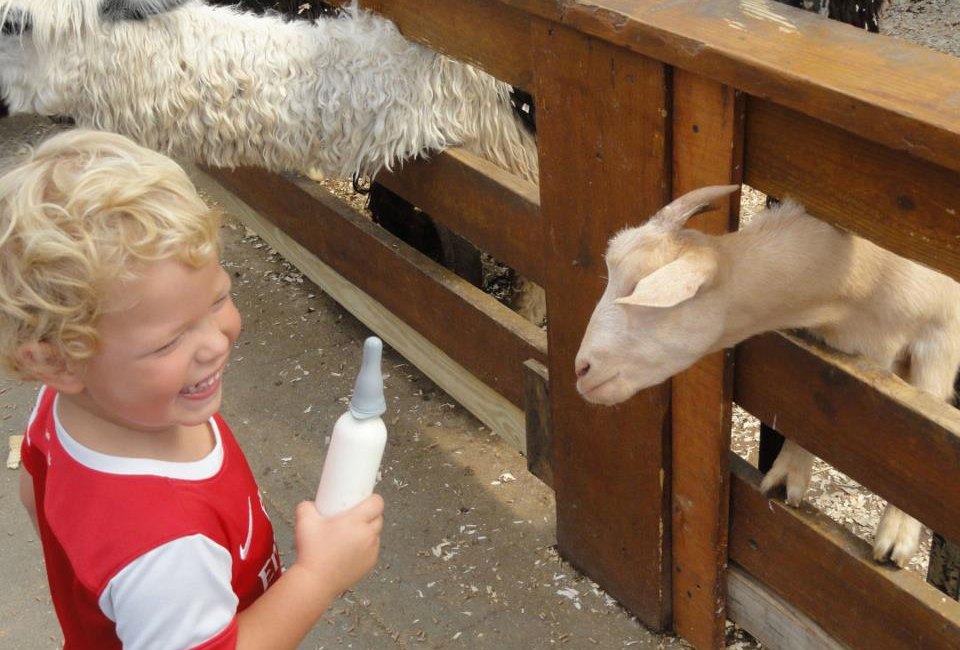 2/2/17
- By
Erica Jackson
Whether your little one's first year flew by or felt like an eternity of sleepless nights, a first birthday is a cause for celebration. So go all out and book that cake smash photo shoot or keep it low key with a few close friends and family members. Just like the first time you held your baby, a first birthday party should be a joyous occasion, filled with games, goodies, music, and age-appropriate fun.
While planning can seem daunting, it doesn't have to be. Across Long Island, there are several venues that can make your child's first birthday an occasion to be remembered, providing everything from staff to food, so you can spend time with your family and friends. Our birthday spot picks makes it easy for you and fun for your guests.
For more birthday party planinginspiration, check out our Birthday Party Guide for Long Island Kids.
You know what else a birthday needs? Gifts! Get tried-and-tested favorite gift suggestions the Best First Birthday Gifts, and more in our Guide to Top Toys and Gear for Kids.
Nassau
Kidville - Roslyn Heights, Wantagh, Garden City
250 South Service Road, Roslyn Heights
1183 Wantagh Avenue, Wantagh
960 Franklin Avenue, Garden City
Kidville offers a special birthday party geared specifically to those turning one. Tots can enjoy circle time, parachute play, a ball pit, and lots of bubbles. Create a handprint keep-sake using air-dry clay and older party guests can even make their own sand art to take home. Explore, dance, and play in the state-of-the-art gym before chowing down on pizza, juice, and birthday cake, all of which are included in the party package. Other party packages are available for ages up to 6.
Long Island Children's Museum — Garden City
11 Davis Avenue
LICM offers three party options specifically for kids 5 and under. You can host your celebration in the TotSpot gallery, which features bubbles and a mini village including a lighthouse, train station, grocery store, and post office; you select a theme of music and movement or art. For kids who love a good mess, try a Messy Merriment party (think slime, oobleck, and mud). You can also choose a quieter gathering, featuring stories and crafts. Each party includes 90 to 120 minutes in the museum, staff guides, invitations, paper goods, and a T-shirt for the party child, as well as setup and cleanup and a two-for-one free admission pass for future visits.
Not Just Art — Oyster Bay
183 South Street
Does your child love music? For one-year-olds, Not Just Art hosts 90-minute music parties that include festive decorations and age-appropriate activities led by an instructor. The venue will also bring a 45-minute music party to your home or another location and can design custom themes. Longer parties, catering, and favors can be arranged as well.
Once Upon a Treetop —Plainview
151 Dupont Street
This tree-house-themed play space is geared for kids ages 1–10. Depending on their age and ability, your child and guests can climb, slide, jump, and crawl through the multi-level "tree house" or explore the mini village, which includes a fire house, pizzeria, construction site, and puppy store. Parties include an hour of play, pizza and juice, paper goods, and a gift for the birthday child. Costumed characters and other add-ons are also available.
Great Play - Syosset
​180 Michael Drive
Choose a theme and the staff at Great Play will customize the party based on your child's age and preferences. The Fun & Games package is geared towards children age 1-5. Children will be awed by the huge arena equipped with computers that project interactive games on the walls and play equipment. Parties for younger children could involve being part of a story where kids are transported to an undersea adventure to swim with the fishes or play a game of hide and seek with Buddy the Great Play mascot. Contact Great Play to customize your 90-minute, non-stop action party.
Suffolk
Children's Museum of the East End — Bridgehampton
376 Bridgehampton-Sag Harbor Turnpike
What better place to let your child explore on his or her special day than at the Children's Museum of the East End? The museum features a "Baby's Big Day" first-birthday package in which a museum educator will lead your child and up to eight guests in movement, games, and age-appropriate play, making sure your birthday boy or girl is the center of the fun.
My Gym — Huntington Station, Stony Brook
128 West Jericho Turnpike, Huntington Station
1320 Stony Brook Road, Stony Brook
My Gym, which caters to children 4 months to 14 years old, offers a truly special birthday experience perfect for a one-year-old. My Gym's hosts lead guests in music, bubble-blowing, swings (including a baby "zip line"!), parachute games, puppets, dancing, circle time, a balloon drop, and the venue's signature "birthday march" (photo-op time!).
Safari Adventure — Riverhead
1074 Pulaski Street
Safari Adventure offers fun for guests of all ages: a special toddler zone where little ones can play safely and plenty of climbing and bouncing structures for older guests, as well as an arcade, a sensory play area, and a calming room if your child and guests need a break from all the activity. Several packages are available, but all include a cake or cupcakes, a host, pizza and juice, decorations, and game tokens.
White Post Farms — Melville
250 Old Country Road
For a gentle, intimate first birthday celebration, head to White Post Farms, where feeding, petting, and riding animals takes center stage. After pony rides (you can hold your one-year-old as they ride), retreat to a private party room for pizza and cake while party planners bring around more adorable farm residents for petting. All packages include pizza and juice, decorations, cleanup, and a hostess. Cakes, invitations, favors, and hats are available with some packages.
Long Island Aquarium - Riverhead
431 East Main Street
A favorite among young and old, a LI Aquarium birthday party is sure to please. The one-hour party is short and sweet without overwhelming little ones who may need to get home for nap time, however, guests are free to stay and enjoy all of the aquarium's attractions for the rest of the day. Upgrade the party with a sea lion kiss photo, feed the stingrays, or dig through the sand for gems and fossils in the Unearthing Atlantis exhibit.
Islandwide
The Little Gym — Huntington, Levittown, Merrick, Roslyn, Smithtown, Rockville Centre
38 Gerald Street, Huntington
2890 Hempstead Turnpike, Levittown
2128 Merrick Mall, Merrick
55 Lumber Road, Roslyn
70 East Main Street, Smithtown
298 Merrick Road, Rockville Centre
TLG caters to kids ages 1 and up, and will help you plan the perfect party for your little one, including instructor-led games and building with Duplo blocks. Choose from fairy-tale, superhero, pirate, or character themes. All packages include pizza and juice, invites and paper goods, a Little Gym T-shirt for the birthday child, setup, and cleanup.
Photo courtesy of White Post Farms.
A version of this article was first published in 2014 but has since been updated.
Sign up for the Mommy Poppins Newsletter today!