Best First Birthday Gifts: Toys and More for 1-Year-Olds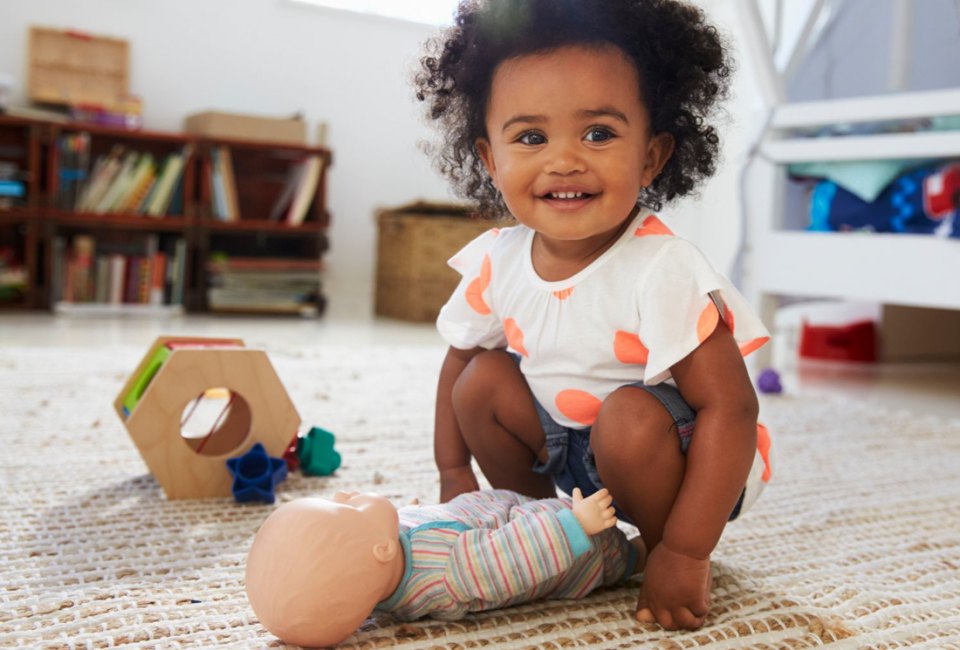 7/20/23
- By
Vanessa Leigh
If you're looking for some fabulous first birthday gifts for a special child in your life, check out our ultimate gift guide for 1-year-olds.
A child's first birthday is a big milestone, and often comes with plastic gifts that delight kids for all of 5 minutes, and then clutter the house up before becoming landfill. To avoid that fate, we've rounded up the most amazing first birthday gift ideas that will delight any 1-year-old—and their parents!—for a very long time.
Naturally, toys make some of the best first birthday gifts. The best toys for 1-year-olds foster sensory exploration and help develop fine and gross motor skills. Open-ended toys that can be played with in different ways as kids grow, such as building blocks, are the #1 gift among the parents at Mommy Poppins.
But of course, you don't have to stick with toys. On our list of the most beloved first birthday gifts we've included books, clothing, furniture, and other unique suggestions that delight kids and parents.
Check out our Guide to Kids' Birthday Parties for more fun ways to celebrate, including tips for planning an at-home birthday party and great birthday cake ideas. And if you're looking for gifts for kids older than a year old, the Mommy Poppins Gift Guide for Birthdays and Holidays is literally your one-stop shop!

Creative, messy, fun, and eco-friendly; Veggie Baby Finger Paints are the perfect gift. Photo courtesy of the company
Best Toys for First Birthday Gifts
You're already embracing messy mealtimes. Why not add some colorful finger paint to the mix? Finger painting is a great form of sensory play that taps into little ones' creativity. Veggie Baby Finger Paints are a great non-toxic option that uses veggie-based powders.
This set grows with baby and becomes even more fun as little engineers get older. The adorable Skip Hop Zoo Stack & Pour Buckets are another great first birthday option.
Building Blocks: Mega, Wooden, or Foam
Toddlers love few things more than building towers and knocking them down over and over and over again. That's why building blocks are some of the best first birthday gifts:
RELATED: Outdoor Birthday Party Ideas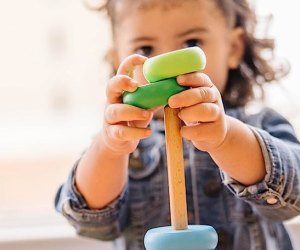 Stacking toys are a great way to teach babies hand-eye coordination. Photo courtesy of Melissa & Doug
Similar to blocks, stacking toys are a big hit with 1-year-olds. They're perfect for hand-eye coordination, learning colors, and much more. Melissa & Doug's Rainbow Stacker is a wonderful wooden option for a child's first stacking toy.
Toddlers—and their grown-ups—love these planes, trains, automobiles, and boats that are made in the USA from 100% recycled plastic. Colorful and durable, they are perfect for indoor, outdoor, and bathtime play for 1-year-olds. The fire truck and dump truck are excellent choices.
Musical Instruments
Get your little Mozart started early with musical instruments that will entertain for years.
RELATED: Big Fun, Little Party: 25 Kids' Birthday Party Ideas for Small Groups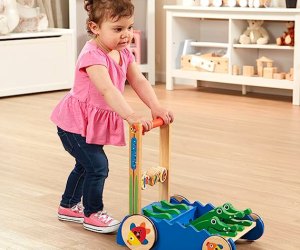 Little ones will be on the move in no time with an activity walker to push around. Photo courtesy of Melissa & Doug
The average age at which babies learn to walk is 12 months. An activity walker is a great gift for little ones that are still unsteady on their feet. Toddlers love to hear the alligators go clack-clack-clack as they push the Melissa & Doug Deluxe Chomp and Clack Alligator Push Toy. Another great choice is the Radio Flyer Classic Push & Play Walker, which has interlocking gears, sliding numbers, and more to explore.
Puzzles are a great way to develop toddlers' fine motor and problem-solving skills. Wooden puzzles with knobs, like this one, are a great first puzzle. The knobs help with grip, and the images on the pieces and board create a fun matching game.
While 1-year-olds may not yet be ready for a bike, that doesn't mean they can't have their own set of wheels. A ride-on toy like the Radio Flyer Busy Buggy is just their size and allows them to practice moving their legs to propel themselves forward. Or, kids can use it as a walker, to practice getting around on their own.
RELATED: Best Kids' Books: A Guide to Great Reads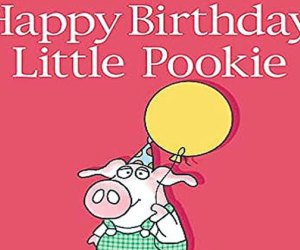 Sandra Boynton books make great birthday gifts for your little Pookie. Illustration by Sandra Boynton
Best Books for First Birthday Gifts
Sandra Boynton's board books have been a beloved part of children's libraries for nearly 50 years. Featuring animals doing silly things, the books are hilarious, sing-songy, and fun for everyone from babies to grown-ups. Birthday-themed titles like Birthday Monsters! and Happy Birthday, Little Pookie make especially great first birthday gifts.
A customized book is a meaningful addition to any 1-year-old's bookshelf. Hooray Heroes allows you to create a story and personalize the pictures to match the child and their family.
Interactive Books
Toddlers love to get hands-on, so they naturally enjoy books with interactive features like flaps to lift, buttons to press, textures to feel, and elements that pop up. Try Colors: Pop-Up Peekaboo!, Melissa & Doug's Poke-A-Dot! books, or Wild Animals: A Touch and Feel Book​.
Eric Carle's classic, beautifully illustrated children's books come in board-book versions for younger kids. The Very Hungry Caterpillar, which consistently lands on lists of the best children's books of all time, would make a great first birthday gift. Or, opt for the My Very First Library four-book box set.
Classic Children's Books
Some classic books are essential additions to any young child's library. We start with board books for babies, or you can give them classic hardbound books that parents can read at bedtime and become the cornerstones of a fantastic library. These are our top 5 picks for a first birthday—or check out our favorite 100 books for kids and gift as many as you can that they will grow into!
RELATED: Best Baby and Kid Gear, Toys, and Hacks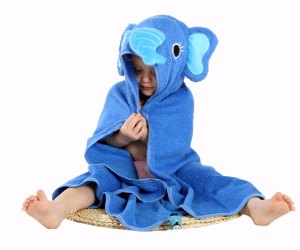 Kids will wear these hooded towels after bathing or swimming for years to come. Photo courtesy of Michley
Best Clothes and Linens to Buy for a Child's First Birthday
Hooded towels keep little ones warm and cozy after bath time and provide adorable photo ops. You can't go wrong with the cute and durable animal-themed hooded towels that range from blue elephants to green dragons, and so much more from Michley. Kids will use these for a surprisingly long time!
Baby/Toddler Shoes
As they turn 1, many kids have outgrown their baby booties and are getting ready to take on the world by toddling, walking, and—soon—running. They need sturdy shoes that will protect their tiny toes and developing feet. Parents appreciate having extras, as kids are hard on shoes and outgrow them fast. Our favorite quality brands are:
Baby socks are much like adult socks—they always mysteriously go missing! With a 1-year-old, you don't have much time to play sock detective, so you'll want to stock up on these essential accessories. Non-slip toddler socks with grips on the feet are especially useful for little ones just learning to walk. Or, try these adorable monster socks.
Best Subscription Gifts for a Child's First Birthday
Lovevery's subscription play kits are designed with little ones' growth and development at the forefront. Every three months, your 1-year-old can receive a fun box filled with developmentally appropriate, Montessori-inspired toys such as wooden stackers, ball runs, and puzzles.
It's the subscription that keeps on giving! With learning crates for ages 0-100, these subscription boxes are designed to please all ages. For a 1-year-old's birthday gift, you can start with the Panda Crate, and as they grow they'll enjoy other stimulating craft crates that promote hands-on science, creativity, and exploration at home.
RELATED: 40 Classic Outdoor Games for Kids

A toddler ball pit offers loads of fun for little ones. Photo courtesy of the Eezy Peezy Store
More Unique First Birthday Gift Ideas
What better way for a little one to celebrate one year of life than by jumping into their very own ball pit? Plus, just think of the fun birthday pictures you can get! The Eezy Peezy Active Play 3 in 1 Jungle Gym Play Set is extra special because it has a slide next to the ball pit.
Looking for a first birthday gift for a summer baby? Help them beat the heat with an inflatable splash pad that will have them shrieking with delight.
If you have an active climber on your hands, the popular Pikler Triangle is the big first birthday gift you've been waiting for. This Montessori-inspired climbing structure keeps toddlers active on bad-weather days and improves their balance, strength, and agility.
If you're looking for a first birthday gift that a child will keep forever, this wooden stool is it. It's meaningful, durable, and the pull-out drawer is a great storage solution. The puzzle helps little ones develop fine motor skills and spell their names. And the stool allows toddlers to become more independent by helping them climb into their toddler bed, reach the sink to wash their hands, and more.
Once babies have mastered sitting down and standing up independently, they'll appreciate having a special chair to settle into that is just their size. The Delta Children Cozee Chair is cozy and adorable and comes in a variety of colors and/or patterns and can be embroidered with the birthday child's name.
This article contains some affiliate links, which means we might earn a small commission if you make a purchase. There is no extra cost to the reader. We only recommend products and services that we have personally used or have thoroughly researched.
Lead photo by Monkey Business Images, courtesy of Canva.
Click Here to Sign Up!