10 Great Birthday Cake Ideas for a Kids' Birthday Party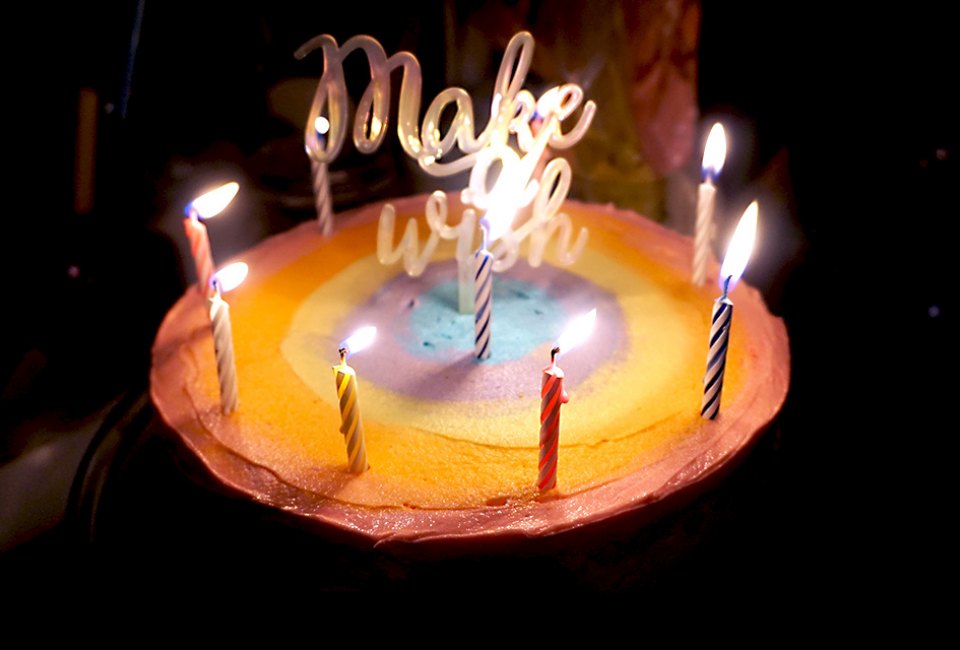 4/22/21
- By
Jody Mercier
I was 10 years old the first time I tried my hand at decorating a cake, and I was instantly hooked. I've never been artistic with a paintbrush or pen, but give me a pastry bag, and magic happens. Fast-forward about 30 years, add in three kids and 33 kids' birthday parties between them, and I've learned a few tricks for creating bakery-quality cakes on a busy-mom schedule.
These birthday cake ideas and decorating tips yield showstopping results with very little skill required, and I'll even share with you my shortcut trick for turning a boxed cake mix into a bakery-worthy birthday cake recipe.
Of course, there are times when even a shortcut cake masterpiece is out of reach, so be sure to check out our ready-in-an-instant mug cake recipes and find more parent-tested meals in our Guide to Easy Recipes for Kids.
Find more helpful ideas for your next party, including local entertainers and venues, in our Birthday Party Guide for Kids.
I rarely bake a cake from scratch. Instead, I just improve upon Betty Crocker or her friend Duncan Hines. To get a perfectly moist, delicately crumbly cake, add 1/2 a packet of instant pudding mix to a boxed cake mix, plus the required ingredients and one heaping tablespoon of sour cream.
I generally use vanilla pudding for vanilla cake and chocolate for chocolate, but you can get more creative if you want.
When it comes to frosting, though, I always make my own. Here's a simple buttercream recipe to get you started. My all-time favorite pick for a creamy chocolate version is here.
Now that you've got the basics down, it's time to dive into the decorations.

Gorgeous designs can be made with just cookie cutters and sprinkles.
1. Sprinkle On Some Magic
Sprinkles are the stuff of childhood magic. Find your kid's favorite color and a cool-shaped cookie cutter. Place the cookie cutter in the center of an iced cake and go to town with the sprinkles—either filling in the shape or sprinkling outside the shape. Lift the cookie-cutter, and you've got one sweet design that instantly elevates a plain iced cake.

Would you believe this adorable cake is really easy to make?
2. All About the Unicorns
You've probably seen some iteration of this cake. I've made ... three. They've all been easy, yet yield impressive results. If you've got the confidence to pipe simple circle rosettes with a star tip, you can create a rainbow-hued mane by painting the inside of a pastry bag with strips of color, then filling it with white icing. If your skills or patience are thin, these rainbow sour belts can be draped across the cake to make a brilliant mane. An easy option for a horn? Coat a sugar cone in a thin layer of frosting and roll it in some gold sprinkles. Voila, a sparkling horn! Pipe some simple eyelashes on the front of the cake with piping gel from the bakery aisle of your local store, and you're done. Another option: Order a ready-to-add cake topper.

Extra gifts double as decoration. Brilliant!
3. Invite Some Friends
Action figures can play double duty as cake toppers and a bonus birthday gift. For my son's fifth birthday, I purchased some plastic Toy Story characters and plopped them on top alongside a logo I created on my computer, printed out, and then used as a template to trace out the shape on some pre-made fondant.

It's a pinata surprise in cake form.
4. Surprise, Surprise!
These fun surprise cakes are so fun to cut into. Simply make a multi-layer cake—I use three layers—stack the first two, using icing or filling between the layers, then use a biscuit cutter, tall glass, or some careful knife work to carve out a cylinder in the middle. Fill the void with the birthday kid's favorite goodies; M&Ms, Skittles, or sprinkles all work well. Top with the final layer of cake and frost as usual. When you cut in, kids will get a kick out of the pinata effect as the goodies spill all over.

You just need lots of frosting in varying hues to make this stunner.
5. Paint the Rainbow
This one takes a little patience, but the results are really fun. I created this design with some careful piping, filling up five piping bags with varied colors and piping concentric circles of each color around the top and around the sides of a two-layer cake, then smoothed it out with a simple offset spatula. After adding a fun cake topper, my job was done.

Everyone loves a surprise rainbow cake.
6. Dye the Inside
Another fun surprise you can't appreciate until you cut into the cake? Take a simple vanilla cake and dye each layer a different color—or go tye-dye style and combine varied hues within the same layer.

This cake is gorgeous, trendy, and super simple to make.
7. Let It All Hang Out
Naked cakes aren't only a thing; they are the thing right now, and good news: They're super simple to make. Naked cakes eliminate the hardest part of frosting a layer cake—the sides. Simply fill and stack the cake and smooth icing over the top. You can choose to add a thin layer to the sides or just let your beautiful cake shine through. For a little extra pizazz, add a few fresh-cut blooms, candied citrus peels, or fruit to the top.

Hello, little piggy! No artistic skills are required to make these guys.
8. Revisit Geometry
One of my all-time favorite designs is this piggy cupcake, and all I used was a round cookie cutter, a paring knife, and some candy eyeballs for a quick, cute design. Using simple shapes—circles and triangles—makes it easy to cut out multiple shapes from pre-made fondant and then decorate the cupcakes in an assembly line.

Well, that's easy cleanup! No wrappers to throw away when you bake cupcakes in ice cream cones.
9. Put It in a Cone
While we're on the subject of individual treats, ice cream cone cupcakes are always a hit. The hardest part, really, is making sure you get the batter-filled wafer cones into the stove without them toppling over. I suggest baking them in a 13-by-9-inch cake pan. Once they're baked and cooled, top them with a swirl or smattering of frosting and a few sprinkles, and your work is done. You could even put a cherry on top!

This impressive cake is actually a snap when you have one simple tool.
10. Make It Furry
If you've never piped a cake before, using a "grass" tip is practically foolproof. I've used these tips to cover everything from baseball fields to Elmo. It's a cool effect with minimal effort.
More Tips and Tools for Bakery-Quality Cakes at Home
This article contains some affiliate links, which means we might earn a small commission if you make a purchase. There is no extra cost to the reader. We only recommend products and services that we have personally used or have thoroughly researched.
Photos by the author
Click Here to Sign Up!
i