8 Easy Mug Cake Recipes to Make with Kids
2/2/21
- By
Jody Mercier
My coffee cups are getting a workout between my insatiable need for coffee, these easy hot chocolate bombs, and our family's newest cooking obsession: mug cakes.
Mug cakes are the perfect, low-mess solution for your sweet tooth and easy enough for tweens and teens to make on their own. There's no hot oven; instead, you can have a personal-sized treat ready to enjoy in mere minutes with the help of your microwave.
Read on for eight easy mug cake recipes to make with kids and find more kitchen inspiration in our Guide to Easy Recipes for Kids.

Top your confetti mug cake with a small scoop of ice cream and a few extra sprinkles for over-the-top indulgence.
What's better than a classic vanilla cake? One with bright specks of sprinkles melted throughout. We loved the classic taste of this recipe, and it was one of the easiest we made. A scoop of ice cream and an extra dash of sprinkles ups the special treat factor!
RELATED: Easy Recipes For Kids

Mug cakes are a mostly hands-off project for mom and dad.
If classic chocolate cake is your favorite, this is a go-to easy recipe. Sweetened with cocoa powder and semi-sweet chocolate chips, you'll get a double shot of chocolatey goodness. We like this one topped with a swirl of whipped cream.

A fresh-baked chocolate-chip cookie in a minute? Yes, it's possible with this mug cake recipe.
Admission: Our favorite mug cake on this list is actually this mug cookie. It's got a classic chocolate-chip cookie flavor but a bit of a cakey-crumble. We may have overdosed on the chocolate chips, but we weren't sorry.
RELATED: How To Make Rock Candy With Kids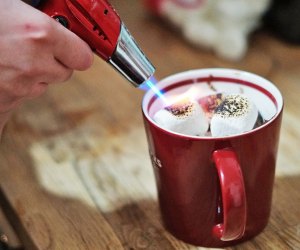 No s'mores recipe is complete without a toasted marshmallow and this mug cake recipe actually hides some inside, too.
If you're up for a bit more of a project or craving a taste of summer, this s'mores cake hits the spot. We loved the graham cracker crust, though the star of the show was definitely the melted mallow on top. If you don't have a kitchen torch, you can pop it under the broiler for a couple of minutes to get that golden-brown goodness.

Nutella with a side of mug cake was a big hit in our house.
My 7-year-old is obsessed with Nutella. We have a one-serving-of-Nutella-per-day-rule at our house, and I have a feeling she'll be asking for her Nutella in mug cake form again soon. This double-chocolate cake gets topped with a spoonful of Nutella before and after baking. I have a feeling it would be equally tasty with peanut butter instead.
RELATED: 8 Fun Popsicle Recipes To Make With Kids

This red velvet mug cake is made extra special with the addition of a swirl of cream cheese frosting.
If you're a cake connoisseur, know that it's hard to get a perfect crumb with a mug cake, but this red velvet version definitely nailed it in the best way. The addition of a cream cheese frosting swirl makes it truly indulgent and slightly more involved, but we tried it with a simple dollop of cream cheese baked in the center, and it was still heavenly.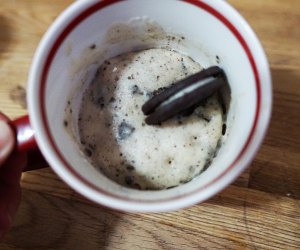 Oreos in cake form? Yes, please.
Oreo lovers rejoice: This mug cake is a perfect marriage of cake and cookie, with a white-chocolate based batter to round it all out. Smashing Oreos in the batter is a toddler-friendly activity, too.
RELATED: Make Your Own Granola Bars at Home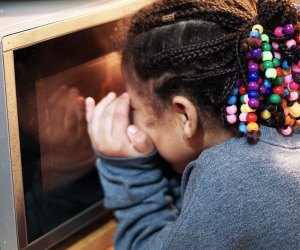 Waiting might be the hardest park of making a mug cake.
This play on strawberry shortcake is a fun twist on a mug cake whether you follow a gluten-free diet or not. It is a little more involved, but you'll end up with a tasty, healthy(ish) treat at the end.

Mug cakes are a fun dessert and boredom buster in a sweet package.
Helpful Tips For Easy Mug Cakes
Mix, mix, mix! While most of these mug cake recipes are stirred up right in a coffee cup, make sure you mix everything together well. We suggest using a fork to whisk the ingredients and a small spatula to scrape the bottom clean before you cook. Nothing ruins your mug cake faster than finding a glob of flour on your fork.
Two is better than one. Mug cakes can be very rich. Consider splitting one recipe between two mugs for twice the servings, or make one cake and serve it to your kids with two spoons. They're doubly rich if you like to add toppings, and we do!
Take it slow. Microwaves vary in wattage and strength, so take care not to overbake. Start at the low end of the recipe recommendation and check, then add 15-30 second bursts until the cake is puffed and looks dry on top.
A version of this post was published in 2014. It has since been updated. All photos by author
Click Here to Sign Up!
i