How to Make Hot Chocolate Bombs in 5 Easy Steps
12/21/20
- By
Jody Mercier
These trendy hot chocolate bombs are the perfect antidote to cold winter adventures and stay-at-home orders. The sweet treats offer double the fun because crafting hot chocolate bombs at home is an easy baking project that results in one tasty snow day boredom buster.
These popular chocolate concoctions are small chocolate spheres filled with hot cocoa mix that explodes into a steamy, dreamy cup of hot chocolate when hot milk is poured over the top. Read on for our step-by-step recipe for homemade hot chocolate bombs.
What You Need to Make Hot Chocolate Bombs at Home
Melting chocolate; we used Ghirardelli
Hot chocolate mix of your choice
Mini marshmallows
Sprinkles, crushed candy canes, cookies, or other favorite toppings
How to Make Hot Chocolate Bombs
Step 1: Melt your chocolate according to package directions.
Be sure to watch the chocolate carefully; if you're using a microwave, heat it in 30-second increments and stir frequently. If you heat the chocolate too long, it can seize and become hard to work with.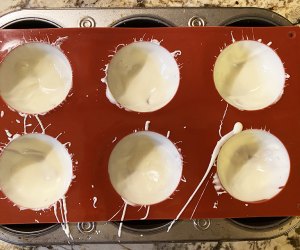 Step 2: Coat the hot chocolate bomb molds with melted chocolate.
Place your hot chocolate bomb mold on a muffin pan to provide a stable workspace. Using a pastry brush, coat the inside of the candy molds with the melted chocolate. You want the chocolate to be thick enough to maintain its integrity but thin enough to melt when hot milk is poured over the top.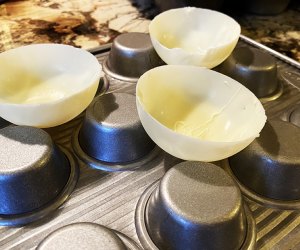 Step 3: Freeze the chocolate.
Place the chocolate-coated mold in the freezer and let it set for 10 minutes. Once the chocolate has hardened, it should pop out of the silicone mold easily.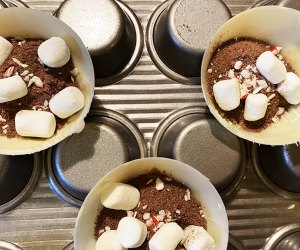 Step 4: Fill the hot chocolate bomb molds.
Once you've removed the chocolate from the hot chocolate bomb molds, set half of them open-side up between the cavities of an inverted muffin tin and fill with one serving of hot cocoa mix, plus a few mini marshmallows and any other mix-ins you desire.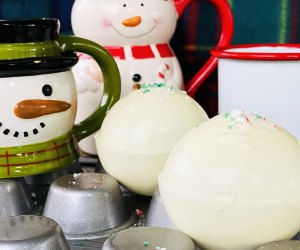 Step 5: Seal and decorate your bombs!
Brush the edges of the remaining chocolate shells with a bit of melted chocolate, and invert on top of each filled cavity. Press gently to seal together. Brush the top with a bit more melted chocolate and add sprinkles, crushed candy canes, cookies, or other toppings. Your imagination is the only limit!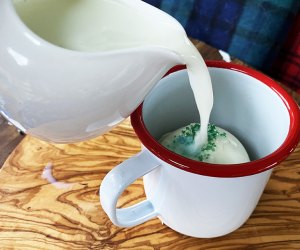 Step 6: Enjoy your hot chocolate bomb.
Place each hot chocolate bomb in its own mug, pour hot milk over the top, and watch the magic as the shell dissolves and the marshmallows float to the top. Stir, and enjoy delicious homemade hot cocoa bombs!
This article may contain some affiliate links, which means we might earn a small commission if you make a purchase. There is no extra cost to the reader. We only recommend products and services that we have personally used or have thoroughly researched.
Photos and video by Ally Noel

Sign up for our free
newsletters.
Mommy Poppins is a family activity website that helps people find things to do with kids.
©
2023
MommyPoppins. All Rights Reserved.
mp-prod4-v4.32.99
We use cookies and other data collection technologies to provide the best experience for our customers.
Learn More