50 Snow Day Boredom Busters for Kids: Fun Indoor Activities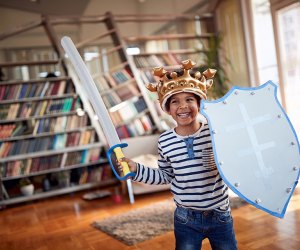 1/3/23
- By
Anna Fader
When the weatherman predicts a snow day, you can almost hear the collective cries of joy from children—and the sighs of resignation from the adults who will miss work to entertain a house of stir-crazy kids. Before your brood drives you batty, scan through this list of 50 indoor activities just right for a snow day, from baking projects (hot chocolate on a stick) to cool crafts (toy parachutes) and fun games for kids (indoor snowball fight). Have fun—and good luck!
Find more crafts, recipes, at-home projects, and science experiments in our Boredom Busters Activities Guide, or venture outdoors with these snow games and activities.
Physical Indoor Activities for a Snow Day
Use buckets, blankets, balls, and more to help your kids channel their inner ninja warrior.
Create paddles out of paper plates and popsicle sticks and try to keep a balloon in the air. It's harder than it seems!
3. Be a snow-day hero and set up a laser-beam maze.
All you'll need is yarn, some tape, and a hallway.
RELATED: 100 Things To Do When Kids Are Bored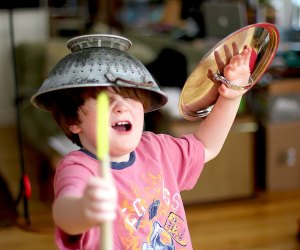 Kitchen utensils make great armor for an indoor role-playing game. Photo by Anna Fader
4. Get moving with some fun indoor games.
Games like Follow the Leader, Freeze Dance, scavenger hunts, and role-playing are so much fun, kids won't even realize they're getting exercise.
Who needs a toy bowling set when you can use empty water bottles and a tennis ball?
RELATED: 25 Fun Riddles for Kids and Families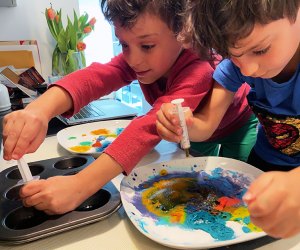 Simple science experiments with go-to kitchen ingredients can take up a few hours of a long day! Photo by Sara M.
STEM Indoor Activities for a Snow Day
Create a tornado in a bottle, make a volcano, build a miniature windmill ... the possibilities are endless!
7. Learn to code.
Try one of these free or cheap websites that will teach kids to code.
Crafty Indoor Activities for a Snow Day
Set up some targets and see how many you can hit!
A plastic bag, a paper cup, and some yarn make a fine parachute.
Make homemade snowballs out of paper and plastic wrap, then see who can win the snowball fight.
11. Paint with salt for a seasonal-themed snow day activity.
Draw a design with glue on paper, then add salt for a cool 3-D effect.
RELATED: 100 Sports and Hobbies for Kids to Try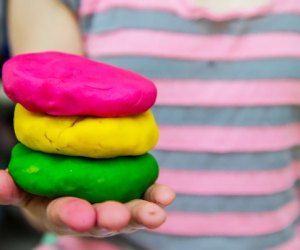 Why buy Play-Doh when you and your kids can whip up a batch at home? Photo courtesy of Family Education
This homemade play-dough recipe uses pumpkin spice, giving it a distinctly autumn smell.
Come February, you'll be glad you did it!
Bring a container of snow inside and use food coloring to paint on it. Hurry before it melts!
A glowing orb of ice? Yes, please!
This fun project is a little bit art, a little bit science, and a whole lot of fun.
It's fun and Earth-friendly.
Bart Simpson isn't the only one who loves slingshots.
RELATED: 100 Awesome Arts and Paper Crafts for Kids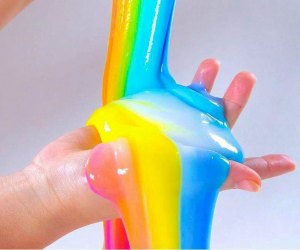 Stretch it, roll it, cut it, and learn to make new kinds of slime—like unicorn slime. Photo courtesy of Michael's
19. Get messy with DIY slime.
It's worth it to see the smiles on your kids' faces.
Regular old painting is so yesterday.
21. Turn a pair of gloves into a bunny puppet.
Then you can have a puppet show!
When it comes to occupying kids, nothing is quite as cheap, easy, and effective as an empty cardboard box.
It's a fun indoor activity with or without snow.
RELATED: 30 Best Bedtime Stories for Kids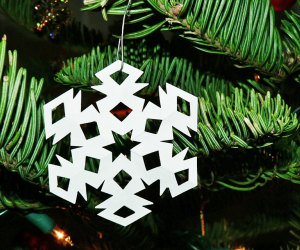 Paper and scissors are all it takes for this snowy-day activity.
The possibilities are endless, because remember—no two snowflakes are alike.
25. Draw on the windows with dry-erase markers.
While you're at it, draw beards and bunny ears on framed family photos!
26. Learn to fishtail-braid by making bracelets with the Rainbow Loom.
No more boring hair days for your kiddo.
27. A little glue, some colorful paint, and a few googly eyes can transform plain paper into almost anything.
The only limit is your child's imagination.
Spread kindness with messages on painted rocks that you can bury in the snow. Go looking for them this spring!
It's a sweet snow-day activity for toddlers.
Hang them from tree branches in your yard.
RELATED: 40 Outdoor Winter Activities for Kids

Keep your snow day baking project simple with a "cake in a mug." Photo via Pinterest
Indoor Cooking Activities for a Snow Day
Or, cook slice-and-bake sugar cookies and decorate them with food markers.
32. Give hot chocolate a fresh twist.
Make hot chocolate on a stick, or up your kitchen game with DIY hot chocolate bombs.
33. Make a batch of rock candy.
Kids will learn some science and get a tasty treat.
Ice cream is not just for summertime!
Kids will feel like they're really drinking coffee.
RELATED: Stay-at-Home Activities Guide for Families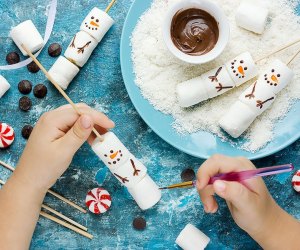 Decorate marshmallows as snowmen or as anything the kids want!
36. Put together indoor marshmallow snowmen for a sweet treat.
They'll be so cute, your kids may not want to eat them.
Put out a bowl to catch some fresh snow to use for this cold treat.
38. Throw some apple chips in the oven.
They make for a crunchy, healthy, and delicious snow-day snack.
39. Burn some energy making butter like in the olden days.
Beware—your family may never want to go back to store-bought butter.
RELATED: 7 Games Like Wordle for Kids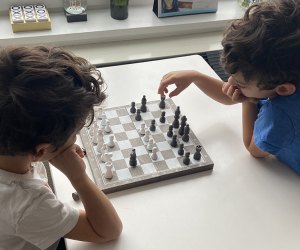 Concentrate on a game of chess. Photo by Sara Marentette
Other Indoor Activities for a Snow Day
40. Beat boredom with one of these board games.
There are options for every age.
Who says camping has to be outdoors?
Use them to write letters to friends and family.
43. Host a family stand-up session.
See whose jokes can get the most laughs!
44. Download a kid-friendly podcast.
Unlock a world of mysteries, folktales, and even relaxation.
See how many fun stories you can make up with them.
46. Put on a play.
Raid the dress-up bin to help everyone get into character.
47. Build a fort.
Spend the rest of the day cozying up in it.
Invite the neighbors over for this group snow-day activity.
49. Have an indoor picnic, or throw a fancy tea party.
Your kiddo's favorite dolls and stuffies are invited.
50. Finally, give in to the snow-day movie ... for everyone's sake.
Consider introducing your kids to one of your old favorites.
A version of this article was first published in 2015 but it has since been updated.