100 Sports and Hobbies for Kids to Try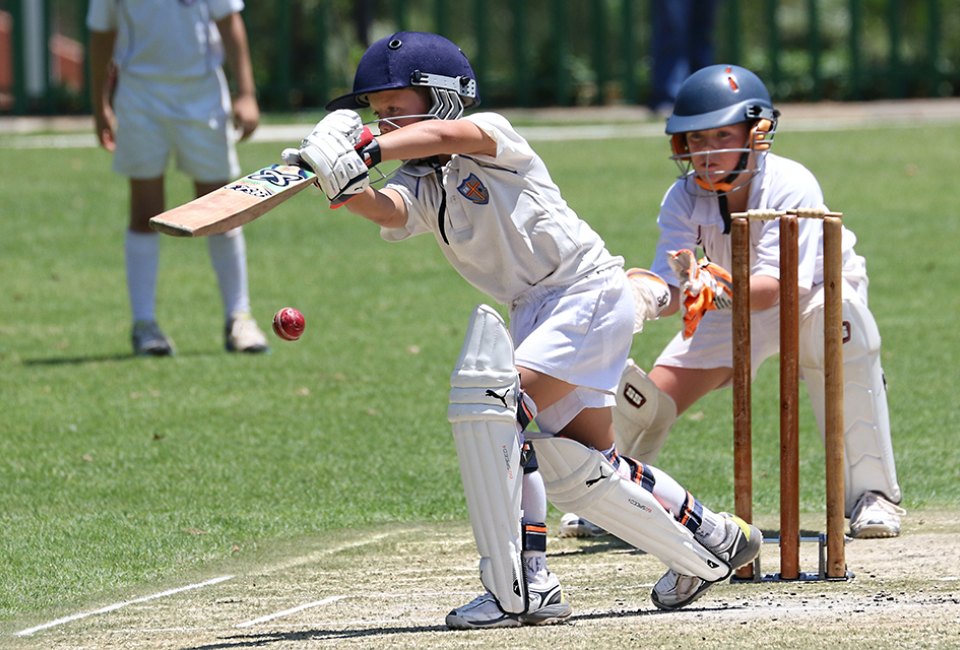 10/11/22
- By
Sarah Banks
Childhood is a great time to experiment and try new things. Hobbies for kids can help them discover and hone their passions, build confidence, express themselves, and so much more. Sports for kids can help them learn teamwork, make friends, get exercise, and set and achieve goals. There are so many sports and hobbies for kids to try that if they don't like one, they can start another until they find the one they love. In fact, here are 100 hobbies and sports for kids to work their way through!
This list of sports and hobbies for kids includes team and individual sports, arts and crafts, collecting, science and STEM hobbies, and so much more. With so many options for everyone from toddlers to teens, your child is bound to find the perfect fit for them. To help your kiddo develop their new sport or hobby, check out your local guide to classes for kids.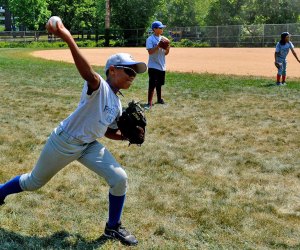 Perhaps there is no more quintessential sports experience for American kids than Little League baseball. Photo courtesy of ProSwing
Sports for Kids: Team Sports
1. Baseball/T-ball
The national historical sport of America, baseball—and its junior version, T-ball—provides great training in throwing, catching, and running. Help your kids improve their skills with some Little League baseball drills you can do at home.
2. Basketball
This fast-moving game, played with two teams of five people, improves fitness and coordination. Plus, it's downright fun to pass, block, shoot, and score!
3. Football
With football being the US's number-one sport, your kids will love pretending they are in the Super Bowl. Younger players will enjoy flag football, where the removal of a flag takes the place of tackling. Plus, flag football is a classic outdoor game that is also fun for older kids.
4. Softball
Softball is similar to baseball, but it's played with a larger ball on a smaller field. With so many all-girls softball leagues, it's also a great sport for groups of gal pals to play together.
5. Lacrosse
In this sport, two teams of players use long-handled, racket-like implements (crosses) to catch, carry, or throw a ball down the field or into the opponents' goal.
6. Hockey
Hockey can be played both on the ice (ice hockey) or a field (field hockey). The game is played by two opposing teams, each using sticks curved at the striking end to hit a puck or a small ball into their opponents' goal.
7. Tennis
Tennis is is a sport that's accessible to everyone: you can play for free on the courts at your local park or rec center, and all you need is a racket and a tennis ball. Plus, tennis has the flexibility of being either a team or an individual sport.
8. Volleyball
Volleyball is a game played by two teams—usually of six on each side—in which the players use their hands to hit a ball back and forth over a high net. The goal is to make the ball touch the court within the opponents' playing area before it can be returned. It's a great sport to play on a court or at the beach.
9. Badminton
In this racket game, a small conical object called a shuttlecock is hit back and forth across a net. Like tennis, you can play doubles or singles, making it either a team or an individual sport.
RELATED: Your Essential Beach List: Best Baby Beach Gear, Umbrellas, Wagons, and Tips for a Fun Beach Day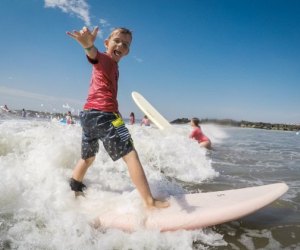 Catch a wave! Photo courtesy of Skudin
Sports for Kids: Individual Sports
10. Surfing/Bodyboarding
If you are near the ocean, take advantage and get your kids surfing lessons! Younger kids will love the ease and feel of a bodyboard as a first step towards hanging ten.
11. Swimming
Swimming is an individual or team racing sport that has the benefit of teaching life skills that prevent drowning. Kids can learn a variety of strokes such as the freestyle, the backstroke, the butterfly, and the breaststroke.
12. Gymnastics
Gymnastics teaches participants how to move, roll, jump, swing, and turn upside-down (cartwheels, anyone?). It is an exciting activity and sport for its unique contribution to general fitness, coordination, agility, strength, balance, and speed.
13. Track and Field
There is great variety in these athletic contests based on running, jumping, and throwing skills. Little speedsters might enjoy the sprinting events, in which they have to run short distances as quickly as possible, while slower runners with more endurance can tackle long-distance events.
14. Cross Country
In cross country running, individuals and teams race on open-air courses over natural terrain such as dirt, grass, and hills. Cross country builds endurance, as participants run longer distances than on the track.
15. Skiing
The ultimate way to play in the snow, skiing gets the adrenaline pumping and increases balance and coordination. Check out our Skiing, Snowboarding, & Snow Sports Guide to find places to ski near you, many of which offer skiing lessons for kids.
16. Skating
Whether your kid is on the ice or trying in-line skates, they'll have a blast with the speed and grace of this sport. Many cities have indoor ice rinks, so kids can go ice skating year-round and even take lessons.
17. Golf
Try mini golf or go to a driving range to see if your kid would like to learn the game of golf. If so, many golf clubs across the country offer kids' golf lessons.
18. Kayaking
Compared to other sports, kayaking is relatively low-intensity, so even small kids can paddle and then take a rest.
19. Rowing
Rowing is another great water sport that helps to develop physical stamina. Find a local boathouse that can teach your kids the basics.
20. Cycling
Biking is not just an excellent racing sport, it's also a valuable skill that will help kids get around. Try a balance bike with your toddler to see how they get along. When they're ready to move up, check out our tips for teaching your child to ride a bike without training wheels. They'll be cruising around the neighborhood in no time!
21. Martial Arts (Karate, Judo, Kung Fu, Tae Kwon Do)
In addition to its fitness and strength benefits, martial arts can build children's confidence, teach them discipline and patience, and give them a means of self-defense.
22. Hiking
Hiking is a free and fun way to spend time outdoors, explore nature, and get some exercise. Try one of our 12 hiking games for kids to turn a hike into an even bigger adventure.
23. Scootering
Although it's not yet an Olympic sport, your kids will love visiting a skate park and rolling on two wheels. Plus, scooters are generally considered easier to master than skateboards. The three-wheeled versions are great for little ones.
RELATED: 20 Jump Rope Workout Games and Songs for Kids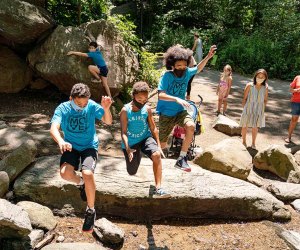 Parkour challenges kids both physically and mentally. Photo courtesy of Movement Creative
Sports for Kids: Newer Sports
24. Parkour
Running, leaping, and climbing make parkour a fun sport for energetic kids. Gyms now offer classes and grades in parkour.
25. Triathlon
If your kid likes variety, they might enjoy triathlon. This sport requires participants to swim, cycle, and run in order to complete a race as quickly as possible.
26. Ninja Warrior
Made famous on television, there are increasing opportunities for kids to go to gyms to tackle Ninja Warrior obstacle courses that include balance challenges, ropes courses, climbing walls, and more.
27. Pickleball
Pickleball is a mini version of tennis that's exploded in popularity across the US over the past year. It's played with a waffle ball, so it's easier for younger kids to master.
28. Futsal
Futsal is a football-based game played on a hard court smaller than a football field, but usually indoors. It's like a cross between five-a-side football and indoor soccer.
29. Orienteering
A combination of navigation and hiking/running, orienteering exercises the brain as well as the body.
30. Curling
In this Olympic sport, players on two teams slide large stones toward a circular goal at the opposite end of an ice field. The game's object is for each team to get its stones closest to the center.
RELATED: 40 Classic Outdoor Games for Kids: Backyard Games, Playground Games, and More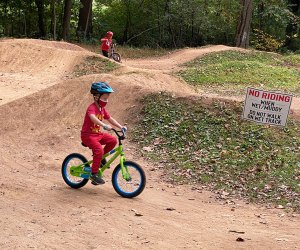 Get pumping around a track with a BMX riding class. Photo by Rose Gordon Sala
Sports for Kids: Off-Beat Sports
31. BMX Racing
If your kids like to cycle, then the obstacles of a BMX course might add to the fun. In BMX, participants race special bicycles on dirt tracks with hills, ramps, and other obstacles.
32. Fencing
This recreational sport of swordplay can be enjoyed by people of any age and offers a multitude of benefits, from fitness to coordination.
33. Archery
Archery is like living history—it claims to be the oldest sport still practiced today. Archery can help kids develop their concentration, perseverance, and ability to focus.
34. Rock Climbing
Kids can learn to climb from around age 4 at various climbing gyms around the country. Plus, it's a great sport for kids and their parents to do together and work as a team.
35. Yoga
The benefits of yoga are endless: The stretching and breathing help clear the mind, promote calmness and focus, increase muscle strength and flexibility, and so much more. Many places across the country offer kids' or Mommy and Me yoga classes, but you can also simply play one of the many YouTube yoga videos made especially for kids.
36. Meditation
If your kid gets stressed or can't sit still, some mindfulness practice might help them. Although meditation may have limited physical-fitness benefits, the mental fitness is fantastic! Try a guided-meditation app for kids, such as Headspace or Mindful Powers.
37. Cricket
USA Cricket has been targeting kids aged 5-8 in schools to try out this baseball-like sport using a bat and ball.
38. Skateboarding
Now an Olympic sport, skateboarding helps with balance and confidence as kids learn new tricks. Plus, the local skate park is a great social environment. Perhaps that's why the skateboard is one of those classic toys for kids that will never go out of style.
39. Bowling
Bowling is a classic indoor sport in which players roll a ball down a lane and try to knock down pins. It's a great game for kids to play with friends on a rainy or cold day. Plus, many bowling alleys across the US offer youth bowling leagues.
40. Water Skiing or Wakeboarding
There's no snow required for the water equivalents of skiing and snowboarding, for which participants are pulled by a cord attached to a powerboat. Younger kids and beginners should probably start with wakeboarding, because they'll generally go at slower speeds and stand on a large board rather than two skis.
RELATED: 50+ Genius Upcycled Cardboard Box Crafts and Activities for Kids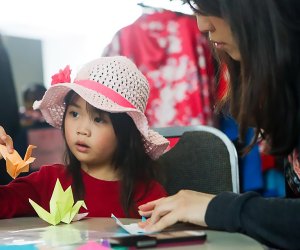 Kids can learn the delicate art of origami. Photo courtesy of the Stony Brook Cherry Blossom Festival
Hobbies for Kids: Arts & Crafts
41. Origami
The Japanese art of folding paper has been given a new lease on life with the many Youtube videos available to watch. It's a great paper craft that allows kids to make everything from a dog to an ice cream cone.
42. Painting
Color and mess are a great combination for all kids. Younger kids will love finger painting, and older kids may want to paint by numbers and try out different type of paint. Consider enrolling them in a painting class to really bring out their inner Picasso.
43. Drawing
The less-messy version of painting is great for when you're out and about at a restaurant, as well as in a more formal class. Kids can use pencils, pens, markers, and a variety of other tools to draw.
44. Sculpting
If your kid likes a sensory hobby, sculpting allows them to create all kinds of masterpieces out of clay.
45. Woodworking
Do-it-yourself stores often have kids' woodworking activities, such as building a bird box.
46. Scrapbooking
Kids can pick out a blank scrapbook and add photos, memorabilia, and journal entries over time. It allows them to store their pictures and memories in a unique and personalized way.
47. Knitting
There are easy starter knitting kits for all ages. Get one for your kids and see what creations they can make. You can also show them a YouTube tutorial to teach them how to knit.
48. Crocheting
If your kid likes knitting, they'll probably want to mix it up with some crocheting as well, using yarn and a hook.
49. Photography
With easy-to-use editing software and smartphone cameras taking such high-quality pictures, photography is so accessible these days. Challenge your kids to photograph different people, places, and items in nature. You just may end up with some beautiful new pictures to hang on the wall!
50. Mod Podge Crafts
Mod podge is like magic with its ability to glue, seal, and finish your kids' craft projects. Traditionally used for paper crafts, mod podge works on wood, fabric, ceramic, and even some plastics.
51. Soapmaking
Kids can make bath and shower time fun by making their own soap! Experiment over time with different molds, colors, and scents.
52. Jewelry Making
In addition to developing fine motor skills, jewelry making allows kids to create fun items for themselves, their friends, and their family. What better gift than a necklace or bracelet made with love?
53. Building Models
Another hobby that boosts fine motor skills, building models is also a satisfying and fun hobby for parents and kids to do together. There are so many model kits available, and you can build cars, planes, or anything else your kiddo is interested in.
54. Cooking and Baking
Most kids love to have fun in the kitchen, and measuring out all the ingredients helps boost their math skills. Plus, you'll enjoy having some help with meal and dessert prep! Try one of our 100 top easy recipes for kids for inspiration.
Hobbies for Kids: Collecting
55. Stamps
At its simplest, this hobby involves cutting stamps off received mail. You can also visit your local post office or the USPS website to see which new stamps are released throughout the year.
56. Coins
It's easy to start coin collecting—just look in your piggy bank and pockets! Then try to get ahold of some international coins and compare different currencies. Over time, your kid can build up an exciting coin collection.
57. Seashells
Starting a seashell collection can be a great hobby for kids who visit the beach. There are many different shells of all shapes and sizes to pick up, so walking the beach is like going on a treasure hunt. Plus, kids can use some of their shells to make some fun seashell crafts.
58. Rocks
Rocks, gemstones, and fossils make great collections for kids. Children can even share some of their rock collection with neighbors by making and hiding painted rocks. See if you can find a local attraction that offers "mining" for added fun!
59. Comic Books
Comics have been popular for collection since the 1930s, and comic book stores are usually owned by fans who are happy to help a beginner collector.
60. Toys
If your child has a particular toy passion, such as LEGO, stuffed animals, or cars, they're well on their way to a toy-collecting hobby. Check out our list of 100 classic toys for kids for inspiration on where to start.
61. Movie and Sports Memorabilia
Younger kids love to collect action figures, bobbleheads, and costumes, while older children might be interested in hunting down autographs, posters, newspaper articles, and other memorabilia.
62. Cards
Baseball cards, Pokémon, Yu-Gi-Oh—there are tons of different cards to collect, making this an accessible and fun hobby for kids who enjoy trading with their friends and hunting down rare cards. Plus, learning the value of various cards can teach kids important math skills.
63. Marbles
Similar to gemstones, differently colored marbles often leave children fascinated. The advantage is that you can also play different games with marbles.
64. Stickers
Create a sticker box or folder—or buy a sticker book—and let your child fill it with stickers in all kinds of fun designs.
RELATED: 30 Outdoor Activities in Nature for Kids for Hands-on Outdoor Learning

Geocaching lets kids look for hidden objects. Photo by Mommy Poppins
Hobbies for Kids: Nature Hobbies
65. Geocaching
This modern hobby is a global treasure hunt using your phone. Wherever you travel, you can look for hidden stashes of objects. Visit geocaching.com to get started.
66. Birdwatching
Birdwatching is a great free hobby that can be done in your yard or local park. If you have space, think about building birdhouses and feeders to attract various birds to your home.
67. Gardening
Growing plants and vegetables is an excellent hobby with both short- and long-term rewards. Plus, it's a great way for families to spend time together outdoors. Check out our tips for creating a pollinator garden that will have the bees buzzing and butterflies swooping.
68. Flower Pressing
This is simple hobby that requires only parchment paper and heavy books. You can display the results on some colored construction paper stuck to cardstock.
69. Entomology
Go bug hunting and learn about the many tiny creatures that are vital to our ecosystem.
70. Horseback Riding
Combining both nature and animals, horseback riding exercises many muscle groups. It is also used in therapy due to the psychological benefits from bonding with your animal.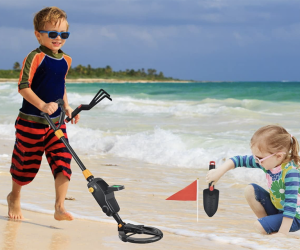 Hunt for treasure on the beach with a kid's metal detector. Photo by Mommy Poppins
Hobbies for Kids: Science Hobbies
71. Metal Detecting
Kids will have a blast searching for treasure at the beach, the park, or even your own backyard using a metal detector.
72. Astronomy
Look up at the sky at night over many months with your child to see its ever-changing display. Your child can research the planets, stars, and constellations for every season. There are even free apps, like SkyView Lite, that help with easier identification. Consider buying your child a telescope to help fuel this hobby.
73. Meteorology
Set up your own weather station and see if you can predict the weather. Your child can keep a weather journal and see how the weather changes throughout the year.
74. Robotics
If your kid likes technology, robotics teaches them to use coding to navigate robots through virtual worlds. You can buy a robotics kit online or sign your child up for a local robotics class.
75. Rocket Building
Research and build various rockets with your kids, then have the fun of a launch day. See which rocket goes the farthest!
76. Go-kart Making and Racing
Spend time making a go-kart, then get outdoors and see how fast it goes!
77. Coding/Computer Programming
Various websites, classes, and online tutorials help your kids learn how to code create games, sites, and more on their computers.
RELATED: Best Easy TikTok Dances for Kids and Families to Try

If kids are just starting out with dance, take a family dance class to double the fun. Photo courtesy of MMD
Hobbies for Kids: Performing Arts Activities
78. Dancing
Movement comes naturally to many kids, so why not enroll them in a dance class? They can have fun and get exercise while learning ballet, hip-hop, jazz, tap, or any other style of dance.
79. Singing
Singing is a free hobby that everyone can do! You can sign your child up for vocal lessons or buy a karaoke machine to support it.
80. Theatre
Role play is a big part of growing up, and theatre is the ultimate form of role play. A drama class can improve kids' confidence while they have fun. Plus, parents can cheer loudly and take lots of pictures on performance day!
81. Playing an Instrument
Music is a great outlet for creativity and emotions, and there are so many different instruments to try. Sign your kids up for piano lessons, guitar classes, or lessons for any other instrument they're interested in learning.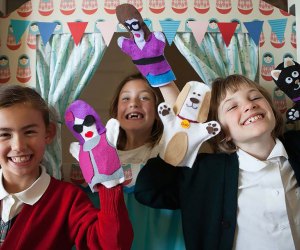 Kids can make their own puppets, then put on the performance! Photo by Mommy Poppins
82. Puppet Shows
The entire process of puppetry allows kids to be creative and have fun, from making the puppets to putting on the performance.
83. Video Making
Whether your kids want to make a movie or music video or carry out an interview, a video camera and simple editing software can help them become the next YouTube sensation—even if it's just among their family and friends!
84. Magic
Kids can take an online magic class through a site like Outschool or find a local in-person magic class, then astound their family and friends with magic tricks.
85. Writing
Whether they keep a diary or journal or pen stories or poems, writing will help kids be creative, express themselves, process their feelings, and improve their spelling, grammar, and vocabulary.
Hobbies for Kids: Various Ways to Volunteer
86. Animal Shelters
Many animal shelters allow kids to volunteer—usually with an adult—to help care for, play with, and even read to the animals.
87. Races and Sporting Events
Look out for races and other sporting events in your neighborhood and see what volunteer opportunities are available, such as handing out water bottles or medals.
88. Visiting Care Homes
Kids can bring smiles to the faces of seniors by visiting a care home and playing cards or board games with them, reading to them, or just talking with them.
89. Trash Gathering
Improve the environment and enjoy the outdoors as a family by picking up trash in your neighborhood or a local park. Your child can become a real-life Earth Kid!
90. Food Preparation and Serving
Encourage compassion and teach food-prep skills by volunteering to pack lunch sacks for needy families or serve dinners at a shelter.
RELATED: Best Math Apps for Kids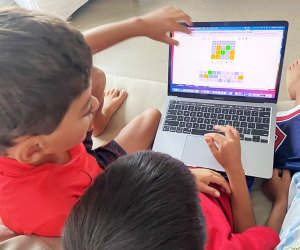 Even kids can jumpo onto the Wordle craze. Photo by Sara Marentette
Hobbies for Kids: Brain-Boosting Games and Activities
91. Wordle
This web-based puzzle game from The New York Times exploded in popularity in early 2022 and now counts millions of users worldwide. The premise is simple: Users get six tries to guess one five-letter word per day. Once your child guesses the word, try one of these seven other daily online word games.
92. Crossword Puzzles
Kids will love the satisfaction of solving crossword puzzles—and you'll love the improvement in their spelling and vocabulary skills.
93. Sudoku
If your kids like math, there are many books and apps that can challenge them with Sudoku problems. Or, they can play Sudoku for free online.
94. Chess
Memory and critical thinking skills are just two benefits of chess, which evolved from games played hundreds of years ago. Kids can learn to play chess online, then challenge their friends to a game.
95. Reading
There is nothing like the pleasure of curling up under a blanket with a good book. Find free books for kids at your local public library or Little Free Library, or let your kids swap books with their friends. Check out our list of 100 kids' books every child should read before they grow up to find inspiration for your kiddo's next page-turner.
96. Puzzles
From simple toddler puzzles with only a few pieces to those with thousands of pieces, jigsaw puzzles can be a satisfying hobby for families to do together. Plus, you can frame them when you're finished to make some great art!
97. Board Games
With so many different board games out there for kids of all interests and ages, you're bound to find the perfect one for your next family game night. Plus, kids will learn skills like counting, matching, working together, and winning and losing gracefully as they play. Check out our list of the best board games for all ages.
98. Learning a Language
Your kids can learn about new cultures by immersing themselves in a different language. Try a fun language-learning app or website like Duolingo or Rosetta Stone, or sign your child up for a local foreign language class or playgroup.
99. Memory Games
Make a hobby of collecting things and then covering them up and seeing if you and your kids can remember them all. Or play Pairs One, an online memory game that made our list of 20 free online games for kids to play together.
100. Video Games
Video games might not always be popular with parents if kids spend too long on them. Still, they can help with reaction times and coordination, and older kids love the social aspect of communicating with their friends in a virtual environment.