30 Outdoor Activities in Nature for Kids for Hands-on Outdoor Learning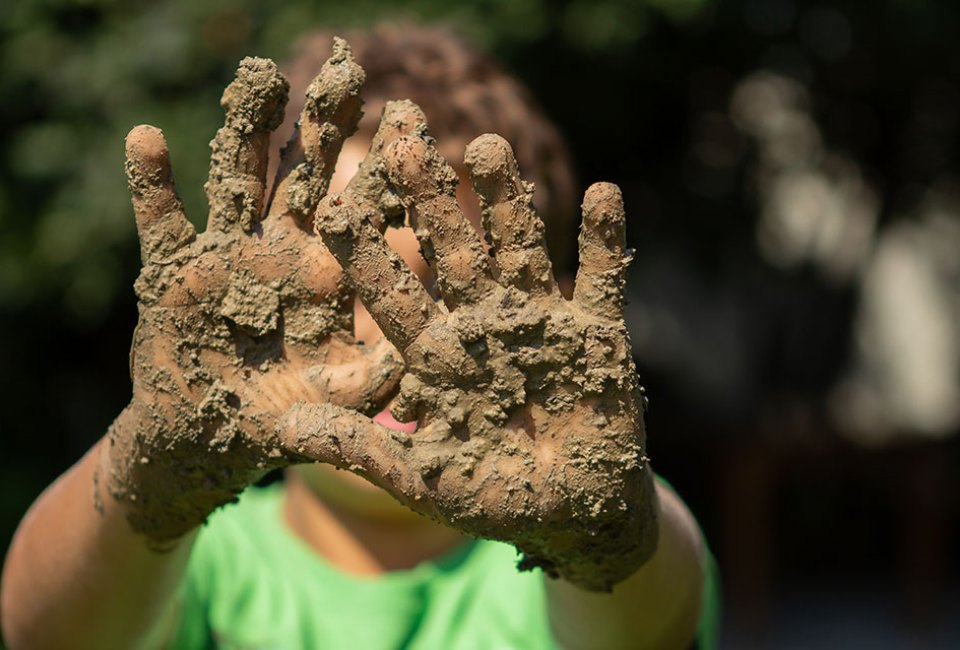 8/16/22
- By
Sarah Banks
I know from experience that being outdoors helps kids feel less irritable and sleep better. But don't take my word for it; researchers have also found that when parents encourage kids to engage in outdoor activities, they will become naturally connected to our planet and care more for its future. Perhaps they'll even become future environmental activists...
These 30 outdoor nature activities will spark your child's imagination. From arts and crafts and sensory activities to outdoor learning activities and physical fun, there are outdoor activities on this list to please every kid. And when everyone's worn out, we also have some quiet and relaxing outdoor activities.
Check out more green activities for kids as part of our Earth Kids Guide to Green Activities for the Planet. And if you need even more ideas for outdoor fun, take a look at our guide to Top Outdoor Activities Guide for Kids, with hundreds of ideas for ways to learn, explore, and play outside.
Artsy Nature Outdoor Activities for Kids
1. Paint Rocks
Head outdoors with the kids, gather some suitable rocks and stones, and set up an outdoor painting center. Acrylic paints work well for staying power and vibrancy.
2. Make a Miniature Garden
While they're typically made for fairies, you can make a miniature garden for any small figures that your kids love. Line a plate or tub with soil and combine outdoor and indoor items to create a tiny imaginary world.
3. Make Crayon Tree Rubbings
Grab some colored crayons and paper and head out to take some tree rubbings. Your kids will be astonished by the variety of patterns that come from different barks. Knots in trees make great huge eyes!
4. Create Nature Faces
Draw a circle in soil with a stick and gather outdoor materials to make a variety of faces. Will the hair be made from pine cones or grass? Will the eyes be acorns or small stones? Perhaps your kids can try to make some self-portraits.
5. Press Flowers or Leaves
Go on a walk to gather different flowers and leaves. See if you can identify them all. Then press them between parchment paper in a book. Weigh down the book with other books to ensure a good result.
RELATED: 25+ Tips for Living More Sustainably Every Day

Grab your camera and take beautiful nature photos.
6. Take Nature Photos
Head outside with your budding nature photographer to snap some pretty pictures of flowers and trees. Perhaps you can look up what flowers are in season and try to find particular specimens. Or, research when your state flower blooms and try to take a picture with it.
Make gardening fun and easy by making wildflower seed bombs. This kid-friendly activity is tons of fun and also helps the environment. Once ready, find a bare patch of dirt and plant your bombs, then check back frequently to see the results. Wildflower seed bombs also make great gifts for friends and family.
8. Do Pine Cone Crafts
Take a walk in the woods and gather pine cones. You'll be surprised by how many different shapes and sizes you'll find. When you get home with your pine cone treasures, you can paint them, arrange them in a bowl, make wreaths or ornaments, or stick on some eyes and legs and make pine cone creatures.
RELATED: 15 Seashell Crafts for Kids

Climbing trees never gets old; you can honestly feel your blood pressure drop as soon as your feet are off the ground.
Active Outdoor Nature Activities for Kids
9. Climb Trees
Indoor climbing gyms are great, but why not take a walk to find a suitable tree for your kids to climb instead? This is one of those classic outdoor activities that will never get old.
10. Skip Stones
Whether you call it stone skipping, skipping rocks, or something else, we all love to see a flat rock jump over the water—a great game for developing hand-eye coordination.
Help the environment and attract bees, birds, and butterflies to your yard or window box by planting a pollinator garden. Plants such as milkweed can attract and feed a whole host of creatures. See how many you can identify!
12. Have a Bridge Race
Do you have a nearby stream or river with a bridge over it? Give each person a stick, leaf, or pine cone to throw into the water on one side of the bridge. Then, see which one comes out first on the other side of the bridge. Repeat with different items and different positions on the bridge.
RELATED: Best Beach Gear and Beach Toys for Kids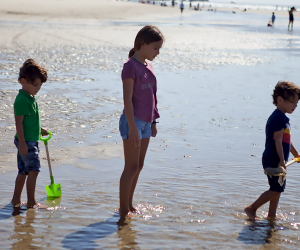 Shells, clams, crabs, and more—there is so much to discover at the coast.
13. Explore a Shore
Whatever body of water you have near you—a river, a lake, a sea, a creek, or a small pond—take a pail and explore its shore. Gather shells, stones, and unusual twigs and discuss what you find. You may even discover some sand crabs, frogs, and other small animals.
14. Go on an Alphabet Scavenger Hunt
Look for items in nature that start with each letter of the alphabet. See how many letters you can check off!
15. Grow Vegetables
Understanding where food comes from is an important part of appreciating the natural environment. Plus, it encourages kids to try more foods. Plant some simple-to-grow vegetables such as tomatoes, strawberries, and leafy greens. Have kids help water and harvest them. You could even keep a photo diary of them as they grow.
RELATED: 12 Hiking Games for Kids That Turn Walks into Adventures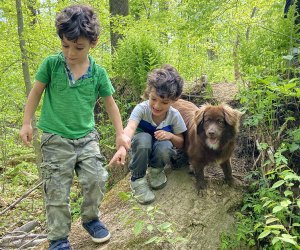 Head to the woods for a day of hiking.
16. Go Hiking
Sometimes the simplest ideas are the best. Take a hike through a natural environment such as a park, a forest, or mountains. Pack plenty of water and a picnic for when little legs get tired.
17. Pick Up Litter
Help the environment and have fun with a litter-gathering race. Gather some gloves and trash bags and clean up your local park or street. See who can collect the most trash by the number of items or weight.
Sensory Outdoor Activities for Kids
18. Make Mud Pies
You don't need a mud kitchen to make mud pies. You can simply dig a hole in the dirt and add water to it. Grab some sticks to mix the water with the soil and play with the result. Add pots and utensils if you like! This is a great activity when you've had some rain and the dirt is already wet.
19. Create Rain Music
Put out pots, pans, bowls, aluminum foil, and anything else you think might make a pleasant sound when raindrops hit it. Then enjoy the sound of rain music. "Tip, tip, tap, tap, tap, ting!"
20. Hug a Tree
There is something grounding about putting your arms around a tree. Show your love for the environment and feel the different textures of different tree species.
21. Build a Sandcastle
Head to the beach or other shore and get digging. See how many sandcastles you can build and decorate with other natural items such as shells and stones.
RELATED: Create a Pollinator Garden in Your Apartment of Backyard

Find a pollinator garden in your city, and see what bugs live there.
Outdoor Learning Activities for kids
22. Build a Bug Hotel
Fill a small wooden crate or flowerpot with sticks, stones, toilet paper rolls, smaller flowerpots, and twigs. Place it in your yard in a dark place with some shelter. Soon it will become a home for various insects, spiders, millipedes, and others.
23. Dig for Living Things
Take a spade and dig some dirt onto a sheet. Gently separate the soil to see if there are any living creatures and study them with a magnifying glass. Record the findings. Then take another sample and see what you find the next time!
24. Go Bird Watching
Bird spotting is a fun and varied activity. There are so many different types of birds. Look online for a local guide to the most common varieties and see how many you can identify. You can even use apps to identify birds from their song or a photo.
RELATED: Upcycled Play Binoculars Craft for Kids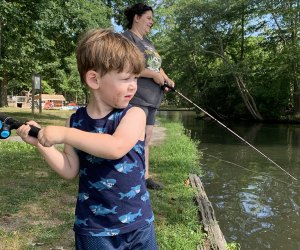 Grab a pole and line and take the kids fishing. Photo by Gina Massaro
25. Go Fishing
The perfect balance of quiet and excitement, fishing teaches patience and encourages your kids to sit with a purpose.
26. Have a Camping Adventure
Immerse your family in nature by spending the night camping, whether camping in your backyard or on a camping trip away from home. Build a fire and have fun roasting s'mores and singing campfire songs.

Go star gazing.
Quiet and Relaxing Outdoor Activities for Kids
27. Go Stargazing
Enjoy the night sky and try to pick out some constellations, planets, or even the International Space Station. There's always something different and new to see in the sky.
28. Play a Nature Memory Game
This is an outdoor activity that's good for multiple kids. Collect a bag of simple natural materials. Have the first child take an item from the bag and say, "I found a [whatever the item is] in the forest." Put the item somewhere it can't be seen (for older children) or on display (for small children). The next child has to repeat what the first kid pulled and then what they pull. The game continues with players having to sequence the items correctly.
29. Play Listening Lions
Have everyone lie down and relax, listening to the natural world around them. After a certain amount of time, describe the different noises you hear to each other. Try playing the game in different locations and see how many sounds you can pick up.

See what faces, shoes, or animals you can find in the clouds.
30. Look for Shapes in the Clouds
The ever-changing nature of clouds makes them the fertile ground for every child's imagination. What faces, animals, and other shapes can you spot in the clouds?
Unless noted, photos by Mommy Poppins
Click Here to Sign Up!
i