50 Things To Do This Summer in NYC: Summer Fun Guide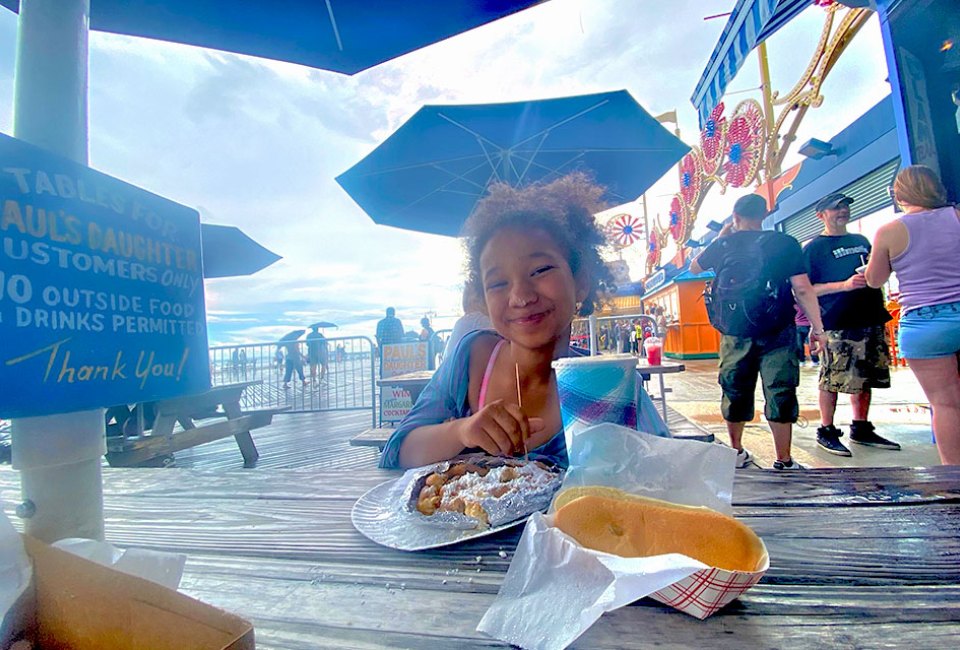 6/12/23
- By
Jody Mercier
When it comes to things to do in NYC, we're officially summer dreaming, and you're the beneficiary. We're sharing our summer bucket list of the top 50 things to do this summer in NYC with kids. Our picks are a mix of annual favorites and can't-miss, one-time-only events that prove the best vacation may just be a staycation.
Be sure to bookmark our Ultimate NYC Kids Summer Vacation Guide and our list of 100 FREE things to do in NYC this summer for even more seasonal fun.
2. Summer Movie Nights
Blow bedtime to hit the drive-in for family movie night or catch one of the FREE outdoor summer movies all over town.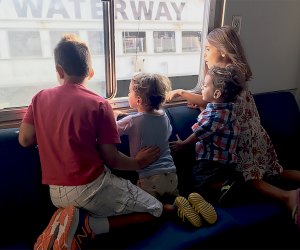 Hop aboard the ferry to Governors Island. Photo by Sara Marentette
3. Go to Governors Island
Our favorite summertime island playground is open year-round, but really comes alive during the summer with festivals, live music, and plenty of room to romp.
4. Row a Boat
Go kayaking or canoeing in New York Harbor for FREE. We're particularly fond of Red Hook Boaters at Valentino Park Pier. Follow up with a visit to Steve's Authentic Key Lime Pie.
RELATED: How to Get to NYC Beaches by Ferry or Train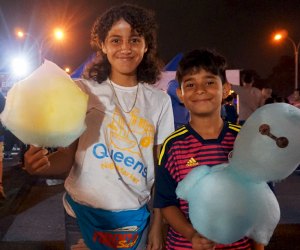 The options for fun and food are endless at the Queens Night Market. Photo courtesy of the market
5. Enjoy a Round-the-World Food Feast
Munch your way through the international eats at the Queens Night Market or one of these other foodie-focused summertime destinations.
6. Legoland New York Water Playground
Take a daycation to Legoland New York in the Hudson Valley where you can splash the day away in the just-opened Water Playground.
7. Visit AMNH's Gilder Center
See butterflies, bugs, and tons of interactive spaces in the Gilder Center at the always kid-friendly American Museum of Natural History. Pro tip: Bring a bathing suit so you can enjoy the play fountain on Arthur Ross Terrace when you're done inside.
8. Hit The High Line
Visit The High Line and then explore the rainbow pipefish that calls Chelsea Waterside Playground home nearby.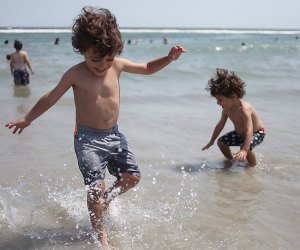 NYC might be a big city, but it's also got some pretty amazing beaches. Photo by Sara Marentette
9. Visit the Beach
Swipe your MetroCard and catch a train to the beach, or for more adventure, hop a ferry.
10. Go Swimming
Dive into one of the city's FREE public pools, which are all opening for summer 2023 on Wednesday, June 28.
11. Play in Brooklyn Bridge Park
It's hard to beat a day on the waterfront in Brooklyn Bridge Park. We love exploring its fabulous playgrounds, visiting the Pier 2 Uplands for some splashing, and then finishing with a waterfront dinner overlooking the skyline at Fornino, one of our favorite outdoor eateries in Brooklyn.
RELATED: Easy New York State Park Hikes in the Hudson Valley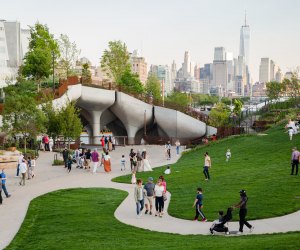 Little Island gives New Yorkers a unique green space for summer fun. Photo by Liz Ligon
12. Explore Little Island
We love Little Island, NYC's floating park, and its lineup of (mostly FREE!) entertainment and events and are dying to check out The James Beard Foundation food hall, Market 57, just north of the park.
13. Frolic in a Fountain
When the temperatures spike, these kid-friendly play fountains are easier than a trip to the pool or beach. We can't wait to return to the mega Fountain of the Fairs in Flushing Meadows Park.
14. See the Sparklers
Macy's 4th of July fireworks are a must-see. If you want to take a fireworks cruise, book now!
15. Hang With Harry Potter
Book your tickets now for the immersive Harry Potter Exhibition to go behind the scenes of some of the most magical movie moments.
16. Enjoy a Queens Daycation
Explore the waterfront communities of Queens, from the stunning views at Hunter's Point Park South to the artful Socrates Sculpture Garden and its surroundings.
17. See Shakespeare
The Public Theater is back at Central Park's Delacorte with Hamlet, while the Classical Theater of Harlem mounts an original sequel to Twelfth Night, Malvolio in Marcus Garvey Park.
RELATED: Best Jersey Shore Beaches for Families: Sandy Hook to Cape May

It's not summer in NYC without a trip to Coney Island. Photo courtesy of NYCGo
18. Visit Coney Island
Walk the boardwalk at Coney Island, indulge in carnival eats, fly high on new rides at Luna Park and Deno's Wonder Wheel Amusement Park, and visit the New York Aquarium to get an up-close view of the sharks, Spineless, the PlayQuarium, and more.
19. Boogie in Brooklyn
Dance away the evening at the annual BRIC: Celebrate Brooklyn Festival.
20. Pitch a Tent
The Urban Park Rangers' popular city parks camping program returns. Register for the lottery to vie for your spot to sleep under the (invisible) city stars.
RELATED: Where to See Free Summer Movies in NYC for an Outdoor Movie Night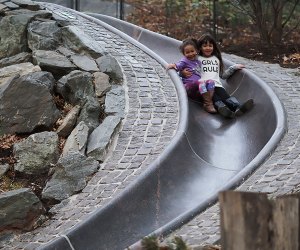 You can't beat the slide at Billy Johnson Playground. Photo by the author
21. Romp in Central Park
Check out our parent-tested list of Central Park's top playgrounds or explore these more off-the-beaten-path picks.
22. Hit the Sandbox
Build a sandcastle at one of these destination sandboxes.
23. Summer for the City
Head to Lincoln Center for live outdoor performances including the Summer For the City series featuring programming and activities for young audiences and families.
RELATED: Best Things to Do in Coney Island With Kids: Luna Park, Aquarium, Beach, Mermaids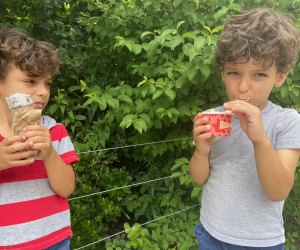 Beat the heat with a trip to a favorite ice cream shop! Photo by Sara Marentette
24. Indulge in an Ice Cream Treat
Turn down the heat with a sweet treat from one of the mom-and-pop ice cream shops within the five boroughs. Some of our favorites: Sugar Hill Creamery, Blue Marble Ice Cream, or one of these other local scoop shops.
25. Romp in a Green Space
Go off the beaten path to visit one of these underrated, must-visit parks.
26. Go for a Spin on a Carousel
From Harlem to Dumbo, NYC is home to gorgeous carousels and merry-go-rounds. When was the last time you went for a ride?
27. Play Pickleball
This racket sport is all the rage, and you can get in the game at CityPickle, which has transformed Wollman Rink into 14-courts of pickelball fun. Lessons are available and all equipment is included!
28. Build at Genius Gems
When the weather is too hot, humid, or rainy to romp outside, check out this brand-new STEM play space in Chelsea, where kids can build with magnetic tiles, mix their own slime, use a 3D printer, and more! Don't be shy: Parents can play too.
29. Ride a Bicycle
Whether you opt to explore the Empire State Trail, which runs from Lower Manhattan to Canada, or hit a more local path, dust off your two-wheeler and get outside.
30. Hit the Water Park
There may not be any water parks in NYC, but you don't have to go far to enjoy rides, slides, wave pools, and more at these family-friendly water parks nearby.
RELATED: Camping at North-South Lake with Kids

Bryant Park has great children's programming during the summer months.
31. Bask in Bryant Park
Enjoy the green oasis that is Midtown's Bryant Park, with its reading room, game nook, pingpong tables, Picnic Performances, and more.
32. Play a Round of Mini Golf
Play a game of putt-putt at these local mini-golf courses.
33. Climb the Walls
Hit up the supersized Cliffs at Gowanus or one of these other rock-climbing spots in NYC.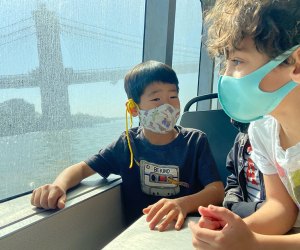 Commuting is part of the adventure when you hop on the NYC Ferry. Photo by Sara Marentette
34. Catch a Ferry
Whether you opt for the FREE Staten Island Ferry and stick around to explore the family-friendly things to do at the oft-forgotten borough when you get off, or hop aboard the NYC Ferry, a boat ride is a fun way to transport yourself to a day of adventure!
35. Do the Rockaways
Sure, you know about the sand and surf at this beachfront enclave, but we've found 25 things to do in the area with kids.
RELATED: Best Swimming Lakes near NYC You Need to Discover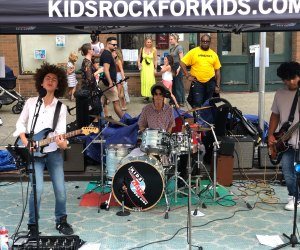 The first multi-day international teen music festival, Kids Rock For Kids, brings talented teens from around the world to NYC to raise money for kids in crisis. Photo courtesy of the event
36. Sing-Along to a Concert
Our collection of alfresco summer concerts is growing by the day.
37. Reacquaint Yourself With Museum Mile & Beyond
We cherish our world-class museums, even better, many offer FREE admission deals, though you may have to book a reservation to visit. See Van Gogh's Cypresses and so much more at The Met. Peek at Picasso at The Brooklyn Museum, or meander through MoMA's galleries.
38. Visit Kusama's Infinity Room
David Zwirner's Chelsea Galleries are drawing crowds this summer thanks to a Yayoi Kusama exhibition, including a new infinity room. Admission is FREE, but arrive early, expect to wait, and pack plenty of patience. Have your camera ready when you hit the infinity room! You'll have just one minute to enjoy.
39. Visit Belmont Race Track
Whether you choose to visit for the Belmont Stakes or hit up the racetrack on another day Belmont Park is a fun family-friendly day trip and easily accessible via LIRR!
40. Go Whale Watching
Grab your binoculars and board one of these whale-watching tours to spot marine mammals and more just off the NYC shores.
41. Visit a Local Farm
No matter the month, there's fresh produce to pick in the Hudson Valley, Long Island, and New Jersey. Plot a trip for strawberry picking, pick-your-own blueberries, or pluck a perfectly ripe peach off the tree.
42. Dine Outside
While outdoor dining has become a year-round affair, these restaurants with kid-friendly backyards in Manhattan, Brooklyn, and Queens are a sweet summertime treat.
43. Stop and Smell the Lavender
Long Island's Lavender By The Bay offers acres of stunning blooms to explore, plus photo-ops and plenty of lavender goodies to purchase in its on-site shop.
44. Enjoy a Playground With a View
Explore NYC's waterfront parks by planning a playdate at one of these 10 playgrounds ranging from beachfront jungle gyms to riverfront destinations.
45. Go for a Wild Ride
You can take the train or bus to these local-ish amusement parks to enjoy everything from kiddie rides to thrilling roller coasters.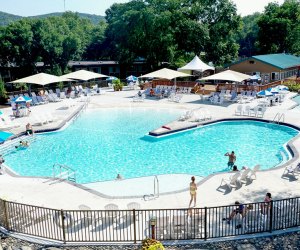 Rocking Horse Ranch's Boulder Bay pool is destination-worthy. Photo courtesy of the resort
46. Get Away
You don't have to go far to exhale. We've got the details on cool family-friendly hotels in city limits, plus these spots boasting cool hotel pools and our top picks for lakefront resorts or family-friendly spa resorts.
47. Go Down The Shore
The Jersey Shore is a summertime playground. We've rounded up 70 things to do with kids, and even have a three-day itinerary for exploring the best attractions by the sea.
48. Explore a New-to-You Park
We've got tons of picks for fun things to do in Alley Pond Park in Queens and Van Cortlandt Park in the Bronx.
49. Spend a Day at the Zoo
You can't go wrong with a visit to the Bronx Zoo for a day-long adventure, but we're equally charmed by the smaller zoos in Prospect Park, Flushing Meadow Corona Park, and Central Park. For less traditional animal fun, consider a visit to one of these local petting zoos.
50. Play in Prospect Park
From Lakeside's splash pad to the Children's Corner Carousel, plus paddleboats, programming, and more, it's hard to pick our favorite thing to do in Brooklyn's iconic green space though we have managed to name our favorite playground.
Bonus: Finish Your Bucket List
See how many of our 100 things to do with NYC kids before they grow up you can cross off!
This post, originally published in 2019, has since been updated. Unless noted, photos by author