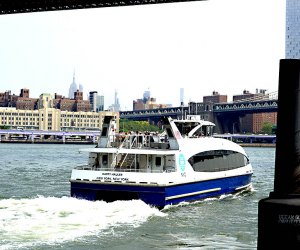 7 NYC Ferry Rides With Kid-Friendly Stops to Explore
Ferry rides are a great way to see NYC from a new point of view—and cruising on the water is so much more exciting for jaded city kids than taking the boring old subway. The NYC ferry system makes it easy and fun to hop on a boat for a day trip to a not-so-distant shore.
While we're big fans of all the family activities you can enjoy on Governors Island, and riding the FREE Staten Island Ferry is on our list of the top 100 things to do with kids in this town, there are lots more ferries departing NYC docks all around town. Here are some of our favorite NYC ferry rides to popular places where there are plenty of things to do and see with the kiddos.

Make a stop at the fabulous Pier 6 playground in Brooklyn Bridge Park and check out the Water Lab. Photo by Jody Mercier
NYC Ferry Rides
NYC Ferry
Terminals: 18 ferry stops along Manhattan's east side, the Queens and Brooklyn waterfront, plus one in Soundview, the Bronx, and seasonal service to Governors Island...and the route map is still growing. Visit the website for an up to date list of stops and routes.
Fare: $2.75 for all patrons over 44 inches; $1 surcharge if traveling with a bicycle.

Since its debut in 2017, the NYC Ferry service has added new routes every year, and more are in the works for 2020-21, including the first stop on the Manhattan's west side. As a land-locked upper Manhattanite, I had never ventured to any of the ferry sites until this summer, and it's quickly become my favorite way to traverse the east side or hit up the attraction-packed neighborhoods of Dumbo, Greenpoint, Williamsburg, Sunset Park, Red Hook, and Long Island City. Service has even expanded to Far Rockaway. You'll see plenty of famous New York harbor sights along the way, too. Strollers are welcome and each ticket is good for 90 minutes, so you can hop on/hop off during that window. Here are a few of our favorite routes and stops.
Astoria Route: In Long Island City you can explore Gantry Plaza State Park with its cool water playground and stunning views of Midtown East, plus plenty of kid-friendly eats. Further inland you'll find cutting-edge art at MoMA PS1, plus many small local galleries along the way. The northern stop on the route drops you near the Socrates Sculpture Park and the Noguchi Museum, plus a free kayaking launch at Hallets Cove. Find even more things to do in the area in our Long Island City Neighborhood Guide.
South Brooklyn Route: Explore all the fun in Brooklyn Bridge Park, with a pair of ferry landings. One drops you near the northern edge of the park where you can take a spin on Jane's Carousel or explore the Main Street and Pier 1 Playgrounds. Check out the new Ample Hills Creamery and work your way south, strolling or cycling as you enjoy the rest of the green space's many attractions, including a roller-skating rink on Pier 2, and some of the best playgrounds in NYC on Pier 6. From there, you can hop back on the ferry at the Atlantic Avenue landing. Further south, you can hop off at the Red Hook landing, which puts you within walking distance of Luis Valentino Jr. Park and Pier for free kayaking. You're also close to culture hub Pioneer Works, which always has something new to explore, plus Coffey Park, the Brooklyn Waterfront Museum, and plenty of family-friendly eats. Other options include disembarking at the Sunset Park and Bay Ridge stops.
East River Route: Aside from falling in love with the East River Ferry this season, my other obsession is Domino Park, conveniently sandwiched between the North and South Williamsburg landings. The allure of the sprinklers is infectious and the promise of a margarita to accompany a trip to the ultra-cool playground is hard to pass up. Other fun nearby includes dinner and a movie at Nighthawk Cinema, frolicking in the underrated East River State Park, noshing on the eats at Smorgasburg, or one of these other family-friendly picks in Williamsburg.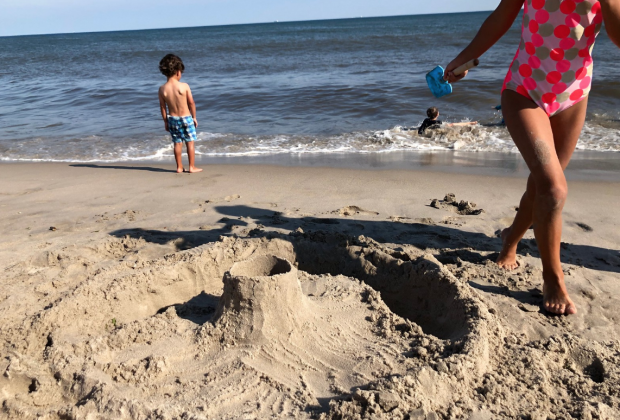 Hop off the ferry at Jacob Riis beach. Photo by Sara Marentette
Rockaway Express Ferry
Terminals: Pier 11 to Jacob Riis Park, Queens
Fares: $15 for adults, $10 for children ages 5-12, $5 for bikes.

The name of the ferry is slightly misleading as you end up at Jacob Riis Beach, which is west of Rockaway Beach. That said, it's one of our favorite, family-friendly shores and the weekends-only boat gets you there in just under an hour. Once you arrive, soak up the sun and surf, and check out the Riis Park Beach Bazaar for artisanal eats. If you prefer to lounge at Rockaway Beach or go during the week, NYC Ferry Service takes you to Beach Channel Drive and B 108th Street in 57 minutes for the price of a subway swipe.
Ferry Rides to New Jersey
New York Waterway to Hoboken
Terminals: West 39th Street, Pier 11 and Brookfield Place/Battery Park in Manhattan to Hoboken, New Jersey
Fare: $6-$9 for adults, $4-$5 for children ages 6-11 depending on where you board. Two children under age 6 ride free with each paying adult.

This commuter ferry makes for a fun day trip across state lines. Lovingly called the "sixth borough," Hoboken offers lots of attractions and activities. Stroll or cycle along the waterfront and take in awesome views of downtown Manhattan. It's worth traveling to Pier C for its exceptional sand and water play areas. Pick up a sweet treat at Carlo's Bakery of Cake Boss fame, and then walk down quaint Washington Street while enjoying the small-town charm of the area.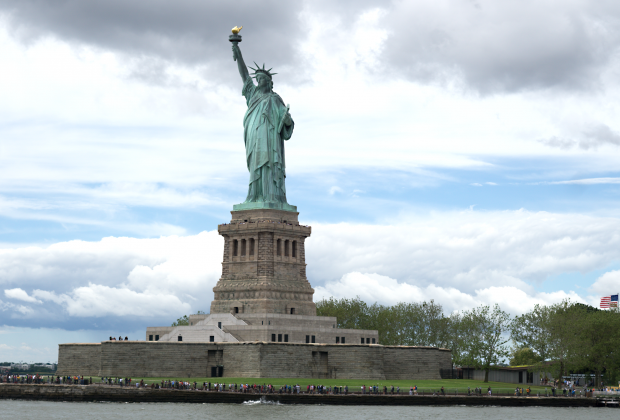 Head to Liberty State Park for a historical outing. Photo by Jody Mercier
Liberty Landing Ferry to Liberty State Park
Terminals: Manhattan's World Financial Center to Liberty State Park in Jersey City
Fares: $7 for adults, $5 for children ages 7-12, those ages 6 and under ride for free.

Explore a Hudson River park on the opposite shore. Liberty State Park offers incredible views of the Statue of Liberty (plus yet another ferry to the Statue and Ellis Island in case you want to see them up close.) Other attractions include the Historic CRRNJ Train Terminal, a small nature center, and the huge, hands-on Liberty Science Center.
Seastreak to Sandy Hook, New Jersey
Terminals: East 35th Street and Wall Street in Manhattan to Sandy Hook, New Jersey
Fares: $28 for adults, free-$11 for children ages 5-12, $5 for bikes.

These luxe cruisers take you to a popular New Jersey beach in style. Enjoy amenities you don't find on other ferries like free Wi-Fi, air-conditioning, TV, and a snack bar. In just 45 minutes, families arrive in Sandy Hook where a free beach-side shuttle deposits visitors at 7-miles worth of beachy shore. Swimming not your thing? Sandy Hook also offers biking, hiking, boating, fishing, birding, and a historic lighthouse to explore.
Find more seasonal activities in our Summer Fun Guide.
A version of this post was published in 2015; it has been updated for 2019. Jody Mercier contributed additional reporting.