Roller Skating Rinks for Kids in NYC and the 'Burbs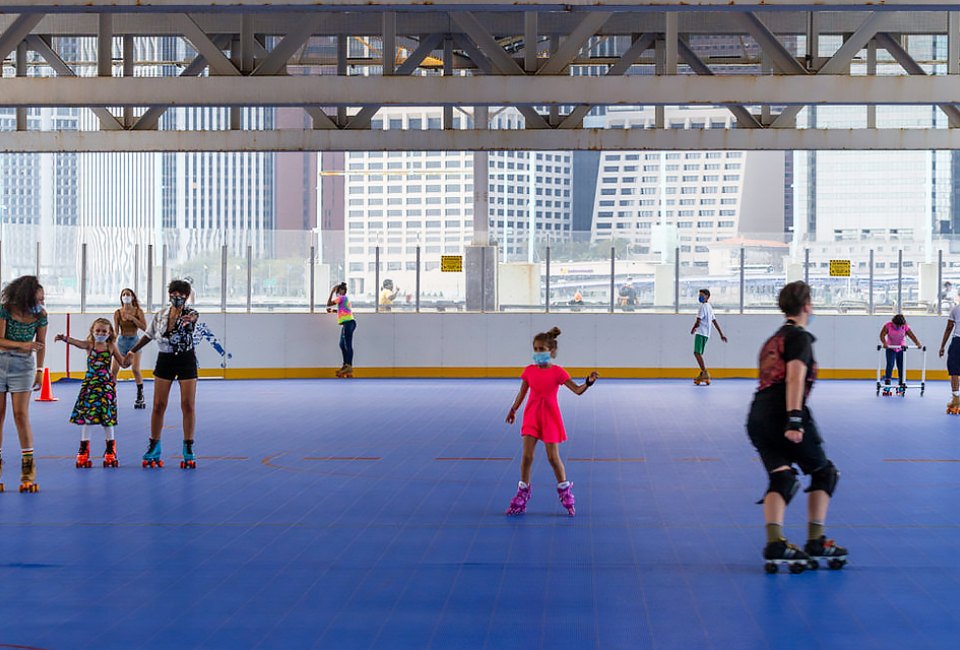 3/23/21
- By
Jody Mercier
City dwellers seem to go crazy for ice skating season, but once the ice thaws and spring is upon us, where's a skater to go? It's time to introduce the kids to the old-school art of roller skating at one of these roller rinks within city limits and just beyond.
In addition to retro skating fun, many of these spots offer extras, including arcade games, bounce houses, and party packages. So lace up your skates and get moving at these roller rinks!

Beginners and experts are welcome at Prospect Park's LeFrak Center Rink. Photo courtesy of The Prospect Park Alliance
Roller Rinks in NYC
Tuesday-Sunday, April-October
We raved about this skating spot when it debuted. One of its two rinks is converted into a 16,000-square-foot roller rink during warmer months, while the other hosts a seasonal splash pad. Although the rink is covered, the floor is cement instead of traditional wood and stands up better to the elements. In addition to public skating hours, lessons are available. The rink transforms into Dreamland Roller Disco for some grown-up fun, a 21-plus themed skating dance party with nostalgic fun and prizes. A schedule for this summer has not yet been announced but bookmark the schedule to see if it's happening.
RELATED: 35 Things To Do During a Spring Staycation With NYC Kids
Friday, March 31-October
This rink, in the heart of amenity-filled Brooklyn Bridge Park, offers regular FREE admission hours. The rink is 180 feet by 75 feet and has a poured epoxy skate-friendly surface that's reportedly softer than concrete (good if you're a faller). Pier 2 has become quite the summer destination with bocce, shuffleboard, handball and basketball courts, picnic tables, and a half-acre of play turf.
May-October
Riverbank State Park's roller rink—the only one in Manhattan—was recently remodeled to feature a new concrete floor, white dasher boards, acrylic glass sides, and other cosmetic upgrades. When you're done skating, there's plenty of other fun to be had at this uptown spot.
RELATED: 10 Newly Renovated NYC Playgrounds to Visit in Spring 2021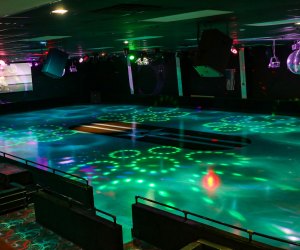 It's throwback indoor fun at RollerJam in Staten Island. Photo courtesy of RollerJam.
Open year-round
This Staten Island party spot offers more than just roller skating—there are bounce houses and arcade games, too. The rink looks as if it came straight out of the Saturday Night Fever era with disco lights synchronized to music and a smoke machine. On Friday nights, patrons also get $1 pizza slices from 7-9pm. The rink offers additional hours during school breaks, but call for hours.
Outdoor NYC Roller Skating Options
You don't have to merely watch these skaters; you can join them at their public events in Central Park's Skate Circle, which includes a DJ but no skate rental.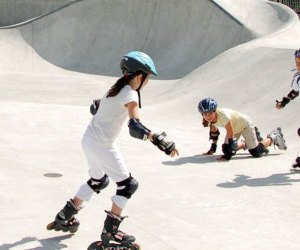 An East Coast version of a California skate park sits on the edge of the Hudson River in Chelsea. Photo courtesy of NYC Parks
This Hudson River Park skate park also encourages rollerblades and roller skates, along with boards. There are no rentals, of course, so it's completely DIY and frills-free, but for those looking for a dedicated skating spot free of bikes and walkers, this 15,000-square park with gentle slopes and hills might do the trick. Find more skate park options here, or read through the NYC Department of Parks' listings of skate parks that allow skating.
For a rundown of public paths and parks where skaters are welcome, this site has it all—citywide and beyond. It also highlights rules you need to know before you put on your gear, as well as information on local skate shops and meeting times for group skates.
Roller Rinks Beyond City Limits
May-August
Though this skating center is covered in ice for most of the year, it does offer a limited roller skating season during summer. Public skating session times will be announced closer to the season-opening date.
Open year-round
United Skates is the perfect answer to your desire for throwback fun. You'll be welcomed by the carpeted countertops and mini-lockers of your youth. In addition to a roller rink large enough for 500 skaters, there is an on-site snack bar and arcade. Open-skate times are held for youth, teens, and adults.
Also, check out our roundup of New Jersey roller rinks, including one in nearby Newark, or head north to these Connecticut spots.
This post, originally published in April 2012, has since been updated.