The Adventures of Tortoise & Hare The Next Generation
The Sheen Center

The Very Hungry Caterpillar Show
DR2 Theatre

NYC Easter Brunch Cruise 2023
Event Cruises NYC
Sign up for our free newsletters.
Best Arcades in NYC for Video Game Loving Kids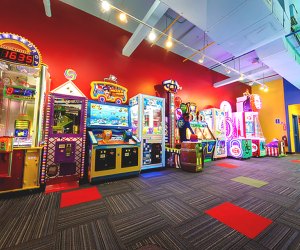 2/21/23
- By
Andy Fenwick
It's hard to beat one of these arcades in NYC when you're in need of some all-ages, multi-generation entertainment. After all, if your kids don't know the names of all four of the ghosts in Pac-Man (say it with me: Blinky, Pinky, Inky, and Clyde) or what Asteroids is, there's no better way to teach them than diving into an afternoon of video game fun at one of these local arcades in NYC.
Our list is a combination of old-fashioned, family-friendly arcades and some newer-age spots that specialize in virtual reality games, while others straddle the line between the two.
If these NYC arcades aren't enough to fuel your gaming addiction, consider visiting one of these arcades on Long Island or arcades in New Jersey for more fun. You can also find small arcades at many of the city's bowling alleys.
Subscribe to our newsletters to get stories like this delivered directly to your inbox.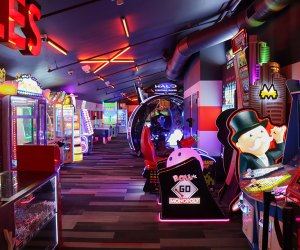 Chelsea Piers' Bowlero has a stocked arcade section, too. Photo courtesy of Chelsea Piers
Top Family-Friendly Arcades in NYC
After several rounds of bowling, head over to the arcade at this Chelsea Piers bowling alley, which features state-of-the-art video games and tons of old-school classics. Find favorites like Pac-Man and Mario Kart and discover new games, too.
While this legendary arcade no longer features its famous tic-tac-toe playing chicken, the family-friendly Chinatown Fair arcade remains a real gamer's arcade in NYC. Video games here run the gamut from air hockey to Dance Dance Revolution, Guitar Hero, and beyond, including the updated classic Space Invaders Frenzy.
3. Dave & Busters – Multiple Manhattan and Brooklyn Locations
For the ultimate new-age arcade experience, there's no place like Dave & Busters. Gamers find the gamut of video games from the old classics to the latest, hottest games, like Wicked Tuna and Top Gun Maverick.
This one-stop fun spot offers laser tag, bumper cars, a three-story playground, and a video game arcade that's located on the top floor. There's no elevator, so leave the stroller at home or let the tweens go up on their own.
This family-friendly game room, located in the heart of Industry City, is full of your favorite arcade games from skeeball to pingpong. Take advantage of the Mommy Poppins' Family Skate + Play package, which is valid every Thursday through March 2, 2023. For $20, families get to skate as long as they want and have unlimited access to the game room. Skate rentals are included.
Another Queens fun spot: This too is primarily known as an indoor children's gym and play space, but it also has a small video game arcade to keep tweens busy while younger siblings romp.
RELATED: Roller Skating Rinks Around NYC

Kill two birds with one stone at Sunshine Laundromat and Pinball. Photo courtesy of the venue
Be your kids' total hero for a day by telling them, "Hey, let's stop at this laundromat," and then open a secret door in the back, which leads to a full pinball arcade. For kid-friendliness, attend during the day, as the video game arcade is also a bar.
8. VR World – Midtown East
Take video gaming to another level at VR World, which is one of the largest virtual reality centers in NYC. It's home to more than 50 virtual reality experiences at any given time. Immerse yourself in games like Arizona Sunshine, Richie's Plank Experience, and Cook-Out. Ideal for tweens, teens, and grownups.
Bonus: Arcades in NYC for Parents
Of course, if you just want an adults' night out, there are many bars that offer classic video games, like Barcade in Williamsburg and Two Bit's Retro Arcade on the Lower East Side. And hey—Chelsea Piers Bowlero and Sunshine Laundromat are open until 11pm.
Originally published in 2017.