Play Retro Video Games at These Family Arcades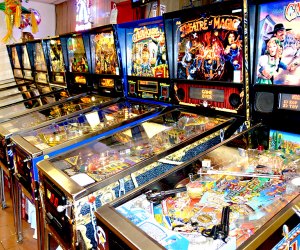 Does it bother you that your kids don't know all four of the ghosts in Pac-Man (say it with me: Blinky, Pinky, Inky, and Clyde), or all the characters in Mortal Combat, or what the game Asteroids even is? We're here for you. We've found a handful of old-fashioned family-friendly arcades around NYC, some straddling the line between retro and cutting-edge video games.
Of course, you can also find arcade games at Chuck E. Cheese's and Dave & Buster's. Check out our roundup of more birthday-oriented video game spots with laser tag and cheesy pizza for more of these game fun zones. You can also find small arcades at many of the city's bowling alleys.
But consider one of the retro spots below if you're in the market for some parental nostalgia and old-school family fun.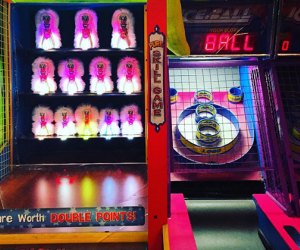 The Chinatown Fair is one of those NYC gems we hope never closes. Photo by uncovermore via Instagram.

Chinatown Fair Family Fun Center – Chinatown
8 Mott Street near Chatham Square
While this legendary arcade no longer features its famous tic–tac–toe playing chicken, the family-friendly Chinatown Fair remains a real gamer's game spot. Games on offer here run the gamut from air hockey to Dance Dance Revolution, Guitar Hero, and way beyond, including the updated classic Space Invaders Frenzy.
Funtopia USA – Ridgewood, Queens
6626 Metropolitan Avenue near Rentar Plaza
This one-stop fun spot offers laser tag, bumper cars, a three-story playground and a video game arcade that's located on the top floor. There's no elevator so leave the stroller at home or let the tweens go up on their own.
Kids Fun House – Ridgewood, Queens
6273 Fresh Pond Road between 70th and 71st Avenues
Another Queens fun spot: This too is primarily known as an indoor children's gym and play space, but it also has a small selection of video games to keep tweens busy while their younger siblings romp around.
RELATED: Roller Skating Rinks Around NYC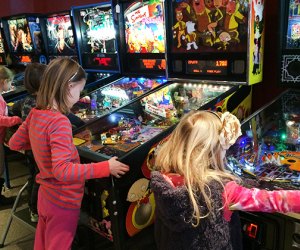 Pinball fans pay by the hour at Modern Pinball. Photo courtesy of Modern Pinball NYC

Modern Pinball — Kips Bay
362 3rd Avenue between 26th and 27th streets
My tween daughter and I arrived here on a chilly Saturday afternoon, and it was packed with kids from two birthday parties. Without prompting, the gracious staff added 20 minutes extra to our purchased hour of pinball, saying, "Hey, it's crowded, here's extra time." Rather than pay-per-game, Modern Pinball offers unlimited play for one-, two-, or three-hour sessions (see prices here). It takes a true pinball nut to play for more than an hour, but wristbands allow you to leave and re-enter, and you'll find a really cool slate of pinball machines and classic games, from Frogger on up to Game of Thrones and The Walking Dead. Groups of 10 or more need to be booked in advance.
Sunshine Laundromat and Pinball — Greenpoint, Brooklyn
860 Manhattan Avenue
Be your kids' total hero for a day by telling them, "Hey, let's stop at this laundromat," and then opening a secret door in the back leading to a full pinball arcade. Kid-wise, this friendly joint is best attended during the day, as the pinball area is also a bar.
Of course, if you just want an adults night out, there are many bars that offer classic video games, like Barcade in Williamsburg and Two Bit's Retro Arcade on the Lower East Side. And hey—Modern Pinball is open until midnight, and Sunshine Laundromat until 11pm.
Top photo: Modern Pinball. Photo by Alex Fitzpatrick via Flickr.
A version of this article published in 2017; it has been updated.