17 Things To Do with Kids at Industry City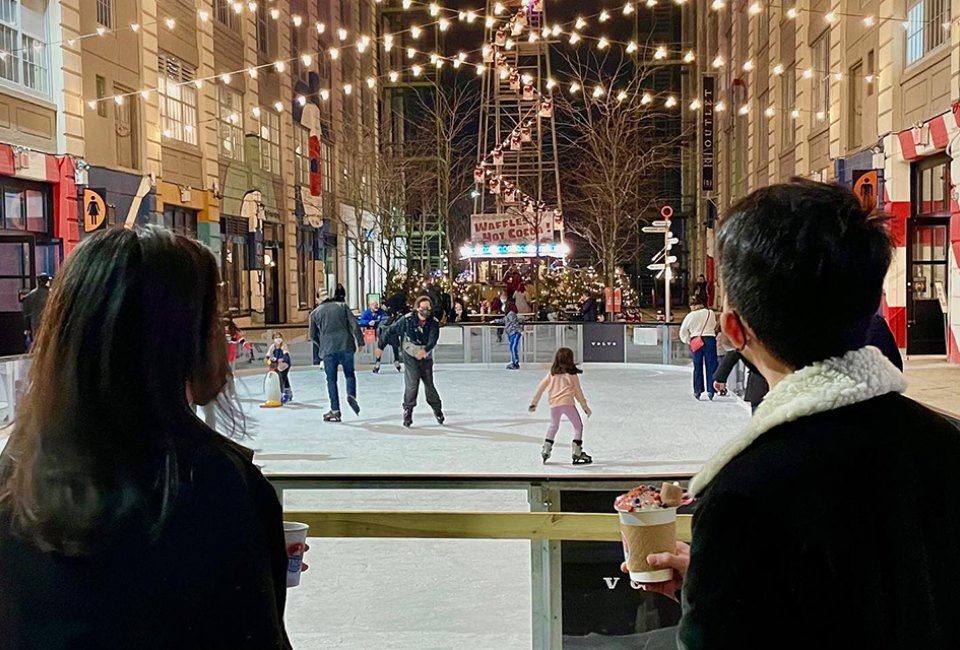 1/5/21
- By
Siobhan Adcock
Located within a former industrial storage complex along the waterfront in Sunset Park, Industry City has evolved into a cultural and foodie hub. The eight formerly derelict, city-block-sized buildings, running from 33rd to 37th Streets between Second and Third Avenues, are now home to artist studios, workspaces, great shopping, art exhibitions, a chocolate factory, a Brooklyn Nets training facility, an international food hall, and even one of our favorite ice skating rinks.
It's the perfect spot for shoppers, food-lovers, and young families, offering a unique mix of tastes, sights, art, and family programming. While certain activities and businesses have closed in the current pandemic, there's still a great deal to see and do in Industry City. Its large outdoor areas are perfect for socially distanced get-togethers, too.
Read on for 17 ways to make the most of a trip to Industry City with kids.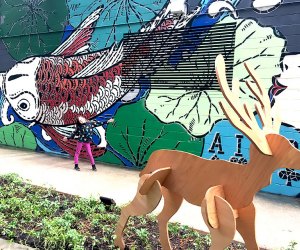 Enormous murals by Collision Project artists can be found across the campus. Photo by Siobhan Adcock
1. Pose for Instagram in front of the enormous murals by Collision Project artists, which can be found throughout the buildings and courtyards.
2. Enjoy beautiful views of the sunset alongside Sahadi's fire pit while indulging in a mug of hot cider.
3. Spend a weekend afternoon listening to live jazz in the open courtyard.
RELATED: 25 Best Things To Do With Kids in Sunset Park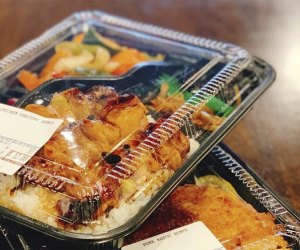 Outdoor seating, delivery, and takeout are available at Japan Village.
4. Japan Village, opened in winter 2018, is NYC's first Japanese food hall. Slurp noodles, munch on Tokyo-style street food like Taiyaki (fish-shaped sweet buns), and savor sweet treats and teas.
5. Peek through the windows of a real chocolate factory and watch chocolates being made at Li-Lac Chocolates.
6. Stock up on nuts, dried fruits, Mediterranean-style deli, and prepared foods, and taste local beer and wine at Sahadi's.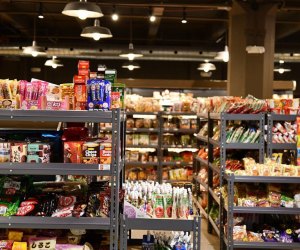 Have a blast looking at all the candy and other fun Asian goodies at Sunrise Mart.
7. Shop for awesome Asian candies and staples at Sunrise Mart in the Japan Village building.
8. You can also eat your way around the world without ever leaving the Industry City Food Hall: There are tacos, burgers, pizza, sushi, Thai, Korean, and an NYC favorite, Hometown Barbecue.
RELATED: Outdoor Dining Igloos, Cabins, Yurts and More Creative Setups at NYC Restaurants

Grab a bite to eat and enjoy the art and outdoor seating surrounding Industry City.
9. Enjoy sampling the multitude of cuisine in the covered outdoor dining areas—the self-proclaimed largest outdoor dining area in NYC—with heaters to keep you warm and cozy. Most restaurants at IC are offering takeout options. You can find a full list here.
10. Sample whoopie pies and delicate cookies at Brooklyn's favorite bakery, One Girl Cookies.
11. Discover the work of emerging, contemporary artists at the Court Tree Collective.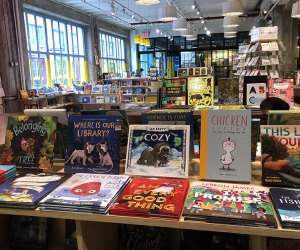 Powerhouse@IC has a curated selection of fiction, nonfiction, art, and design books. Photo by Diana Kim
12. Browse stacks of expertly curated literary titles at Powerhouse@IC.
13. Discover the colorful sculptures in the Zen Garden in Courtyard 3-4.
14. Venture into the ever-changing "art elevators," with whimsical, immersive murals that change with the seasons.
15. Take a spin on the alfresco ice skating rink in the courtyard of Buildings 5-6.
RELATED: 9 Best Ice Skating Rinks in NYC for Kids and Families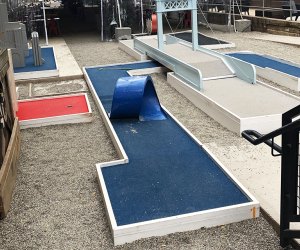 Stay safe by playing mini-golf on the outdoor course. Photo by Diana Kim
16. Putt around on the mini-golf course in Courtyard 1-2. Pick up gear from the Burger Joint.
17. Bookmark the Industry City calendar for an ongoing roster of kid-friendly special events and exhibitions, which have included the M.C. Escher exhibit, BRIC arts for kids, and a Brooklyn Children's Museum block building lab.
Find more new-to-you Brooklyn hotspots to explore in our neighborhood guides to Gowanus, Bed-Stuy, Red Hook, and more.
Unless noted, photos courtesy of Industry City. This post, originally published in 2019, has been updated.
Places featured in this article:
t Click Here to Sign Up!