Sunset Park with Kids: Best 25 Things to Do in This Brooklyn Nabe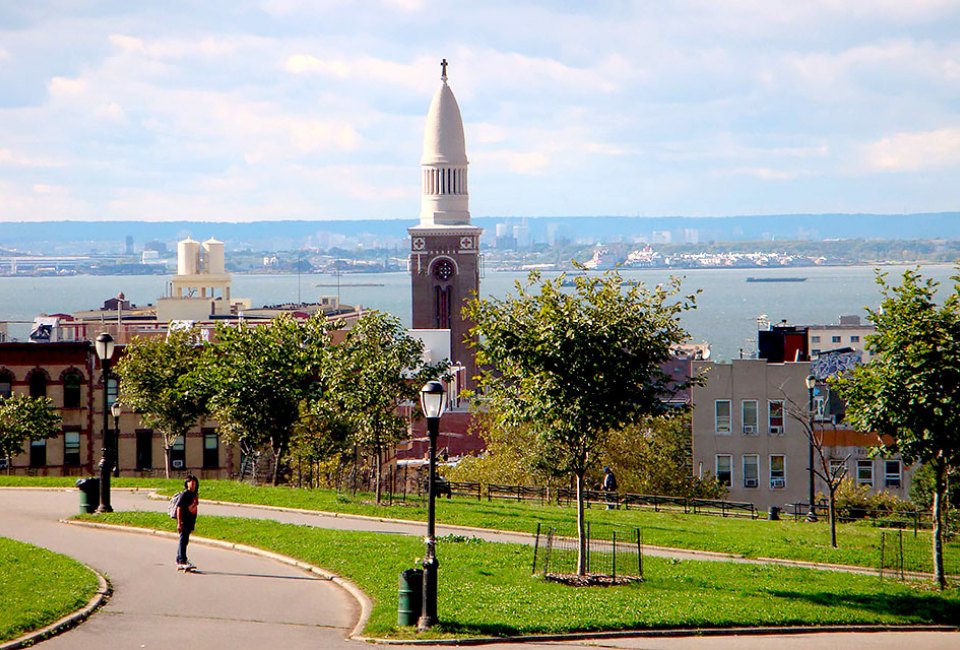 1/9/18
- By
Louise Finnell
As real estate in Park Slope skyrockets out of reach, many families have been turning their sights on its southern neighbor, Sunset Park. Its crown jewel, the 25-acre namesake green space, boasts an outdoor Olympic-size pool, sports fields, a recently renovated playground and one of the highest points in Brooklyn, from which you can see the Statue of Liberty and New York Bay. The historic 478-acre Green-Wood Cemetery is also a highlight, and even hosts annual family events like its Memorial Day Concert and Battle of Brooklyn reenactment.
Dive into the culturally rich neighborhood with our top 25 activities, play spaces, restaurants, and nature spots.
Walk the tree-lined side streets and you'll pass charming row houses, mostly built around the turn of the last century. The businesses on the avenues reflect the area's diversity. Seventh and Eighth Avenues make up Brooklyn's Chinatown and overflow with Asian restaurants and stores. Meanwhile, Fourth and Fifth Avenues are home to many Hispanic businesses. Both ethnic enclaves feel authentic, not touristy, so communication is, at times, challenging but worth the effort.
Sunset Park is growing at an incredible rate, and there are more and more activities and destinations for families popping up all the time, including a few play spaces highlighted below, and the development of Industry City brings in FREE entertainment for families with regular sing-alongs and more. Last summer, a new seasonal mini golf course even popped up! Local families keep up with everything going on via the Sunset Park Parents Yahoo Group.
For the purposes of our piece, the geographical boundaries are 17th Street to the north (which includes the areas known as South Slope and Greenwood Heights), 65th Street to the south, Eighth Avenue to the east and the water to the west.
1. Explore the neighborhood's 25-acre namesake green space, Sunset Park, which features basketball and handball courts, a super-popular recently renovated playground, complete with breathtaking views of the Statue of Liberty.
2. Join the Sunset Park Recreational Center for a variety of enriching sports and academic programs.
RELATED: 10 Brooklyn Spots That Both Little and Big Kids Will Love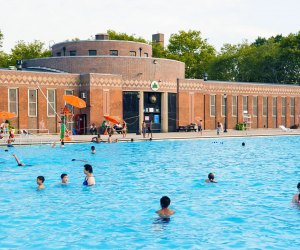 The massive outdoor pool in Sunset Park is free and open to the public all summer. Photo courtesy of NYCgo
3. In summer, cool off in the Olympic-size Sunset Park Outdoor Pool.
4. Enjoy after-school homework help, movies, crafts, and other kids' programs at the Sunset Park branch of the Brooklyn Public Library.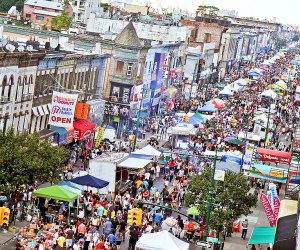 Keep an eye out for the date of this 15-block parade. Photo courtesy of Sunset Park 5th Ave. Business Improvement District
5. Mark your calendar for the Sunset Park BID's annual Street Festival in September, an annual 15-block fete on Fifth Avenue featuring FREE bounce houses, kids' activities, live entertainment and vendors. The 2018 dates have not yet posted, but the street fair usually happens the 2nd or 3rd Sunday in September.
6. Take a FREE ride in an old-fashioned trolley along Fifth Avenue on select dates courtesy of the Sunset Park BID.
7. Kick off the holiday season at the annual tree lighting ceremony at the Basilica of Our Lady of Perpetual Help. Children can get their photo taken with Santa Claus, and there is live music for all to enjoy!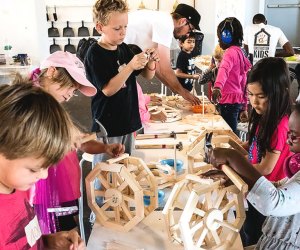 Your kids will gain lifelong skills with a class at Construction Kids. Photo courtesy of Construction Kids
8. Let the kids learn how to build wooden toys and models using real grown-up tools at Construction Kids' workshop in Industry City.
9. Enjoy Family Night every night from 5 to 7pm at Melody Lanes bowling alley. Each child gets a free popcorn and soda, and families can enjoy two games plus shoe rental at a reduced rate.
10. Relax at the historic Green-Wood Cemetery. While this technically falls into South Slope territory, it stretches to the border of Sunset Park. With its 478 lovely acres of landscaped hills, paths, and ponds dotted with graves and mausoleums, it's a remarkably serene destination, and hosts regular trolley tours and special events, like an annual Memorial Day Concert and a reenactment of the Battle of Brooklyn.
11. Learn about the history of this once industrial nabe by taking a walking tour of the Brooklyn Army Terminal, a former military supply base turned state-of-the-art business center.
12. Stroll through the side streets to gaze at the quaint row houses (mostly erected between 1890 and 1910), or take a guided tour of historic sites with the Sunset Park Landmarks Committee.
RELATED: Play Cafes in Brooklyn and Queens Entertain Parents and Kids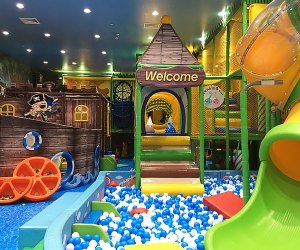 Play all day at Running Kids. Photo courtesy of Running Kids
13. Too rainy or cold to play outside? Drop in to Running Kids. This clean (and sometimes crowded) play space is open until 9pm to accommodate the after dinner crowd.
14. Or hit the bounce houses, inflatable slides, and maze at the indoor Superstar Family Fun Center, which offers affordable drop-in open play when not booked for a private party.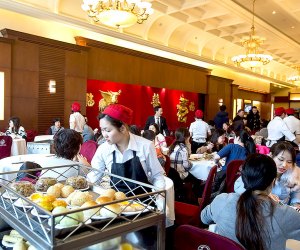 Enjoy walking around Brooklyn's Chinatown, then stop and grab a meal at Pacificana. Photo by Kate Glicksberg for NYCgo
15. Try out one of the many dim sum spots on Seventh and Eighth Avenues, also known as Brooklyn's Chinatown (we're partial to Pacificana).
16. Celebrate Lunar New Year at Sunset Park's annual parade and celebration sponsored by the Brooklyn Chinese-American Association.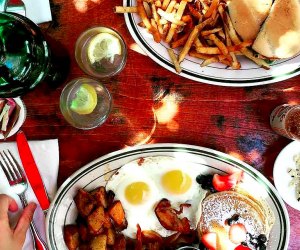 Cafe Zona Sur is a family-friendly restaurant serving up delicious cuisine. Photo by Josephdongilpark via Instagram
17. Don't forget to explore the neighborhood's other ethnic enclave, all of the Hispanic restaurants and stores on Fourth and Fifth Avenues; our pick is the bistro-style Café Zona Sur, which serves a great brunch.
18. Go fishing at one of the waterside piers; remember: ages 16 and up need a valid license.
19. Check out Sunset Park's waterfront green space, Bush Terminal Park. The park spans 10 blocks along the water and includes athletic fields, an esplanade, and views of New York Harbor.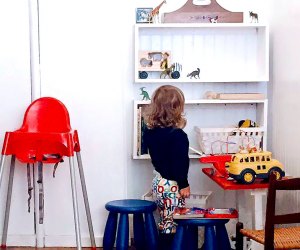 Get some goodies and a coffee while the kiddos run around the play area. Photo courtesy of Parkette
20. For a coffee break, stop in to adorable Parkette Brooklyn. This quaint cafe serves up steaming Stumptown coffee, Dough donuts and offers a modest play area for kids, as well as occasional family events.
21. Bring the kids for some family fun at Happy Cafe and Playground. This indoor space has a play area for kids and food for the whole family. Tables are configured so that parents can see the entire playground from their seats.
22. Grab a snack at Baked in Brooklyn. Kids can see pastries being prepared from behind the glass in this bustling local bakery.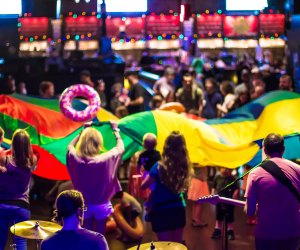 Keep your kids dancing every Saturday at these free family concerts. Photo courtesy of Rock and Roll Playhouse
23. Every Saturday in Industry City, kids can enjoy a free concert with Rock and Roll Playhouse. Each concert has a different theme, ranging from the music of Bruce Springsteen to an AfroBeat Dance Party.
24. Brooklyn Flea has opened up in Sunset Park for winter 2018 through March! Industry City hosts this iconic Brooklyn event, complete with an eclectic sampling of food carts from some of Brooklyn's most delicious eateries.
25. Greenwood Park (again, pushing the borders of Sunset Park but worth inclusion) is a family-friendly beer garden housed in a former service station adjacent to Green-Wood Cemetery. The venue offers delicious food, drinks, and bocce ball for all to enjoy.
Top photo: Sunset Park in winter/courtesy NYC Parks and Recreation
Click Here to Sign Up!
i