Statue of Liberty Tour: Visiting Lady Liberty and Ellis Island with Kids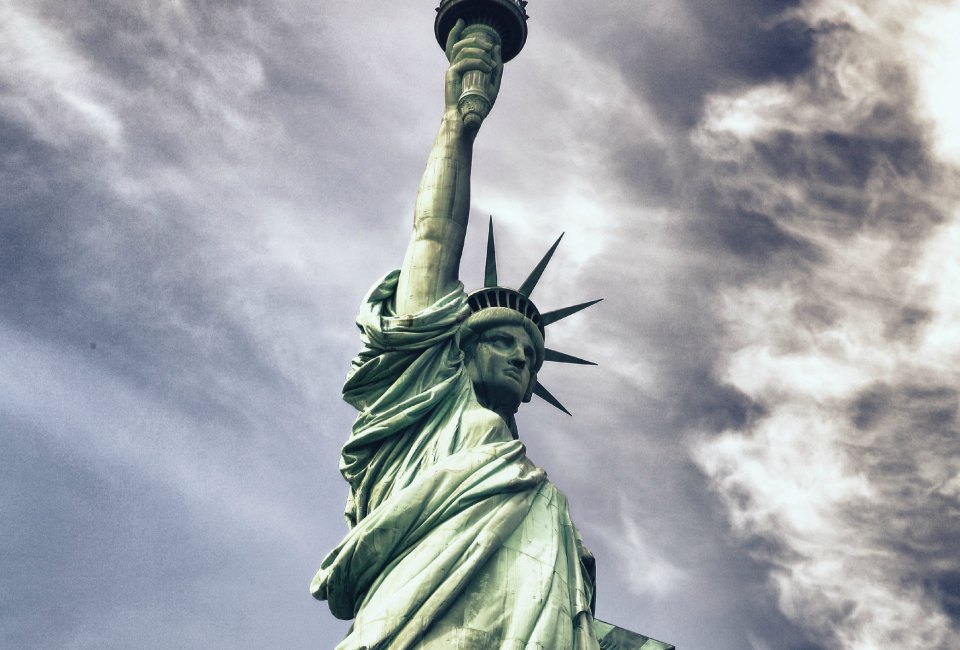 11/12/15
- By
Diana Kim
The Statue of Liberty, despite its world-renowned status, is one of those iconic local landmarks that few NYC families may think to visit. After all, you have to take a ferry to it and order tickets in advance—not exactly the makings of a spontaneous weekend outing with the kids.
But a tour of Lady Liberty, including a hike to the crown and a ferry stop at Ellis Island for a bit of history, actually has plenty to offer families, whether local or visiting from elsewhere, especially for those with kids ages 5 and up.
Eager to see this monument up close and cross it off our family's NYC bucket list, I recently made my way to the Statue of Liberty with four kids, ages 5 to 7, in tow and just one other adult. Read on for the scoop on how to score tickets, as well as must-know tips for families like kid height requirements for tours of the crown.
We wanted the complete experience: climbing to the crown of the 225-ton statue bequeathed to the U.S. in the 1800s by France and exploring the rest of Liberty Island and Ellis Island, so we had to book our tickets about four months in advance. If you want to skip the crown tour, online tickets can often be found just a week or two in advance, including for popular weekend tours.
With tickets secured, we set off by ferry from Battery Park. (Liberty Island is only accessible via ferry from Battery Park in Manhattan or Liberty State Park in New Jersey.) And though I was worried that my two daughters, ages 5 and 7, might be too young to enjoy an outing like this, the ferry ride alone was a treat and set the tone for the rest of the day.
RELATED: Things to Do in Battery Park with Kids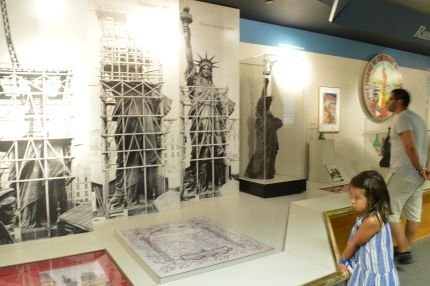 The statue's pedestal includes a museum that our kids enjoyed.
Liberty Island and the Statue of Liberty
Once we arrived at Liberty Island, we made a beeline for the monument in an effort to avoid long lines. We stopped at the pedestal lobby first to view the original torch, which was replaced in 1984. The Statue of Liberty Museum is also located at this level and is definitely worth checking out. Guests learn about the history, original design and construction of the statue, as well as how the statue's meaning has changed throughout the years. The kids enjoyed looking at the drawings and pictures so much we had to drag them away to climb to the crown.
The kids had no trouble with the 215 steps to the pedestal. The pedestal observatory is tight and cramped with visitors jostling to take pictures. While the views at this level are breathtaking, it was hard for the 5- and 6-years-olds in our group to see because the walls surrounding the pedestal are high, so we didn't stay for very long.
Next we tackled the crown. Everyone who wants to climb to the crown must be at least 4-feet tall, meaning our 5-year-olds just made the cut. The policy is strictly enforced: park rangers will measure your kids.
The stairs to the crown are very narrow and steep and the space is quite tight, so consider this carefully if you or your kids are fearful of heights or confined spaces. At the advice of the park ranger, my friend climbed first, followed by our kids, and I brought up the rear, acting as a buffer in case one of them stumbled. Every couple of flights, we rested at a side landing, which also gave us a chance to let other visitors pass.
RELATED: Best Family Hotels in NYC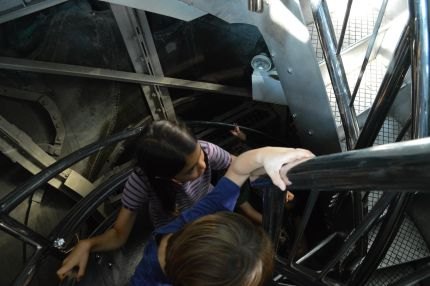 The stairs are narrow and steep, which can be a challenge.
The journey from the pedestal to the crown amounts to roughly a 10-story building, but our kids saw this as an adventure and had no problem making it to the top. Even with brief rests, it took about 15 minutes. They were thrilled to make it to the top, touching the sides as if they couldn't believe it was real. Visitors then squeeze into the small nook of the crown to take pictures and admire the awesome views of the harbor and New York City's skyline.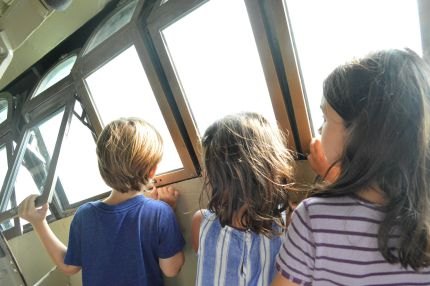 Little faces peer out from the windows in the crown.
Surprisingly, we found that the hardest part was climbing down. The older kids in our group were fine, but the younger children had to be extra careful with the steep stairs.
The rest of Liberty Island is quite beautiful. It's a great place to stroll, recharge and take in the views. Parisian-inspired chairs and tables are great for enjoying lunch and the grounds offer plenty of room for kids to run around. Though many visitors were milling about, the isle actually felt quite serene.
RELATED: The Best Things to Do in NYC in One Day with Kids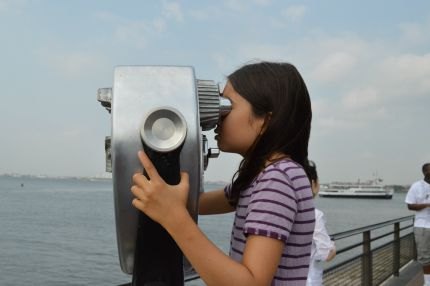 Taking in the views of the harbor and the city skyline is part of the trip's appeal to all ages.
Ellis Island
After we finished on Liberty Island, we caught the ferry to Ellis Island. I couldn't wait to explore the Immigration Museum, which recently opened new exhibits. Ferries leave from Liberty Island for Ellis Island every 25 minutes and the ride is a mere 10 minutes.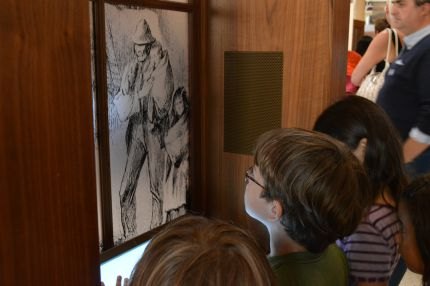 The Immigration Museum includes a number of new exhibits.
The museum, located in the same building where 12 million immigrants were processed, is beautiful and definitely worth the trip, especially for older kids. We spent some time in the newly opened "Peopling of America Center," which tells the story of immigration in America.
Most of the galleries require a lot of reading but several interactive kiosks let the kids listen to immigrant stories. They also especially enjoyed the activity sheets that were provided by the Park Rangers at the front desk, and they were delighted to receive Park Ranger badges after they returned their sheets. You can also download an activity book for the museum as part of the national Junior Rangers Program.
All in all, our visit to the Statue of Liberty and Ellis Island took about 5 hours and was a great success. The kids were tired and spent at the end, but still wanted to go for ride on the new Sea Glass Carousel in Battery Park. Obviously, it's impossible to keep up with them!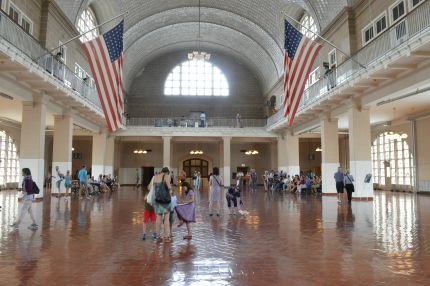 Tips for Visiting with Kids
Tickets: The park offers various levels of tickets at different rates depending on what you want to see. You can opt for just grounds access to both islands and the museum, grounds plus admission to the pedestal only or admission to all grounds, plus the hike to the crown. There's also a "Hard Hat Tour of Ellis Island" for teens and up. Prices range from $9-$50 per person depending on the option you select and your ages. One ticket does give you access to both Liberty Island and Ellis Island.
You can find tickets from a number of operators, including the park itself on its website and its specialty tour site where prices are a bit cheaper.
If you're booking several top attractions in New York City and looking to save money, consider purchasing a Go City Explorer Pass, which includes discounted admission to One World Observatory, the 9/11 Memorial and Museum, the Statue of Liberty, the American Museum of Natural History, and more.
Even if you opt not to climb Lady Liberty, I strongly recommended reserving ferry tickets in advance. It's not worth chancing a wait in line with the kids on the day of your visit, only to be told tickets are sold out. It's also worth noting a maximum of four tickets can be reserved per household (or credit card holder) and only one reservation can be made in a six-month period.
Note: Each visitor must show photo ID matching the name on the ticket, so tickets are non-transferable. They are very strict about this. My husband couldn't go, and I called to change the name on the ticket but without success.
Getting There: The Statue of Liberty is located on Liberty Island and operated by the National Park Service. The only way to get there is by ferry either from Battery Park in Manhattan or Liberty State Park in New Jersey.
All ferries leaving from Battery travel first to Liberty Island and then to Ellis Island, before returning to Battery Park. All ferries departing from New Jersey's Liberty State Park travel first to Ellis Island and then to Liberty Island before returning to Liberty State Park.
What to Bring: All crown visitors must place all their belongings in lockers before heading up. Lockers cost $2-4 depending on the size. You are allowed only to bring a camera and/or water.
Wear comfortable shoes. While you can ride an elevator to the pedestal platform, there is no elevator to the crown. You will be doing a lot of climbing and walking.
Bring lightweight distractions for kids. You will wait in many lines and go through several security screenings. We arrived over an hour before our ferry departure time, and there was already a line. More lines await at various security checkpoints, though we found they moved relatively quickly.
What Not to Bring: No strollers are allowed in the monument, but they are allowed on Liberty Island. No food is allowed in the statue, but there are several cafes dotted throughout Liberty Island and a decent full-service cafeteria next to the ferry.
Bathrooms: Find bathrooms in the pedestal lobby next to the museum. No, there are no potties in the crown observatory.
Extras: Audio tours for adults and children are provided with your ticket, and park ranger guided tours are available at no additional cost for the Statue of Liberty and Ellis Island.
Looking to explore another famed NYC monument or neighborhood? Check out the Mommy Poppins Visitor's Guide to NYC.

Top photo via StockSnap.io
Disclosure: We may earn a small commission if you click through our link and make a purchase. This revenue helps us maintain this site, so thank you for supporting us.