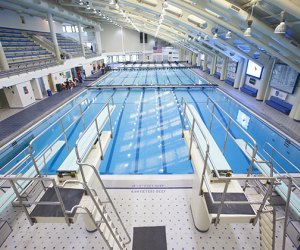 Indoor Swimming Pools in NYC That Offer Day Passes
There are plenty of FREE swimming pools in NYC for kids during the summer months, but if you're looking for year-round options, or less crowded waters, the options are a bit limited. We've rounded up the best bets, from private pools offering day passes, to off-the-beaten-path community spots. All are kid friendly and welcome families for swimming and other water fun.
Read on for where to get swimming in NYC now.
Pool hours change by season, and we recommend calling to confirm availability before you head out with the kids, because the venues sometimes close unexpectedly for private events or other reasons. Prices are as of January 2020.
Asphalt Green – Upper East Side
555 E. 90th Street, at York Avenue
212-369-8890
This uptown fitness center features a beautiful indoor Olympic-size pool (where Olympic bronze medalist Lia Neal trained) with excellent kids' programs. Annual memberships cost more than $1,000, but day passes are $35 for adults and $10 for children. The deal is good any day of the week, but you must attend during family swim time. Call to confirm hours.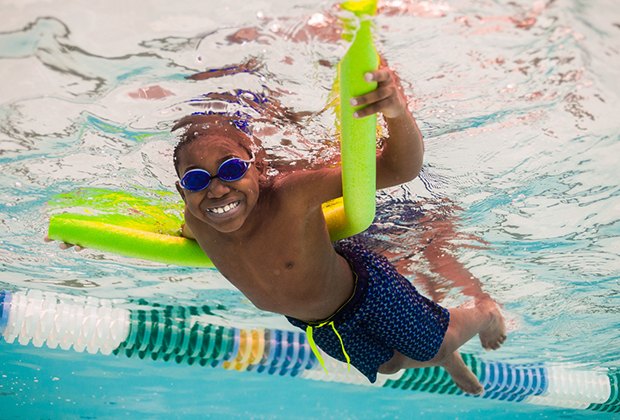 Asphalt Green Battery Park City
Asphalt Green Battery Park City – Battery Park City
212 North End Avenue near Warren Street
212-298-2900
Like the original uptown location, this 52,000-square-foot complex features a lovely indoor pool. Day pass rates and rules are the same as at the Upper East Side location.
Astoria Sports Complex – Astoria, Queens
34-38 38th Street between 34th and 35th Avenues
718-729-7163
At the popular Queens athletics center, nonmembers can swim in the 82-degree Olympic-style pool for $15 per hour. A bathing cap is required and the four swimming lanes are organized into warm-up, sprint, pace, and circle swimming, so this is not a place for little kids to merely splash around. Children's swim lessons are available.
Brooklyn Sports Club – East New York
1540 Van Siclen Avenue between Schroeders and Seaview Avenues
718-514-6440
This six-lane pool offers day passes in summer for adults ($20) and children ages 2 to 15 ($10) during designated hours. Kids' swimming lessons are also offered.
Camp Olympia Family Swim – Brooklyn
John Jay Educational Complex, 237 Seventh Avenue
Erasmus Hall, 911 Flatbush Avenue
718-748-7084
Brooklyn families need not be enrolled in this org's swim lessons to take advantage of its fabulous price for Family Swim. Just $7 a person covers admission for Sunday afternoon sessions (4-5 pm) at each spot. The one drawback: space is limited and sessions last just one hour, so we recommend arriving on time!
RELATED: 8 Indoor Water Parks Perfect for a Warm Getaway Near NYC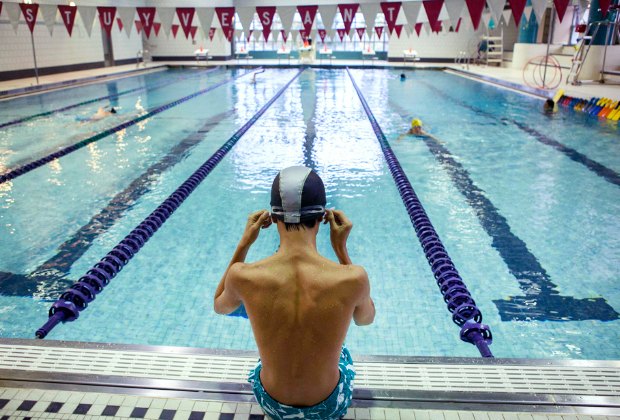 The Community Center's pool at Stuyvesant High School allows for drop-in family and kid swimming on weekends and evenings.
Community Center at Stuyvesant High School – Battery Park City
345 Chambers Street at North End Avenue
212-267-9700
This indoor pool is open on evenings and weekends with dedicated family swim time on Fridays, Saturdays, and Sundays. Day passes cost $15 for adults and $10 for children younger than 18, and include access to all facilities but not classes. Annual Memberships are available $199 for adults and $79 for children.
Eastern Athletic Club – Brooklyn
43 Clark Street, Brooklyn Heights
718-625-0500
17 Eastern Parkway, Prospect Heights
718-789-4600
Both locations of this full-service gym offer day passes. Adults pay $25 for admission; those 16 and under pay $7. Children are restricted to open swim time at the Prospect Heights location. At the Brooklyn Heights location, children can use the racquetball and squash courts in addition to the pool's open swim session.
RELATED: Swimming Spots to Host a Pool Party for Your NYC Kid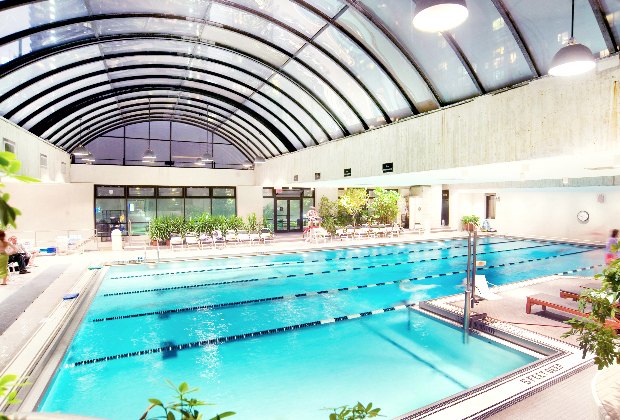 Go fancy and hit the rooftop pool at the Manhattan Plaza Health Club.
Manhattan Plaza Health Club – Midtown West
482 West 43rd Street near 10th Avenue
212-563-7001
If you're in the mood for a little luxury, try this hotel rooftop pool with a retractable glass roof. The lap pool has a separate area for kids. Day passes include use of the gym, saunas, and whirlpool. Weekday passes cost $35 per day; the weekend price is $40. Children ages 6-17 enter any day of the week for $10 per day, but must be accompanied by an adult. Children ages 5 and younger are free. Kids are only allowed in the pool during children's swim hours, so call ahead or visit the website to confirm the day's schedule. Children's swim classes and monthly and annual memberships are available. They even offer scuba instruction too, perfect if you want to get certified for a trip!
New York City Recreation Centers – Citywide
Many recreation centers throughout the five boroughs have indoor swimming pools. Though membership is required to use the pools, adult memberships are $150/year—much more reasonable than at a private club—and children under the age of 18 receive free memberships. Not all rec centers have indoor pools and the ones that do have varied hours. Strict rules are enforced, so please call ahead before heading out. Also, be sure to bring along a lock, as few items are allowed poolside.
Riverbank State Park – Harlem
679 Riverside Drive at West 145th Street
212-694-3600
This upper Manhattan secret has a lot to offer, including an indoor Olympic-sized pool that is a total bargain. Pool fees are just $2 for adults and $1 for kids 5-15 years old. Children 4 years and under are free. Affordable monthly passes are also available; learn more on Riverbank State Park's official website.
Spa Castle – College Point, Queens
131-10 11th Avenue near 131st Street
718-939-6300
In addition to a variety of spa facilities and services, Spa Castle features a huge Jacuzzi that's not too hot, heated outdoor swimming pools, and a separate toddler pool. Day passes for those older than 2 cost $50 on weekdays and $60 on weekends. One- and 2-year-olds get a slight break at $30 and $35. Under one is free.
Sportspark – Roosevelt Island
250 Main Street
212-832-4514
What better way to get to the pool than jump on the tram to Roosevelt Island? A visit to the isle's Sportspark comes cheaply: Non-resident day passes are $5 for adults and $2 for children. The pool has been undergoing renovations, so call ahead to confirm hours and fees.
Wall Street Bath and Spa – Financial District
88 Fulton Street between William and Gold Streets
212-766-8600
This Russian spa has a huge pool that's rarely crowded on weekdays—in fact, you may very well have it to yourself—plus a hot tub, steam rooms, and saunas. There's also an onsite Russian restaurant, Matryoshka, and various spa services. Although its clientele is mostly adults, it is family friendly, just go during the daytime hours. Day passes are $50 for adults and $35 for children ages 2-12, with discounts for multiple passes.
Waterside Plaza Swim & Health Club – Kips Bay
Waterside Plaza, East River between 25th and 29th Streets
212-340-4225
Located inside a luxury riverfront residential complex, this heated indoor pool has a retractable skylight roof, which opens up during summer. Day passes are $20 for adults and $10 for children up to age 12, and are good whenever the pool is open. Children's swimming lessons are available.
And you can always sign up for a FREE one-day trial guest pass to check out the pool at your local YMCA.
Photos courtesy of the pools
A version of this post was published in 2018; it has since been updated. Amy Sullivan and Katie Nav Freeman contributed additional reporting.