Best Free Swimming Pools in NYC for Families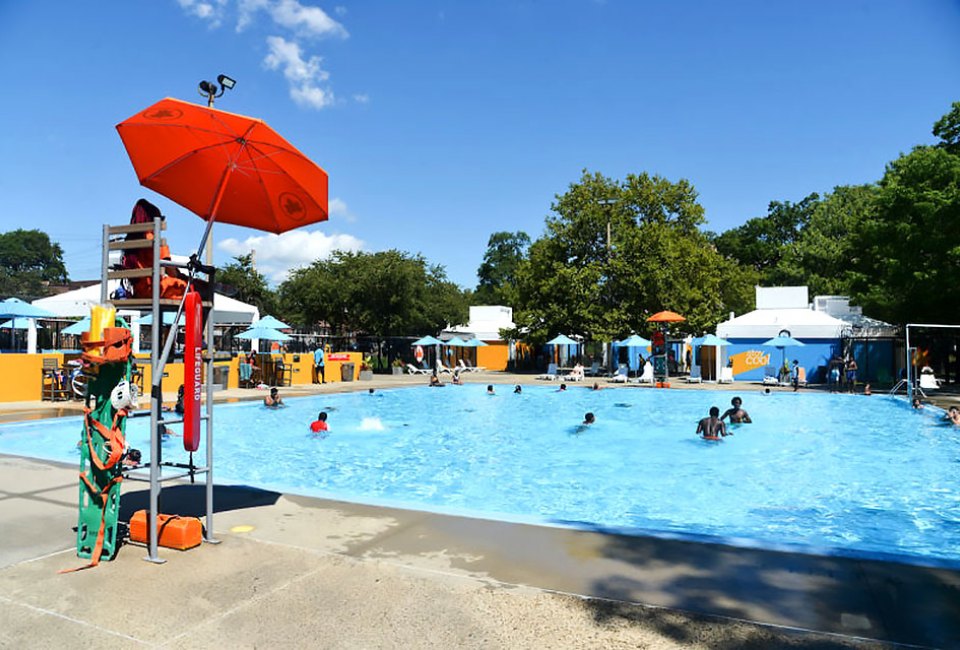 6/25/23
- By
Jody Mercier
It's summertime and if you want to go all-in on the wet-and-wild fun, take note: the FREE swimming pools in NYC open on Thursday, June 29, shortly after public schools let out. With more than 50 free swimming pools in NYC to choose from, it can be a bit overwhelming to find the right outdoor swimming pool for your outing. We've done the legwork, though, rounding up our picks for the most family-friendly of the FREE swimming pools in NYC. These local swimming pools are all places we've visited personally or have come highly recommended by families we know. Read on and get ready to dive in!
Find more cool places to play this summer in our Guide to Swimming Pools and Sprinkler Parks in NYC, plus all our picks for FREE fun on this list of 100 FREE things to do in NYC this summer.
Sign up for our FREE newsletters to get posts like this delivered to your inbox.
Most FREE swimming pools in NYC are open from 11am-7pm daily, weather permitting, with an hour-long break from 3-4pm each day for cleaning. Call ahead to verify hours, and read our post about rules at FREE swimming pools in NYC. There are many of them, and some might surprise you, like you must have a lock to get in, even if you don't plan to use a locker, and no water toys or electronic devices are allowed poolside. The city's outdoor swimming pools are open until mid-September. Great news for summer swim programs: FREE swimming lessons are back with the Learn to Swim program. Sign up for the free lottery online through Monday, June 26. If selected, families will be notified by Friday, June 30.
Best Free Swimming Pools in Manhattan
John Jay is an oasis in the middle of Manhattan—and one of the most popular public pools in NYC. It's clean and safe, plus there's a snack bar and a river-themed playground with sprinklers and fountains. It's also one of the few FREE swimming pools in NYC that allows diving.
RELATED: Top Beaches near NYC for Toddlers

The Hamilton Fish Rec Center offers a wading pool for little kids alongside an Olympic-size version for older kids and adults.
Considered by many to be the best public pool in the borough, Hamilton Fish has certain attributes that make it a standout. There are two pools: an Olympic-size one for adults and big kids (56 inches and taller) and a wading pool for younger children. These types of kiddie pools can be hard to find in the city. Plus, these watering holes happen to be quite clean with cool water and attentive lifeguards. There's also a nice little park nearby with sprinklers, a play area, and places to picnic and relax in the shade.
Situated on the north side of Marcus Garvey Park, this swimming pool is a great place to cool off when the concrete jungle heats up. This Harlem swimming pool, like all of the free outdoor NYC swimming pools, requires a combination lock to enter. Food, electronics, glass, and newspapers are also not allowed. Enjoy this expansive pool, and don't forget to protect your skin with the city-provided free sunscreen available at NYC swimming pools.
RELATED: 25 Best Sprinkler Parks and Splash Pads in NYC for Kids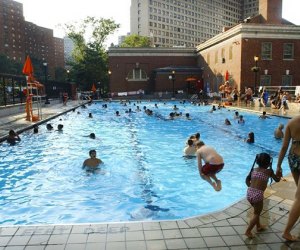 The Asser Levy Rec Center has two outdoor free pools in NYC, plus playgrounds and basketball courts.
In addition to a fairly large outdoor pool, plus a wading pool for tots, there's a playground, basketball courts, and a game room at Asser Levy. The indoor pool here is housed in a 1908 Roman Revival Bathhouse with a fountain and skylights.
This spot has the same vibe as Hamilton Fish but just one smaller swimming pool. Its lifeguards have a reputation for toughness, which means less roughhousing by teens in the water. Dry Dock received some new amenities, like lounge chairs and cabana-style structures, a few years ago as part of the Cool Pools program.
RELATED: Ultimate NYC Kids Summer Guide

An Olympic-sized wading pool is one of two pools at Highbridge.
Pretend like you're In The Heights at this pool, which plays a starring role in the blockbuster from local resident Lin-Manuel Miranda. Its Hollywood turn is far from the only reason to visit. Highbridge boasts not one but two Olympic-sized pools on its premises. While older kids and teens roughhouse in the main, deeper pool, you and your younger kids can splash away in the Olympic-sized wading pool, with a maximum depth of 2 feet. I also appreciate the outdoor, co-ed lockers and showers, which means not having to send my too-old-for-the-ladies room son into the men's room alone. When you've had your fill of the water, take a stroll down to The High Bridge and enjoy the breathtaking views.
RELATED: Inflatable Water Parks Around NJ to Cool Off

The McCarren Park Pool offers a shallow wading zone for tots along with gentle sprinklers for frolicking.
Brooklyn's Best Free Swimming Pools
This pool has a beautifully restored historic bathhouse building and entry arch, plus a recreation center. We love the family changing rooms and a shallow wading end for the tots. When you're waterlogged, find a bite at these nearby Williamsburg restaurants.
RELATED: Best Swimming Lakes near New York City You Need to Discover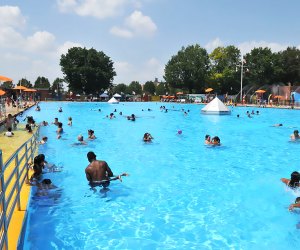 The Red Hook Pool has a kiddie play area and an Olympic-sized pool.
This Olympic-sized pool in Brooklyn is a neighborhood hot spot, near handball and basketball courts and a soccer field. It can get pretty busy in the summer, but there's also an enormous wading pool with sprinklers that's a bit calmer for younger kids.
A great local spot, this neighborhood fave tends to be a little less busy than other city pools and also features a wading pool and a shaded sundeck for littles. There's a park and playground nearby with picnic tables and sprinklers.
RELATED: Indoor Swimming Pools in NYC Offering Day Passes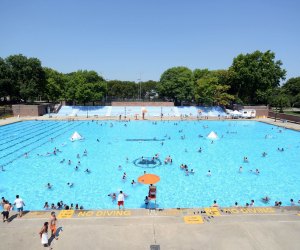 Plan a visit to the lovely Sunset Park Pool.
Located in the picturesque park of the same name, this Olympic-sized pool is always popular. When you're done with your fun in the sun, head to nearby Industry City for yummy eats and plenty of family-friendly fun—plus industrial AC.
Swimming Pools in Queens, the Bronx, and Staten Island
Journey to this Queens pool with the whole family. There are three different pools available, so everyone is sure to have a blast. There's an intermediate pool, a diving pool, and a wading pool. On weekends, you can also enjoy the Nature Center at the Fort Totten Visitors Center. For those extra energetic days, there's also a playground at Fort Totten Park.
12. Faber Pool – North Shore, Staten Island
Out of the seven FREE swimming pools in Staten Island, this one in the 4-acre Faber Park is close to the parking lot (assuming you're lucky enough to find a spot). The green space has great views of the water and New Jersey beyond, plus a playground and basketball court. The larger Olympic-sized Lyons Pool is a runner-up, but it gets crowded thanks to its location near the Staten Island Railway, buses, and the Ferry terminal.
RELATED: Best NYC Beaches by Ferry or Train

The Floating Pool Lady is permanently docked at Barretto Point Park.
You'll need to take the Bx46 bus from the subway to get to this pool, or better yet, drive. However, once there, you'll find a beautifully landscaped riverside park with amazing views of Manhattan and various islands (including Rikers!), there's a pier to promenade, a cute playground, and rolling hills for picnicking. And then there's the pool, which is located on a barge that's docked right on the East River. As they say, only in New York. It's an intermediate-sized pool.
Named for the first borough president of the Bronx, Louis Haffen, the park features several recreational facilities, including the pool complex, which recently got a little TLC and some fresh amenities. There's a 25-yard main pool, a wading pool, and shower facilities. Also, enjoy playgrounds, tennis courts, basketball courts, and baseball at the nearby sports fields.
A version of this story was first published in 2017; it has been updated for 2022.
Unless noted, photos courtesy of the NYC Parks Department.