Inflatable Water Parks in New Jersey
7/2/23
- By
Kaylynn Chiarello Ebner
Inflatable water parks with floating obstacle courses are the latest summertime craze, popping up in lakes and bays statewide. These installations are a mix of obstacle courses and bouncy houses on the water–and they're incredibly fun, especially for older kids.
Find more ways to beat the heat in our Garden State Guide to Beaches and Lakes. And check out our Ultimate New Jersey Kids Summer Vacation Guide for tons of other dog-day activities.
Subscribe to our newsletters to get stories like this delivered directly to your inbox.
Note that some spots are residents-only or have height requirements in place, so click through to each venue's website for up-to-date regulations before heading out.
RELATED: Best Swimming Lakes in New Jersey You Need To Discover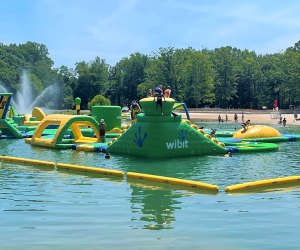 Darlington County Park is home to a Wibit Splash Zone obstacle course, beaches, playgrounds and swimming areas.
Inflatable Water Parks in North Jersey
The upper lake at Darlington County Park is home to a Wibit Splash Zone obstacle course, which houses separate sessions for big kids and adults (for those 48 inches and taller) and little kids (for those 39-59 inches). Life vests must be worn at all times in either zone. Note that the park has a per-person general admission fee for visitors over age 5, and there's an added cost for a 1-hour splash zone session, though there are weekday and in-county resident discounts. Little one too small for the splash zone? Don't worry! There are sandy beaches, playgrounds, picnic spots, and swimming areas to enjoy.
RELATED: Best Outdoor Water Parks in New Jersey for Family Fun

The Wibit course in Captain Michael Kilroy Memorial Park includes obstacles and a trampoline.
This manmade lake has a Wibit floating adventure course with trampoline features and a diving dock. In the park, there's a playground, a splash pad area, and a sandy beach. There are annual memberships and daily rates available (cash only), with discounts for residents.
Sunrise Lake at Lewis Morris Park – Morris Township
Sunrise Lake has swimming, boating, a sandy beach, and an inflatable obstacle course. The course is only open to kids who are at least 7 years old and who can pass a swim test. An extra fee applies for a 30-minute session on the course. On select weekday afternoons, you can enjoy a private Wibit rental for up to 20 kids and 20 adults for $275. Be sure to reserve tickets in advance.
RELATED: Best NJ Swimming Pools With Day Passes for Families and Kids

Tons of fun awaits on Island Aqua Park's gigantic inflatable water park and at its sister location in Stone Harbor.
Inflatable Water Parks in South Jersey
Aqua Park is big and built for majorly wet fun. Kids ages 6 and up can enjoy the park in Margate City without an adult in the water, though an adult must sign the waiver. Prices are $40 for 1 hour or $55 for 2 hours. A separate location is also open at Stone Harbor with a blob launchpad, slides, a climbing wall, a rope, and more. Expect to pay $40 for 45 minutes there. Island Aqua Park doesn't accept reservations at either location.
Ocean County residents are in luck: Lake Barnegat has a great floating playground, open to county residents only. The cost is $10 per session for Lacey Township residents and $18 for non-Lacey Township (but Ocean County) residents. Note that life jackets are required, and participants must be 7 or older to use the inflatable water park.
This floating playground offers 5,000 square feet of wild fun, with 18 unique features to explore. Snag a 45-minute time slot ($35/person) for kids ages 6 and up, who will have a blast bouncing and slipping into the water. Life jackets are provided. Buy passes online.
All photos courtesy of the respective venues
t Click Here to Sign Up!