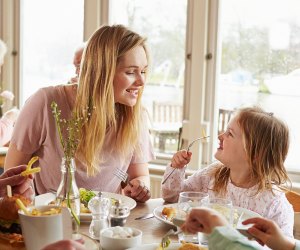 The Very Best Mother's Day Brunches in Los Angeles
Mother's Day, and the brunching is easy—and when we say easy, we mean the culinary version of a chick flick. This is not a day for the Denny's Lumberjack Slam (not that there's anything wrong with that); Mother's Day brunch begs coffee in carafes, ocean views, and maybe a harp plucked with a rose. The key is Mom's Choice—all day! And this year the choice includes deciding how and where your family feels comfortable celebrating: choose from gorgeous outdoor patios, dining indoors again with reduced crowds and social distancing, and even eating at home with customized family brunches to go.
Read on for some of our favorite restaurants that offer a pretty darn fabulous Mother's Day brunch, any way you want it.
The dining situation is changing quickly in LA; as of publication time all information below is accurate, but be sure to call a restaurant to confirm what options are available (and make reservations, when possible) before heading out.
Mother's Day Brunches on the Westside
Dining options: Make a reservation for outdoor dining on the spectacular patio
Book early if you think you're heading to this little corner of heaven in Topanga because you won't be the only one with the idea. (Call, rather than reserving online, to request a creek-side table, when dining with kids.) Send the kids off skipping stones and hunting for tadpoles while you drink in the fresh air, healthy food, relaxing music, and spiritually renewing ambiance. The famous breakfast brunch is being served on Mother's Day, but it is not serve-yourself. Simply tell your server which items you'd like, and they'll load your plate up.
Dining options: Seating outside, overlooking the ocean
We all do it—drive up PCH from time to time, spy the Geoffrey's sign, and think, "one of these days..." Well, what better day than Mother's Day? The views can't be beat, but the food sure tries to. It's a fancier place for kids, but a staircase down to the beach makes for a fun treat after dining.
Posh at the very height of poshness at The Rooftop by JG. Photo courtesy of The Waldorf Astoria
Dining options: Rooftop outdoor dining
It's been a rough year. Mom really deserves something special. This, this is something special! Take mom for brunch on the top of the Waldorf Astoria in Beverly Hills. The rooftop restaurant has a garden-like setting and sweeping views of the hills and the city. The special Mother's Day Brunch starts with a trio of appetizers served family-style, before moving on to entree choices like Sauteed Maine Lobster or Caviar Scrambled Eggs (there's French toast or scrambled eggs for less adventurous palates). It's not cheap. But this is our one crazy, dreaming option, and it's so spectacular and special, we just had to include it!
Dining options: Dine inside or outside, right by the beach
Speaking of special occasions, when's the last time you actually sat down and ordered some food at Shutters? The answer is probably "not recently enough." The food is terrific, the service is everything a mother deserves, and the location—could you get any closer to the beach? Order from the special Mother's Day Brunch menu from 10:30am-4pm.
Dining options: Outside dining on the beach is available, as is takeout
To answer the rhetorical question above, the only way to get closer to the beach than Shutters is to go to Back on the Beach. The cafe at the Annenberg Beach House has yummy, healthy, unpretentious fare right on the beach. Wiggly kids can play in the sand and climb all over the beach playground until the food arrives. Because the restaurant is only booking at 30% capacity, reservations fill up fast. Reservations are only taken by phone or in person.
Dining options: Pickup, delivery, and dining outdoors on the beautiful patio
While dinner is delicious, brunch is best on the massive patio at The Rose in Venice when dining with kids, making it a natural place to celebrate Mother's Day. The pastries are out of this world, and it's a perfect time to sit in the sunshine and share some of the most tempting options with a never-ending cup of coffee. Brunch reservations (max of 2 hours at your table) are available online.
Dining options: Outdoor patio dining, curbside pickup, takeout, and delivery
You can tell that the owner/chefs at Huckleberry are parents themselves; this place gets kids (and parents!). The food is, of course, fantastic, and the atmosphere makes you feel like you're dining (socially distantly) with extended family. One of the great options that Huckleberry has adopted this year is family meals to go. You can call in advance to place an order for something like pancakes for 4 with Tcho chocolate or organic blueberries, pick it up curbside, and have it home for mom while it's still warm. No muss, no fuss, no dishes, and fabulous homey food.
RELATED: 40+ Fabulous Restaurants in LA with Outdoor Seating for Kids

Hooray for Hollywood views! Photo courtesy of Mama Shelter Los Angeles
Mother's Day Brunches from Hollywood to Downtown
Dining options: Dine on the darling patio for brunch from 10:30am-2:30pm
You won't believe you're in Hollywood. This adorable little hide-away hasn't got the space of the beach, or a high entertainment factor for kids, but if your little ones can put up with a little quiet table time, you'll be so glad you brunched here. (Note that the bottomless brunch mimosas of yore are not currently being offered.)
Dining options: Rooftop outdoor dining
Dine on the top of this Hollywood hotel with gorgeous city and Hollywood sign views. Whether the mom in your life likes shrimp and grits, gluten-free and vegan mochi waffles, or the Sloppy Toppy (wine braised beef cheeks with truffle Hollandaise on fries—yum!), there's something here for her to indulge in; all while lounging on comfy couches, sipping a cocktail, and enjoying the view.
Dining options: Order online for pickup or delivery, or dine outdoors in the valet parking lot which has been converted into a huge, tented outdoor dining area
This temple to gastronomy guarantees a happy mom. Breakfast is served until 2pm, and the restaurant doesn't take reservations until dinner service. Luckily parents have a secret weapon—kids who double as roosters, waking parents up at the crack of dawn. Put this to work for you, scoring a table the freshest Kouign-Amann, homemade Pop-Tarts, french toast, and potato pancake with smoked lox before hipsters are even awake.
Dining options: Dine at cute tables on the sidewalk or indoors, or order takeout or delivery
Is Fred 62 popular among hipsters and celebs? Well, yes, it is. But it's also family-friendly and affordable—only in Los Feliz. Brunch is a treat of comfort foods, healthy foods, and interesting twists on both of the above, and well worth a visit on Mother's Day. It's a perfect stop before or after a hike in Griffith Park.
Dining options: Open-air patio dining, takeout, or delivery
Manuela serves seasonal and locally sourced food in the Hauser & Wirth art gallery. The space is as gorgeous as the food, and the restaurant is open on Mother's Day for extended brunch hours. (Be sure to make a reservation; it books up fast.) While there's no kids' menu, the French toast, beignets, biscuits, and fresh cornbread platter keeps kids very happy. If you're here before 2:30pm, kids can visit with the chickens at the new Garden Bar (which is open for 21+ afternoons and evenings, just in case your Mother's Day plans involve a babysitter).
RELATED: The Best Bagels in LA for Sunday (or Anyday) Breakfast

Eat right over the water on the pier. Photo courtesy of Kincaid's Fish, Chops & Steaks
Mother's Day Brunch Option in the South Bay
Redondo Beach and Manhattan Beach
Dining options: Patio dining, socially distanced indoor dining, takeout, and delivery are all available at both locations
Dine by the shore, or pick it up to bring it home—this is one fabulous South Bay brunch and the only one that we know of where you can have good old-fashioned chicken 'n' waffles with mimosas, here or to go. (Note: The Hermosa Beach location is under construction for a remodel!)
Dining options: Indoor socially distant dining, outdoor dining, delivery, and takeout are all available
If kicking your day off with a Bloody Mary by the beach sounds appealing, this is the spot for your family! Brunch is served until 4pm, though the menu changes a bit in the afternoon. But the famous bacon cheddar biscuits are available all day (and so are the Bloody Marys). Just leave room for dessert.
Dining options: Indoor dining with social distancing, outdoor oceanside dining, delivery, and takeout are all available.
Kincaid's has special brunch or dinner options to go on Mother's Day that must be ordered by May 5 (including a gorgeous whole Key Lime Pie). But if you prefer to dine on the pier you can opt to sleep in, as the restaurant opens at noon for lunch and dinner service.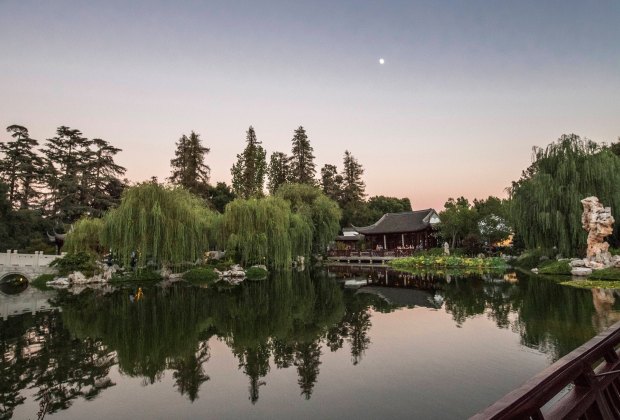 Linger at the Huntington after dining to see the new additions at the Chinese Gardens. Photo courtesy of the Huntington Library
Mother's Day Brunch in the Valleys
Dining options: Dining on the 1919 patio with grab-and-go items or pre-ordered Tea for Two
While The Huntington is a Mother's Day classic, dining here this year looks a little different. The only dining option currently open is 1919 café, which is serving grab-and-go meals and snacks (and beer and wine), as well as pre-ordered Tea for Two picnics which can be picked up and enjoyed at the café. The best part of any kind of dining at the Huntington is, of course, that you're at the Huntington, and can stroll the spectacular grounds before and after your meal.
Dining options: There are two seatings for Mother's Day brunch, and families will be seated at their own reserved table this year.
Head here for brunch if Grandma misses the Reagan years; she can reminisce about the '80s while being treated like the First Lady at the museum restaurant's annual celebration of mothers. The annual Mother's Day Brunch is back with a few changes: museum tours are not available, but before dining, moms can hop aboard Air Force one for a tour.

Dine outside on the beautiful patio. Photo courtesy of Gracias Madre Newport
Mother's Day Brunches at Restaurants with Multiple Locations
Santa Monica, Westchester, Torrance
Dining options: Serving sit-down brunch with both indoor and outdoor seating as well as takeout, curbside pickup, and delivery
Truxton's offers an expansive menu with a little something for everyone. You can also order a brunch box to bring home which includes a choice of waffles or French toast, chicken sausage or applewood smoked bacon, plus scrambled eggs and fresh fruit. It serves 4-6 and is just $60.
Santa Monica, Sherman Oaks, Malibu, Calabasas, El Segundo, Westlake Village, Los Angeles
Dining options: Outdoor patio dining, takeout, delivery, and Mother's Day Family meals to go at all locations. You can also book a private dining room for your celebration.
Enjoy an indulgent brunch with cocktails at one of Marmalade Cafe's seven locations around the LA area. Or get one of the 4 family meals to go, which is a great deal at $125 for 4-6 people and including a bottle of wine and choice of dessert!
West Hollywood and Sherman Oaks (The Santa Monica and Hollywood locations remain closed.)
Dining options: Carhop service, socially distanced indoor dining, outdoor dining, takeout, and delivery
Mel's knows how to make the best out of a bad situation and the old-school LA diner is reviving a popular feature from its past: carhops. Drive up, order from the parking lot (by phone or in-person), and have it delivered to your car by Mel's carhops, just like on Happy Days.
West Hollywood and Newport Beach
Dining options: Open for dining on the beautiful patio, socially distanced indoor dining, takeout, and delivery at both locations
"Thank you, Mother" is the perfect name for a Mother's Day brunch spot! Come for the incredible plant-based food, stay for the gorgeous patio. Oh, also stay for the tequila and mezcal-based cocktails. And the nachos. Or, opt to bring that spectacular and healthy food home.
Originally published April 27, 2012