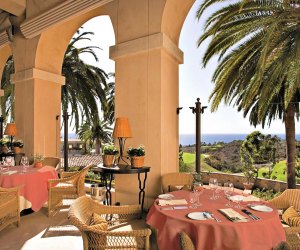 21 Mother's Day Brunch Restaurants To Book in Los Angeles and Orange County
Mother's Day, and the brunching is easy—and when we say easy, we mean the culinary version of a chick flick. This is not a day for the Denny's Lumberjack Slam (not that there's anything wrong with that); Mother's Day brunch begs sprigs of rosemary, ocean views, and maybe a harp plucked with a rose. Or, if that's not your thing, Fillmore & Western Railway is happy to Throw Mama on the Train. The key is Mom's Choice—all day!
Read on for some of our favorite restaurants that offer a pretty darn fabulous Mother's Day brunch.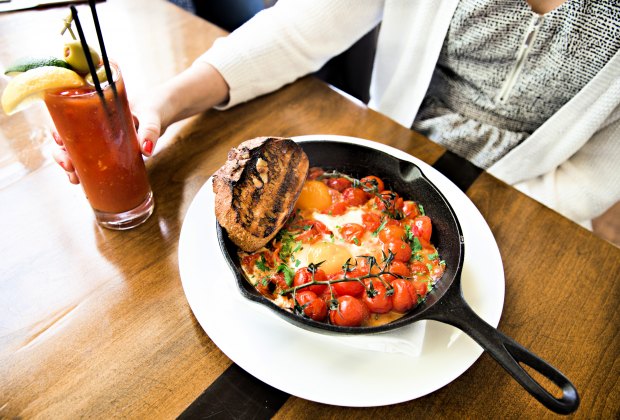 Blistered Tomatoes & Eggs at Shutters One Pico. Photo courtesy of Bread & Butter PR
Westside & The Beaches
Inn of the Seventh Ray
Book early if you think you're heading to this little corner of heaven in Topanga, because you won't be the only one with the idea. Then ask for a creekside table, and send the kids off skipping stones and hunting for tadpoles while you drink in the fresh air, healthy food, relaxing music, and spiritually renewing ambiance.
The Tuck Room
This one may not be on your radar as a brunch spot, but it should be—especially if you like the idea of enjoying your "Mom-osa" in a glam-bar setting, indulging in a menu created by Wolfgang Puck protege Sherry Yard, featuring a variety of KETO-friendly delicacies. Westwood's popular IPIC Theater is adjacent for a post-brunch movie; Mama can even bring her KETO cocktail inside!
Geoffrey's Malibu
We all do it - we drive up PCH from time to time, spy the Geoffrey's sign, and think, "one of these days...." Well, what better day than Mother's Day? The views can't be beat, but the food sure tries to. It's a special occasion Mecca.
Shutters on the Beach
Speaking of special occasions, when's the last time you actually went in, sat down, and ordered some food at Shutters? The answer is probably "not recently enough." The food is terrific, the service is everything a mother deserves, and the location - could you get any closer to the beach?
Back on the Beach
To answer the rhetorical question above, the only way to get closer to the beach than Shutters is to go to Back on the Beach. The cafe at the Annenberg Beach House has yummy, healthy, unpretentious fare right on the beach. Wiggly kids can play in the sand and climb all over the beach playground until the food arrives. Remember this place when you wake up on Sunday morning to discover that someone didn't make any reservations; the outdoor tables are walk-up only.
Circa 55
Go ahead and go old school glam by eating brunch at the Beverly Hilton. Not only does the Mother's Day brunch have a toast station, there is a sushi and seafood bar, too. The hot station has sea bass and salmon, and breakfast favorites are available.
South Bay
Truxton's
The buffet sounds fabulous, and kids pay less than a third of the adult price. Champagne and Bloody Marys flow, and there's plenty of organic food for veggie and carnivore alike. While you're there, sign up for the birthday club so that you can repeat the experience for free later in the year! (Note that the buffet is only at the Westchester location.)
Abigaile
​This hip Hermosa Beach gastropub may normally seem a bit urban trendy for breakfast with the kids, but on Mother's Day the rooftop brunch gives Mom a chance to indulge in a meal that might normally call for a babysitter.
Aquarium of the Pacific
It may sound a little fishy to knock back salmon with a bunch of salmon watching you, but there's plenty on the menu that doesn't swim, too. The bonus is that aquarium admission is included with brunch.
The Queen Mary
OK, we won't pretend that Mother's Day brunch on the QM is cheap, but come on. Champagne brunch on the Queen Mary? What mom doesn't deserve that once a year?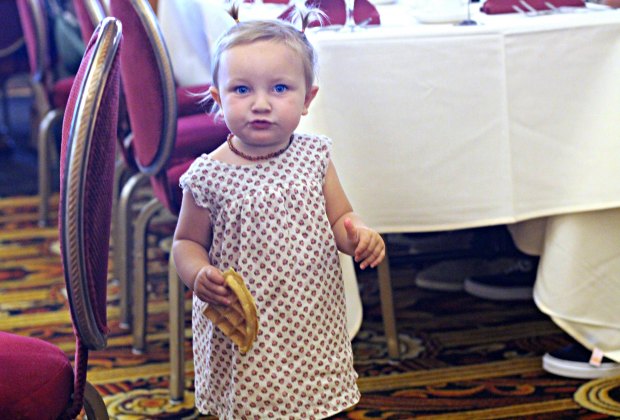 Have a waffle and work the room! Photo courtesy of the Queen Mary, Long Beach
Hollywood to Downtown
Off Vine
You won't believe you're in Hollywood. This adorable little hide-away hasn't got the space of the beach, or the noise of the House of Blues, but if your kids can put up with a little quiet table time, you'll be so glad you brunched here.
Cliff's Edge
The woodsy feeling of the patio is relaxing and lets little ones stretch their legs (perhaps why Mom finds it relaxing?), and the food is totally worth driving for, even if Silverlake isn't your 'hood.
Fred 62
Is Fred 62 popular among hipsters and celebs? Well, yes, it is. But it's also family friendly and affordable—only in Los Feliz. Brunch is a treat of comfort foods, healthy foods, and interesting twists on both of the above, and well worth a stop on Mother's Day.
Clifton's Cafeteria
After shuttering the cafeteria for far too long, Clifton's has reopened its restaurant side (dubbing it The Marketplace) and reservations are available. Clifton's is still a quirky, comfort foody, totally Angeleno experience to which native-borns are irresistibly drawn. The reopening of the vintage Downtown landmark, with its taxidermy and "cabinet of curiosities" created great excitement; and all the things for kids to look at can give Mom time to linger over her brunch.
RELATED: Afternoon Tea and Tea Parties around LA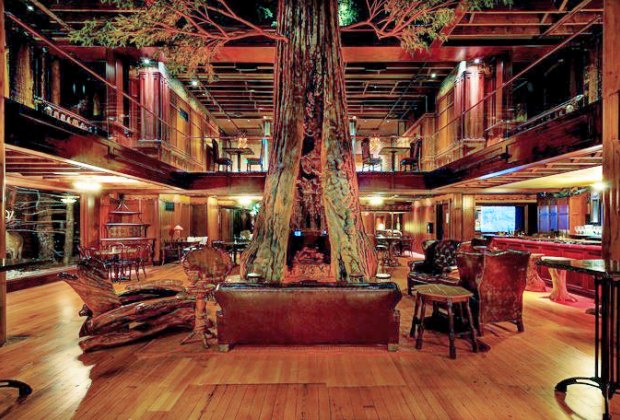 Yup, that's a tree. Photo by Clifton's Cafeteria
The Valleys
Green Street Restaurant
Pasadena's favorite brunch spot knows how to treat Mom right. The champagne cocktails have guava, ginger, and rose petals; need we say more?
Descanso Gardens
Reservations are key to get in on the brunch plans at Descanso Gardens. Mom can be serenaded while enjoying Patina's treats in the Rose Garden. Brunch is served both Saturday and Sunday, and Descanso has plenty going on both days to keep kids engaged.
The Huntington Library
Another harp-infused rose garden awaiting SoCal mamas, The Huntington is a Mother's Day classic. Other maternally appropriate brunch options here include jazz brunch on the lawn and English Tea in the Rose Garden Tea Room. And with so much room to romp and play before and after, kids should be able to handle a little civilized tea action.
The Reagan Library
Simi Valley is the place to head for brunch if Mama misses the Reagan years; she can reminisce about the '80s while being treated like the First Lady at the museum restaurant's annual celebration of mothers.
94th Aero Squadron
If Mom ever dreams of flying away, consider going someplace where it's possible to watch private planes take off and daydream while enjoying bottomless mimosas and crab legs. The ivy-covered walls and cozy interior are a nice escape, too.
RELATED: 10 Great LA Restaurants Where Kids Can Play While Parents Eat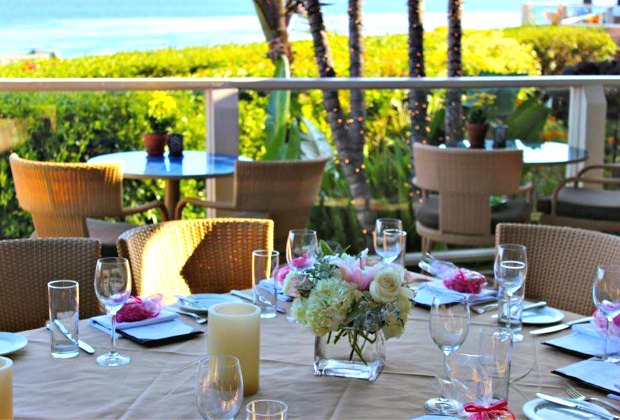 Photo by Matt6234 via flickr
Orange County
House of Blues Gospel Brunch
This brunch is so famous that it makes our bucket list of 100 Things To Do with Kids Before They Grow Up. And isn't Mother's Day a great day to pick a bucket list item?

Hyatt Huntington Beach
What this place does so well is combining decadent luxury with total kid-friendliness. The food is everything Mom could want it to be, in an environment that makes a gal want to plan her wedding all over again - and yet kid antics raise no eyebrows. If Huntington Beach is a little farther than you were thinking, though, we highly recommend staying over and making a weekend of it!
Pelican Hill Resort
While we're bandying around that word luxury, we have to mention Pelican Hill - where luxury goes when it wants a good pampering. Mom can choose between five different brunching/dining experiences ranging from fresh California cuisine and Italian-style pizza to a delicious, kid-enthralling poolside buffet. And as long as you're there, it would be a shame not to have a little spa time; send the rest of the family for a gelato and slip away...
Disneyland Hotel (Goofy's Kitchen)
Let's subtitle this one Mother's Day Brunch for Martyr Moms. Not that Disney would do anything but treat Mom like a queen — pampering à la Disney is not to be scoffed at. It's just that we all know, once we step onto Disney property, that we're really the Queen Mother, accompanying the crown princess on her dream date. The brunch will indeed be grand - as will be Cinderella and her princess entourage.
Originally published April 27, 2012