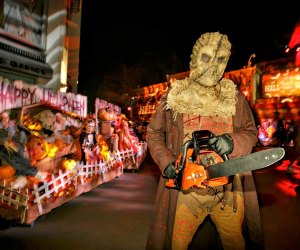 Scary Halloween Haunts in LA for Big Kids: Horror Nights, Dark Harbor, Knott's, & More
What goes on at LA's theme parks in October is nothing like the wholesome thrill of a Tigger-clad child ringing doorbells for candy. It may seem like Los Angeles celebrates a night that's all about children with an awful lot of entertainment that is clearly not for children, but these frightful haunts keep the Halloween fun going for older kids, for teens, and even for adults who indulge in guilty gruesome pleasures. But how to know which haunts are best for which ages? We've braved a few of them to share our reviews of just how scary is scary.
Looking for something not quite so scary, and a good deal cheaper? Check out these haunts that are mostly free and in private yards.
$44-$229 (online discounts available)
Yup, this one's scary. When Universal says that they don't recommend this haunt for anyone under the age of 13, take them at their word (and then add a few). We saw no one under the age of 14 the night we went, and that seemed like a good thing. That said, if you take your 14-year-old to Universal Horror Nights, s/he'll think you're the coolest parent ever! If your family enjoys monsters, zombies, and screaming in unison, this can be a super-fun night of family bonding, as you make your way through six scary mazes of different themes, a scream-inducing tram ride, a walk through a zombie apocalypse, and plenty of other rides and scare zones. The production quality is mega-high, and there is enough to see to keep you busy from opening to closing time—more, really, when you factor in that there are also very long distances to cover between some attractions. With so much to check out, springing for a front-of-line pass makes a huge difference—especially since the scariest thing at Horror Nights may be the crowds (one teen we know lost a shoe never to be found again)!
$40-$72 (online discounts available)
Knott's Halloween event is the Southland original. The park has been creating a scarefest for more than 40 years and strikes a good balance between scary and big-kid-friendly. Would we bring someone younger than 12 years old? Nope. But we might bring a group of 12-year-olds and expect that most of them would love it. Like at Universal, you can find plenty to do and see all night long, and Knott's even offers a buffet dinner included in some ticket prices to kick off the evening. Most of the rides are running, offering breaks from spooks, though some of our favorite bits are the walks between zones, through thick and spooky fog. There is plenty to induce fun screaming—though without quite as many zombies as Universal employs.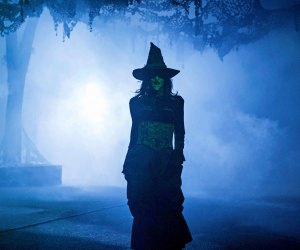 Photo courtesy of Knott's Scary Farm
Adult/Teen tour $19; Kids Lights On tour $5
There is only one maze here, but fright junkies drive from all over the Southland to experience it. The consensus seems to be that 13 is the age to start seeing this haunt by night; younger kids can see it with the lights on certain days (and parents can accompany them for free).
$52-$95 (online discounts available)
We haven't yet seen Six Flag's Halloween haunt for ourselves, but we're told by other parents that its scary factor is just a notch above Knott's. The three mazes require an extra wristband ($15), but the good news is that all of the rides are open. Unlike at other parks, you can even blend straight from the daytime theme park experience into night if you like, easing your tweens into Fright Fest more gently. We're recommending 13 and up at this one.
$25-$50
This is not your mama's hayride. The Haunted Hayride, a vehicular source of thrills and chills not for the faint of heart, causes adult screams through Griffith Park each year. This is an event best shared with teens and no one younger—but boy will your teens think you're cool. If you have kids of different ages, the Halloween carnival set up at the ride's starting point offers options for family members not ready to be scared witless.
This event is canceled for 2021 as the ship is being renovated, but plans to return in 2022!
$20 and up (best prices are online)
Organizers recommend no on under 13, but if your bold 11 or 12-year-old is begging for a big kid of haunt, this is a great choice for transitioning to a different kind of Halloween experience. I'd sooner bring a tween here than one of the bigger theme parks; the distances are far more family-friendly, as are the prices (even with front-of-line or "RIP" lounge), and the whole evening can be fully enjoyed without staying out past 11pm, if such is your goal. The six mazes are outstanding, representing a variety of themes, with half on board and half in the adjacent exposition area. The onboard mazes have a natural set that surpasses anything even the amazing design crew at Universal can create; what could be creepier than the bowels of an out-of-use, century-old ship? And the dry land haunts are high-end, ultra-spooky all the way. Although we saw a pretty wholesome crowd on opening night, it's worth noting that adults do have access to alcohol at this haunt. It's great to know that you can enjoy a margarita while indulging your kids' living ghost stories, but some of the late night crowd may get rowdier than little kids are used to. If your kids are intrigued by real ghosts, of course, this is the one to choose, since the ship itself is believed by many to be haunted. Boo!
Originally published September 24, 2013