Haunted Houses, Horror Nights, and Scary Farms for Los Angeles Teens Who Like a Good Scare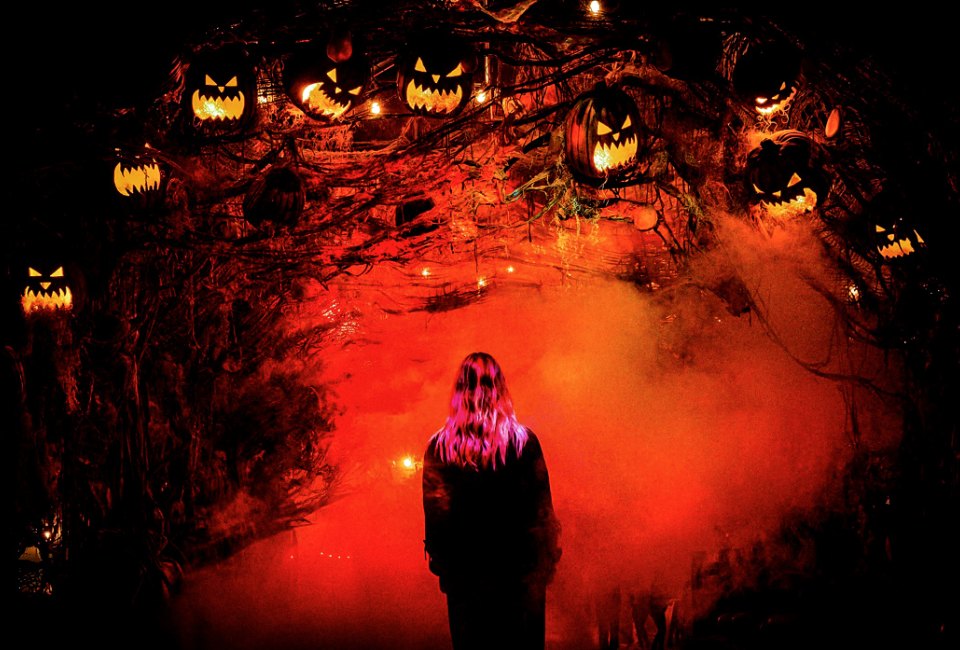 10/9/22
- By
Roberta B
Did someone say Haunted House? What goes on at theme parks in Los Angeles for Halloween is nothing like the wholesome thrill of a Tigger-clad child ringing doorbells for candy. It may seem like Los Angeles celebrates a night that's all about children with an awful lot of entertainment that is clearly not for children, but these frightful haunts, houses, and hayrides keep the Halloween fun going for older kids and teens. How to know which haunts are best for which ages? We've braved a few of them to share our reviews of just how scary is scary.
Looking for something not quite so scary, and a good deal cheaper? Check out the coolest free haunted houses and Halloween decorations in Los Angeles. And for perfectly tame Halloween activities for younger kids, we rounded up the best not-so-scary Halloween events for Los Angeles preschoolers. You'll find all this spooky fun, and more, in our Halloween Fun and Activities Guide for Los Angeles Kids.

Knott's Scary Farm is for kids 12 and up; Knott's Spooky Farm is for everyone. Photo courtesy of Knott's Scary Farm
Select nights from September 21 - October 31, 2023
Prices: $59 and up (Online discounts are available.)
Knott's Halloween event is the Southland original. The park has been creating a scarefest for more than 40 years and strikes a good balance between scary and big-kid-friendly. Would we bring someone younger than 12 years old? Nope. But we might bring a group of 12-year-olds and expect that most of them would love it. Like at Universal, you can find plenty to do and see all night long, and Knott's even offers a buffet dinner included in some ticket prices to kick off the evening. Most of the rides are running, offering breaks from spooks, though some of our favorite bits are the walks between zones, through thick and spooky fog. There is plenty to induce fun screaming—though without quite as many zombies as Universal employs. Be sure to purchase your tickets online in advance, as gate tickets can be up to $50 more.
Select nights from September 7 - October 31, 2023
Prices: $79 and up (Online discounts are available.)
Yup, this one's scary. When Universal says that they don't recommend this haunt for anyone under the age of 13, take them at their word. We saw no one under the age of 14 the night we went, and that seemed like a good thing. That said, if you take your 14-year-old to Universal Horror Nights, s/he'll think you're the coolest parent ever! If your family enjoys monsters, zombies, and screaming in unison, this can be a super-fun night of family bonding, as you make your way through scary mazes of different themes, a scream-inducing tram ride, a walk through a zombie apocalypse, and plenty of other rides and scare zones. The 2022 version includes a Halloween (the movie) theme, the horrors of Blumhouse, and The Weeknd After Hours Nightmare.
The production quality is mega-high, and there is enough to see to keep you busy from opening to closing time—more, really, when you factor in that there are also very long distances to cover between some attractions. With so much to check out, springing for a front-of-line pass makes a huge difference—especially since the scariest thing at Horror Nights may be the crowds (one teen we know lost a shoe never to be found again)!
RELATED: 20 Things To Do in Los Angeles with Tweens and Teens That They'll Actually Enjoy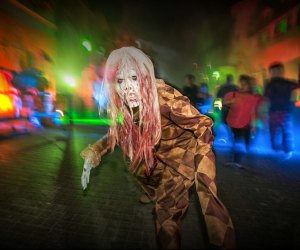 Halloween Horror Nights are full of big scares for big kids. Photo courtesy of Universal Studios
Select nights from September 21 - October 31, 2023
Prices: $60 and up
LA's newest haunt may well be the best of the batch. Angel of Light is a deeply immersive, lavishly theatrical haunted house experience set in DTLA's vintage Los Angeles Theatre. The experience features a cast of ghostly characters who conduct a narrative tour through every corner of the old movie house, culminating in an extravagant stage show pulling the whole mystery together. Unlike Universal or the Scary Farm, Angel of Light is one unified experience incorporating a lengthy haunted maze (long enough to include a break area for snacks and drinks), rooms to explore at one's own pace, oodles of possessed characters, and a final exhilarating performance of physical theater set on the 1931 stage.
Select nights from September 24 - November 5, 2022
Prices: $30 and up; special "lights on" visits for those who don't love big scares are only $5
Ventura County's Reign of Terror Haunted House features 10 attractions connected into one terrifyingly fun experience for kids 13 and older. Each attraction is designed to dive into your deepest fears, and feature creepy names like The Asylum, Inbred, and Infected. For 2022, all 10 experiences have been updated and enhanced and there's a new experience called Cave-In.
Select dates from September 10 - October 31, 2022
Prices: Prices vary depending on the package, online discounts are available
We have yet to experience this Halloween haunt for ourselves, but we're told by other parents that its scary factor is just a notch above Knott's. The Fright Fest mazes require a Haunted Attractions Pass in addition to park admission, but the good news is that all of the rides are open. Unlike at other parks, you can even blend straight from the daytime theme park experience into night, if you like, easing your tweens into Fright Fest more gently. We're recommending 13 and up at this one.
RELATED: 21 Cool Teen Birthday Party Ideas in Los Angeles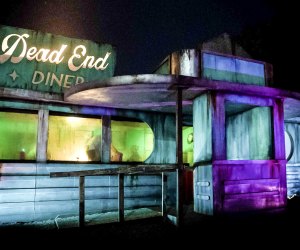 The Los Angeles Haunted Hayride is an LA Halloween classic. Photo courtesy of Thirteenth Floor Entertainment Group
Select nights through Halloween
Prices: $30-35 for the hayride only; $40-45 for General Admission (includes hayride); VIP tickets also available
This is not your mama's hayride. The Haunted Hayride, a vehicular source of thrills and chills not for the faint of heart, causes adult screams through Griffith Park each year. This is an event best shared with teens, though we know a few younger kids who enjoy this scary ride. If you have kids of different ages, the Halloween carnival set up at the ride's starting point offers options for family members not ready to be scared witless. If you do love a good scary ride, this event is as LA as it gets.
Select nights through November 20, 2022
Prices: $89 and up
From the mind of creator Jon Braver, Delusion: Valley of Hollows is something a little different than the typical haunted house or horror maze. Set at the historic Phillip's Mansion in Pomona and self-described as a "moving play," you'll travel throughout the venue and participate as the haunting narrative unfolds. Unlike most mazes which require you to move in a linear fashion through the experience, Delusion now features an "open world" and guests are invited to move throughout the location during and after their show. Delusion is about 90 minutes long and only for guests 12 years old and older. (That's what the experience says, we say more like 15, to be honest.) The 2022 experience is all new, following the story of a creepy cult!
Select nights from October 7 - 31, 2022
Prices: $25-30 (Tickets available online or at the ticket booth, in-person sales are cash only.)
This haunted and haunting experience is all new for 2022. Tour the terrifying Shady Pines Asylum in a maze that's scary and packed with terrifying sights, sounds, smells, and more. Dark Harvest is not for the faint of heart and is recommended for kids 13 and older.
Select nights from September 16 - October 31, 2022
Prices: $34 and up
This year the story at The 17th Door is that a darkness has overcome the inmates at Perpetuum Penitentiary. Here the unorthodox methods for treating the evils of humanity have hit new levels of depravity. Go cautiously, as the inmates here have developed a taste for new victims... In addition to the maze portion of the attraction, there's the Vixi Ward Virtual Reality Experience, which is available as an add-on to a general admission ticket. This is a particularly intense experience and guests are recommended to be 16 or older and minors must have a parent or legal guardian sign the waiver on-site. The experience is about a half-hour, though if you get too terrified you can always shout "mercy" and the actor will back away, or you can leave the room, or even the entire experience. For the most adventurous, "The Field Trip" is another add-on that takes guests off-premises for a part walk-through, part drive-through experience.
Originally published September 24, 2013
Sign up for the Mommy Poppins Newsletter today!
i