Knott's at Halloween: Is the Scary Farm for Kids?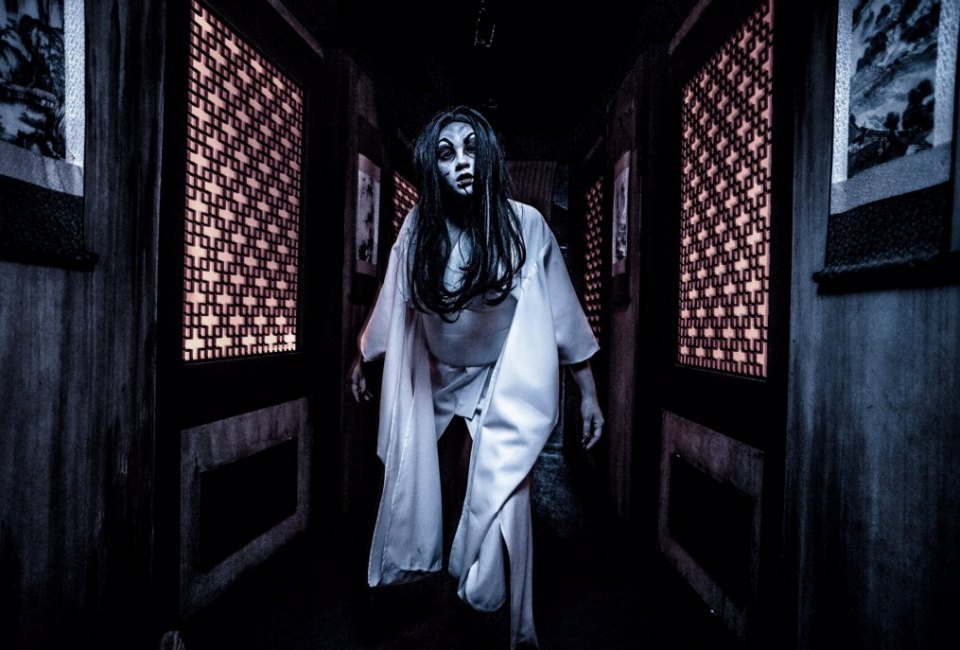 10/12/16
- By
Roberta B
Halloween haunts are a major part of autumn for some SoCal kids, and Knott's Scary Farm is the theme park haunt that launched them all 40-odd years ago. Touted as the largest Halloween event in the country, the Scary Farm's reputation for terror precedes it. But is it that scary—or Knott? The daytime Halloween attraction, Camp Spooky, is good, clean holiday fun with nothing to ruin a toddler's day; but long before dusk falls everyone cute and cuddly is shuffled to the exit, allowing an entirely different crowd to fill the park as the Berry turns Scary. Should your tweens be among that crowd? And what exactly goes on?
While Knott's Scary Farm is no outing for little Elsas and Olafs, the evening haunt can be a great family experience for the 12 and over set. I had been warned that the eight mazes and various other scare zones could be overwhelming for middle schoolers, but for the group of 12-year-olds that we brought the balance was absolutely perfect. The kids gripped onto each other and squealed with glee going through mazes with themes that ranged from classic trick-or-treat spooking to morbid, out-of-control dentists, from restless spirits to gory barn yards. Performers lurk everywhere, trying their very best to get a jump or a shriek out of everyone (kids in particular), but they do not touch anyone or cross certain boundaries—setting the stage for a high stakes game of zombie tag.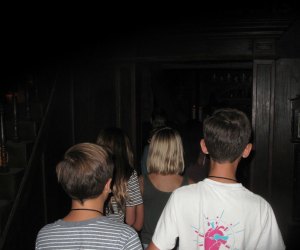 Heading cautiously into the first maze of the night... (photo by Roberta Brown)
The entire park is in on the haunting, so there is nowhere quiet to chill (with the possible exception of the Calico Mine ride, which has no spooks this year and ambles along at a pleasant, take-a-load-off sort of pace). Most rides are open as normal, but each area of the park has its own spooky theme—ghost town, creepy clowns, Día de los Muertos, etc—with a few mazes, scare zones, and/or Skeleton Key Rooms. Here's how these attractions break down:
Mazes
There are eight of these, all of which can be visited as often as you care to stand in line for them. The scaring is a combination of things that look creepy, things that sound creepy, and creepy people jumping out to startle on a regular basis. Each has a different theme; our kids especially loved Special Ops: Infected, which is pretty much Walking Dead laser tag.

Scare Zones
These are the open areas between the different sections of the park. People in themed spooky costumes (clowns, anyone?) lurk, leap, and lunge through the darkness. A few of the zones employ such heavy use of fog machines that it's impossible to see more than a foot in front of your own face—which our kids loved. In fact, the scare zones were everyone's favorite part of the night. Performers would appear out of the mist and chase the kids, who ran gleefully screaming until they reached a building (a shop or restaurant) where the spooks were not allowed to follow. From there our little monsters would stand and taunt the bigger monsters before jumping back in for another round.

Skeleton Key Rooms
These four experiences host only about half a dozen people at a time in a single reoom. Each one has a different eery theme that plays like a ghost story vignette. These rooms are only accessible with a Fright Pass (front-of-line pass), which is meant to keep the lines short. In fact, because the experiences are so intimate, the lines for them ended up being some of the longest we encountered, but there was so much else going on that we didn't mind that we only managed to hit two of the four. The two we hit were good fun (think ghosts and Ouija boards).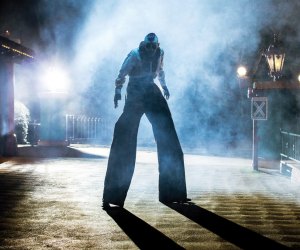 Get ready to run!
We saw plenty of families with tweens enjoying the haunt, and—creepy clowns and demonic dentists notwithstanding—the experience offers a great opportunity for a family that enjoys things spooky to have some Halloween fun together in a fairly safe environment. We stayed until nearly midnight and at no point did the park lose its family-friendly vibe. I heartily encourage Fright Lane passes, though, since waiting in those enormous lines would very quickly kill the buzz for most kids. Just the 20 minute wait for the Skeleton Rooms was too much for our hyped up crew to bear; thank goodness there was never much wait for the mazes at the Fright Lane door.
Arriving early helps, too. Although there is a fairly crazed crush when the doors open at 7pm, we were able to shake loose and make it through five mazes in the first hour.
One other add-on worth considering is the Boo-fet dinner beforehand. We didn't do this, but I've heard from others that the food is good, and the dinner deal allows for early access to the park. The mazes don't open until 7pm, but the scare zones warm up early, allowing kids to get up from the table and launch straight into the creepy action. Avoiding that rush on the gate at 7pm sounds appealing as well.
Photos courtesy of Knott's unless otherwise noted
Places featured in this article:
Sign up for the Mommy Poppins Newsletter today!