Best Outdoor Ice Skating Rinks in Los Angeles for Kids and Families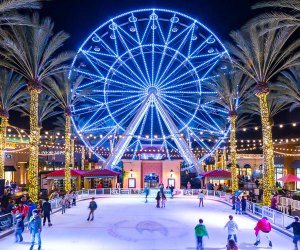 11/3/23
- By
Roberta B
Outdoor ice skating rinks in sunny Los Angeles? Oh, I happen to know about a few! One thing Angelenos love doing during the winter months is pretending that it's winter, and the most fun way to do it is by turning parking lots and other open spaces into outdoor ice skating rinks for the holidays.
Whether your family is trying ice skating for the first time or you've got budding figure skaters and hockey players looking for a change of scenery, nothing says Southern California quite like the sight of kids and families in tank tops and mittens figure skating in the sunshine. From Downtown Los Angeles to the beaches of Santa Monica, keep reading below for where to find the best cool-yet-sunny ice skating rinks in Los Angeles and Orange County.
For more holiday fun, from Polar Express train rides to nutcracker performances in LA, check out our Guide to Holiday and Christmas Events for Los Angeles Families.
Be sure to bring along a change of clothes! Southland ice rinks on a sunny day have more in common with a Slip 'n' Slide than with a frozen mountain lake, and falling with a splash is only funny when you know dry clothes are waiting.
Best Outdoor Ice Skating Rinks in Los Angeles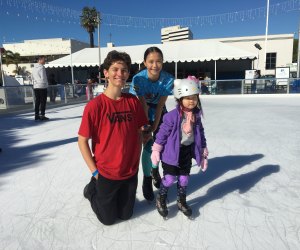 Kids of all sizes love Ice at Santa Monica. Photo by the author
November 1, 2023 - January 15, 2024
Admission & skate rental: $22
The seasonal ice skating rink by the sea, ICE at Santa Monica, is a local favorite. It even has a 400-square-foot rink just for tots. The rink has been a regular part of the beach city's winter scene for over a decade, set up for the holiday season in a parking lot on the corner of 5th and Arizona steps from Third Street Promenade. Skate rentals come with the price of admission. Lockers and other skating accessories are available for additional costs.
Pizza and hot chocolate can be purchased at ICE. Fire pits and s'mores are available to book in advance. Skating lessons will be offered on Sunday mornings, and ICE is available for private parties. The annual Grand Opening Celebration features free skating and a community celebration. ICE will also be holding many special events this year that range from Ugly Sweater Night to Taylor's Birthday. Tickets can be purchased online.
RELATED: Snow Play Near Los Angeles: Places LA Families Can Pretend It's Winter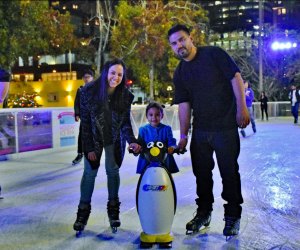 Skate in Pershing Square. Photo courtesy of Red Apple Photography
November 16, 2023 - January 7, 2024
Admission & skate rental: $20
The Pershing Rink is back! The annual outdoor holiday ice skating rink has been an LA institution for more than 20 years and is the city's largest outdoor rink at 7,200 square feet. Families glide under the sun and stars, enjoying free concerts on many days. Tickets must be purchased in advance online. Lockers are also available for an additional cost. Look for special events like learning to curl, and a winter festival.
RELATED: Polar Express Train Rides and Christmas Trains in Los Angeles

LA Kings Holiday Ice Rink offers great holiday photo ops with that giant, sparkling tree in the middle. Photo courtesy of LA LIVE
November 24 - December 31, 2023
Admission & skate rental: $20-25
LA Live offers one of LA's best seasonal ice rinks, adorned by a giant, family photo-worthy Christmas tree in the center. The ice quality is solid, the setting is festive and fun, and all of the entertainment of the LA Live complex is right there. Note that although the address is listed as Olympic Blvd., the rink faces Chick Hearn; the closest parking is Lot W, entrance B, on Chick Hearn (price varies depending upon arena events).
Opening dates have not been announced yet for 2023
Admission & skate rental: TBD
Rancho Palos Verdes brings its popular synthetic outdoor ice skating rink back to the Civic Center. Synthetic ice is a bit slower than the cold kind and might take a little getting used to, but there's no getting soaked if you fall!
November 3, 2023 - January 7, 2024
Admission & skate rental: $14-16
A synthetic outdoor ice skating rink is making its debut in Torrance for the first time. Admission includes skate rentals and a 60-minute skating session. Food like cookies, popcorn, and nachos will be available for purchase. Expect a winter wonderland in historic downtown Torrance. Free street parking is available.
November 10, 2023 - January 7, 2024
Museum admission + an additional $5 fee
When you think of outdoor ice skating rinks, you probably think of skates that glide across those frosty surfaces. As part of the annual Winter Frolic at Kidspace, kids can opt for something different while still getting their outdoor skating fix—a no-ice Sock Skating Rink. No skates are needed for this one! Yet, it still provides outdoor winter holiday fun. Plus, there are tons more winter activities for children at Kidspace. The Sock Skating Rink is an additional $5 fee after museum admission.
RELATED: Best Holiday Activities and Christmas Events in Los Angeles for Kids

Ice skating in the SoCal sunshine is a hoot! Photo by Mommy Poppins
Awesome Outdoor Ice Skating Rinks in Orange County
November 3, 2023 - January 7, 2024
Admission & skate rental: $19-25
The Spectrum's seasonal ice rink is open for business in Giant Wheel Court, welcoming OC families who want to glide across the ice in the SoCal sunshine and give new meaning to Orange Slushy. Check the rink's website for specific seasonal times and closures, as times vary on some days; admission is for one session between ice cleanings. Parties are available, and season passes (no black-out dates) cost $199. "Jump the line" tickets are also available.
December 14, 2023 - January 2, 2024
Admission & skate rental: $35
Paséa's outdoor Oceanfront Ice Rink is right by the sea, offering unbeatable ocean views at a rink with real ice. Skating is in 90-minute sessions, and optional upgrades include fire pits and cabanas, where guests can enjoy s'mores, spiked cider, cocoa, and champagne. Special themed nights include Santa Claus visits on Wednesday nights and special music nights. Skating should be booked in advance. Party options are also available.
RELATED: Snow Play near Los Angeles: Places LA Families Can Pretend It's Winter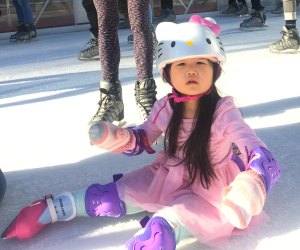 On a hot day, sitting on the ice can even feel good! Photo by the author
Opening dates have not been announced yet for 2023
Admission & skate rental: TBD
Huntington Beach has not just one but two seasonal ice skating rinks! Beach skaters can enjoy this rink by the Huntington Beach Pier, open rain or shine throughout the holiday season.
Originally published in 2011