Where to Find Snow near Los Angeles: 15 Places LA Families Can Drive to Pretend It's Winter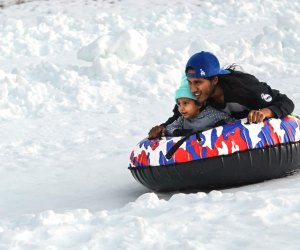 When most of the country is covered in snow, LA is typically enjoying mild temperatures with highs in the 70s. This is great for those of us who love the warm weather, but if you or your little snow angels are longing to chill out and find snow in Los Angeles for sledding, snow tubing, and more, all it takes is a drive to higher elevations and the whole family can experience the thrill of winter sports, explore alpine landscapes, and take in the magic of winter for the day.
So, where can you find snow near Los Angeles? Even though it very rarely even gets frosty in the city, there are plenty of places where families can ski, sled, or snow tube all day, and still be home for bedtime. (And a few more that are farther afield!) Visit our Winter Activities Guide for Los Angeles Families for the scoop on everywhere you can play in LA this winter.
The list includes everything from ski resorts to state parks where kids can play in the snow. Many of the resorts and parks can make their own snow when winter is warm, but off-the-beaten-path spots don't produce snow, so keep an eye on the weather—and be sure to check that if there is snow, the roads are open.
Note that while not all destinations below require chains, it's a good idea to have a set in the trunk before heading off in search of snow; if the snow you're looking for starts falling while you're driving on a mountain road, both you and your tires can be taken off guard. No worries if you've never put chains on before; gas stations in all of the regions listed are used to helping their fair-weather visitors (though usually for a fee).
Find Snow Near Los Angeles
1. Mount Baldy
Elevation: 4,193 ft.
Snowfall Months: December through April; tire chains are required if there's snow.
Driving Time from LA: 60-90 minutes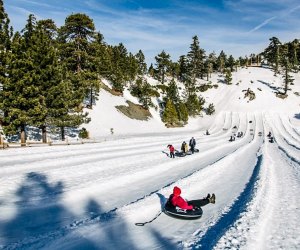 The long run at Mount Baldy is the closest snow tubing you'll find near LA. Photo courtesy of Mount Baldy Resort
Visible from most parts of LA, the snow-capped Mount Baldy is our closest spot for a fun snow day. The mountain offers a day's skiing or ski lessons for all levels of skiers (access to the Learning Center is free with ski or snowboard rentals), as well as a great place to go sledding.
But you don't have to be a skier to enjoy the wintry ambiance. A scenic chairlift ferries visitors to the Top of the Notch Restaurant, where a family can still enjoy a hearty meal before building a snowman or letting kids ride inner tubes down the nearby Tubing Park's snow channels.
Winter 2021-2022 update: Tickets must be purchased online in advance this year if you plan to go snow tubing!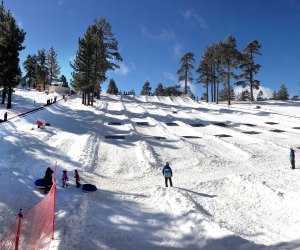 North Pole Tubing Park offers a nearby afternoon of snow play. Photo courtesy of Mountain High
2. Wrightwood
Elevation: up to 6,600 ft.
Snowfall Months: December through April; tire chains are rarely required.
Driving Time from LA: 1 hour 30 minutes
One of the oldest ski resorts in the country, Mountain High in Wrightwood is also the most visited in Southern California, thanks to its accessibility. Mountain High is comprised of three resorts with plenty of diverse terrain and trails. The West Resort is home to the Children's Academy, where kids as young as one can learn how to ski with a virtual snow simulator. The North Resort's North Pole Tubing Park, California's largest with 10 tubing lanes and two moving carpets, is great fun for the whole family.
Winter 2021-2022 update: Mountain High requires adherence to safety guidelines as well as the advance purchase of all tickets.
If all you want is to throw some snowballs and feel a nip on your cheeks, make the easy drive to the town of Wrightwood after a fresh snowfall; you can pull off the road to tumble in snow wherever it looks good, then indulge in comfort food at the cozy Grizzly Cafe (our favorite food spot in town, which is still serving) before heading back home to the beach.
3. Running Springs
Elevation: up to 7,841 ft.
Snowfall Months: November through April; tire chains are required in snow.
Driving Time from LA: 1 hour 30 minutes
Nestled in the San Bernardino Mountains, closer to Los Angeles than Lake Arrowhead or Big Bear, is Running Springs. In this little mountain town, families can choose between a ski day at Snow Valley Mountain Resort and spending the day at Southern California's largest and oldest tubing park, Snowdrift. The proximity to the city makes this a great day-trip destination!
Snow Valley is open (at reduced capacity) and offers lessons for kids ages 7-12 for either a half or a full day. (Private lessons are available for kids 4 and up.) Snowdrift will be open for the 2021 season soon, 7 days a week. Check the websites for more information on how each location is handling Covid safety protocols.
4. SkyPark at Santa's Village
Elevation: 5,741 ft.
Snowfall Months: November through March; tire chains are required.
Driving Time from LA: 1 hour 30 minutes
During the holidays (and through January), SkyPark is transformed into a North Pole-themed park with Santa and Mrs. Claus themselves in attendance. But once Santa's Village wraps up and its illustrious residents move back to the North Pole, this adventure playground goes back to business as usual—aka Winter Wonderland. Located a short distance from Lake Arrowhead, SkyPark offers many activities, including ice skating, snow-shoeing, and snow play, as well as bike trails and more.
Winter 2021-2022 update: All attractions have limited capacity and are set up for social distancing. Check the website to see what will be open when you plan to visit. The park is open daily, and the main restaurant, St. Nick's Patio and Grill is open for outdoor dining (around the cozy fire pits), serving Santa's favorite burgers. Everyone over the age of 2 is required to wear face coverings at all times, except when seated for dining or exercising.

See snow by the lake. Photo courtesy of Lake Arrowhead Resort and Spa
5. Lake Arrowhead
Elevation: 5,174 ft.
Snowfall Months: November through March; tire chains are required.
Driving Time from LA: 1 hour 30 minutes
Driving up to Lake Arrowhead can be an experience if it happens to snow on your way up the mountain (bring tire chains, as they're required if snow starts to fall), or if you have little ones prone to getting carsick. In addition to skiing and tubing options, there are also opportunities to go snowshoeing, cross-country skiing, or snowmobiling not to mention the must-try Belgian Waffle Works.
If you're not planning on snow sports, but you're still jonesing for a scenic adventure, hop on The Arrowhead Queen's enclosed paddlewheel boat for a tour to see the winter scenery from the water. It still runs daily in the winter!
RELATED: Skiing for Families and Ski Schools near LA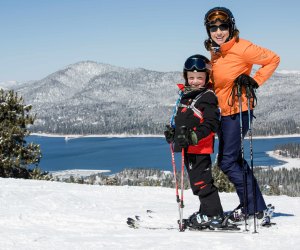 Can this really be two hours from the Sepulveda Pass? Photo courtesy of Big Bear Mountain Resort
6. Big Bear
Elevation: 6,752 ft.
Snowfall Months: November through March; tire chains are required in snow.
Driving Time from LA: 2 hours
This renowned resort town doesn't need any introductions; in fact, it's so popular that, in order to avoid disappointments, you need to plan everything in advance—from booking your chalet or hotel room to your ski pass and ski equipment rentals. If skiing isn't your thing, though, don't worry; there's plenty else to do. Alpine Slide at Magic Mountain is home to a bobsled run with high-banked turns, and Big Bear Snow Play is an inner tubing park complete with a moving carpet lit at night (yes, you can shred in the dark!).
Winter 2021-2022 update: Big Bear Mountain, Snow Summit, Alpine Slide, and Big Bear Snow Play are all open for the season with some capacity limitations. Check the websites for the latest updates (and to purchase tickets in advance for the ski resorts) before you go. Please also check local hotels and Airbnbs for current policies, if planning on spending the night.

Everyone loves a snow day! Photo courtesy of Big Bear Mountain Resort
Elevation: 8,300 ft.
Snowfall Months: November through April; must carry tire chains.
Driving Time from LA: 2 hours
While more of a DIY experience than a formal resort, this is a low-key (and free) way to get your kids into the snow. Exit the I-5 freeway on Frazier Mountain Park Road, head toward Frazier Park, and you'll find yourself in a valley flanked by mountain peaks. Cuddy Valley Road goes through the village of Frazier Park and continues all the way to Mount Pinos. If your kids can be patient and you can drive further up from Frazier Park, the road ends in a large parking lot and a great sledding area. However, remember there is no water here and only a vault bathroom, so be prepared to make a hasty exit when the kids start complaining.
Elevation: 4,600 ft.
Snowfall Months: Check for recent snowfalls.
Driving Time from LA: 2 hours
Because the elevation is just 4,600 feet, Cuddy Valley only gets snow if there's been a recent snowfall, so definitely check weather reports before heading up. If the snow isn't satisfactory, put chains on your tires and drive up to Mt. Pinos Campground (above), where you're bound to see plenty of white stuff.
RELATED: Sledding and Tubing for Families near LA

Yes, it snows in the desert, and it looks unworldly! Joshua Tree, photo courtesy of the National Park Service
Find Unexpected Snow—in the Desert!
9. Joshua Tree National Park
Elevation: 2,736 ft.
Snowfall Months: December through February
Driving Time from LA: 2 hours 15 minutes
During winter, it's not unusual for Joshua Tree to be dusted in snow, and while this might not be thick enough to make snow angels, it's still worth seeing. All trails are highly Instagrammable, but the Skull Rock and Cholla Cactus Garden are definitely going to wow your kids. Pioneertown, a perfectly preserved 1940s Western movie studio just 16 miles south of Joshua Tree, doesn't currently have any of the live shows or mock gunfights to see. But you can stroll down Mane Street (not a typo!) and order some delicious barbecue or veggie chili to go at the legendary saloon Pappy and Harriet's Pioneertown Palace.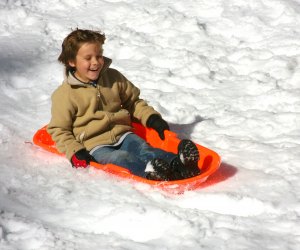 There's sledding in the desert at the Palm Springs Aerial Tramway. Photo by Jeremy Miles/CC BY 2.0
10. Palm Springs Aerial Tramway
Elevation: 8,516 ft.
Snowfall Months: October through May
Driving Time from LA: 2 hours
Above the glamorous desert town of Palm Springs, there's a mountain with breathtaking views and beautiful hiking trails: Mount San Jacinto. The fastest way to get there is by taking a 10-minute ride with the Palm Springs Aerial Tramway's rotating car. As you ascend the mountain, temperatures drop about 30 degrees, and snow is everywhere for never-ending snowball fights. If your family loves some action, you can try cross-country skiing, snowshoeing, and even snow camping. Peak Restaurant, at the top of the tramway station, offers locally-sourced food, a kids' menu, and a curated wine list. Pines Café and Lookout Lodge, also near the tram station, are great for an après-snow bite or drink.
Winter 2021-2022 update: Tickets must be purchased in-person at the Tramway upon arrival. Face coverings are required (regardless of vaccination status) at both Valley and Mountain Stations, and while riding in tram cars (gaiters and masks with vents are not allowed). Pines Cafe has grab-and-go food and drinks; Peaks Restaurant is only open for lunch; The Lookout Lounge and Cascade Cafe are open.
11. Idyllwild
Elevation: 5,413 ft.
Snowfall Months: November through April
Driving Time from LA.: 2 hours

Ok, Idyllwild definitely doesn't feel like the desert. Nestled in the San Jacinto Mountains, Idyllwild is a quaint mountain village bursting with art galleries, cozy cafés, and artisanal shops. More pine tree than palm tree, and Hot Toddy by the fire than Daiquiri by the pool. But since it happens to share the very same mountain as the Palm Springs Tram, it's definitely desert-adjacent.
The wonderful Idyllwild Nature Center, located within an ancient Cahuilla Indian village, which provides insight into this culture and educational activities and crafts for children, is open again, Thursday-Sunday from 9am-4pm. Most open spaces and trailheads are open for day use. Snow is around for much of the winter (we usually start seeing it about halfway up the mountain), and the sledding is best in Humber Park (a $5 Adventure Day Pass is required to park here). Kids can get their energy back with a pizza to go from local favorite Idyllwild Pizza Co before the drive home.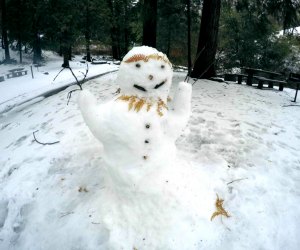 Make a snowman made at Palomar Mountain State Park.
There's Snow in Southern California in San Diego County, Too!
Elevation: 5,000 ft.
Snowfall Months: November through February; snow chains may be required
Driving Time from LA: 3 hours
We love Palomar for camping in summer (with a side visit to the Palomar Observatory to see the Hale Telescope), but the altitude means that there is snow here in the winter, as early as November. Hiking trails are still open for a snowy hike, but many people simply park in a turnout on South Grade Road (or East Grade Road, both are off Highway 76) for a side-of-the-road snow adventure. Bring your own sleds and saucers for old-school fun.
Elevation: 6,512 ft.
Snowfall Months: January through March
Driving Time from LA: 2 hours
About 15 minutes south of Julian (yes, the autumn apple picking spot—more on that in a minute!) is Cuyamaca State Park. The camping grounds and picnic areas are open again after being closed for 2020-2021. Hiking trails and day-use areas remain open. A day pass ($10) is required to enter the park, or you can park in turnouts alongside Highway 79 for free.
We mentioned Julian, which is a perfect place to recharge after a few hours of freezing fun. Stop for dinner at one of the area's many restaurants, or just get some of the famous Julian pie and a hot chocolate (or coffee for parents) to go and make the ride home almost as much fun as the snowy day. Apple Alley Bakery and Julian Pie Company (Julian Pie Company is selling whole pies only for winter of 2020-21) are local favorites.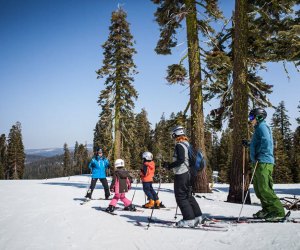 Try cross country skiing at Yosemite. Photo courtesy of travelyosemite.com
Find Snow in California Further North
Elevation: 4,000 ft.
Snowfall Months: November through March. Must carry tire chains
Driving Time from LA.: 4 hours 30 minutes
With many of the roads closed and campsites and trails covered in snow, Yosemite becomes a tranquil place of beauty in winter. Gone are the big crowds, and there are endless opportunities for skiing, snowshoeing, skating, and snowball fights. Your kids will long remember Yosemite for the walks with no sound but crunching snow, and sparkling white as far as the eye can see.
Elevation: 7,953 ft.
Snowfall Months: November through June. Must carry tire chains
Driving Time from LA: 5 hours
Boasting the highest summit elevation in California, Mammoth Mountain is blessed with abundant snowfall and a ski season that sometimes lasts well into the summer. The resort offers all the amenities one could dream of, including ski lifts, scenic gondola rides, snowmobiles and snowcat tours, and even dog sled rides. There's a high-speed tube park with a large snow play area that kids adore. A weekend in Mammoth is a true trip to a winter wonderland.
Winter 2021-2022 update: There are no capacity restrictions, reservation requirements, or limits on lift ticket sales this year at Mammoth. It's still encouraged to purchase lift tickets in advance, though walk-ups are accepted. Masks are required indoors for all guests, regardless of vaccination status. Check the website for the current COVID policy. Proof of vaccination is not required for entry.
Originally published January 12, 2018