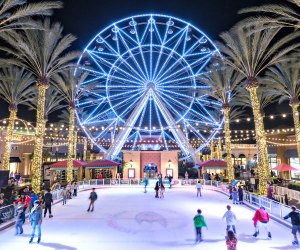 Best Outdoor Ice Skating Rinks in LA, from Downtown to the Valleys to the Beach
Sadly, none of the annual outdoor ice rinks below currently have plans to open for the 2021/22 season. Here's hoping we can finally have them back in fall 2022!
One thing Angelenos love doing during the winter months is pretending that it's winter, and the most fun way we do it is by turning parking lots and other open spaces into outdoor skating rinks for the holidays. Whether your family is trying ice skating for the first time, or you've got budding athletes looking for a change of scenery from indoor skating lessons, nothing says Southern California quite like the sight of kids and families in tank tops and mittens figure skating in the sunshine.
Our best Mom Tip? Be sure to bring along a change of clothes; Southland ice rinks on a sunny day have more in common with a Slip 'n' Slide than with a frozen mountain lake, and falling with a splash is only funny when you know there are dry clothes waiting.
These are the rinks that generally come back year after year, and most offer skating lessons and birthday parties, too.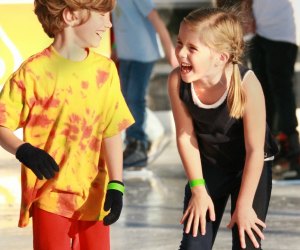 There is nothing quite like skating in the balmy sunshine, steps from Santa Monica Beach.
1324 Fifth Street
Santa Monica, CA 90401
310.496.9880 or 310.260.1199
November 1, 2019–January 20, 2020
Mon-Thu: 2pm-10pm (during school break 10am-10pm)
Fri: 2pm–Midnight (during school break 10am-Midnight)
Sat: 10am–Midnight
Sun: 10am-10pm
Admission & Skate rental $15
Locker Rental $10 (w/ $5 refund upon key return)
The rink is closed for mechanical issues November 3-9, 2019.
The seasonal ice skating rink by the sea, ICE at Santa Monica, has become a regular part of the beach city's scene, setting up in a parking lot on the corner of 5th and Arizona just steps from Third Street Promenade. Skate rentals are included with the price of admission, and hot dogs, cocoa, and other treats are available rinkside. The annual Grand Opening Celebration generally features free skating and a show by elite skaters. Group and private skating lessons are offered through the Randy Gardner School of Skating, and an event tent is available for birthday parties. New this year, each Sunday from November 19-January 20, enjoy free musical performances that will have the whole family moving and grooving on the ice.
10250 Santa Monica Blvd.
Los Angeles, CA 90067
310.277.3898
November 29, 2019 - January 5, 2020
12pm until mall closing daily
Weekdays $18, weekends $20
Westfield Century City hosts a synthetic ice rink this season—an elevated 600-foot loop on Level 2 of the mall, overlooking the Atrium. Skating is in one-hour sessions, and booking ahead is advised (though walk-ups are allowed as available). Check-in is at the Skate Chalet on Level 2 near Adidas, 15 minutes before ticketed time. Note that personal skates are not allowed on this rink; skaters must use the rental skates that are provided with admission (skate sizes run from 9Y to adult 13). Use of a storage cubby is also included. Minimum height for skaters is 26".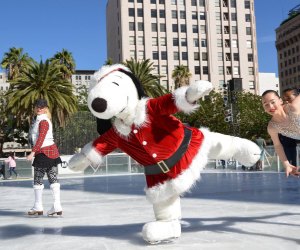 Even Snoopy loves skating in Pershing Square. Photo courtesy of Downtown on Ice
Pershing Square
532 South Olive Street
LA 90013
213.847.4970
November 14, 2019—January 20, 2020
Mon-Fri 11:30am-9:30pm
Sat 10am-11am
Sun 10am-9:30pm
Christmas & New Year 1pm-9:30pm
(Times above subject to change)
Other special holiday and vacation hours are on the website.
Admission $9 per one-hour session; Skate rental $5

The annual Downtown on Ice outdoor holiday skating rink has been an LA institution for 22 years. Families glide under sun and stars, enjoying free concerts on many days (see schedule). The grand opening event is November 14th with the cast of Frozen from Disney on Ice. Every Tuesday is Frozen night, when the lights on the rink will glow blue and every third song is from the Frozen soundtrack. Other events at the ice rink include youth programs with shows for kids on Saturdays, and an annual skate date for Snoopy (accompanied some years by world champion pair skater Tai Babilonia).
Extended skating hours apply during school vacation time. Underground parking is available. Parties are an option here, too.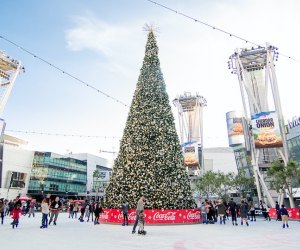 LA Kings Holiday Ice Rink offers great holiday photo ops with that giant, sparkling tree in the middle. Photo courtesy of L.A. LIVE
800 W. Olympic Blvd.
Los Angeles, CA 90015
877.234.8425
November 30, 2019-January 12, 2020
(877) 234-8425
Prices start at $15 per session
Downtown's other seasonal ice rink has grown up to become real competition for the Pershing Square rink. Once tiny and brief - more to look at than partake in - the rink at LA Live is now one of the largest in LA, adorned by a giant, family photo-worthy Christmas tree in the center. The ice quality is surprisingly good, and the setting is festive and fun.
Note that although the address is listed as Olympic Blvd., the rink faces onto Chick Hearn; closest parking is Lot W, entrance B, on Chick Hearn (price varies from $10-$20 depending upon Staples/Nokia Plaza events). Some of the restaurants at LA Live offer Supper and Skate specials. There are 3 sessions per day from 5pm to midnight and after December 16, opening at 4pm.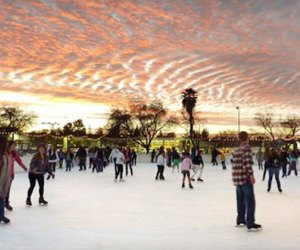 Photo courtesy of Woodland Hills Ice (now Holiday Ice Westfield Topanga)
6600 Topanga Canyon Blvd.
Canoga Park, CA 91303
818.296.5887
November 15-January 12, 2020
(818) 296-5887
Prices start at $14 per session
Woodland Hills Ice was taken over by the LA Kings, as one of their Holiday Ice projects. Visitors to the Westfield shopping center can take a break from holiday shopping and experience the wonder of skating in the San Fernando Valley.
RELATED: Best Christmas Lights and Awesomely Decorated Homes around LA​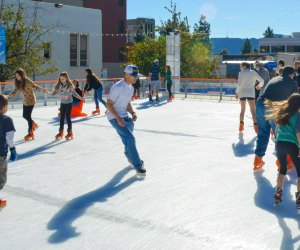 Photo courtesy of The Rink in Downtown Burbank
150 N. 3rd St.
Burbank, CA 91502
818.806.8551
December 12, 2019 - January 5, 2020
Sun-Thu 10am-10pm, Fri-Sat 10am-11:30pm
$10; Skate rental $6

Downtown Burbank brings back its outdoor skating rink, adjacent to City Hall at Third Street and Orange Grove. The 4,100 square foot rink accommodates up to 165 skaters per session and promises themed entertainment, twinkling lights, and joyful music. Little ones can rent skating seals to lean on ($8), which are also great for holiday snaps! Skating classes hosted by Pickwick Ice are offered Saturday mornings as well as a Learn to Curl class by Hollywood Curling. Free parking is available at structures throughout Downtown Burbank.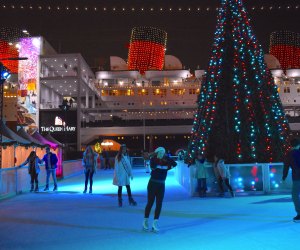 A Christmas tree AND a cruise ship? Queen Mary's rink has it all! Photo by Mommy Poppins
1126 Queens Highway
Long Beach, CA 90802
877.342.0742
November 29, 2019 - January 1, 2020
Times vary
Price including Queen Mary Christmas and ice skating starts at $44

Queen Mary Christmas opens its North Pole Village for the season, with ice skating at the True North rink circling a 26-foot Christmas tree. Skating is in 45-minute sessions, as a $15 add-on to general admission to the full Queen Mary Christmas experience. Skate rental is included. Kid-sized penguins are available for new skaters to lean on. Official Queen Mary parking costs $20, so it's definitely worth looking for other parking options or public transport.
Outdoor Ice Rinks in Orange County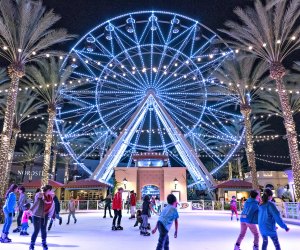 Irvine Spectrum Center. Photo by Allen Ling
71 Fortune Drive
Irvine, CA 92618
949.748.8280
November 1, 2019–January 1, 2020
Monday-Sundays 3pm-11pm (with 30 minute break at 5:30pm and 8:30pm)
Adults & Children $20 (including skate rental), or $18 (bring your own skates); Toddlers $16 (includes skate rental; see website for sizes); Helmets $5
The Spectrum's seasonal ice rink is open for business in Giant Wheel Court, welcoming OC families who want to glide across the ice in the SoCal sunshine and give new meaning to Orange Slushy. Check the rink's website for specific seasonal times and closures; admission is for one session, between ice cleanings. Parties are available, and season passes (no black-out dates) cost $199; for more information call the rink box office at 714-462-7027.
2200 E. Thousand Oaks Blvd.
Thousand Oaks, CA 91362
805.497.9861
November 7, 2019 - February 2, 2020
Mon-Thu 3pm-9pm, Fri 3pm-10pm, Sat 10am-11pm, Sun 10am-9pm (check website for holiday hours)
Admission $20 per person (includes skate rental)

Thousand Oaks' rink sets up at The Lakes next to the Civic Arts Plaza. Ventura County families can hit the ice every 90 minutes (then, for the full winter effect, take a 30 minute cocoa break while the zamboni does its job).
Other rinks pop up around the city - sometimes for as briefly as a day - so keep an eye on our events calendar to catch all the fun!
Originally published November 6, 2011