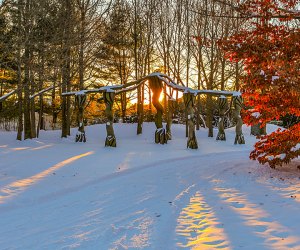 Winter Day Trips: 10 Ideas For Family Fun Near NYC
Whether you prefer spending the winter months snuggling on the couch or frolicking in the snow, there's one thing we can all agree upon: Sometimes, you just need to get out of town for a change of pace. So we pulled together a list of family-fun filled winter day trips that appeal to all sorts of interests, from budding artists to full-fledged ski bunnies. Best of all, these destinations are all two hours or less from New York City by car, and we think they're all worth the trip.
Find more inspiration in our Day Trip and Weekend Getaway Guide.

Meet some feathered friends at the Long Island Aquarium. Photo courtesy of the aquarium.
431 East Main Street
Warm yourself up with thoughts of summer as you stroll through the spacious Long Island Aquarium, which houses more than 100 exhibits with sea life ranging from the mysterious cuttlefish to sand sharks, penguins, and beyond. Aside from just gawking at the diverse sea creatures—and some of their land-living cousins—there are a ton of interactive exhibits, too. You'll almost forget it's not beach-going season. Stay the day with these tips on what else to see in Riverhead.
3 Beekman Street
Housed in a sprawling former Nabisco box factory, DIA: Beacon is an art museum and exhibition space that showcases imposing, large-scale artworks from world-renowned artists like Richard Serra and Louise Bourgeois. Though the space is cavernous, it's not ideal for running, and the staff is known to keep a close eye on young visitors, so this outing might be better suited for older kids. Reservations are currently required to visit. While you're in the area, be sure to check out the quaint main street district and explore all its family-friendly haunts.
RELATED: 100 Things to Do in New York State Before Kids Grow Up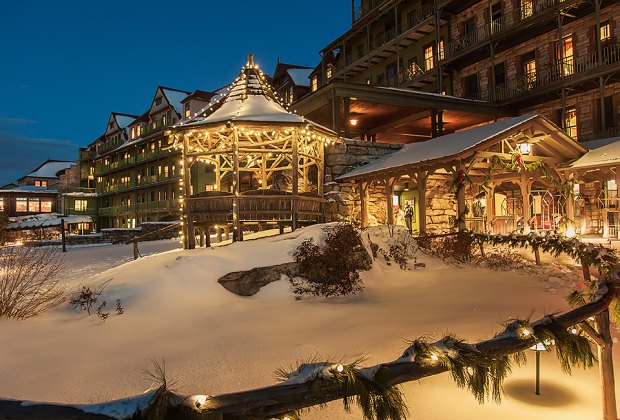 Mohonk is a great day trip for the whole family. Photo courtesy of Mohonk Mountain House
1000 Mountain Rest Road
High above the lovely upstate town of New Paltz, which is a family-friendly destination in its own right, towers a self-described "Victorian castle resort in New York," and that description's not far off. The stunningly beautiful Mohonk Mountain House offers various winter activities, like skating on the outdoor rink, cross-country skiing, and snowshoeing—no overnight stay required. Just grab a winter sports pass. Reservations are released 72 hours before the day you'd like to visit and include equipment rental fees. Temperature checks, mask wearing, and social distancing are required, and access to the spa and fitness center is not included. A separate, more budget-friendly trails pass is available if you want to bring your own equipment.
Hit the Trails – Multiple Locations
We may associate hiking with the warm summer months and cool, crisp fall days, but it's actually a great all-seasons outing. We've got picks for great family-friendly trails in upstate New York's state parks; hiking trails and beach walks all across Long Island; and state parks, forests, reservations, and kid-tested trails in the Garden State.
RELATED: Sleep in a Lighthouse and More Hudson Valley Resorts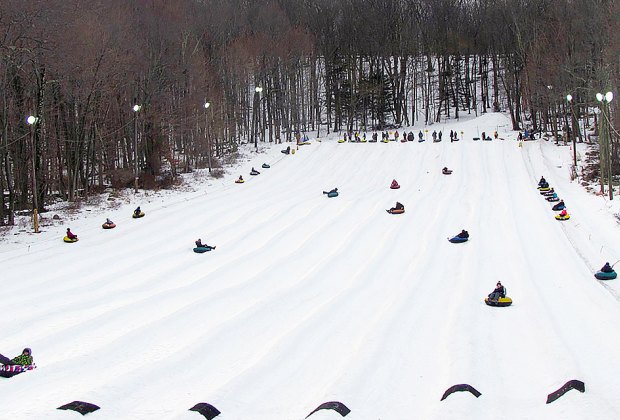 Snow tubing at Campgaw will make your kids pray for snow. Photo courtesy of Campgaw Mountain
The best part of snow tubing is that, unlike skiing and other winter sports, snow tubing requires little skill or gear, making it a great family experience. Plus, it's easy to find a spot relatively close to home for an easy day trip. Check out our snow tubing roundup for suggestions, including Campgaw Mountain, which is just 45 minutes by car from Midtown, and Mount Peter (an hour and a half from Midtown).
123 Route 94
Mountain Creek is one of our all-time favorite local ski spots for its all-around experience. With 46 runs and the area's largest terrain park, plus on-site tubing, there's something for everyone. If you're a beginner, Mountain Creek's ski school has you covered, too. Make a weekend of it by staying at the on-site accommodations if a day on the slopes leaves you too tired for the drive back to the city.
RELATED: Northeast Ski Mountains For Families Opening This Season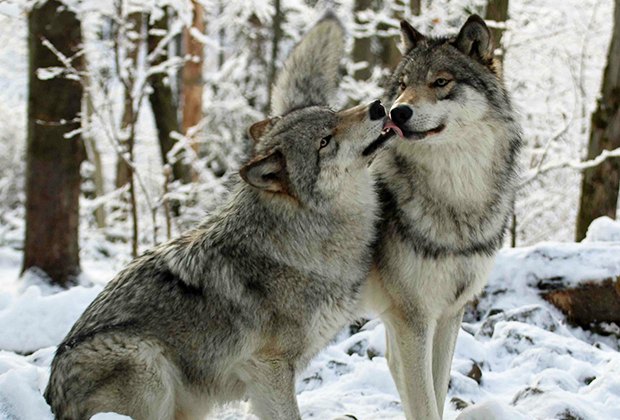 Two beautiful wolves nuzzle in the snow. Photo by James Stein Photography for the preserve
Meet the Wolves – New Jersey and New York
Go on a Wolf Watch Tour at the Lakota Wolf Preserve in Columbia, New Jersey, or the Wolf Conservation Center in South Salem, New York. The wolves are in a natural environment, but tour-goers get to watch them play, interact, and possibly howl from a protected, fenced-in area. Four packs of wolves, along with foxes and bobcats, live at the NJ preserve, and reservations are required. The New York location is a touch closer at 75 minutes from Midtown, but its programming is currently more limited. Bookmark the calendar for upcoming events.
We rounded up our favorite outdoor art day trip destinations in the fall, telling you about 11 spots where you could see stunning outdoor sculptures. Like NYC's Socrates Sculpture Park and MoMA's Abby Aldrich Rockefeller Sculpture Garden, some of these destinations have been long-time, year-round destinations. Others, like the Grounds For Sculpture, in Hamilton, New Jersey, and the ever-popular Storm King Art Center, in New Windsor, New York, are offering expanded hours this winter to offer visitors a safe way to enjoy art amidst the pandemic, as well as the chance to see their art in a whole new season.
RELATED: 10 Inexpensive Winter Weekend Getaways for NYC-Area Families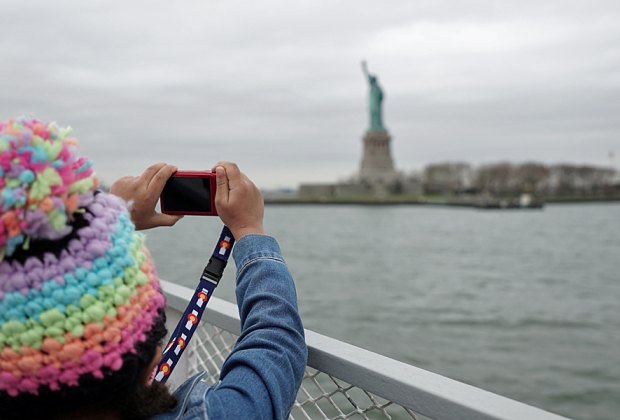 Even on a chilly, gray day, Lady Liberty is an awe-inspiring sight and worthy day trip destination. Photo by Jody Mercier
Hop Aboard a Ferry – Multiple Locations
If you're still feeling cautious when it comes to commuter trains and subway rides, then bundle up and sail away for a change of scenery. The Statue of Liberty is a lovely day trip destination accessible by ferry ride from Lower Manhattan or New Jersey. We found it mostly quiet on a recent weekend visit. NY Waterway or the Seastreak Ferry let New Yorkers and New Jerseyans swap places for a day. Might we suggest exploring New Jersey's largest children's museum and surrounding state park for city dwellers? Or how about a crowd-free day of city fun for our Jersey friends? A ride on the NYC Ferry yields several outer-borough stops for both visitors and locals to explore. Long Islanders aren't left out of the ferry fun, either: Hop a ferry from Port Jefferson to Bridgeport, Connecticut, for some New England seaside charm.
1 American Dream Way
The long-awaited mega-mall opened for business in 2019 and has steadily been adding amenities. The past year has introduced a theme park, the largest indoor water park in North America, an Angry Birds mini-golf course, and tons of retail shops, many of which are as over-the-top as the three-floor candy store. There's also an on-site ice skating rink, an indoor ski slope, and more. If you don't have a car, there are various public transportation options that will deliver you to the front doors.
A version of this article was first published in December 2016; it has been updated for 2020. Jody Mercier contributed additional reporting.