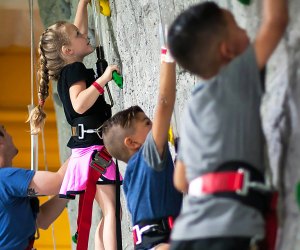 Winter Day Trips: 9 Family Fun Spots Near NYC
Whether you prefer spending the winter months snuggling on the couch or frolicking in the snow, there's one thing we can all agree upon—sometimes, you just need to get out the city for a change of pace. So we pulled together a list of family-fun day trips that appeal to all sorts of interests, from budding naturalists to full-fledged ski bunnies. Best of all, these destinations are all two hours or less from New York City by car, and we think they're all worth the trip.
For more day trip ideas, check out our Day Trip and Weekend Getaway Guide. Happy trails!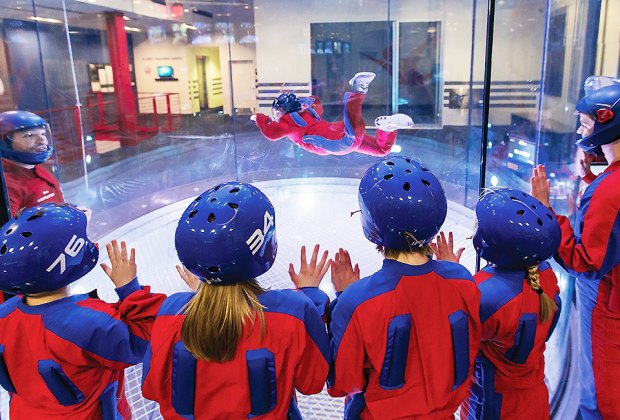 Go airborne at iFLY. Photo by courtesy of iFLY
Ridge Hill — Yonkers, New York
1 Ridge Hill Boulevard
30 minutes from Midtown by car
Indoor skydiving, anyone? Trampoline-jumping? How about a Legoland adventure? Ridge Hill in Yonkers is home to all three—and more! iFLY Westchester—the only one in the tristate area—is the perfect close-to-home outing for adventurous types. Kids as young as 3 can experience "indoor skydiving" (vertical wind tunnel). Learn basic hand signals (since the wind tunnel is too noisy for conversation), then suit up in goggles, helmets, and jumpsuits to prepare for some awesome memories. Another energy-busting adventure: Head to indoor trampoline park Rockin Jump, which offers a slew of high-flying ways to have fun from trampoline dodge ball to a slam dunk arena, and a rock climbing wall. Rockin Jump even offers tween- and teen-only time. If your little ones aren't quite ready for high-flying adventure, take refuge from icy weather at the Legoland Discovery Center. Beyond just playing with the bricks, visitors can also see Legos being made, play Kingdom Quest, build a racer and enter a competition, climb around the Lego Ninjago Adventure jungle gym, and even build a skyscraper and test it on earthquake tables.
Ridge Hill is also home to lots of great shopping and one Frannie's Goodie Shop, a wonderful fro-yo, soft serve, crepes, candy-of-all-kinds shop to satisfy any sweet tooth. Oh, you'll also find coffee and other cafe items. Weather permitting, have a quick romp in the Big Girl Playground by artist Tom Otterness (his signature style is also highlighted at Midtown West's Silver Tower's Playground and many others).
DIA: Beacon — Beacon, New York
3 Beekman Street
90 minutes from Midtown by car; accessible via Metro North to Beacon (shuttle service provided to the museum)
Housed in a sprawling former Nabisco box factory, DIA: Beacon is an art museum and exhibition space that showcases imposing, large-scale artworks from world-renowned artists like Richard Serra and Louise Bourgeois. Though the space is cavernous, it's not ideal for running and the staff is known to keep a close eye on young visitors, so this outing might be better suited for older kids.
RELATED: 100 Things to Do in New York State Before Kids Grow Up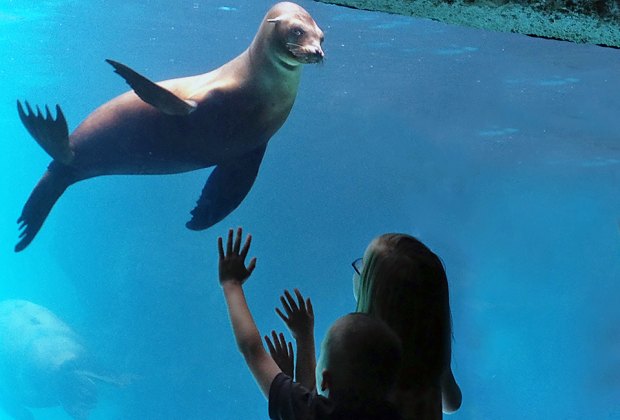 Get up close and be amazed at the sea life at the Long Island Aquarium. Photo courtesy of the aquarium
Long Island Aquarium – Riverhead, New York
431 East Main Street
1 hour, 45 minutes from Midtown by car
Warm yourself up with thoughts of summer as you stroll through the spacious Long Island Aquarium, which houses more than 100 exhibits with sea life ranging from the mysterious cuttlefish to sand sharks, penguins and beyond. Aside from just gawking at the diverse sea creatures, and some land-living cousins, there are a ton of interactive exhibits, too. You'll almost forget it's not beach-going season when you get up close with the rays in the on-site touch tank! Stay the day with these tips on what else to see in Riverhead from our Mommy Poppins Long Island team.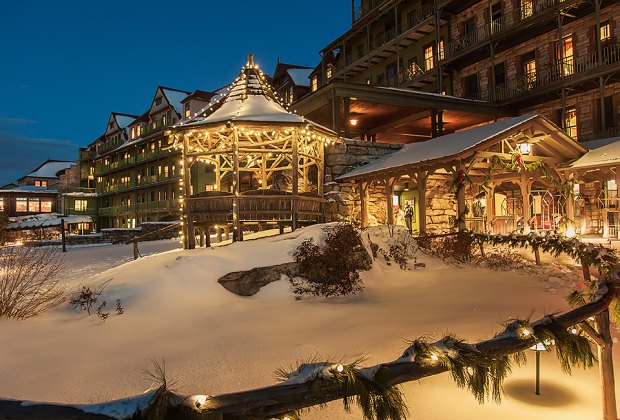 A great day trip for the whole family. Photo courtesy of Mohonk Mountain House
Mohonk Mountain House — New Paltz, New York
1000 Mountain Rest Road
1 hour, 45 minutes from Midtown by car
High above my favorite upstate town towers a self-described "Victorian castle resort in New York," and that's not far off. It's not only stunningly beautiful, Mohonk Mountain House offers a variety of winter activities, like skating on the outdoor rink, cross-country skiing and snowshoeing—no overnight stay required. Just grab a day pass. If you can manage, find time to sneak in a spa treatment. Equipment and activity costs vary and reservations are recommended for skating and meals.
RELATED: Sleep in a Lighthouse and More Hudson Valley Resorts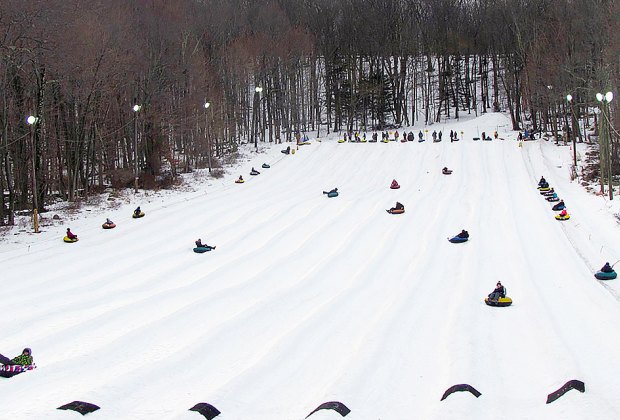 Snow tubing at Campgaw will make your kids pray for snow. Photo courtesy of Campgaw Mountain

Snow Tubing — Various Locations
2 hours from Midtown by car
As a native Floridian, for me inner tubes were synonymous with water—until I discovered snow tubing! The best part is that, unlike skiing and other winter sports, snow tubing requires little skill or gear, making it a great family experience. Plus, it's easy to find a spot relatively close to home for an easy day trip. Check out our snow tubing roundup for suggestions, including Campgaw Mountain (just 45 minutes by car from Midtown), and Mount Peter (an hour and a half from Midtown).
Skiing at Mountain Creek — Vernon, New Jersey
123 Route 94
1 hour, 30 minutes from Midtown by car
Mountain Creek is one of our all-time favorite local ski spots for its all-around experience. With 46 runs and the area's largest terrain park, plus on-site tubing, there's something for everyone. If you're a beginner, Mountain Creek's ski school has you covered, too. Make a weekend of it by staying at the on-site accommodations if a day on the slopes leaves you too tired for the drive back to the city.
No car? Try one of these car-free options to get to local slopes.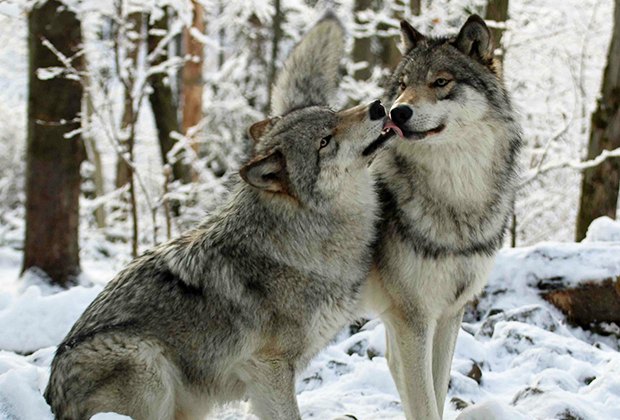 Two beautiful wolves nuzzle in the snow. Photo by James Stein Photography for the preserve.
Meet the Wolves — New Jersey and New York
Go on a Wolf Watch Tour at the Lakota Wolf Preserve in Columbia, New Jersey, or Wolf Conservation Center in South Salem, New York. The wolves are in a natural environment, but tour-goers get to watch them play, interact, and possibly howl from a protected, fenced area. Four packs of wolves, along with foxes and bobcats, live at the NJ preserve. Come prepared for a short hike in both cases. Reservations are necessary. The New York location is a touch closer at 75 minutes from Midtown, and includes regular programming like a Pack Chat for Kids, Full Moon Wolf Walk, and more. But the NJ one is set in the pretty Delaware Gap region and only 90 minutes away.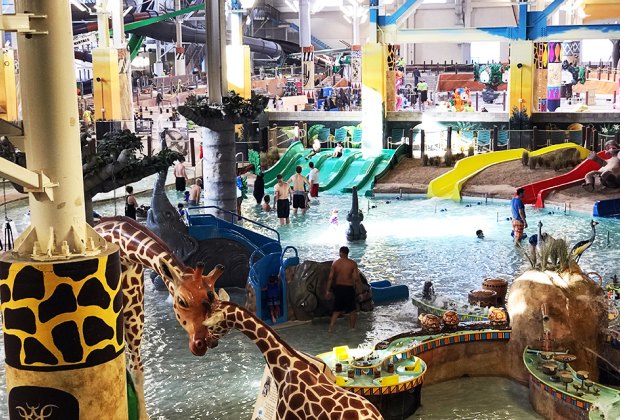 Pretend it's summer at the Kalahari Resort's indoor water park. Photo by Rose Gordon Sala
Kalahari Resort Indoor Water Park — Pocono Manor, Pennsylvania
250 Kalahari Boulevard
Just under 2 hours from Midtown by car
If you need a tropical getaway but can't spring for plane tickets, indoor water parks are the next best thing. And it just so happens that the country's largest indoor water park, the Kalahari Resorts and Convention Center's 220,000-square-foot, safari-themed water metropolis, is located within day trip distance of NYC. The Poconos resort will entertain everyone from toddlers to teens, since it features water slides, body boarding, family hot tubs, a lazy river, and thrilling rides. If that's not enough, there's also a 30,000-square-foot arcade and mini-golf course. Day passes are available, so no need to book a room, though we strongly recommend buying in advance to ensure availability.

Discover the magic of color with a day of hands-on family fun at the Crayola Experience! Photo courtesy of the Crayola Experience
Visit a Nearby Museum — Various Locations
2 hours from Midtown by car
Yes, NYC is home to world-renowned museums of all kinds; yet, there are tons of cultural institutions in surrounding cities worth checking out. We've rounded up several science and natural history museums to explore, plus other unique destinations including The Crayola Experience, Mid-Hudson Children's Museum, and the Westchester Children's Museum.
A version of this article first published in December 2016, but it has since been updated.