25 Winter Day Trips near NYC for Families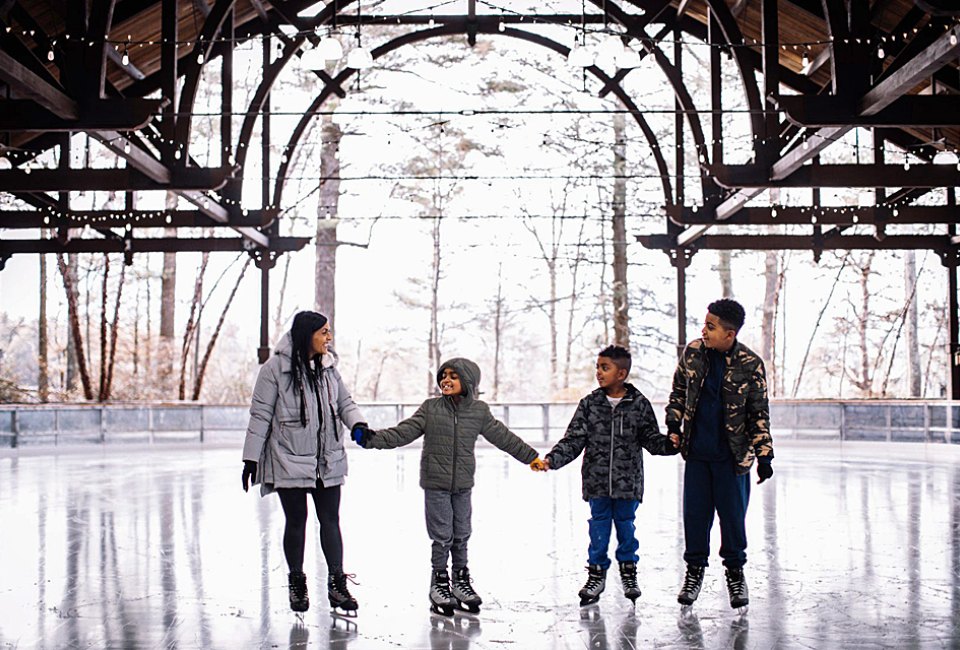 12/26/22
- By
Fiona Taylor
Whether you prefer spending the winter months snuggling on the couch or frolicking in the snow, there's one thing we can all agree upon: Sometimes, you just need to get out of town for a change of pace, and that's where this list of winter day trips from NYC comes in handy.
We pulled together a list of family-friendly, fun-filled winter day trips near NYC that appeal to all sorts of interests, from budding artists to full-fledged ski bunnies. Best of all, these destinations are all two hours or less from New York City by car, and we think they're all worth the trip.
Find more winter day trips from NYC in our Day Trip and Weekend Getaway Guide and our Guide to Winter Fun, which is filled with fun ways to embrace the season like snow tubing day trips, our favorite ski slopes, and more.
While you're there, enjoy retail therapy at the Roosevelt Field Mall, featuring more than 250 shops, glow-in-the-dark mini golf, a movie theater, and a well-stocked Lego store.
RELATED: 14 Inexpensive Winter Weekend Getaways from NYC for Families

Meet some of the "residents" of the Long Island Aquarium. Photo courtesy of the aquarium
The Long Island Aquarium houses more than 100 exhibits, with sea life ranging from mysterious cuttlefish to sand sharks, penguins, and more. Aside from just gawking at the diverse sea creatures, there are a ton of interactive exhibits, too.
A visit to Port Washington is a great idea for a winter day trip from NYC. It's close to Manhattan and a family-friendly town to explore. After skating, you can cozy up for some coal oven pizza at Salvatore's.
Winter Day Trips from NYC to the Hudson Valley
A winter trip to Bear Mountain State Park offers everything you need for the perfect outdoor winter day. The park features plenty of hiking and cross-country ski trails, plus an outdoor skating rink open from late October through mid-March.
Bear Mountain's Trailside Museums and Zoo is the perfect size for little ones and houses bears, eagles, foxes, coyotes, and beavers. See reptiles, amphibians, and fish at the Herpetology House, plus a neat geode collection at the Geology Museum. If you fancy spending the night, the Bear Mountain Inn is a great choice.
The stunningly beautiful Mohonk Mountain House offers various winter activities, including skating on an outdoor rink, cross-country skiing, and snowshoeing—no overnight stay required. Just grab a winter sports pass for a perfect day trip from NYC.
RELATED: 100 Things To Do in New York State with Kids Before They Grow Up

Large-scale art makes for an interesting day exploring Dia Beacon on a winter day trip from NYC. Photo by Diana Kim
Housed in a sprawling former Nabisco box factory, Dia Beacon is an art museum and exhibit space that showcases imposing, large-scale artworks from world-renowned artists such as Richard Serra and Louise Bourgeois. While you're in the area, be sure to check out the quaint Beacon main street district and explore all its family-friendly haunts.
With its historic buildings, fun local shops, and a variety of kid-friendly dining, Cold Spring village ticks all the boxes for a fab family outing.
If you can make a weekend out of it, Cold Spring makes a great base to explore other Hudson Valley sites, including West Point, Bear Mountain, and Rhinebeck. The Pig Hill Inn and the Hudson House Inn are cozy options for an overnight stay.
RELATED: Explore Ice Castles Across America with Kids this Winter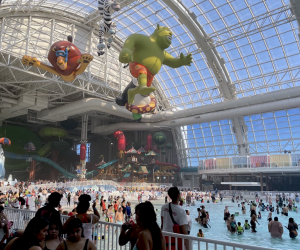 It's always sunny and warm inside the DreamWorks Water Park at American Dream Mall in New Jersey. Photo by Gina Massaro
Winter Day Trips in New Jersey for Families
Besides the theme park, American Dream Mall also boasts the largest indoor water park in North America, plus an Angry Birds mini-golf course. Other kid-friendly favorites include a SeaLIfe Aquarium and Legoland Discovery Center, and an over-the-top, three-floor candy store. There's also an on-site ice skating rink and indoor ski slope, dubbed Big Snow.
A fun and inexpensive getaway from NYC awaits your family in Princeton, New Jersey. The Princeton Playspace is an indoor romping spot, recommended for ages 0-10. You can even host parties and join classes there.
RELATED: 25 Winter Day Trips from New Jersey for Families

Mountain Creek boasts more than 40 trails and is a mere hour from NYC. Photo courtesy of the mountain
Mountain Creek is one of our favorite local ski spots for its all-around experience. With 46 runs and the area's largest terrain park, plus on-site tubing, there's something for everyone. If you're looking for more than a day trip from NYC, make a weekend of it by staying at the on-site accommodations.
Might we suggest exploring this nearby state park for city dwellers? The park has incredible views of NYC and includes ample space for walking, playgrounds, and nature gazing.
Liberty State Park is also home to the spectacular Liberty Science Center which offers destination-worthy fun at its planetarium, plus a gigantic infinity climber and tons more permanent and rotating exhibits.
RELATED: No-Car Skiing Day Trips: NYC-Area Ski Trips Without a Car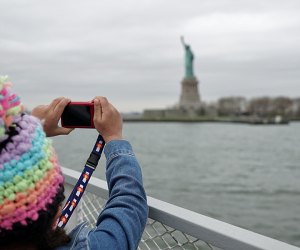 Even on a chilly, gray day, Lady Liberty is a worthy day-trip destination. Photo by Jody Mercier
More Family-Friendly Winter Day Trips from NYC
16. Hop Aboard a Ferry – Multiple locations
The Statue of Liberty is a lovely day trip from NYC and is accessible by ferry ride from lower Manhattan or New Jersey. The NY Waterway and Seastreak ferries let New Yorkers and New Jerseyans swap places for a day. A ride on the NYC Ferry yields several outer-borough stops for visitors and locals to explore. Hop a ferry from Port Jefferson to Bridgeport, Connecticut, for some New England seaside charm.
A day trip from NYC can also turn into a fun, family-centered overnight trip. Check into one of these family-friendly B&Bs and enjoy a warm breakfast, cozy accommodations, and local sightseeing just outside NYC.
Dive in at an indoor water park for a wet-and-wild day trip near NYC. The Poconos family resort Great Wolf Lodge is located about 90 minutes from Midtown Manhattan, this water park is close enough for a day trip. If an overnight stay is preferred, there are plenty of themed suites to choose from, including the Wolf Den, which has an enclosed kids' sleeping area with bunk beds and a TV.
A bit farther away—at just under 2 hours from Midtown—Kalahari Resort is the behemoth of indoor water parks. The park features an 11,000-square-foot wave pool, plus eight water slides, including the thrilling Anaconda and the Cheetah Race Mat Slide. Little ones will love Coral Cove, a sea-animal-themed play area.
RELATED: Indoor Water Parks near NYC for a Warm Getaway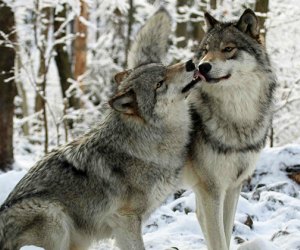 Watch the beautiful wolves nuzzle in the snow. Photo by James Stein Photography for the Lakota Wolf Preserve
20. Meet the Wolves – New Jersey and New York
Go on a Wolf Watch Tour at the Lakota Wolf Preserve in Columbia, New Jersey, or the Wolf Conservation Center in South Salem, New York. The wolves are in a natural environment, but guests get to watch them play, interact, and possibly howl from a protected, fenced-in area.
NYC's Socrates Sculpture Park and MoMA's Abby Aldrich Rockefeller Sculpture Garden have been longtime, year-round destinations. Others, like the Grounds For Sculpture, in Hamilton, New Jersey, and the popular Storm King Art Center, in New Windsor, New York, offer expanded hours in the winter to give visitors a chance to see art in a whole new season.
22. Hit the Trails – Multiple locations
We might associate hiking with warm summer months and cool, crisp fall days, but it's actually a great all-seasons outing. We've got picks for great family-friendly trails in upstate New York's state parks; hiking trails and beach walks all across Long Island; and state parks, forests, reservations, and kid-tested trails in the Garden State.
RELATED: Sleep in a Lighthouse and More Hudson Valley Resorts

Snow tubing at Mount Peter will make your kids embrace the snow. Photo courtesy of Mount Peter
23. Snow Tubing – Multiple locations
The best part of snow tubing is that, unlike skiing and other winter sports, it requires little skill or gear, making it a great family experience. Check out our snow tubing roundup for suggestions, including Campgaw Mountain, which is just 45 minutes by car from Midtown Manhattan, and Mount Peter, an hour and a half away.
Reward yourself during the long winter months with a shopping day trip to Woodbury Commons. Carter's, OshKosh B'Gosh, Gap Kids, and plenty more family-friendly brands all have stores here.
25. Visit Mystic – Mystic, Connecticut
A visit to the amazing sea creatures at the Mystic Aquarium should definitely be on your list of stops. Old Mistick Village boasts plenty of open-air shopping and dining, plus a movie theater with programming that includes lots of family films and blockbusters. No trip to Mystic is complete without refueling at Mystic Pizza, made famous by the '80s film of the same name.
Originally published in December 2016; Vanessa Leigh contributed additional reporting.