10 Favorite NJ Parks and Reservations with Fun for Kids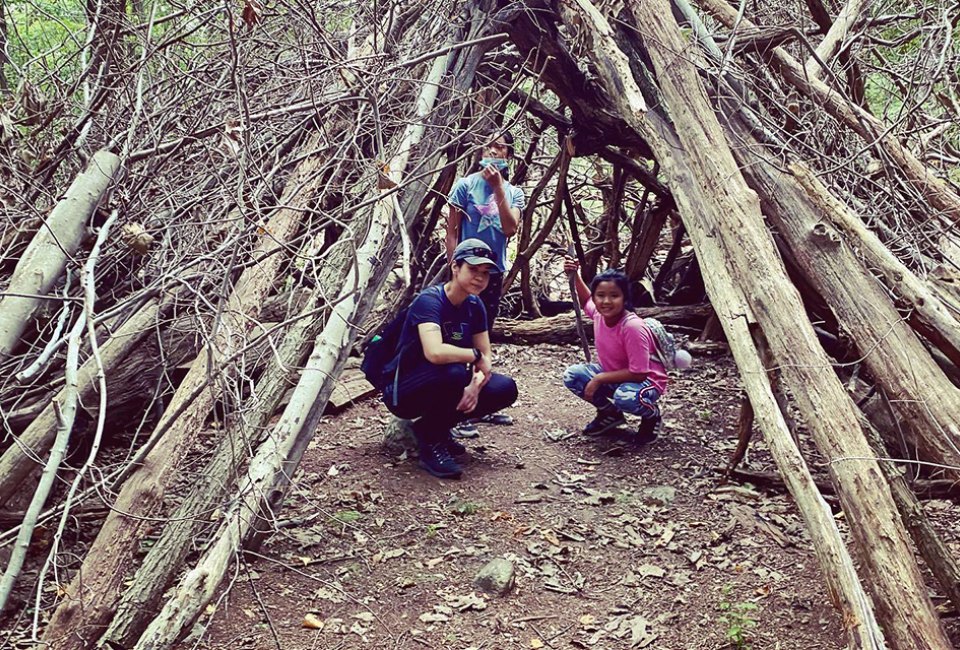 9/13/20
- By
Dore Duhaime
Looking for fresh air and family adventure? Head out to explore one of New Jersey's "reservations" — forested nature preserves that are like mini state parks. Hidden along river banks and tucked into woodlands, these New Jersey parks are ideal for family hikes, picnics, and biking. You can bring binoculars to spy on colorful birds or wear boots to let the kids muck around with turtles and frogs.
Most reservations have marked trails, education and nature centers, playgrounds, and restroom facilities, while others are a bit more rugged, with "carry in/carry out" policies—meaning not even trash cans are provided.
We've rounded up 10 New Jersey reservations with a variety of offerings. Read on to find the best spot for your next outdoor adventure!
Keep in mind that many park buildings remain closed due to COVID-19, but trails are open across New Jersey. Some parking lots are filling up on weekends, so go early and mask up.

Take in the views of New York City from the parking lot or the trails at Eagle Rock Reservation.
Hiking trails and footpaths crisscross this 408-acre forested mountainside, with colorful markers noting each trail's level of difficulty. The park is easily accessible from western Essex County and has trails suited for all ages and abilities. The county's September 11 Memorial is located near the main entrance, with a scenic vista overlooking New York City.
A woodland oasis off Route 80 in urban Passaic County, this parkland is a birdwatcher's haven where warblers, orioles, and sparrows and can be spotted during migration. Garret Mountain also features grassy fields, walking trails, basketball courts, and picnic areas. Lambert Castle is a 19th-century castle that has been refurbished to house the Passiac County Museum. (NOTE: The buildings and museum are closed for renovations at this time.) The 500-acre park is also home to a boathouse and equestrian center featuring a therapeutic riding program.
3. Hilltop Reservation – Cedar Grove, North Caldwell, Verona
Not far from Eagle Rock is a smaller park with short trails along the Second Watchung Mountain ridgeline. Part of the wooded area has been designated a wildlife habitat and includes a small pond and stream, while other sections include ball fields.
RELATED: Indoor and Outdoor Scavenger Hunt Printables for Family Walks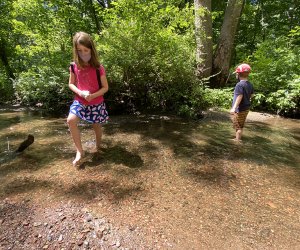 Stroll through the lush Loantaka Brook Reservation, dip your toes in the stream on summer days, or bike one of its many paved paths.
The lush, flat terrain of this 850-acre Morris County greenway is ideal for strollers, scooters, bikes as there are several paved paths here. The park's 10.5 miles of trails attracts joggers, hikers, and horseback riders in the warm weather and cross-country skiers in the winter. Our kids love stopping by the stream and walking through the more wooded areas, or just scooting around the pavement. Peer at wildflowers and birds along the trails, or let the kids romp at South Street Playground.
A highlight of the trails at this Essex County Park is the cliff at Quarry Point that overlooks the New York City skyline. The 157-acre park includes several different walking and jogging trails and is a favorite destination of bird watchers looking for migratory birds, including hawks in the fall.
RELATED: Best Family Campgrounds in New Jersey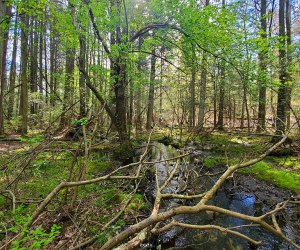 Plainsboro Preserve offers summer nature camps. Photos courtesy of NJ Audubon
Managed jointly by Middlesex County and NJ Audubon, this 1,000-acre preserve features an interactive nature center with an indoor treehouse and "Under-the-Pond" room, five miles of trails, and scenic vistas across 50-acre McCormack Lake. Some 150 species of birds call this park home, and young naturalists can participate in summer camps and seasonal special events. (NOTE: The nature center has reopened on a limited basis, including the return of some kid-friendly events.)
RELATED: 10 Destination Playgrounds in NJ That Are Worth the Drive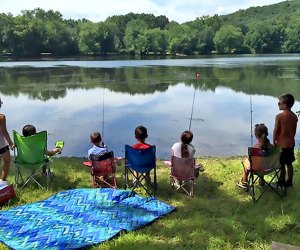 Take the kids fishing at Ramapo Valley Reservation. Photo courtesy of Ramapo Valley Reservation
Bergen County's largest park features more than 4,000 acres of woods, hills, valleys, ponds, and campsites for your family to explore. Trails along the Ramapo River are teeming with wildlife, including bears. Cross country skiing is a favorite winter activity. Trail maps are available for varying difficulty levels.
Meandering along the South Branch of the Raritan River in Hunterdon County, this 1,000-acre watershed park features marshland, woods, and river access for canoeing and fishing. Visitors can spot muskrats, frogs, and waterfowl in addition to flocks of migratory birds.

The hike to the waterfall at South Mountain Reservation is a popular one among families. Go after a rain for a bigger splash.
This 2,110-acre Essex County park is a Mommy Poppins favorite, with hiking trails, including a whimsical fairy trail, history, a waterfall paddle boats, mini golf, and a fantastic playground. South Mountain is also home to the Turtle Back Zoo. The reservation spreads across Maplewood, Millburn, and West Orange, with multiple entry points and parking lots. Check out the picnic pavilions with BBQ grills or the stroller-friendly paved trail around Orange Reservoir.
RELATED: Top Family Picnic Spots in Northern New Jersey

Take a hike and do some climbing at Watchung Reservation.
Visit this 2,000-plus acre preserve in Union County for a day hike or a picnic beside the fabulous playground featuring a real rock for climbing. Don't miss the park's new Sensory Trail, an 0.3-mile loop meant to stimulate the senses with raised garden beds and sensory play, designed for wheelchair accessibility and with signage in Braille. Stop by the interactive nature center for hands-on exhibits or schedule a horseback ride at Watchung Stables. NOTE: The playground and trails are open but the nature center is closed due to COVID-19 safety concerns. The center has posted a fantastic batch of nature-themed educational info and activities to its website for the kids.
Most New Jersey reservations are open dawn until dusk, and permits are required for fishing. Please check websites for details.
A version of this article was first published in 2019 but it has since been updated.
Photos by Rose Gordon Sala except where noted.
Sign up for the Mommy Poppins Newsletter today!