Best Nature Centers in New Jersey to Visit with Kids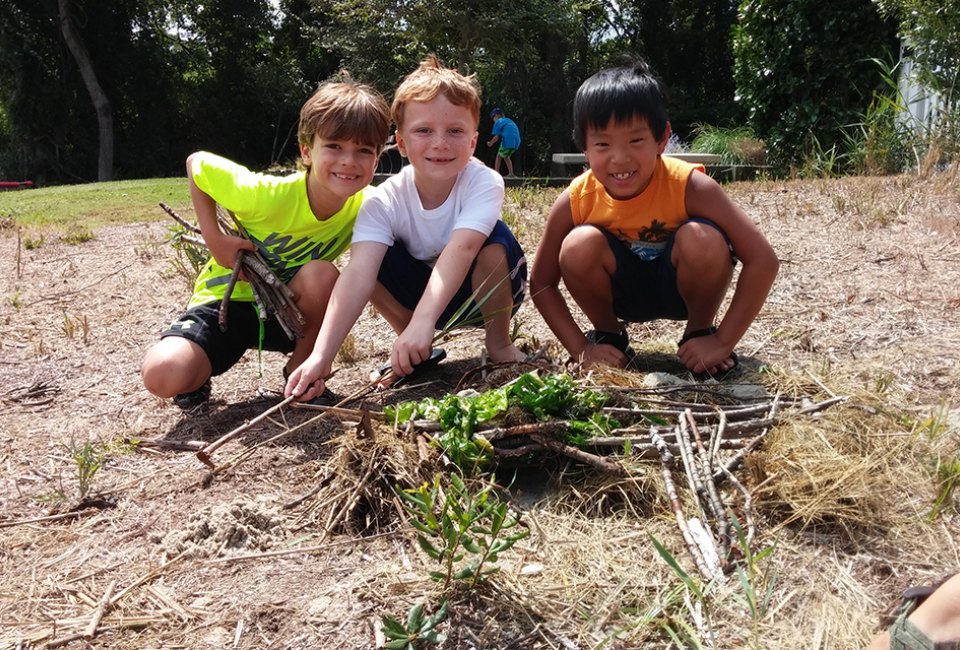 3/14/18
- By
Alison Reiser
While all our favorite indoor destinations remain closed to slow the spread of Covid-19, New Jersey families can head outdoors to nature preserves or bike trails to stay active. Though the state's excellent nature centers are off-limits to the public for now, most of their surrounding trails are open for walks and hikes - as long as everyone maintains social distance.
Until the state's indoor play spaces and museums reopen, consider planning a family visit to one of New Jersey's awesome nature centers, where kids can experience the outdoors and perhaps read up on local habitats through signage posted around buildings.
We've rounded up 10 nature centers where kids can spend some time exploring nature and - when buildings reopen - check out hands-on exhibits and activities that explain our local flora and fauna. Under normal circumstances, most nature centers are open year-round, except for major holidays. For now, please check each center's website for trail accessibility.
Environmental Education Center at Lord Stirling Park – Basking Ridge
Kids can crawl through a model beaver's dam before heading outside to look for the real thing at this Somerset County park. The dam is part of The Great Swamp Experience, an interactive, family-friendly exhibit that takes visitors through the history and ecology of the Great Swamp. Public programs are held nearly every day throughout the year and run the gamut from maple sugaring to nature-themed scavenger hunts, guided walks, gardening and birding for little ones, and special exhibits in the nature center.
Essex County Environmental Center – Roseland
Children can enjoy both outdoor exploration and hands-on activities at this environmental center. Summer events include nature-themed crafts such as flower frames and sand candles, kids' gardening, guided bird walks and strolls through the wooded wetland, frog pond science, and classes in wilderness skills and nature identification. Open Monday-Friday 9am-5pm and Saturday 10am-2pm.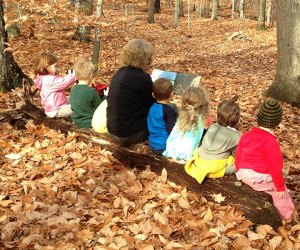 Kids can enjoy a wide variety of programming at the Great Swamp Outdoor Education Center in Chatham
Great Swamp Outdoor Education Center – Chatham
Despite its name, the Great Swamp is actually a combination of marshes, meadows, dry woods, and brush-covered swamps. This unique mixture supports a wide variety of plants and animals. Families can learn all about the wildlife that resides at Great Swamp by paying a visit to the Outdoor Education Center, which offers public programs year-round. Activities include hikes for all ages, nature-themed storytimes, summer camps, and home school and outreach programs. The Visitors Center is open daily from 9am-4:30pm throughout the year, and the Wildlife Observation Center and outdoor trails are open daily from sunrise to sunset.
Huber Woods Environmental Center – Middletown
Kids can explore interactive exhibits, view a colorful array of birds, play in the puppet theater, and make friends with some live turtles and snakes. A surrounding park features walking trails and picnic areas. Families can borrow a themed safari backpack to help them with a self-guided nature walk through the woods. Meanwhile, a recently-renovated Discovery Path gives a view overlooking the park meadows. Open weekdays from 10am-4pm and weekends from 10am-5pm.
J.A. McFaul Environmental Center – Wykoff
Half of this 81-acre park is open to the public, while the other half is the private domain of local wildlife, which can be viewed from a nature center observatory. Visitors can get an up-close look at a fox, hawk, owl, peacocks, doves, deer, turtles, pheasants, hermit crabs, snakes, a tarantula, rabbits and two outside bee hives. The larger animals were all injured and were given a safe haven at the nature center as they can no longer live on their own. Public programs are offered for children in kindergarten through adults. Call for seasonal hours.
RELATED: 10 Best Farms for Family Fun and Entertainment in New Jersey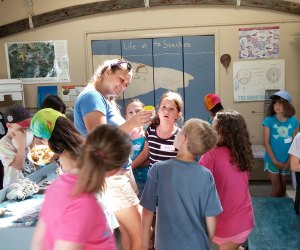 Kids can choose from a variety of learning possibilities throughout the year at New Jersey Audubon's Nature Center of Cape May
New Jersey Audubon's Nature Center of Cape May – Cape May
Located on the Cape May Harbor, this seaside nature center features indoor and outdoor observation areas, a nature trail, art and nature exhibits, themed gardens, and a nature store. Kids can also participate in a summer nature camp, which accepts walk-ins, and check out a "nature nook" with live animals including turtles, snakes, and a tarantula. Seasonally, kids can dip their hands into a touch tank with marine critters. Check out the nature center's Facebook page for the most current information on programs and activities. Open Monday-Saturday 9am-5pm and Sunday 11am-4pm (April 15 through October).
New Jersey Audubon's Plainsboro Preserve – Plainsboro
An indoor tree house beckons kids inside the Plainsboro Preserve's education center. Young naturalists can also explore an "Under-the-Pond" room or observe the wildlife around Lake McCormack. Outside, the center sits on 1,000 acres and has five miles of walking trails, including one specifically designed as a discovery trail with activities for pre-school through elementary school–age visitors. Children can make bird sounds on a set of chimes, rest in a giant bird's nest, find wooden figures of birds hidden in the woods, play bird / bug tic-tac-toe, and more. Older kids and adults can try a geocache scavenger hunt before visiting the nature-themed gift store. Open Tuesday-Saturday 9am-5pm and Sunday 12pm-5pm.
Rancocas Nature Center – Westampton
This South Jersey destination invites young bird watchers, artists, gardeners, and nature lovers to their public programs aimed at both school-age and preschool-age kids. The nature center also features live animals, natural history displays, a picnic area, pond, and three miles of hiking / walking trails. A summer camp welcomes kids when school is out. Parents can also check out the center's unique birthday party options, with themes such as habitat investigations, scavenger hunts, frogs, and "scales and tails." Open Tuesday through Saturday, 10am-4pm, and Sunday noon-4pm
Tenafly Nature Center – Tenafly
This North Jersey nature preserve offers both indoor and outdoor adventures. Enjoy hiking and wildlife watching, or stop by the Visitor Center to view live animals and check out hands-on exhibits. A special trail invites young visitors, ages 2-6, to follow along with story boards that present pages from familiar children's books. Stories change seasonally and are part of a national initiative called Adventures in Reading. During the warmer months, families can also check out a butterfly house. Special events include a Little Naturalists program, nature storytime, seasonal scavenger hunts, and maple sugaring. The Visitor Center is open weekdays 9am-5pm and weekends 11am-4pm.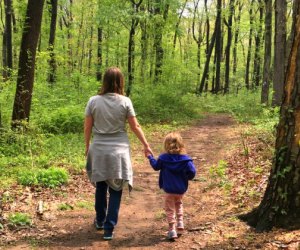 Hit the trail after checking out the indoor nature center in Watchung Reservation. Photo by Mommy Poppins
Trailside Nature & Science Center – Mountainside
Nestled in Watchung Reservation is this charming indoor nature center with something for all ages. Highlights include a 34-foot tall (three-story) American beech tree, a walk-in wigwam, a slice from a 600 year old tree, live and taxidermied animals, and a gem and mineral exhibit. There are live fish to see, fossils, and even a reading nook. Open daily from noon–5pm. There are also numerous easy hikes from the property, perfect for little legs, and a nice playground to keep them entertained outdoors, too, including a separate tot lot, a big rock to climb, and a faux tree motif with tunnels, bridges, and twisty slides.
Top photo: New Jersey Audubon's Nature Center of Cape May
Originally published 2014.
Sign up for the Mommy Poppins Newsletter today!