Great Swamp: Year-Round Nature Trails for New Jersey Kids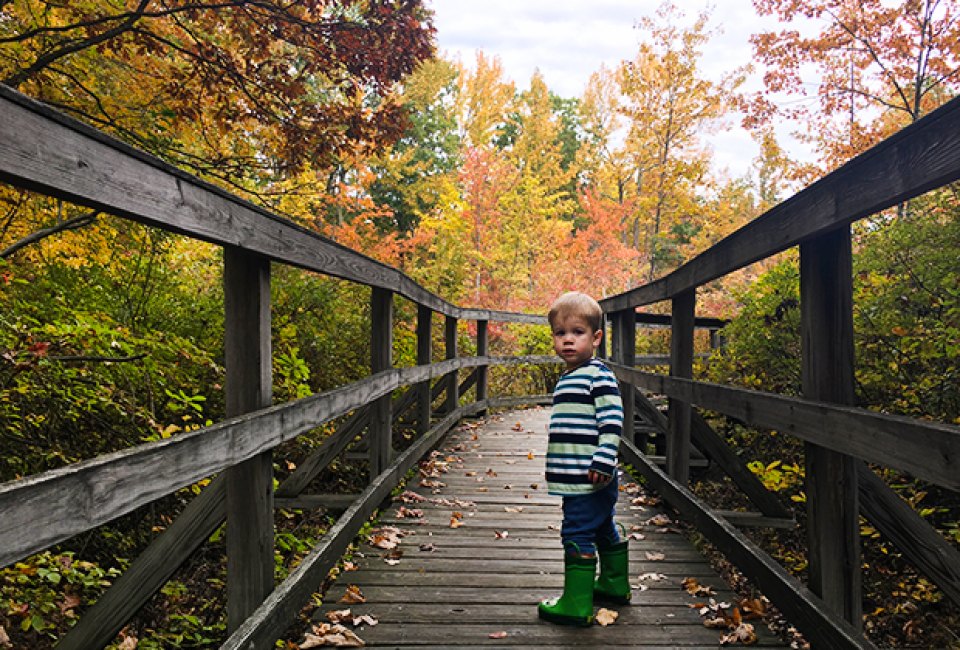 9/28/17
- By
Rose Gordon Sala
There's something magical about stepping onto a wooded trail with your kids, with a soundtrack of chattering birds and the sunlight peeking through the canopy. While New Jersey has no shortage of parks, reservations, or nature centers, one of my family's go-to spots for this type of get-back-to-nature excursion is the Great Swamp National Wildlife Refuge.
It spans several towns in Morris County and nearly 8,000 acres. Formed by melting glaciers 25,000 years ago and protected as a registered National Natural Landmark in 1966, the area is now managed and maintained by national, state, and local groups.
There are myriad hiking trails with boardwalks above the swamp, drop-in family programs, nature centers, and plenty of chances for fall foliage and wildlife sightings. Read on for our favorite exploration spots for NJ kids at this beautiful nature refuge.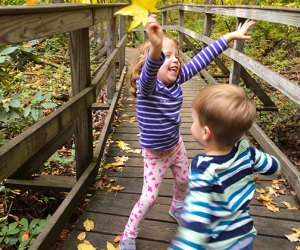 A half-mile boardwalk loop is a perfect walking path for little ones.
There are three main starting points for families within the refuge:
The Great Swamp Outdoor Nature Center, which is run by Morris County, is very popular with families. It hosts year-round educational programs, including guided walks, maple sugaring in the winter, and even indoor nature-themed events. There are a couple miles of flat trails and a pond, and kids always love peeking into the model wigwam that demonstrates the life of the native Lenape tribes. Its visitor center is open daily, 9 a.m. – 4:30 p.m., year-round at 247 Southern Boulevard in Chatham. Call 973-635-6629 to confirm openings and events.
At the Helen C. Fenske Visitor Center, you'll find a short guided nature trail with 11 stops, specifically designed for families. Each offers a learning opportunity about the refuge. Another nature trail circles a pond, running a half-mile loop through the woods on a boardwalk path that's ADA accessible. At the visitor center, kids will find nature displays, exhibits, and taxidermy. It's open daily, 10 a.m. – 4 p.m., at 32 Pleasant Plains Road in Harding. Call 973-425-9510 to confirm hours.
RELATED: A Dozen Fun Things To Do with Kids at Duke Farms in Hillsborough, NJ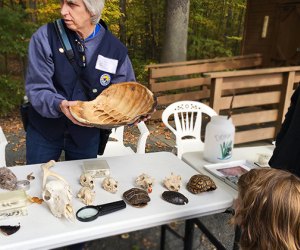 Nature displays of turtle shells, skulls, insect casings, and other curiosities are a hit with the kids.
We most often go straight to the Wildlife Observation Center located off of Long Hill Road in Harding. We park and simply hit the trail (and woods). On weekends, there are often nature displays presented a group of volunteers, including old turtle shells, animal belts, skulls, insect casings, and more creepy deceased creatures—which kids love, of course. You can choose from a few trails here, but we prefer the simple boardwalk loop.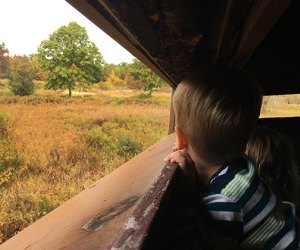 The observation blind is a great spot to stop and gaze out at the meadow.
My kids love to race over the boards, or balance on one, inching along (just inches above the ground). It's a gorgeous spot to catch the fall foliage, and there are fun discovery moments along the way, including the observation blind where they can peek out of the slat and into the meadow. "See any bears?" we tease them. The loop is maybe a mile through the woods and includes some bridges, marshy sections, and water. There are a few benches along the way, too, but my under–5 crew always manages to make the mini-trek.
Other highlights to check out in the Great Swamp area include the Raptor Trust, which offers public tours, and the Environmental Education Center on the western border of the refuge, which has even more trails, frequent FREE family tours/walks on weekends, and indoor and outdoor educational programs, too (908-766-2489).
In all areas of the park, you'll glimpse wildlife, such as birds, deer, foxes, small mammals, and even turtles and frogs. Prefer to drive it? A two-mile tour along Pleasant Plains Road is designated for leisurely driving. You can even pull off into designated vistas and overlooks for further viewing.
Good to Know Before You Go
The best map I've found of the area is offered here by the Fish & Wildlife Service. Take a peek to orient yourself, rather than just trusting the GPS!

Pets are mostly only allowed in parking areas, so leave Fido at home.

Find more events at the refuge via Friends of Great Swamp NWR.

Slather on the sunscreen and bug spray (or long pants) if you're going in the warmer months.

Parking is FREE, but some events require an RSVP and fee.
Call ahead to the main office (973-425-1222), or your preferred nature center, to confirm boardwalks are free of snow, or at least walkable, in the winter. But generally, this stunning refuge in North Jersey is open daily, year-round, from sunrise to sunset.
Photos by the author.
Places featured in this article:
---
Great Swamp Outdoor Nature Center
---
Helen C. Fenske Visitor Center
Sign up for the Mommy Poppins Newsletter today!