Awesome Escape Rooms in CT: Kid-Friendly Parties and Family Adventures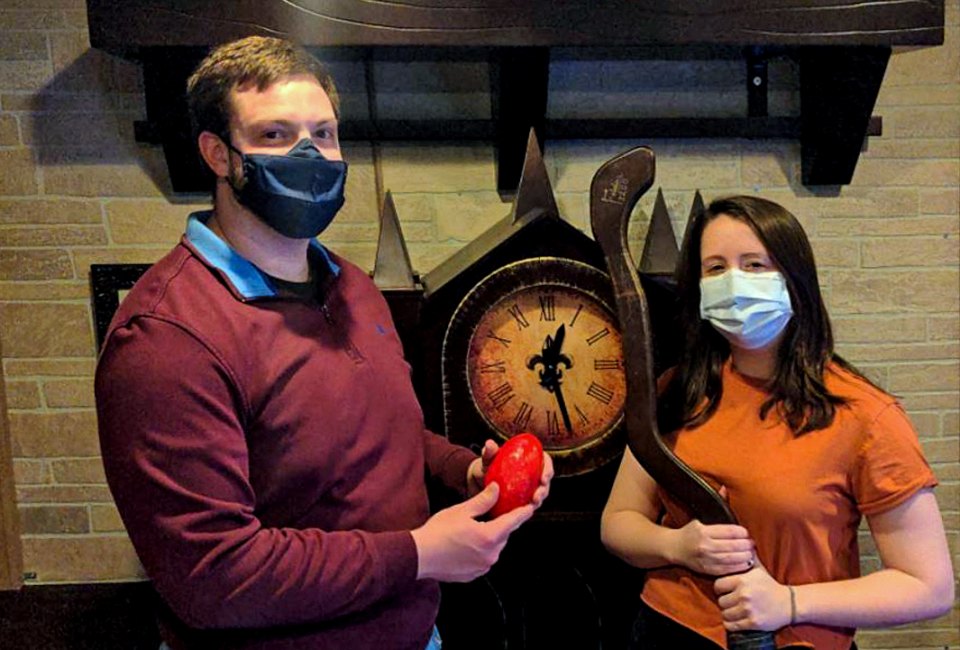 2/20/22
- By
Jennifer Coe
Play detective, CIA agent, or Indiana Jones while the whole family bonds over a fun and exciting challenge. A Connecticut escape room can accomplish all of those things and more, and we've rounded up the best escape rooms in Connecticut for a fun family outing, kids' birthday party, or weatherproof indoor activity.
Most Connecticut escape rooms have rotating themes, so we recommend checking websites before arrival. Escape rooms usually cater to older kids, so if you're bringing little ones, be prepared to help them out. For more great places to have a blast inside, browse our Guide to Indoor Play Spaces.
Note: Due to Covid 19, most escape rooms have begun employing cleaning routines between groups and limit the number of participants to a group as well as require masking. Keep in mind, many themes include mature topics that are not suitable for all kids.
Best Connecticut Escape Rooms for Kids and Families
Imagine you are in a Native American village and you have just discovered the village in the forest near you is infected with a mysterious disease. What will you bring to assist them in fighting the illness? Who will you bring? The Institute for Native American Studies has created a truly interactive museum experience. You and your family will be challenged to figure out a solution to this problem. This is a perfect escape room for kids.
With two games to choose from including End of Days and Escape the Hydeout, come with friends to figure a way out. Due to the mature nature of these challenges, these escape rooms are really for older kids. The escape game lasts an hour.
Kids ages 10 and up will enjoy the mystery that surrounds all of REACT's escape room themes. Choose something classic like the Raiders II and the Rooms of Doom or something edgy like Strangest Things. For a classic whodunit, jump into The Haunted Mansion: a Sherlock Holmes Mystery. REACT can send groups of up to 10 players on an adventure together.
RELATED: The Best Indoor Playgrounds and Indoor Play Spaces in Connecticut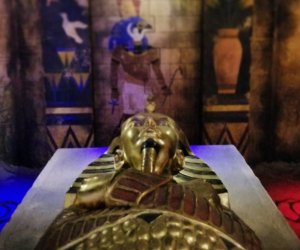 The Heart of B'Astet - coming soon to Lara's Labyrinth. Photo courtesy of ct.laraslabyrinth.com
4. Lara's Labyrinth — Wethersfield and East Haven
So many different themes to choose from! These escape rooms are best for kids 11 and older. 5G technology is employed to make the experience feel like a live video or movie. Themes include The Heart of B'Astet (coming soon), Be'Witched, and Meltdown.
5. Trap't — West Hartford
There are six escape room themes to choose from including an online escape room adventure. Participants can choose from the New York Subway system, the Stamford Museum, a kidnapping scenario, and finding a cure for the President's terminal illness. These escape rooms are designed for kids ages 12 and older.
6. Escapism — Southington
You're in Egypt. Or, you are about to hit a bank for millions. Or, perhaps you are in a temple in the jungle. Either way, you are probably at Escapism and you are 10 years old and up. These escape rooms are immersive and full of puzzles for everyone to solve.
According to TvT, there are no horror elements in their mysteries. You have 60 minutes to solve a puzzle with a team. Teams are two to eight players and are best for kids ages 14 and up. You can Save the Queen, pursue the Cure of the Alchemist or take a gamble in the Gangsters Gamble.
Mystery Room is a great option for kid-friendly escape rooms. Pull out your magnifying glass and try to solve the mysteries. Maybe you can Escape From Alcatraz, have a Superhero's Adventure, or dig around Sherlock's Library. "Detectives" 13 and under must be accompanied by an adult. Mystery Room is open until 9pm every night.
RELATED: Indoor Birthday Party Spaces in Connecticut for Kids

Try a lighthouse-themed escape room at Mystified. Photo courtesy of Mystified Escape Rooms, Facebook
Choose from three different escape rooms themes. Children as young as 7 are welcome to join with a grown-up with all escape rooms. Keeper of the Light is based on a real lighthouse that sits in the Connecticut sound. Rooms are designed to create a mood for the storyline and to make the story seem more real.
Multiple locations, all totally kid-friendly! Themes to choose from location to location include Gangster Gnomes (Christmas theme), Curse of the Golden Torch, The Blizzard, and Movie Mayhem. Groups are limited to 12 and should be masked.
Escape New Haven has lots of different choices for kids ages 10 and up. There are both indoor ( The Crypt; The Gameshow) and outdoor (Time Crime: Pursuit of the Wallaby; Battle of the Bands) themes. There are also online team-building puzzle challenges. All players must show proof of vaccination.
RELATED: Indoor Trampoline Parks in Connecticut for Kids and Family Fun

Props from The Stolen Relic escape program, photo courtesy of escaperoomsct.com
There are five different choices of "rooms" for anyone 10 and under. Adults must accompany minors. There are three "fear factor: low" escape programs including Sector X, The Stolen Relic, and The Terminal for groups of 8-10 players. Escape Rooms Connecticut is open until midnight on Saturday night.

Family fun awaits at Puzzle Theory. Photo courtesy of Puzzle Theory, Facebook
Kids ages 13 and up are welcome to come and try to solve the puzzle challenges. Non-scary rooms include P.T. Railways Spectral Rift, Rebel Run, and The Wizard Realm. Puzzle Theory requests that you place online reservations for their escape rooms.
14. Panic Room — Stamford/Norwalk
Six different challenging rooms to attempt to escape from. Kids 12 and older accompanied by a paying adult can choose from Biohazard, Lost Treasure, or Wrongfully Accused. Instead of just trying to "escape," participants are given a mission to accomplish.
Sign up for the Mommy Poppins Newsletter today!
i