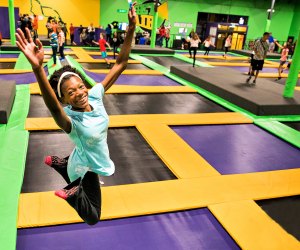 Indoor Trampoline Parks in Connecticut for Kids and Family Fun
Too cold or wet to get energy out on the playground? Might as well jump! Luckily for families with active kids, Connecticut boasts a growing number of trampoline parks, from Fairfield County to Hartford and beyond. Along with dozens of flat and angled tramps to practice high bounces and tricks, many of these trampoline parks have basketball hoops, dodgeball courts, climbing walls, and more.
For more fun indoor play ideas check out our Connecticut Indoor Play Guide.
2021 update: Parks are subject to close or change hours anytime, and several require pre-registration in 2021, so be sure to call ahead. Mask wearing and social distancing will be enforced.
Sky Zone
Norwalk, and Wallingford
Sky Zone offers open jump sessions, a Foam Zone, where kids can jump from a trampoline runway into a pit filled with 10,000 foam cubes, and Sky Slam, where trampoline launch pads bounce you ten feet in the air so that you can dunk your basketball like a pro. Depending on the location, they also offer special programs. It can get crowded on winter weekends in particular, so reserve your spot in advance.
OUR LATEST VIDEOS
Jumpz (formerly Bounce)
Danbury
This brand new facility in Danbury includes two trampoline Bungee jumps, two Ninja-style obstacle courses, as well as a separate Bounce! Jr. Zone with it's own mini slam dunk basketball hoop. They have a wonderful parent lounge with TVs in addition to the mezzanine observation deck which has multiple charging stations and a state-of-the-art arcade. They offer open bounce, special toddler time sessions for kids under 6, Jump N Glow on Friday and Saturday nights, in addition to other programs.
Mystic
This newly renovated gym contains 12 Olympic trampolines that are built right into the floor, along with overhead safety-harness devices for learning somersaults and flips, end decks, pitch pads, and more. They offer classes most Monday, Wednesday, and Friday afternoons and welcome drop-ins (but it's always a good idea to call in advance).
New Britain
The main jumping area contains 50 connected trampolines for over 13,000 square feet of bouncing space, including angled wall trampolines and a series of launching decks, each from a different height. On Friday and Saturday nights, older kids (age 14+) can participate in Club Flight beginning at 9 pm, where they can jump as part of a laser light show. Younger kids are welcome at special kids only sessions on weekday mornings. Learn more about Flight from our first-hand visit account (as well as a visit to local soda brewer Avery's).
Stamford
One of the many fabulous offerings at Chelsea Piers is their Adventure Center, which features a trampoline court in addition to a 22' climbing wall. Chelsea Piers offers 55 minute open sessions most afternoons at 4:00 pm and 5:00 pm, with additional hours on the weekends. They also host bi-monthly Teen Dodgeball sessions for kids ages 13-17. Note that while members can reserve in advance, non-members cannot reserve until the morning of the desired session (and they do tend to fill up on snowy or rainy weekends).
Flight Fit n Fun
Stratford and Manchester
These facilities offers indoor trampolines, a foam pit, basketball, dodge ball, battle beam, inflatables, arcades, an indoor playground, mechanical animal rides, and more. In addition to open jump, they offer a special needs jump time on Sunday mornings, dodgeball, and Kidz Flight on weekday mornings from 9-10 am. Check out our first-hand account of the Stratford location (under it's old name).
Trumbull
Two local parents created Rockin' Jump as a place where kids and families could hang out, move their bodies, and have some fun. This new facility offers trampolines, dodgeball courts, a foam pit, and a terrific cafe with a range of snack options. In addition to open jump, including weekend Rockin' Tots programs for kids 6 and under and Neon Jump Night on Fridays where tweens and teens can jump along with the music.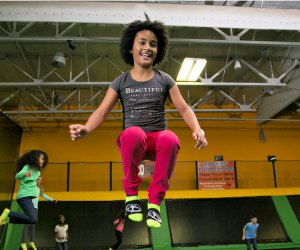 Along with open jump sessions, there's a special times reserved for kids 6 and under at Rockin' Jump. Photo courtesy of Rockin' Jump
Manchester and Orange
Brand new trampoline center for kids as of January 2020.The new facility will include a climbing wall, hill, warrior course, tubes playground, trampolines and a sky-rider coaster. Also enjoy the area for kids under 7, which includes trampolines in "the bowl." This is a great place for a birthday party too. Check out a first-hand account of our visit to the Orange location.
Cheshire
Jump on in to the brightly lit, bouncy fun zone at Extreme Air. Take advantage of the high jump, extreme dodgeball, the fun battle beams where you can knock off your friends, and rock wall, perfect for little climbers. Parents can hang out in the Parent Penthouse and when kids are done jumping, they can check out the arcade as well.
Stamford
Get Air offers special times for all kinds of jumpers. Toddlers can Tuesday and Thursday mornings, kids who need a quieter atmosphere can come out on Saturday mornings, and students (homeschool, public or private) can jump for 20 percent off on Wednesdays. There is a huge foam pit, slackline, fidget ladder, ninja challenges, and a special Kiddie Court.
Middletown
Fun In has some really unique offerings such as a fun, soft baby zone, two virtual reality kart rides, huge trampolines, body bouncing balls, and more. Weekly toddler jump events are every Wednesday and Thursday.
Launch
March 2021 update: Launch locations are temporarily closed
Hartford and Milford
This mini-chain of trampoline parks each offers more than 12,000 square feet of interconnected trampolines. Both parks offer a special "Kids' Court" for jumpers 42 inches and under (but all children are welcome to jump anywhere in the park). Special programs include Toddler Time and Ignite, a special Saturday evening glow in the dark jump time for all ages.
Originally published January 5, 2015