Why Urban Air Adventure Park is Heaven for Active Kids in Connecticut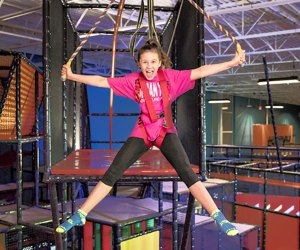 If you have active kids, you've probably visited an indoor trampoline park—they've been popping up all over Connecticut in the past decade. These super-fun facilities are recognized by their wall-to-wall, quilt-like patchwork of trampolines. But then, there's Urban Air Adventure Park. Marketed as a trampoline park "on steroids," Urban Air's 84,200 square feet of indoor space also includes go-karts, a zip line, laser tag, a "Ninja Warrior"-inspired play area, a colossal climbing playground, and more. After a recent visit with my kids, I can tell you whether Urban Air is worth the trip; what what not to miss if you go.
Looking for even more indoor play ideas? Don't miss our
Connecticut Indoor Play Guide
.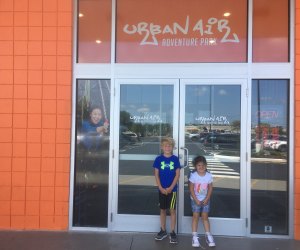 What to Expect
Home to more than 10 attractions including a zip line, laser tag, virtual reality center, bumper cars, go-karts, indoor ropes course, slam dunk zone, seven different climbing walls, bowling, and even an American Ninja Warrior-inspired play area, you can easily spend the whole day Urban Air Adventure Park, which opened last summer in Orange, CT. And on a recent visit with my seven-year-old son and four-year-old daughter, we nearly did.
The enormous, warehouse-sized facility is about 8 minutes off Route 95, making it an easy stop if you are heading north or south on the highway. You pay a fee upon entering depending on what you want to do, so it's good to check out Urban Air's activity and price list and making a game plan before you head out for the day. Prices range from $12.99, which covers all activities kids ages 5 and under can do (there are height requirements for several attractions); to $46.99, the "platinum package" which includes access to go-karts, virtual reality games, bumper cars, laser tag, and more. Let's say your kids just want to bounce in the enormous trampoline center? The fee is $18 per jumper.
Must-Do Activities

Not looking to spend the day? Visitors can pay to simply enjoy the trampoline park area.
First things first: The signature wall-to-wall trampolines are worth a visit alone. With dozens of interconnecting tramps, a dodge ball court, and more, children of all ages can literally bounce off the walls. A nice touch is a separate area, called The Bowl, where kiddos ages 7 and under can jump around without fear of running headlong into a big-kid elbow or foot.
My kids were also way into the competitive attractions that test everything from driving (go-karts!) to balance skills. My kids' favorites were the Battle Beam and the Warrior Course.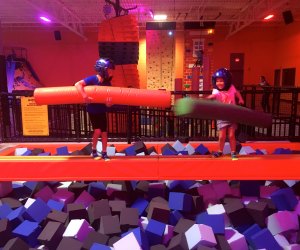 Don't be the first to fall in the battle beam pit!
What's a battle beam? Think sword fighting and a balance beam wrapped into one activity. There's less fighting than giggling as the kids whip giant foam pieces at each other. With helmets, kids are plenty safe, and each "loss" is a soft landing.

3-D climbing challenges are more thrilling than a wall.
The Warrior Course will be a thrill for anyone who's watched America Ninja Warrior or the like. There are various obstacles that challenge kids' balance and strength. My seven-year-old was certainly up for the challenge. I'm pretty sure that my four-year-old was happy to just land in the ball pit. ​
There are plenty more attractions that will appeal to children of various ages, including a "Sky Rider" indoor coaster (think zip line), a virtual reality room ("snowball fights" and more), and laser tag. And for us? They actually have massage chairs that overlook the attractions. While the kids get their energy out, parents can take a well-deserved break.
Good to Know...
Urban Air Amusement Park is open seven days a week: Sunday through Thursdays 10am to 8pm and Fridays and Saturdays 10am to 11pm.

Many attractions have height requirements: Because my four-year-old hovers at the 36-inch mark, the number of attractions she could enjoy was limited compared to my 48-inch seven year old. For the younger (and smaller) set, you can look forward to jumping on trampolines, climbing one of seven rock walls, weaving through the tubes playground, battling on the beam, playing laser tag and trying a hand at bowling. Older (and taller) kids can check out some additional options like the ropes course, go-karts and bumper cars.

Hungry? There's a

café

with soft salted pretzels, chicken tenders, Slurpees, and the like.
Top photo courtesy of Urban Air; all other photos are by the author