Macy's Santaland NYC: When and How to See Santa at Herald Square in 2022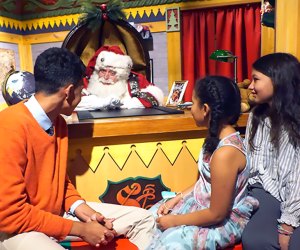 11/21/22
- By
Jody Mercier
There are few places to see Santa in New York City that compare with Macy's Santaland. It's a magical experience for tourists and natives alike during the Christmas season.
Macy's opens its 13,000-square-foot winter wonderland on Friday, November 25, 2022. Overflowing with holiday cheer from its live elves to an enchanted forest, animatronic toys, and a train display, Macy's Santaland 2022 is open daily through Christmas Eve—Saturday, December 24.
As in previous years, visitors must book a FREE reservation to visit Santa at Macy's Santaland, which requires some planning. Read on for everything you need to know about visiting Macy's Santaland 2022, and find more top picks for holiday fun in our Guide to Christmas and the Holidays in NYC, including the season's can't-miss Christmas activities for families.
Don't forget to sign up for our FREE newsletters to get posts like this delivered to your inbox.
Macy's Santaland 2022 Basics
Macy's Santaland is located on the eighth floor of the flagship store in Herald Square, on 34th Street between Broadway and Seventh Avenue. Santa flies in at the tail end of Macy's Thanksgiving Day Parade and officially starts taking requests on Black Friday, November 25. He'll hold court through Christmas Eve.
Here's how it works: All visitors must make a reservation to visit Macy's Santaland. Reservations are FREE and can be made by logging on to macys.com/santaland to select a time. Reservations can be booked five days ahead of time—so if you're hoping for a Christmas Eve reservation, you'll have to wait to book it. Macy's releases a new day of reservations each morning at 6:30am. If there are no slots available, it's because the batch is sold out and you'll have to try again tomorrow!
RELATED: NYBG Holiday Train Show 2022: What To Know Before You Go with Kids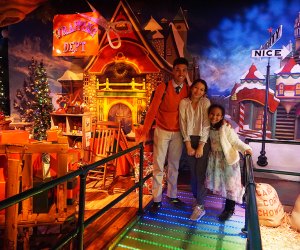 Macy's Santaland offers tons of fun photo-ops even before you greet Santa!
Your reservation guarantees your spot in line—and you should expect one. Wait times to visit Santa range from 30-90 minutes. We always recommend families go early to beat the crowds. By early, we mean both early in the day and early in the season. If possible, go on a weekday immediately after Macy's Santaland opens. Macy's Santaland opens each day when the store opens (most days, that's 10am) and closes at 9pm. Monday through Wednesday mornings are a good bet.
Admission to Macy's Santaland 2022 is FREE, but you'll be hard-pressed to pass up a photo package of your cutie with Santa as you exit. Prices start at $39.99. Digital packages are also available. You can, however, take a quick shot with your phone, too. Having an official photo in that Macy's frame, though, is classic holiday memorabilia.
If you're expecting to see your little one perched on Santa's knee, take note: Santa once again appears behind his desk at Macy's Santaland 2022. Kids can pile on the stack of presents in front of it to pose for a photo-op and then turn around to have a chat with St. Nick. If you've got a little one who can't sit up on their own, you'll have to hold them for their photo with Santa.
RELATED: 12 Must-Do Holiday Events in NYC for Kids

Santa's elves are a welcoming, engaging bunch. Photo by Diana Kim
There is plenty to see even before you get into Santaland including the old Miracle on 34th Street windows and the engine for the North Pole Express. Peek at the animatronic displays and interact with chatty elves with names like Licorice, Tootsie, and Clementine, who move visitors along and engage kids with tales of Santa's workshop, keeping everyone's energy up as they wait their turn to see St. Nick.
RELATED: Polar Express and Santa Trains near NYC in 2022

Peer at the trains zooming through the display in the middle of Macy's Santaland.
Once you've journeyed through the train, you arrive at a holiday wonderland filled with stuffed animals on glittering mounds of artificial snow, giant toy soldiers, trees festooned with ornaments and lights, an elf-staffed present-wrapping station, a sleigh overflowing with gifts, a massive train display ensconced behind glass, and tons of sparkling Christmas trees.
RELATED: 16 Best Christmas Tree Farms near NYC

Look at the larger-than-life goodies at the bakeshop. Photo by Diana Kim
If you've been before, you'll recognize many of the characters. The reindeer have been spruced up, and there are brand names all over, including the Entemann's Sugar Bake Shoppe with its giant gingerbread men and the Lionel Trains' Industrial City.
Multiple Santas are on duty in private rooms, preserving the illusion of one true St. Nick. While you don't get a lot of time with the man of the season, you're rarely rushed. Almost all Santas listen to a child's entire wish list, and we've found them to be very patient and accommodating to those with fearful (or crying) babies and toddlers. All visitors get Macy's Santaland pins, and photo packages come with a complimentary cardboard frame.
Masks are not required this season, though Macy's Santaland will follow all local ordinances should they change.
RELATED: American Christmas in Mount Vernon Opens Santa's Village to Visitors

Step outside to see Macy's holiday windows displays before you leave the neighborhood.
Beyond Macy's Santaland: More Seasonal Fun on 34th Street
The blue-hued reindeer Tiptoe is back, starring in the Macy's holiday windows lining the Broadway side of the store. We don't want to give too much away, but there's plenty of whimsy, woodland animals, a little razzle-dazzle, interactive elements, and an enchanting story to read as you go along. Macy's holiday windows are on display through New Year's Day 2023.
You can couple your visit to Macy's Santaland 2022 with a stop at its brand-new Toys R Us outpost. Located on the seventh floor, aisles of toys await, along with fun interactive photo-ops, toys to play with, and even a small play space. If your kid is still undecided on their wishlist, stop en route to Macy's Santaland to gather ideas to share with Santa.
Where to Eat near Macy's Santaland 2022
Don't show up to Macy's Santaland hungry! There's no food or drink allowed inside, so plan to eat before or after you go. Some nearby options include Koreatown on West 32nd Street, between Fifth and Sixth Avenues, which is full of Korean restaurants. Just north of the store, find an outpost of kid-pleaser Shake Shack. The Tick Tock Diner on 34th Street and Eighth Avenue offers traditional diner fare. Stella 34 Trattoria, on the sixth floor of Macy's, is an Italian eatery ideal for families, which also hosts weekly brunches with Santa. There's also an Au Bon Pain directly across from Santaland on the eighth floor for sandwiches, coffee, or juice and cookies for the kids.
Know Before You Go to Macy's Santaland 2022
You must make a reservation. All visitors must make an appointment online at macys.com/santaland. Reservations can be booked up to five days in advance, and new reservations are released at 6:30am each day.
Bring your own camera/phone. There are plenty of photo-ops throughout Macy's Santaland. Although Macy's hopes visitors purchase photo packages, the staff won't prevent you from snapping a quick pic with jolly old St. Nick.
Bring your stroller or baby carrier. Young children need a stroller; otherwise, they're in for plenty of standing. There's one stroller-only elevator reserved for visitors, which is helpful when the store is packed with holiday shoppers. The elevator bank near 35th Street and Broadway is often less crowded, too, whether you're traveling with a stroller or not.
Black and Spanish-speaking Santas are available. If you are interested in a St. Nick of color or prefer to visit in Spanish, please note that when making your reservation.
Prefer a virtual visit? The Macy's Santaland at Home experience is back for another run. Like the IRL Macy's Santaland 2022, it launches on Friday, November 25.
This post is updated annually. Unless noted, photos by Jody Mercier