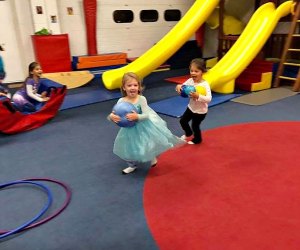 10 Indoor Play Spaces in New Haven County for Connecticut Kids
If your kids are anything like my two bundles of non-napping energy, there are days when you just need to let them run free – but preferably within a confined indoor space. There are a few notable play areas that are perfect for tiring kids out on cold or wet days in New Haven County, in particular. Inexpensive and varied, each indoor play space has its own charm. For more indoor fun check out our Connecticut Indoor Play Guide.
1. Andie's Bounce Barn—Seymour
Located in Seymour, this inflatable play place is best for kids ages 2 to 12. Parents are always free—you have to love that! Make sure the kids bring socks, which are required to play.
2. Sports Centers of Connecticut—Shelton
Though technically in Fairfield County, this may be the cream of the indoor play crop in the area. Under one roof, you will find the world's only double-decker ice skating facility, bowling, and laser tag. For those less inclined to sports, there is a full-service arcade and an arts and crafts studio. It is literally impossible to be bored at this place. For schedules and pricing, check out their website.
3. Småland at Ikea—New Haven
I may or may not have a bit of an Ikea obsession. Unlike most furniture stores though, my kids are always excited to head to this Swedish megaplex. I owe this to Smaland, a play area themed like an enchanted Swedish forest. Smaland is free of charge for up to one hour, though times may vary depending on how busy things are. Children must be between 4 and 10 years old and potty trained to play. Ikea also boasts a surprisingly excellent cafe and a counter that sells vanilla fro-yo and enormous cinnamon buns. Check the store website for hours.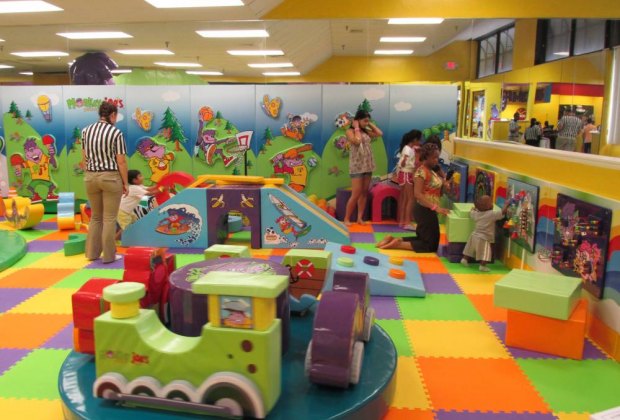 Monkey Joe's has separate zones for big and little kids. Photo courtesy of Monkey Joe's
4. Monkey Joe's—Hamden
At this indoor inflatable play space in Hamden, you can have fun with the whole family. Older children can run wild among the big bounce houses, and kiddos three and younger have their own area free of enthusiastic big kids.
5. Whippersnappers Play Gym—Cheshire
Unlike many indoor play spaces, this one isn't full of inflatables. There is, quite literally, an indoor playground with slides, wooden climbing structures, the whole deal. The gym offers classes as well as open play times. Check their website for schedule and pricing.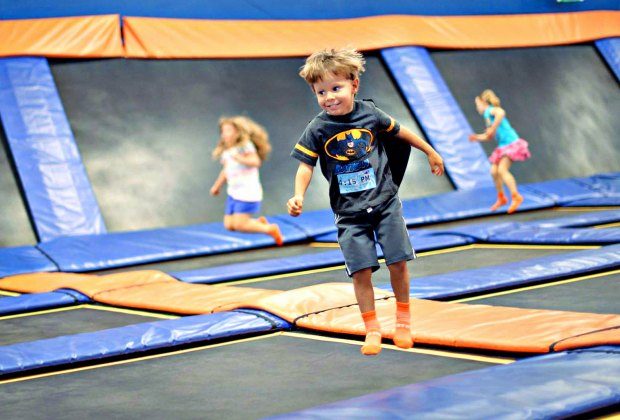 Photo courtesy of Skyzone
6. Skyzone—Wallingford
This indoor trampoline park boasts the honor of being the first in its field. Skyzone is a chain operation originally founded in 2004 in Las Vegas. These days there are Skyzones on several continents including one in our very own state. Skyzone offers fitness classes as well as open jump times. They have special toddler jump sessions as well as times for older kids. Head over and bounce away your boredom.
7. Monster Mini Golf—Orange
Inside these walls, you will find an 18 hole mini-golf course, an arcade, and laser tag. The Monster Mini-Golf radio station keeps the beats going, and the entertainment team offers up fun games and prizes "on the air" throughout your visit. The theme of the place (as the name would suggest) is monsters--think Halloween in general. Know before you go that it is dark inside with a lot of noise and black lights, and some of the displays might be a bit intimidating for the very small or the slightly less intrepid. My older child is on the sensitive side and had a hard time warming up. She even chose to skip a couple of holes along the course, but still managed to have a good time.
8. Bounce Town USA—Milford
Conveniently located on the Post Road in Milford, this place boasts the title of largest indoor inflatable adventure zone and arcade. No reservations are required for open bounce time, but be sure your kids wear socks. Grown ups are not allowed on the inflatables (bummer) but your little ones will have endless fun.
9. IT—New Haven
IT is located inside Jordan's Furniture on Sargent Drive near Ikea. There are multiple climbing challenges, a massive zip line, a lights and water "fireworks" show, there is even "Little It" for adventurers under 48" tall. Safety is top priority here and everyone is able to do as little or as much as they feel comfortable with. My kids became instantly obsessed with this place and chances are, yours will too.
10. CT Sportsplex—New Branford
​If you're looking for a little bit of everything, this might be the place for you. CT Sportsplex offers laser tag, an arcade, a cool lacrosse/basketball/hockey hybrid game called Cyber Sport, and there's even an enormous indoor playscape. When the winter weather has your troops climbing the walls, head here and climb the jungle gym instead.
Originally published January 2013; updated 2019