Lake Compounce Amusement and Water Park in Bristol, CT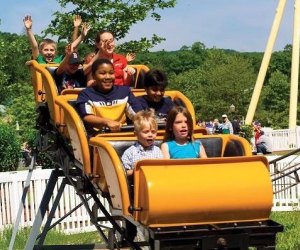 Last week I took the kids on a day trip to Lake Compounce in Bristol CT. It's the oldest, continuously-operating amusement park in North America as well as Connecticut's largest water park. It was our first visit. I must admit, I am not an amusement park enthusiast. I don't like long lines, sticky and dirty parks, wading through throngs of people and being forced to eat food that has been processed so many times that you aren't sure of its origin. That being said, we had a blast and even I can't wait to go back again. Read on to hear about our experience and check out our Mommy Poppins Theme and Water Park Guide for even more park fun.
We had a group of friends with us and the children ranged in age from 6-12. The size of Lake Compounce made it easy for the group to subdivide and reconvene when needed. You will not find huge rides at this park. It's not like Six Flags or Disney but there are plenty of thrillers and fun for everyone in your group. They have all of the basics and then some with a fun water park that I personally could have spent the entire day in!
Boulder Dash, voted the world's #1 wooden roller coaster, was a must for the kids and grown-ups in our group. Since having children, my tolerance for riding anything that swirls or turns you upside down has dropped considerably; however, Boulder Dash supposedly wasn't that kind of roller coaster so I thought I'd suck one up and do it for the kids. It was fast and jerky and absolutely terrifying. In the end, a favorite of our group.

The food selection was better than we had expected to find. Pizza, Mexican fare, and the typical burgers and fries were a hit with our crowd. They even had fresh salads and wine in the food court next to the water park.

After getting their fill of of all the stomach turning rides, the kids were ready to splash it up in Splash Harbor, a water park that has tons of water fun including water slides, a wave pool, and a lazy river. There's even a sand beach on the lake where you can paddle boat and just chill out. They have cabanas for rent which I would consider getting if I went back on a busy day with a large crowd. However, after changing in the bath house and locking up our goods, we had no trouble finding 6 lounge chairs in a row to sit down and relax on while watching the kids slip and slide down the water tubes.

The park has three roller coasters, plenty of thrill rides and classic rides, as well as kiddie rides and shows. I am told by Lake Compounce veterans that it's worth it to get the season pass and go in the late afternoon on a week day after the summer campers are back on their buses. I'm shocked to admit that Lake Compounce has converted me. I'm ready to go back again and needless to say, so are my kids!!
Check the website for hours of operation.
Editor's Note: Free tickets were accepted in the research of this post.
Originally published on 8/16/2011.
Cover photo courtesy of Lake Compounce