Visiting Lake Compounce Amusement and Water Park with Kids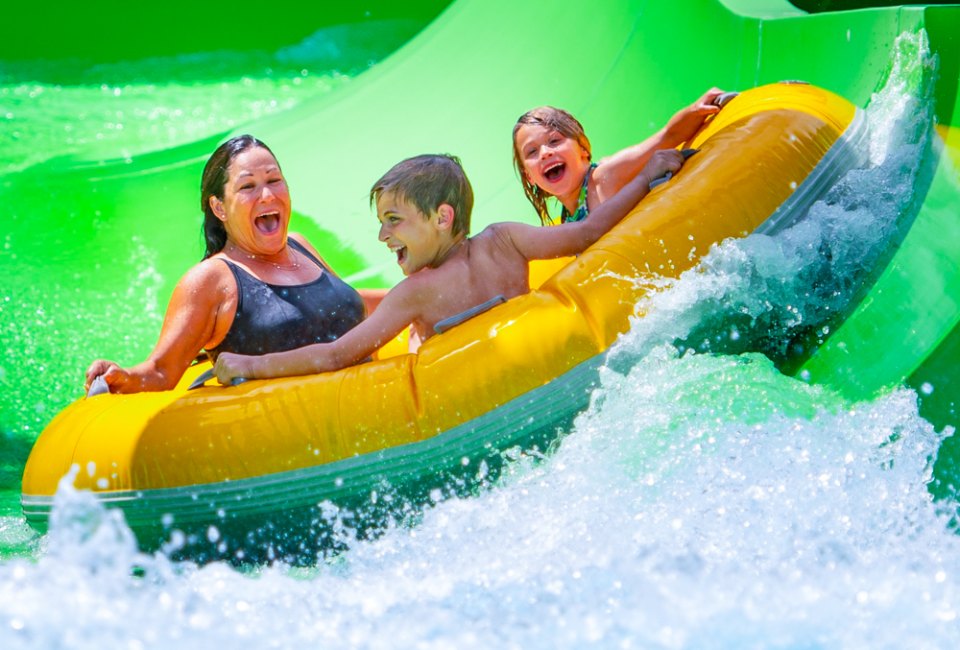 5/14/23
- By
Mary Beth Lawlor
Lake Compounce is America's First Amusement Park. For 175 years, visitors have come to this New England destination to enjoy a day by the lake and take a ride on the carousel. Today, the amusement park features more than 45 rides and attractions, including Crocodile Cove, seasonal Halloween and Christmas Time special events, and has become a staple of Connecticut summer fun. Read on for all the info you need, from getting Lake Compounce tickets to bringing food to the park and enjoying Lake Compounce Campground!
We love hitting the rides in warm weather. For more water and amusement park tips, check out our Mommy Poppins Theme and Water Park Guide for even more park fun.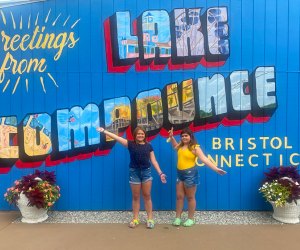 Lake Compounce Amusement Park in Bristol has been welcoming kids for 175 years! Photo by Ally Noel
Visiting Lake Compounce
Lake Compounce is a very impressive park in terms of both rides and size. We had a game plan before arriving, which made it a lot easier to make sure everyone got to ride their top picks. The size of Lake Compounce makes it easy for any sized group of guests to subdivide and reconvene when needed.
There are plenty of thrills and fun for everyone in your group. Lake Compounce has all the classics like a haunted house, Ferris wheel, and carousel, and then some, with a fun water park that I personally could have spent the entire day in.
Some things to know before you go are that Lake Compouce is cashless, so you need to plan accordingly. There is plenty of parking available at Lake Compouce, but it comes with an additional fee. I typically purchase my parking when I am buying my Lake Compounce tickets online.
Lake Compouce also has a Chaperone policy in effect this season. Guests age 17 and under must be accompanied by an adult 21 or older with a valid ID after 4 pm. Guests 13 and under are not to be left unattended in the park at any time.
Lake Compounce Campground
Located just steps away from the park, Lake Compounce Campground lets families enjoy the fun of camping out (in a tent or cottage) while having access to an amusement park!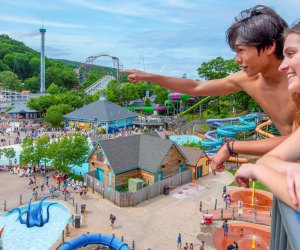 A bird's eye view of Lake Compounce Amusement and Water Park lets kids decide which rides to hit next!
Rides at Lake Compounce
Thrill seekers will get their adrenaline fix on Lake Compounce's three high speed roller coasters. The park's Boulder Dash is a fan favorite and frequently ranks number one of the best wooden coasters in the world. Lake Compouce is also proud to be the home of the Phobia Phear Coaster -the first triple launch coaster in the northeast and the first ride of its kind in New England.
If you are not quite ready for the big thrills, Lake Compouce has you covered. Take a spin on the bumper cars, cool off in Thunder Rapids raft ride, or take a ride on the pirate ship where you can sway back and forth.
There are also a ton of thrills for the pint-sized crew. Most of the park's kiddie rides are conveniently located right near the entrance in Circus World. Little DareDevils bumper cars, pint-sized flying swings, a carousel, and flying elephants, and so much more will provide hours of fun to kids 36"-56".
Cool off Crocodile Cove Water Park
After getting your fill of all the stomach-turning rides, splash it up in Crocodile Cove - a water park that has tons of water fun including water slides, a wave pool, and a lazy river. There's even a sand beach on the lake with a designated swimming area. There are several different cabanas for rent for the day. I would consider getting one of these if you are planning to go during a busy time. We reserved the Island Loungers during our visit, and it was nice to not have to worry about finding a place to sit.
Food at Lake Compounce
Lake Compounce has all your favorite festival eats covered. Pizza, burgers, chicken fingers and fries are always a hit for a crowd.
Can You Bring Food to Lake Compounce?
Yes! Guests are also welcome to bring in one soft-sided 12X12X12 cooler to hold food and beverages.
Even the littlest ones can find a magical time with family at Lake Compounce!
Insider Tips for Visiting Lake Compounce - Lake Compounce Tickets and More
Save time (and money) purchasing Lake Compounce tickets online. I am told by Lake Compounce veterans that it's worth it to get the season pass and go in the late afternoon on a week day after the summer campers are back on their buses. I also recommend checking the Lake Compounce park calendar for special events like Fourth of July Fireworks, Holiday Lights, and more.
The park also offers Speedy Pass for some of its most popular attractions. For as little as $19.99, guests can reduce their wait time up to 90% by reserving ride times in advance.
Are Kids Free at Lake Compounce?
Children 3 and under are free at Lake Compounce.
When Does Lake Compounce Open?
Lake Compounce opens at 11am.
What's New At Lake Compounce
All New Boulder Dash Track
Although I always thought the bumps were part of Boulder Dash's charm, guests can now enjoy a smoother (and faster) ride thanks to the addition of Titan Track.
All New Potato Patch
The popular Potato Patch got an upgrade this season! Enjoy chicken tenders, and Monster Fries or grab a new exclusive Potato Patch souvenir bucket. There is also a reimagined ordering process that will offer faster service.
Floating Lake Stage
Every single Saturday all summer long, guests can enjoy a variety of acts from the likes of Everclear and CeeLo Green, from the all new Floating Stage!
Check the website for hours of operation.
Editor's Note: Free tickets were accepted in the research of this post.
Originally published on 8/16/2011. Updated May 2023
All photos courtesy of Lake Compounce unless otherwise indicated.
Sign up for the Mommy Poppins Newsletter today!